Computing at Pittington
Autumn Term
Nursery – photo technology exposure starts here!
Computing encompasses more than just conventional computers! In Nursery they have been using long exposure photography to celebrate Pittington Lumiere.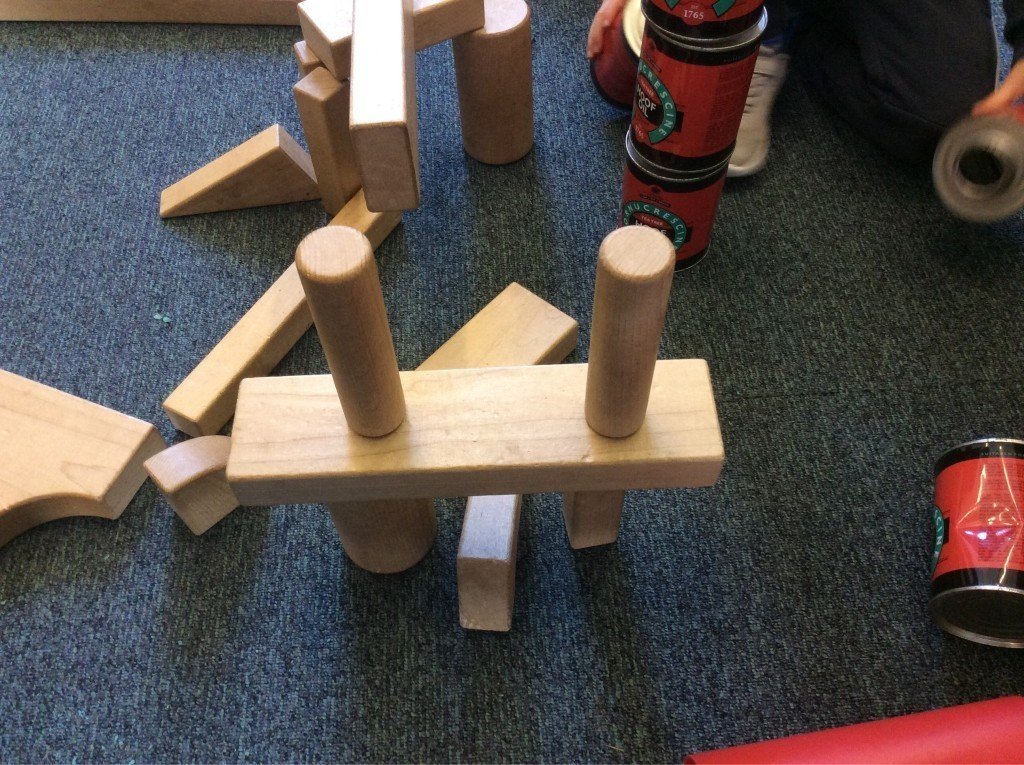 Reception - Not being left to just their own 'devices'!
We have been learning lots of new ICT skills this term. For many children it has been the first time they have experienced using a desktop computer. The children soon realised that the equipment was not touch screen! We have been learning how to manipulate a mouse and click, drag and drop to complete a variety of different computer software programmes.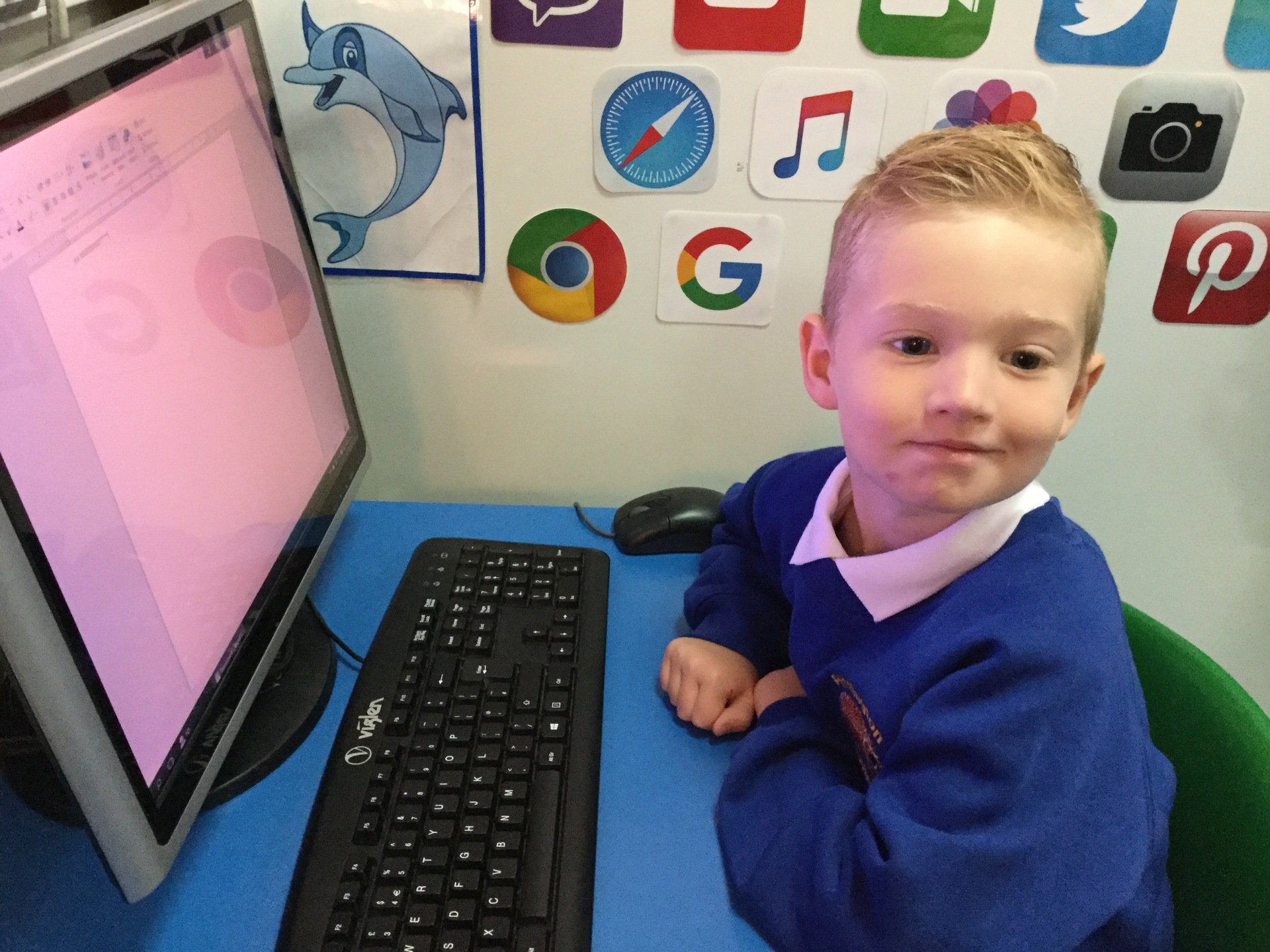 We have also had fun exploring how to make ICT equipment move through using Beebots and Code-a-pillars!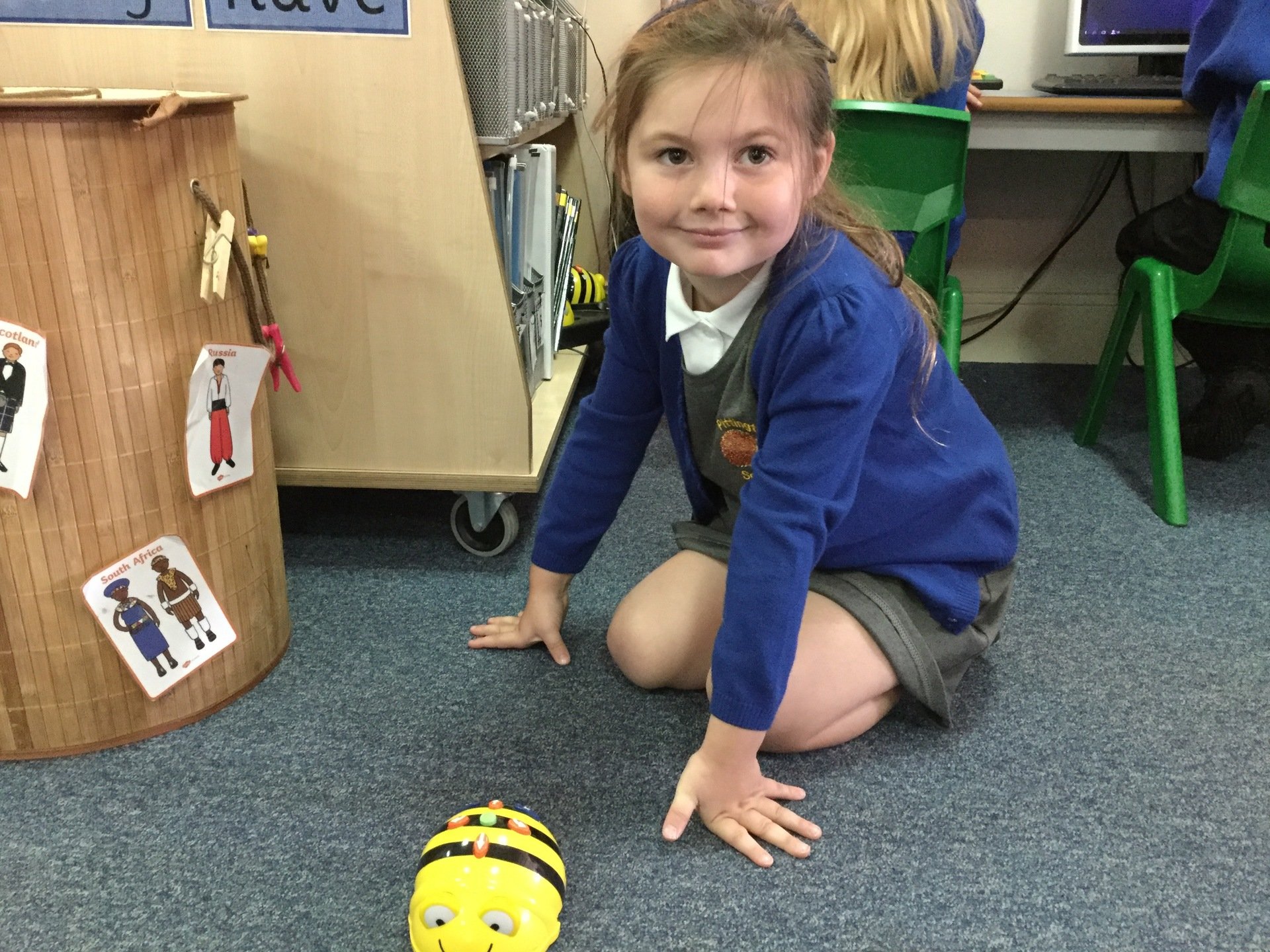 Year 1 – Smartie helps to stay safe.
In Year 1 we have looked very closely at E-Safety. We found a lot of the class like to play lots of games and watch videos on YouTube. This is on a variety of resources such as tablets, laptops and mobile phones. We used Smartie the penguin to help us discuss who we should tell when something happens whilst playing on a game or on YouTube. We looked at the different things that could happen, such as adverts popping up, clicking on links, and searching something without a parent's supervision or guidance. We have made poster and learnt a short song to help us remember to go to an adult when something happens.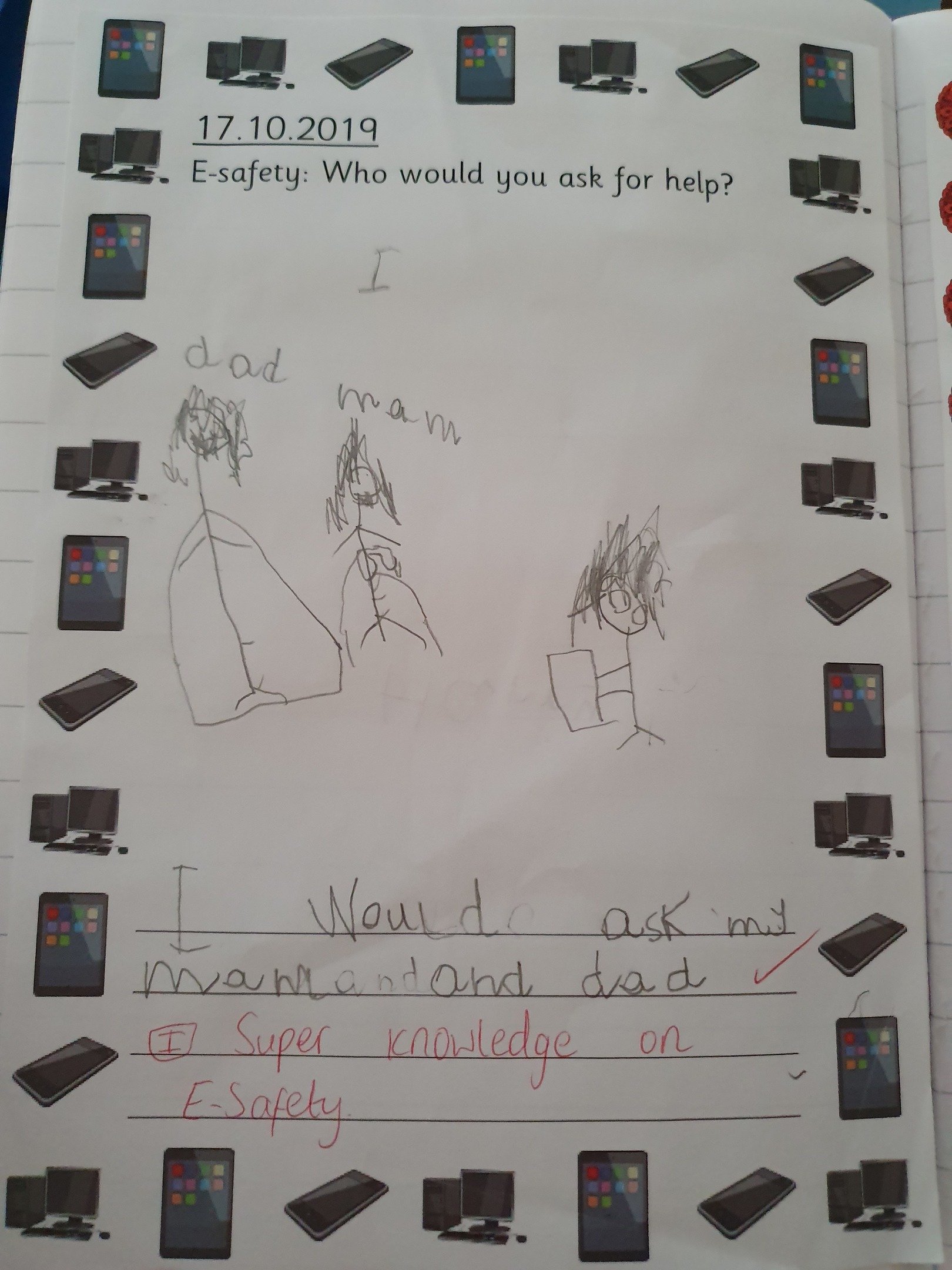 We did a short presentation to parents about what we have learnt regarding E-Safety.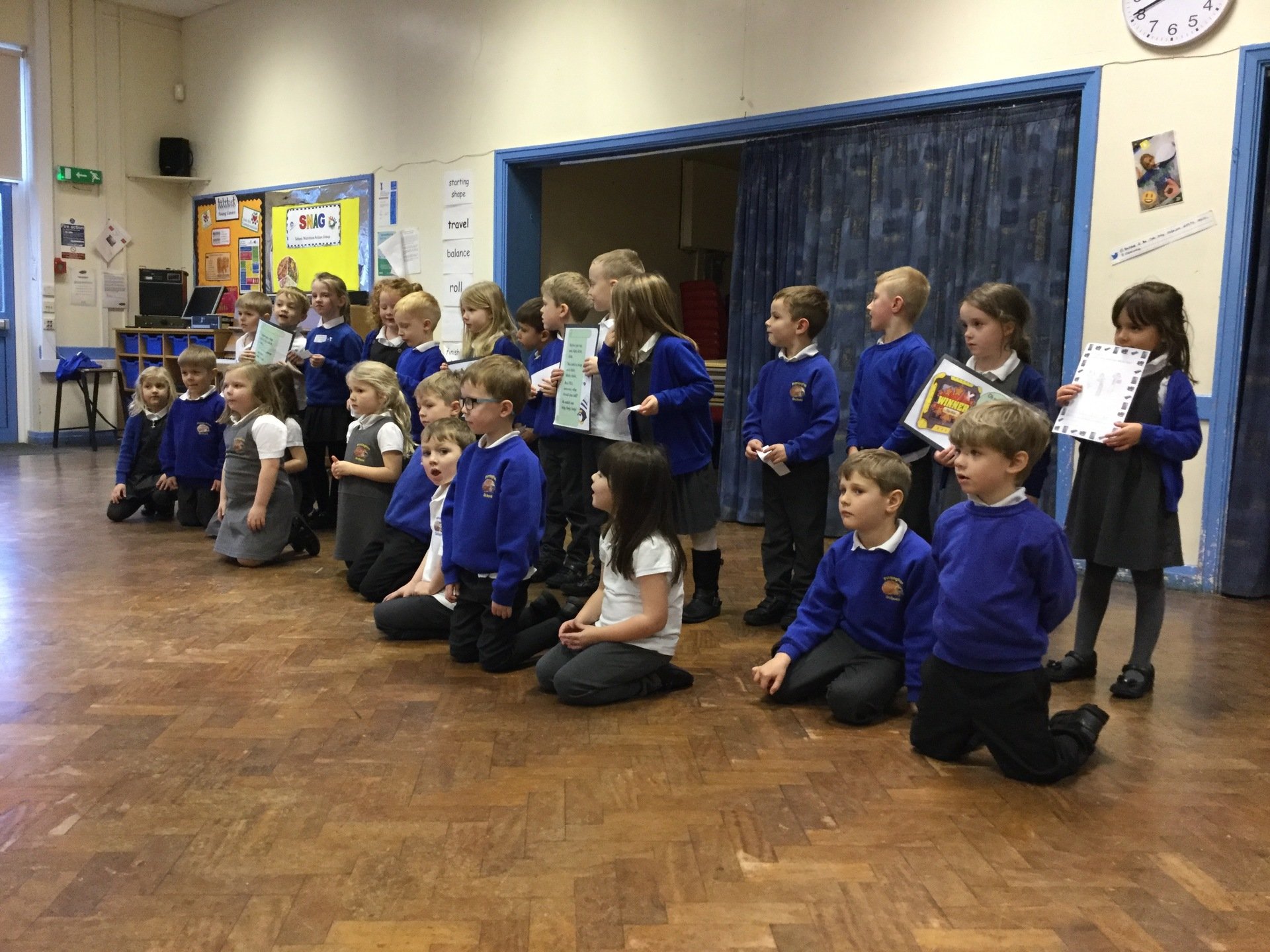 Year 2 – Not giving anything away!
Year 2 have been finding out how to use an online name for gaming etc without giving any personal information away. They also used Word to type their new names, change the font and print their work out. They really enjoyed explaining to parents and carers why they chose their names at the whole school e-safety presentation.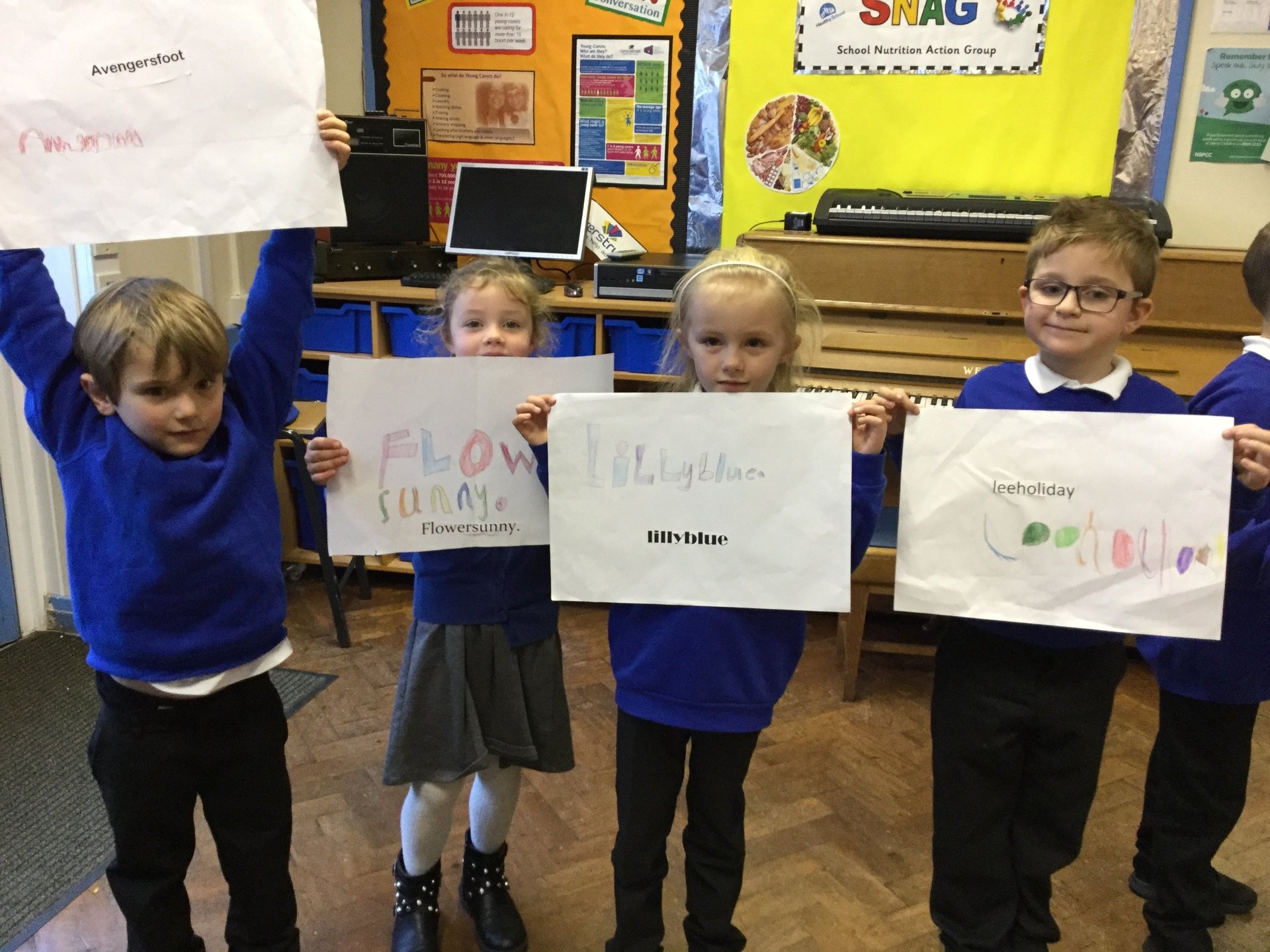 Year 3 – Up to date with the update!
Year 3 have been learning how to navigate around the new Windows 10 operating system and there typing skills. When using Google Chrome for internet research they have followed the online safety rules. We also presented to parents a guide for asking permission and gaining consent when uploading images of children in our class. We have used the online Scratch website to practise and improve our coding skills.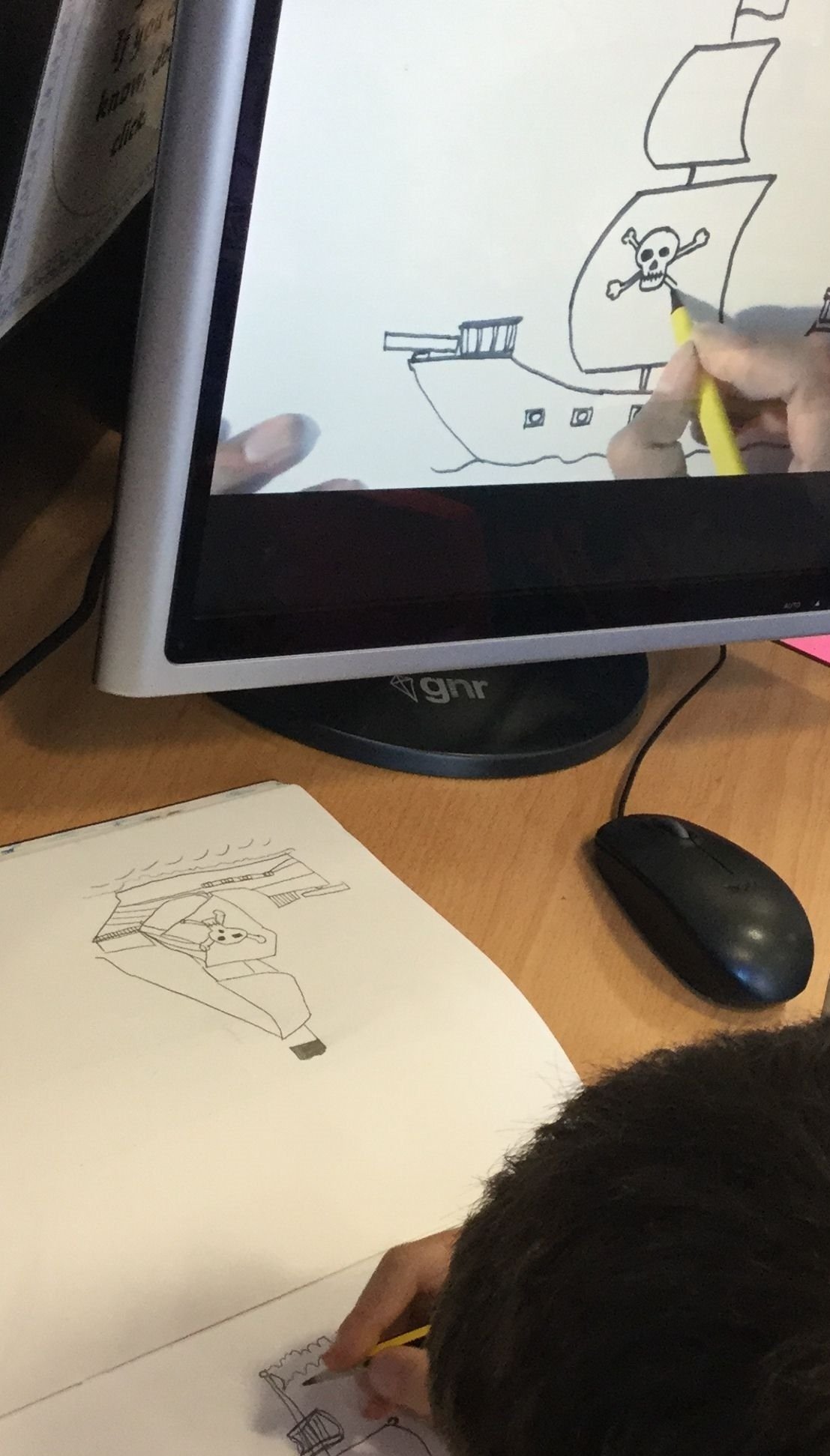 Year 4 – A very animated class!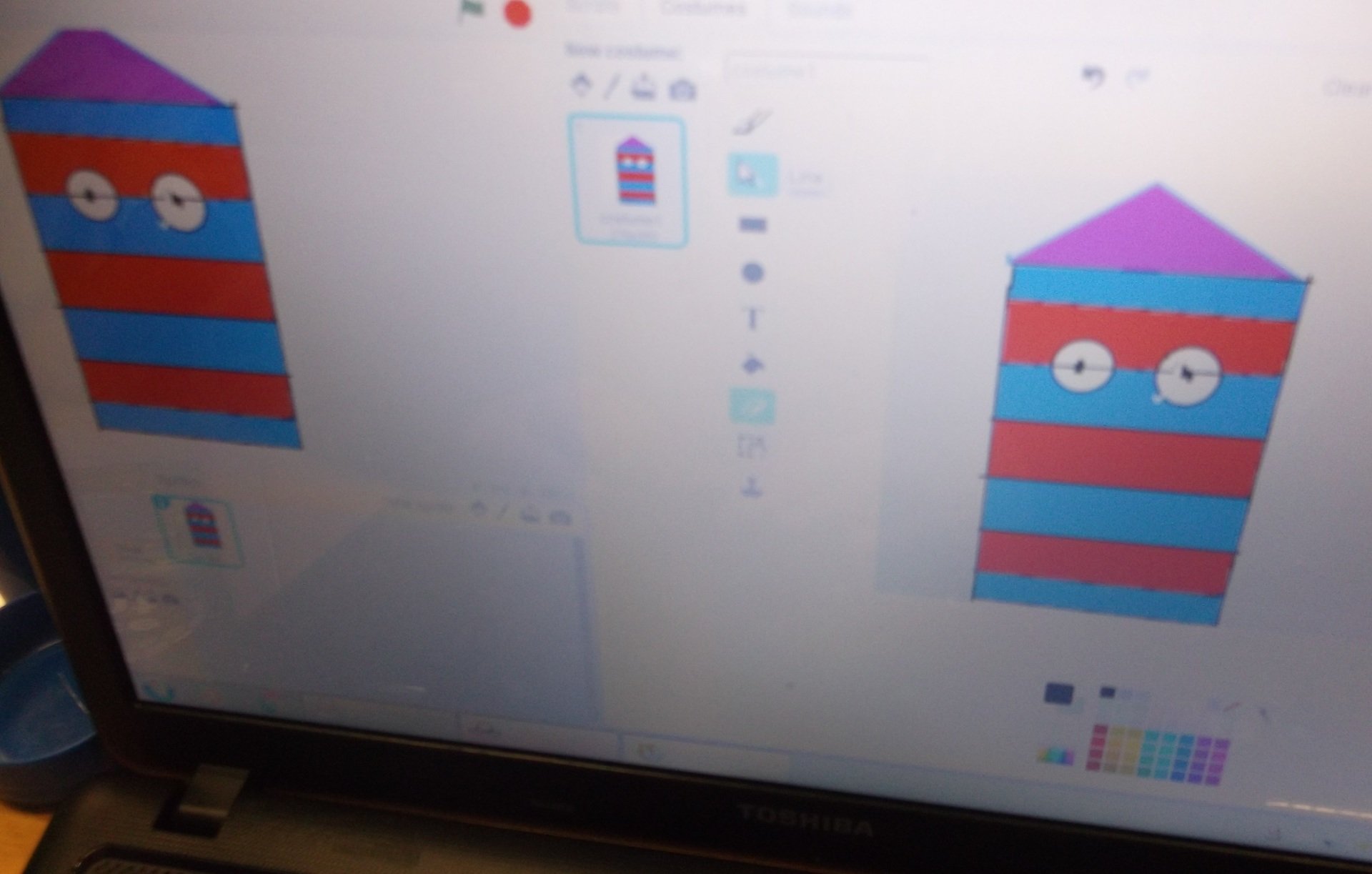 With Year 4 we have explored the aspects of programming through animation. This has included using a programming tool to create an advertisement for the firework workshop. We have explored the history of animation and then progressed to creating and designing our own sprites. The next step was animating them and developing algorithms to make them move and interact within the animations. We did have a lot of fun working out the different steps and learning from each other in the process.
We have also explore aspects of E-Safety and have discussed ways in which we can have a positive influence online.
Year 5 – Cross-curricular coding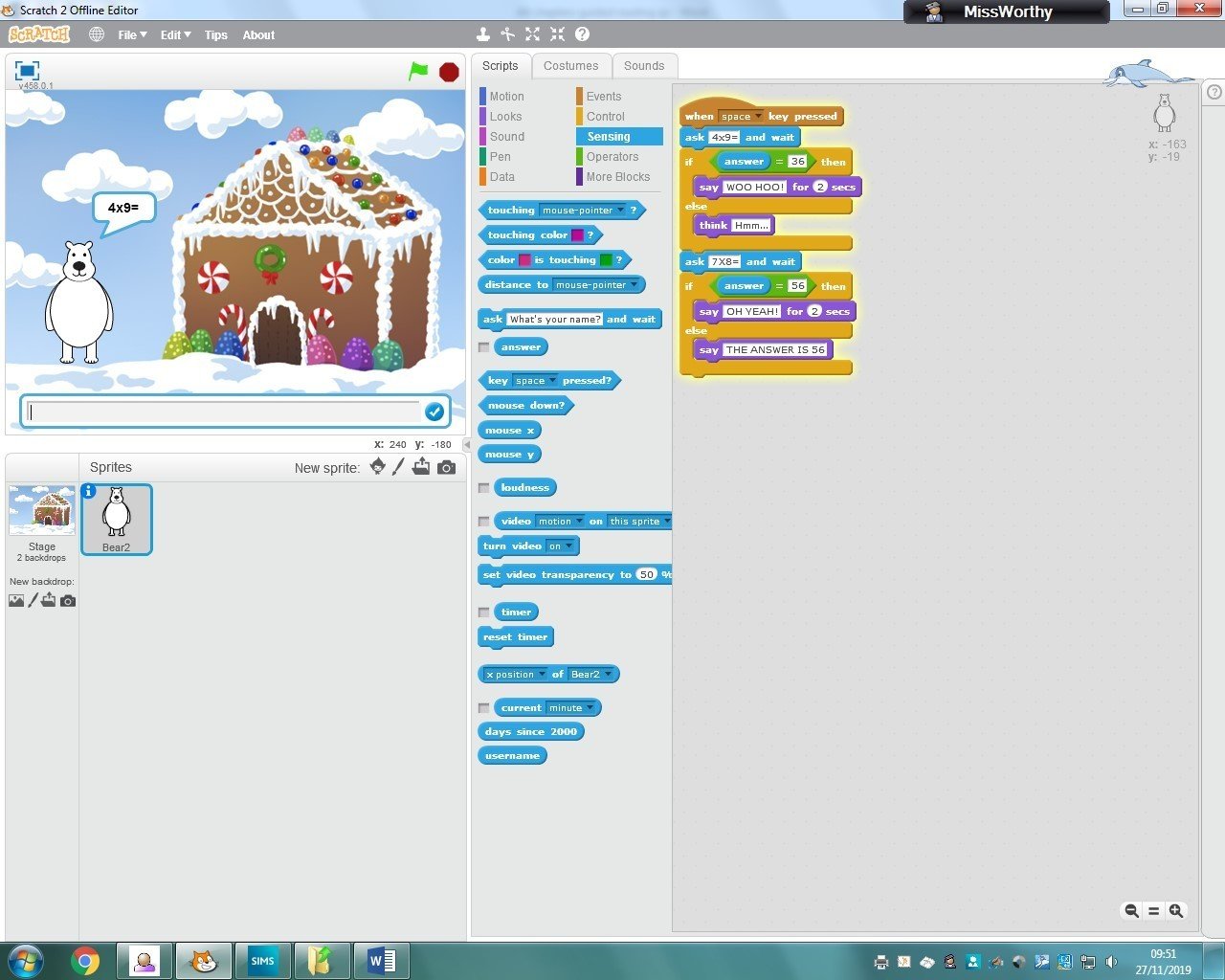 Year 5 have been writing their own programmes in Scratch for a maths game using selection. Within the programme they need to include different possibilities for answers and how they would like their sprite to respond.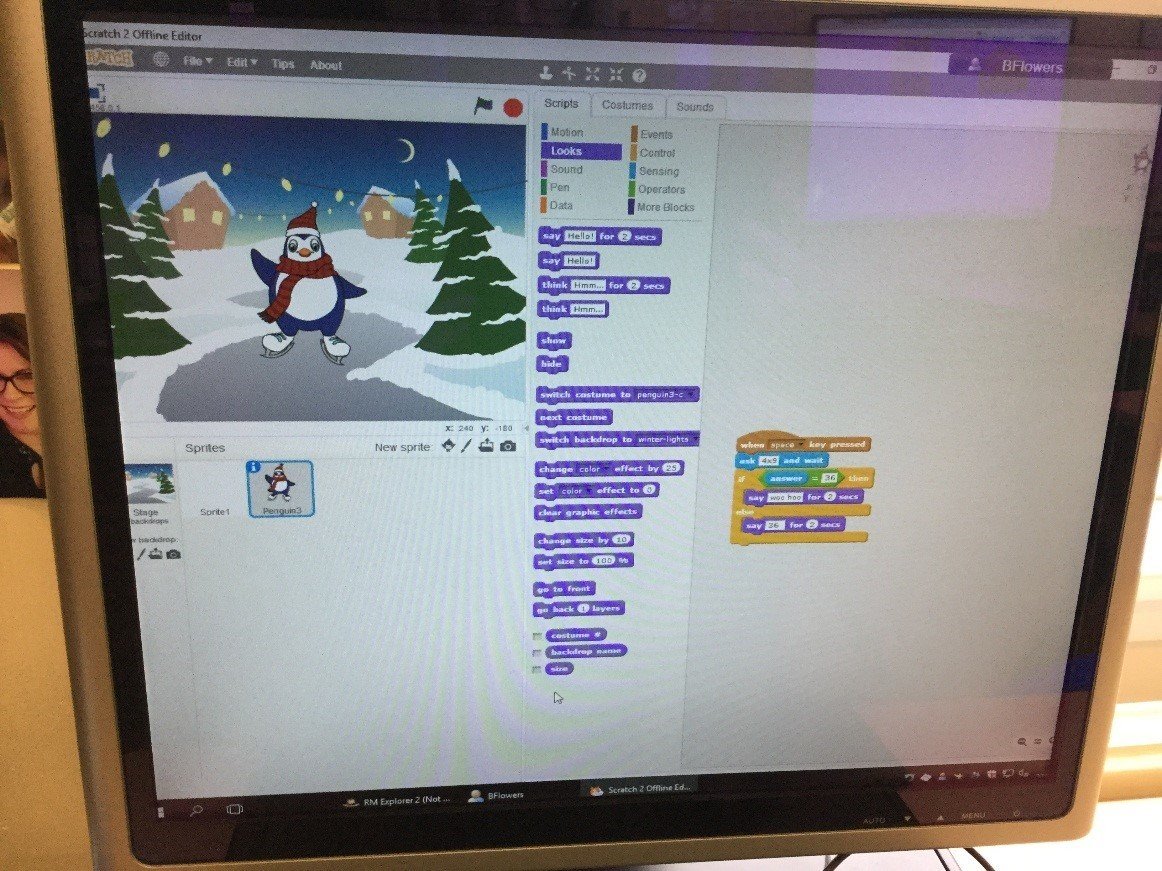 We have been working very hard to learn our times tables for rapid recall, so used this as an opportunity to test each other by playing the games.
Year 6 – Next stop, school of computing wizardry!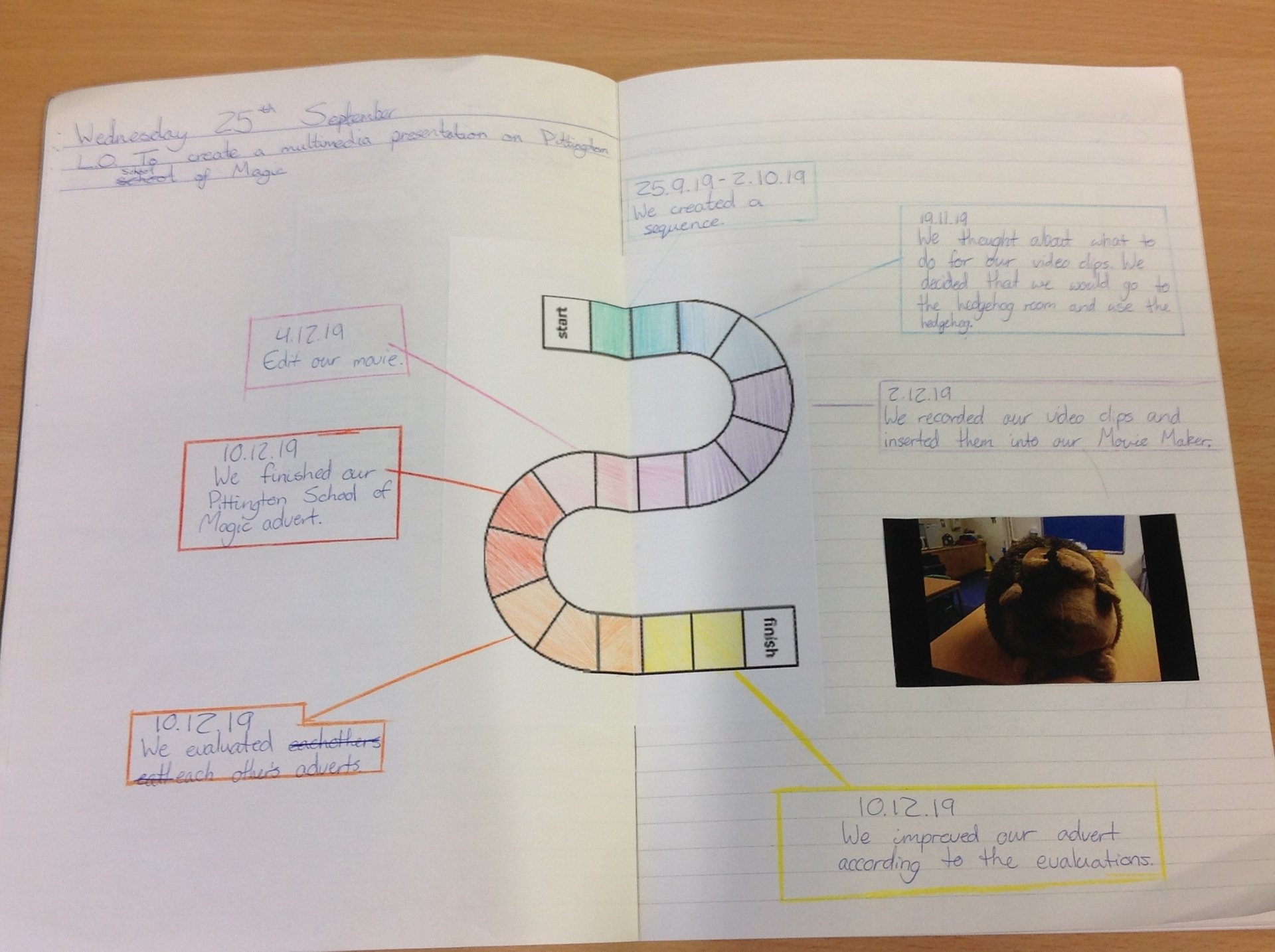 Year 6 have been creating their own movies using the software 'Textease Movies'. We linked this to our Chamber of Secrets class text and created an advert for Pittington School of Magic. This is an example of the sequence of learning which took place to produce this.
Summer Term
EYFS
Nursery
Showing where it is (coding)
A child had gone inside and left his worm on the floor, so one of the children drew a square around it with an arrow pointing to remind him of where he left it.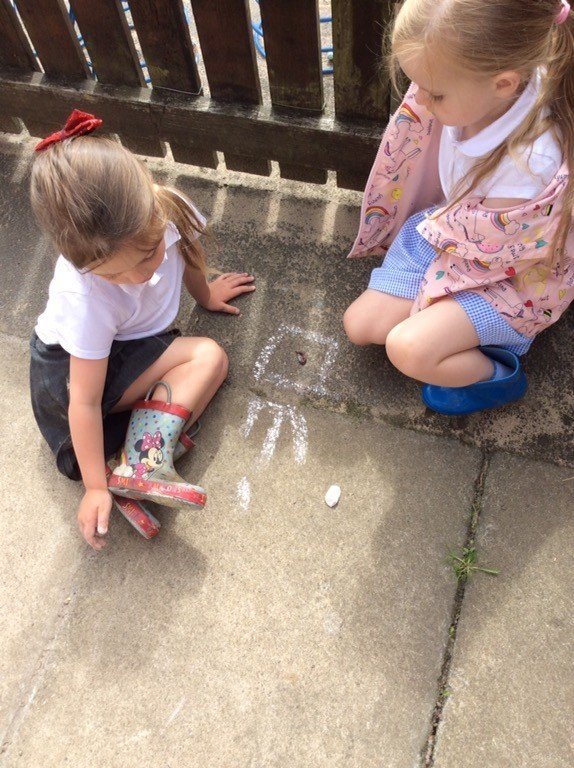 Finding a picture
We have been using ipads to find pictures of characters and objects so the children can find the correct colours to use. This was instigated by the children.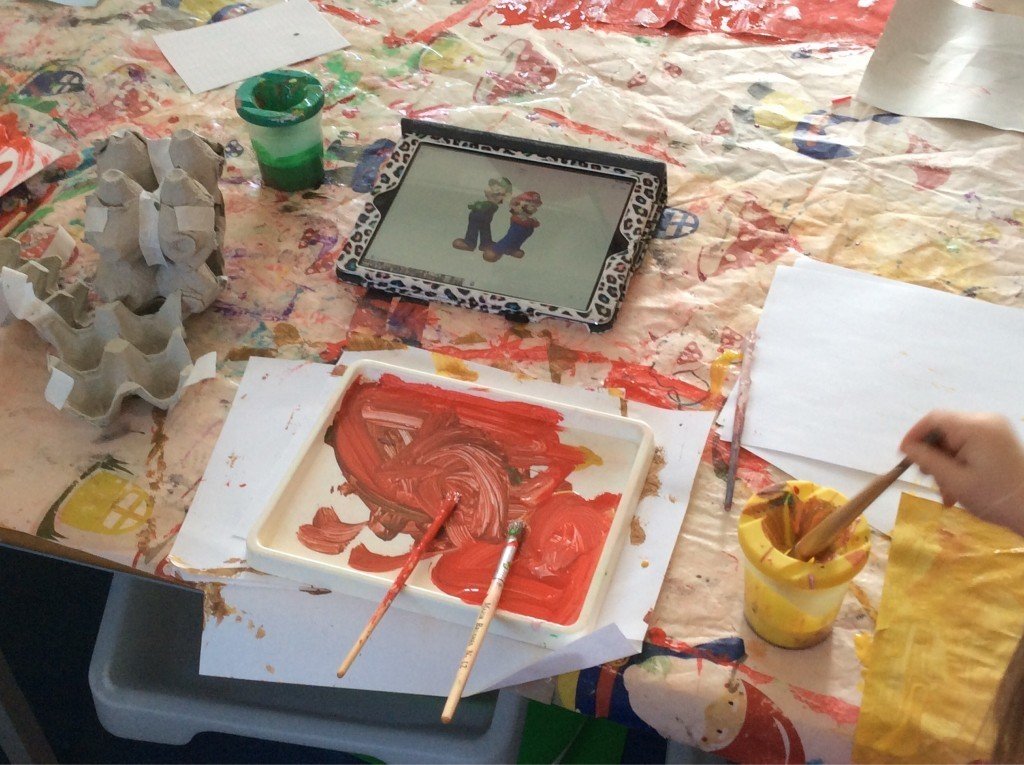 Reception
We have loved learning about coding. We have used the Bee-Bots and programmed them to move around a grid. Once we got the hang of moving it step by step we were challenged to get a Bee-Bot from a start line to finish line. Sometimes the Bee-Bot travelled in an unexpected direction because we forgot to clear the last instruction!
Keystage 1
In year 1 and 2 the children have been working on their typing and research skills. Year 1 have looked at using word and navigating around a laptop to produce a piece of work. Both year groups have used google to research a topic.
Keystage 2
Year 3
Year 3 have continued to look at online safety. This term they have developed keyboard skills in preparation for needing to complete the online year four multiplication tables check in 2020. Here are some examples of the work they have completed in MS Word, Excel, PowerPoint and Publisher document.
Year 4
We looked at the history on animation and made flip books. Taking each page as a frame, we used Pivot Stick Animator to create our own animations. Football was our theme to celebrate England's Women World Cup success.
Year 5
Year 5 have been busy creating a game using Kodu which contains a point scoring variable. Here we have been learning about conditional statements in programming.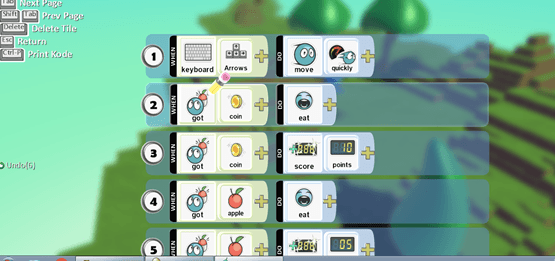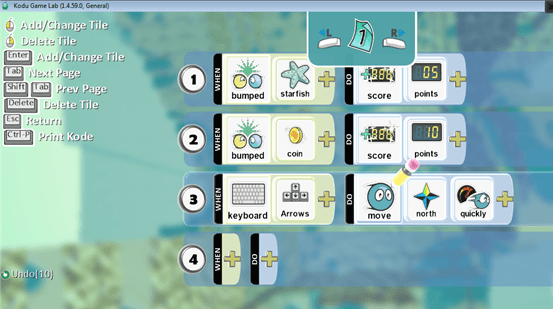 They have completed their single-player game using Kodu. They enjoyed evaluating the our peers' games. They then improved our games according to any constructive criticisms made.
Year 5 have also been working on Scratch to create a maths quiz related to adding and subtracting fractions. We have looked at using selection and variables to enhance our quiz.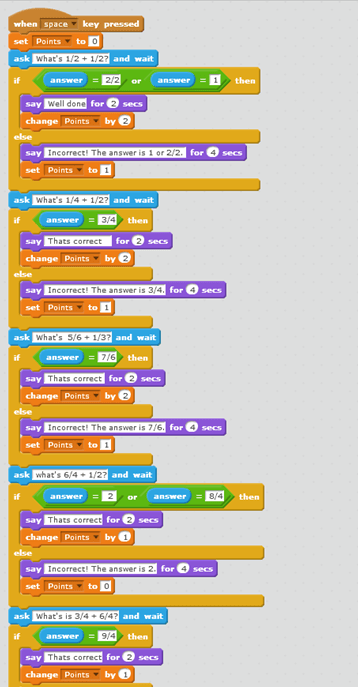 Spring Term
Early Years
Nursery
The children in nursery have started to learn the basic concepts of programming using the code-a-pillar.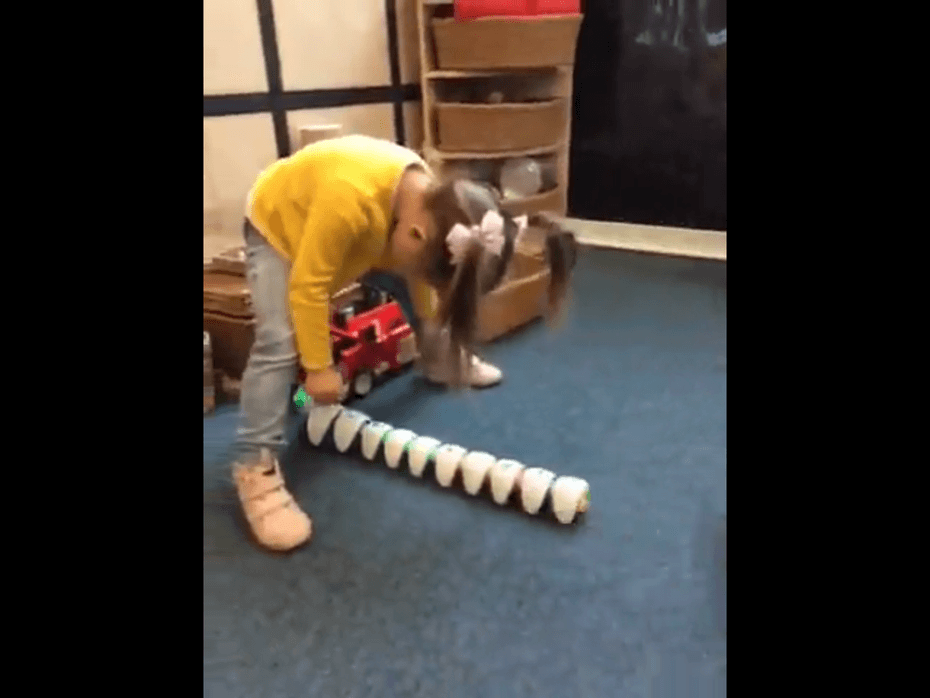 The children have been using the ipads to research animals so that they can add more detail to their art work.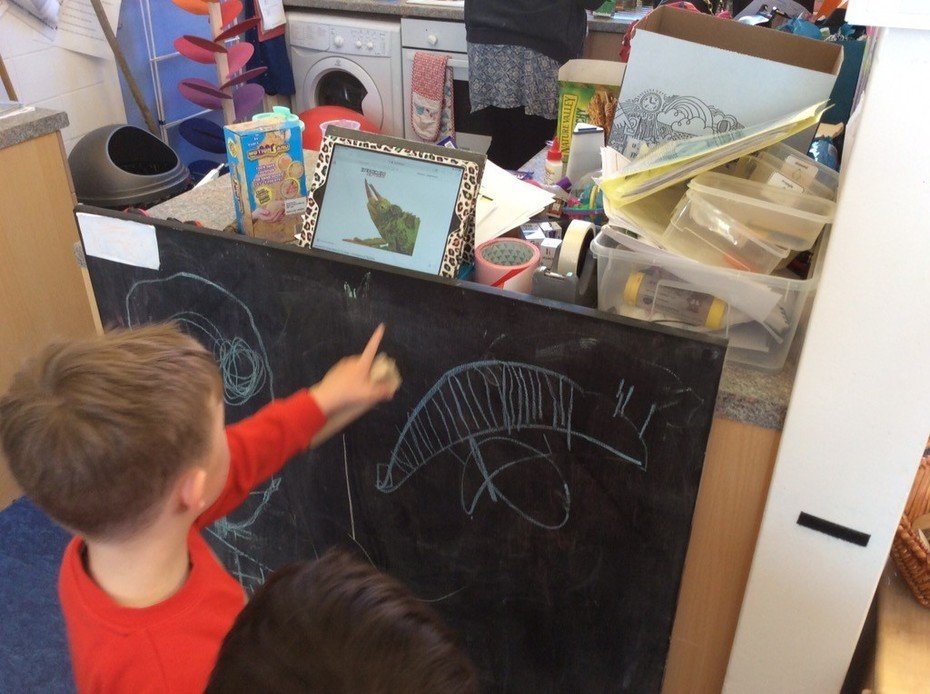 Many of the nursery children use Ipads or tablets at home but were unsure what to do if something popped up on the screen. This is where Smartie the Penguin helps us all out. The children learnt all about keeping safe on the internet and learnt a catchy little tune to remind them to think before they click.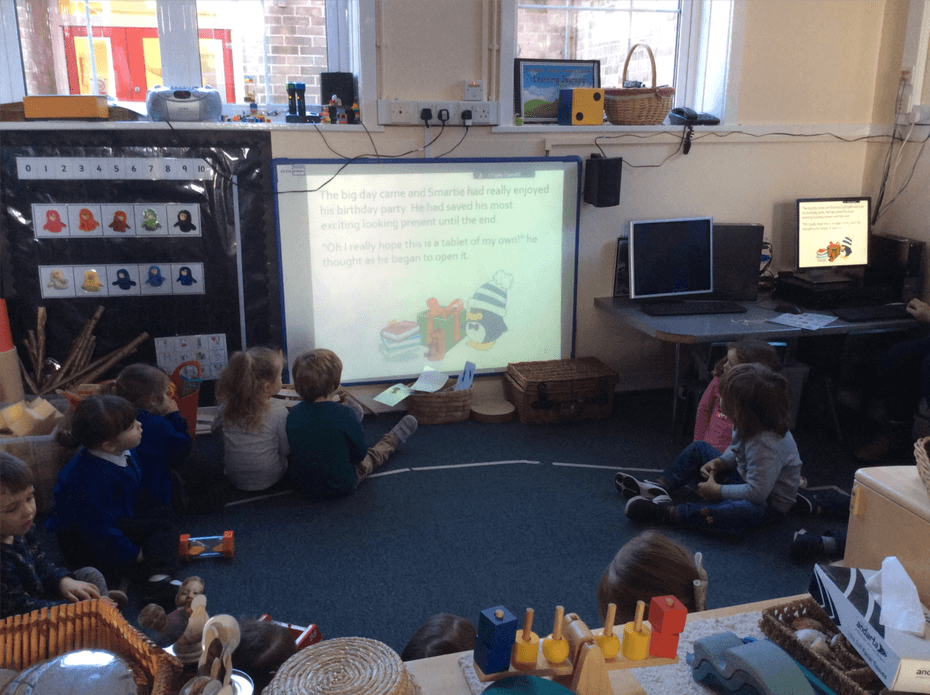 Reception
In Reception the children have been marking making using the computer and using programmes such as Colour Magic and Active Inspire. These programmes help the children to gain better mouse control.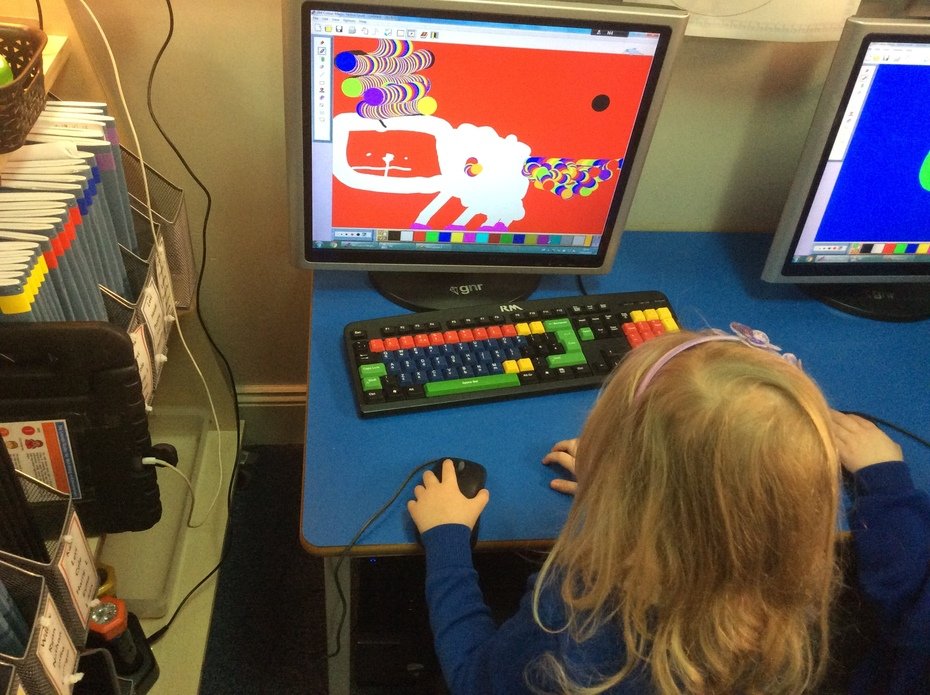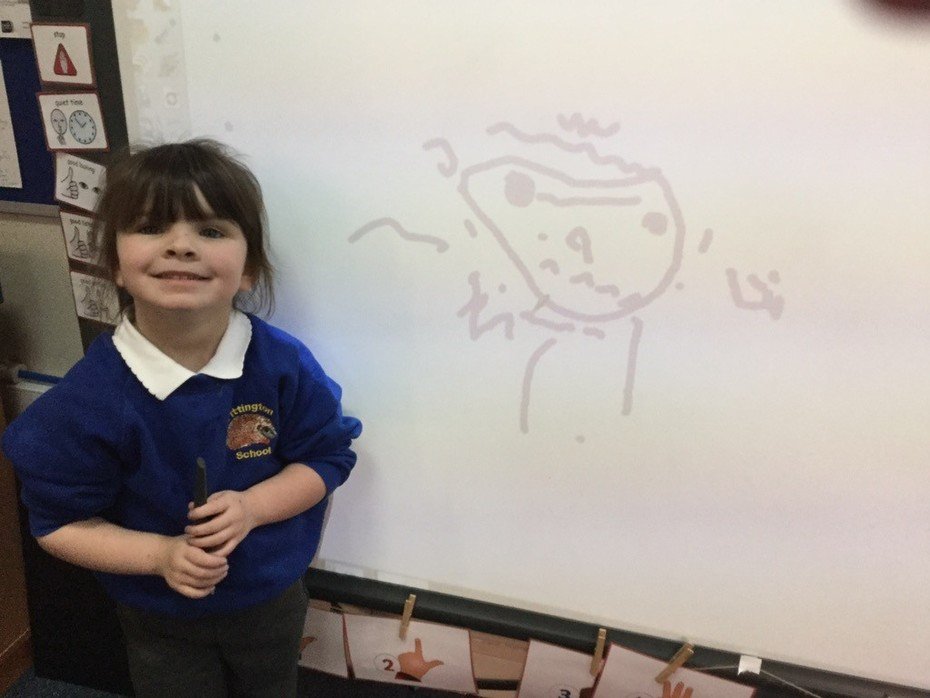 The children have also been learning how to use the keyboard and typing letters and their own names.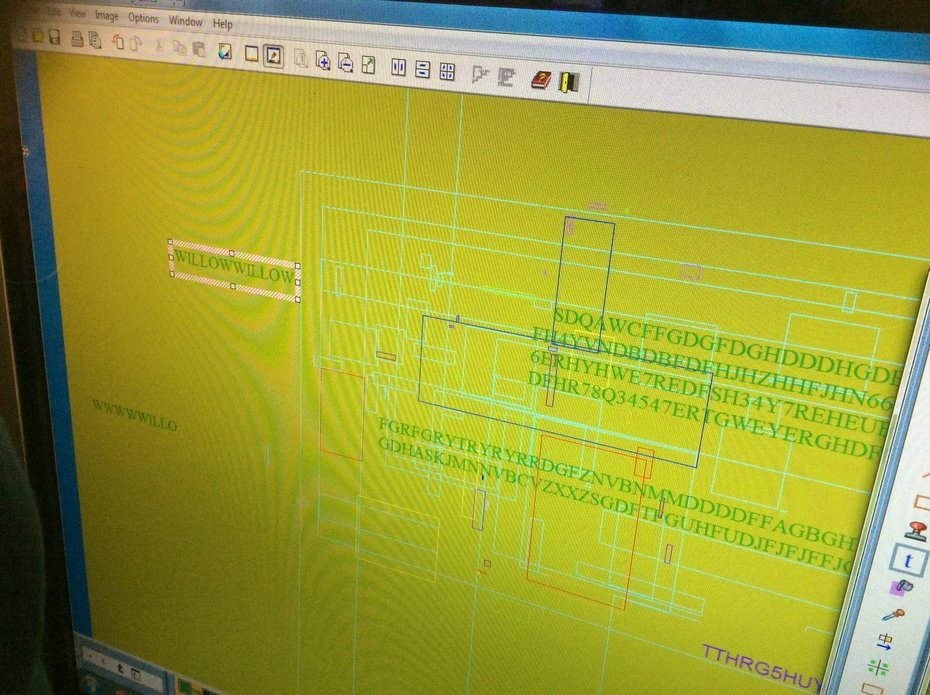 Keystage 1
Year 1
In year 1 the children have been exploring different vocabulary linked to algorithms and directions. They went outside to work with a partner giving directional instructions like quarter turn left or half a turn right.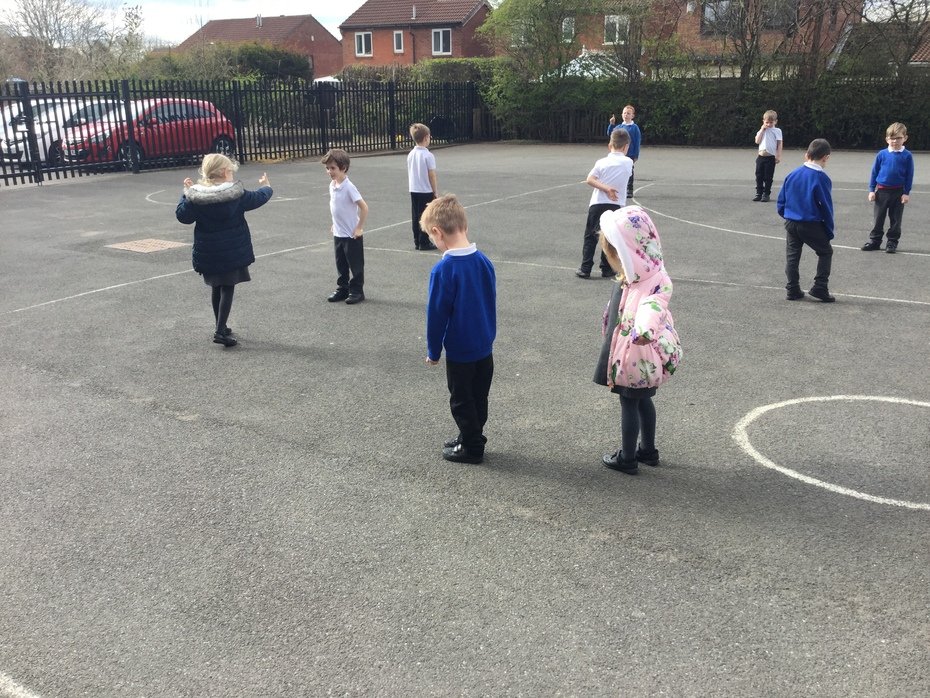 The children then went back into the classroom and worked with the beebots to complete a route between two points. The children then put out instructional cards to show the route the beebot took.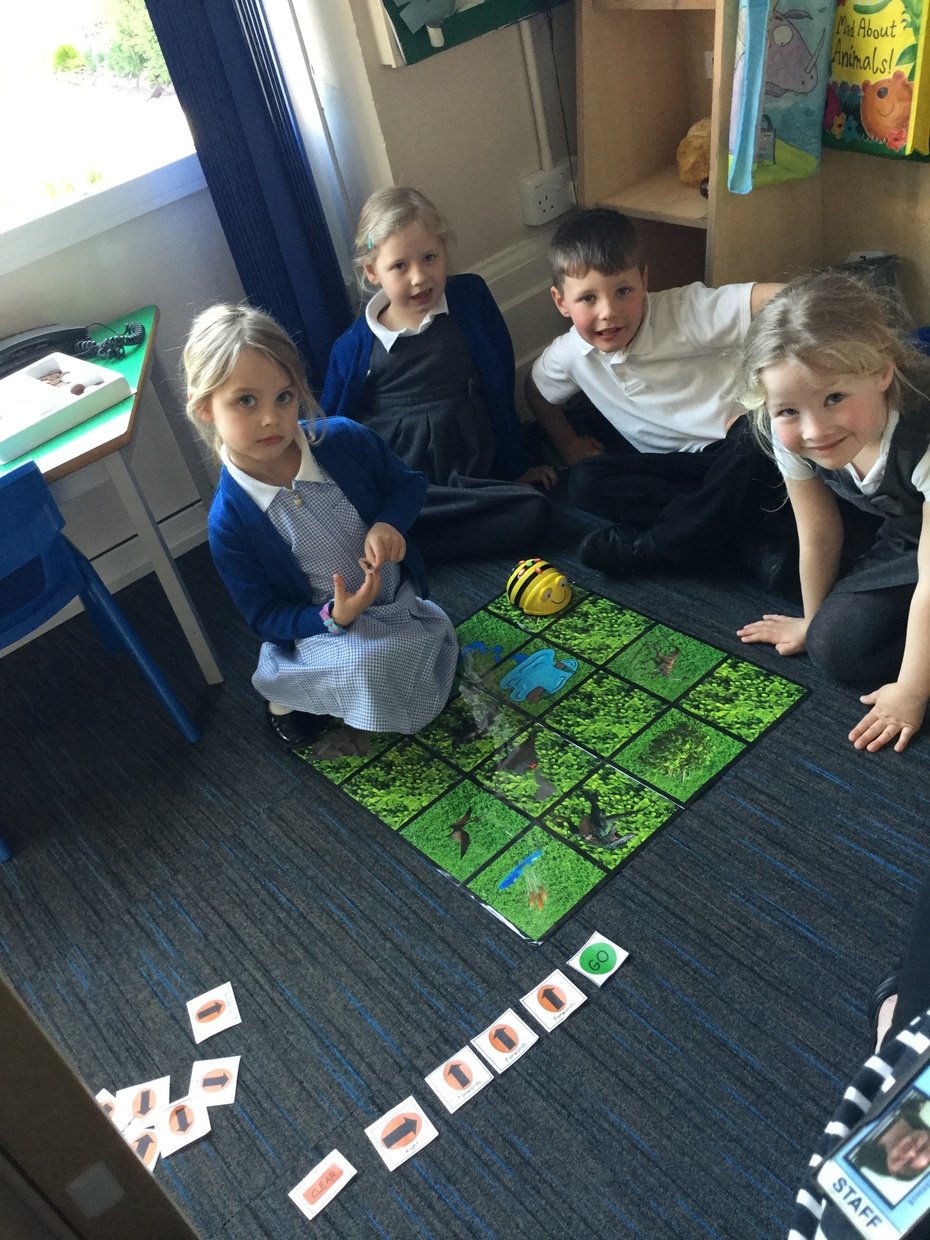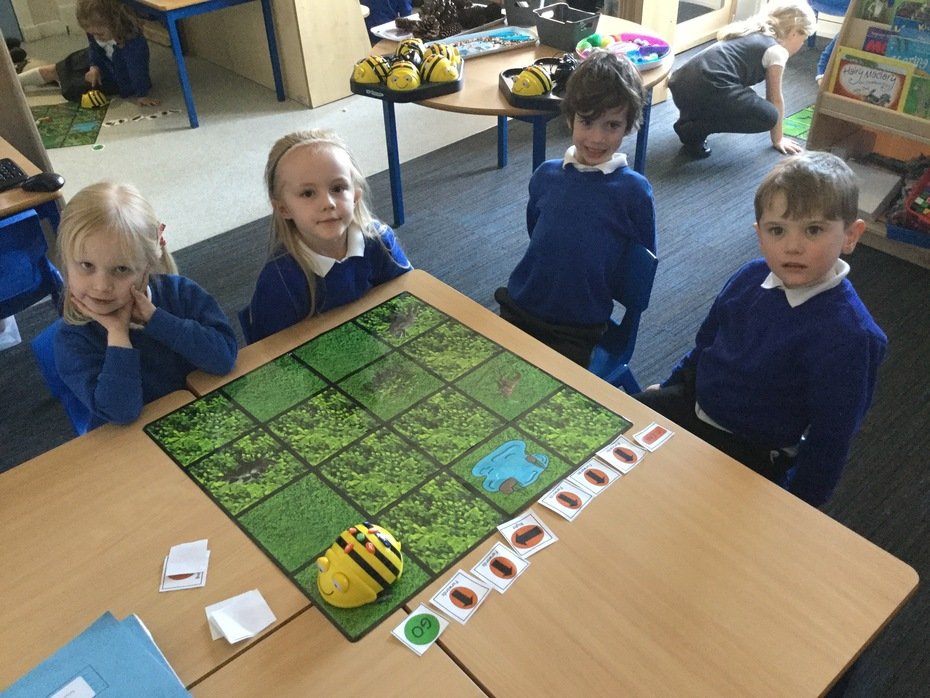 Year 2
In year 2 the children, as part of our literacy persuasive writing, researched the importance of forests online. This helped them to form arguments as to why the forest should not be chopped down. The children are getting confident at using the laptops in school and finding answers using a search engine.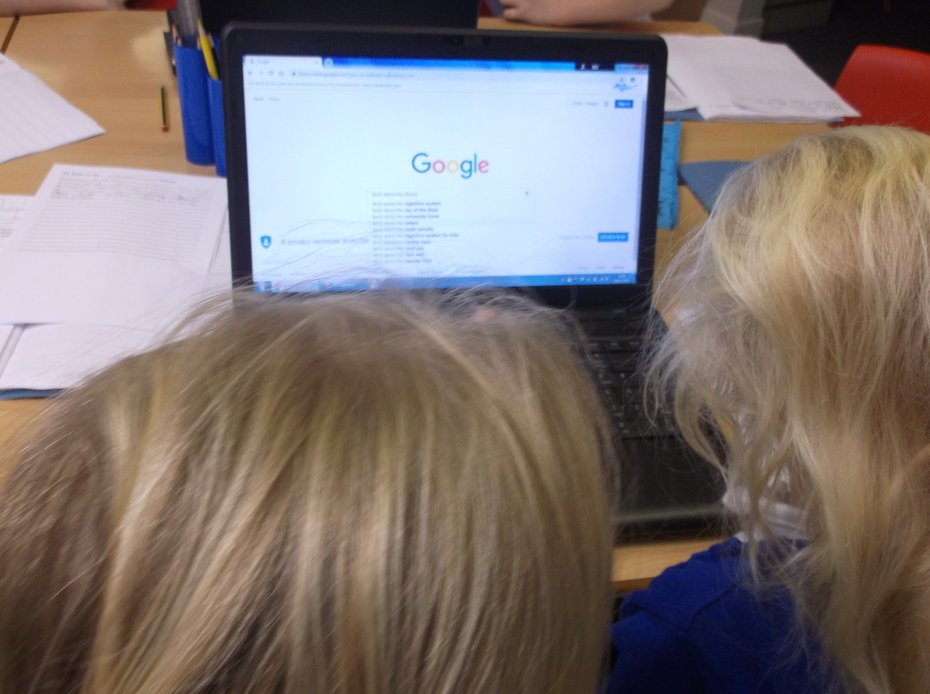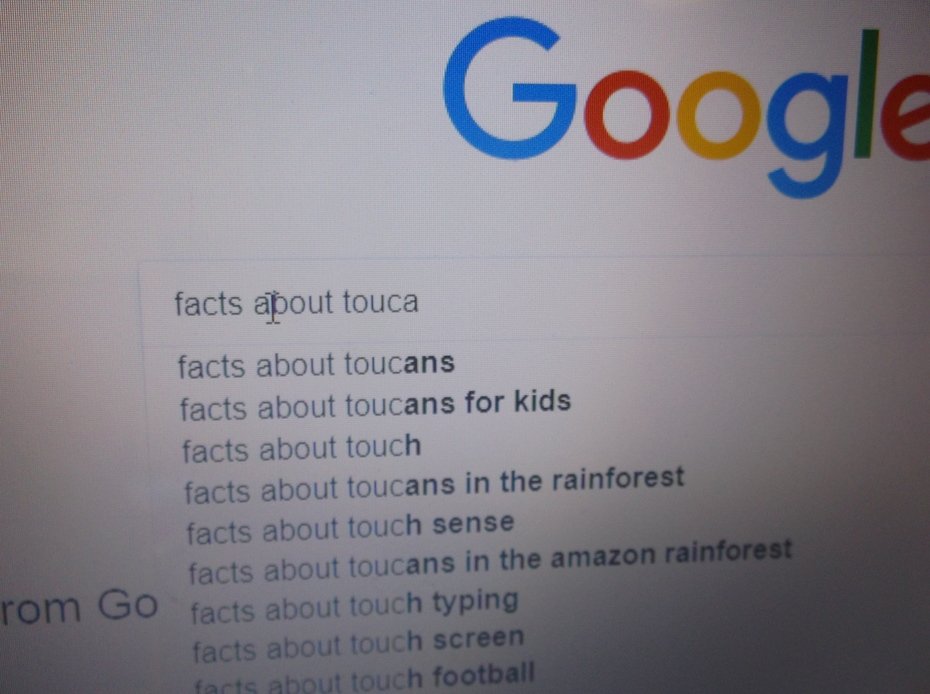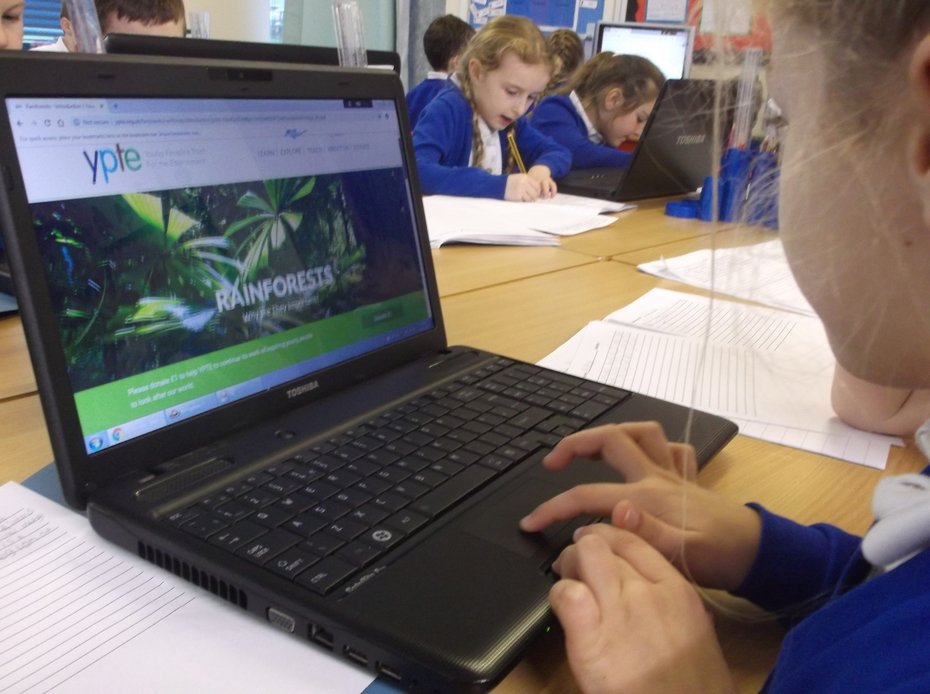 Keystage 2
Year 3
As part of the music wider opportunities project with Durham Music Service the children in year 3 performed a concert for the school and their parents. As part of this concert the children used publisher to create leaflets to give to the parents. As you can see the children did a fantastic job and showed confident skills using this programme.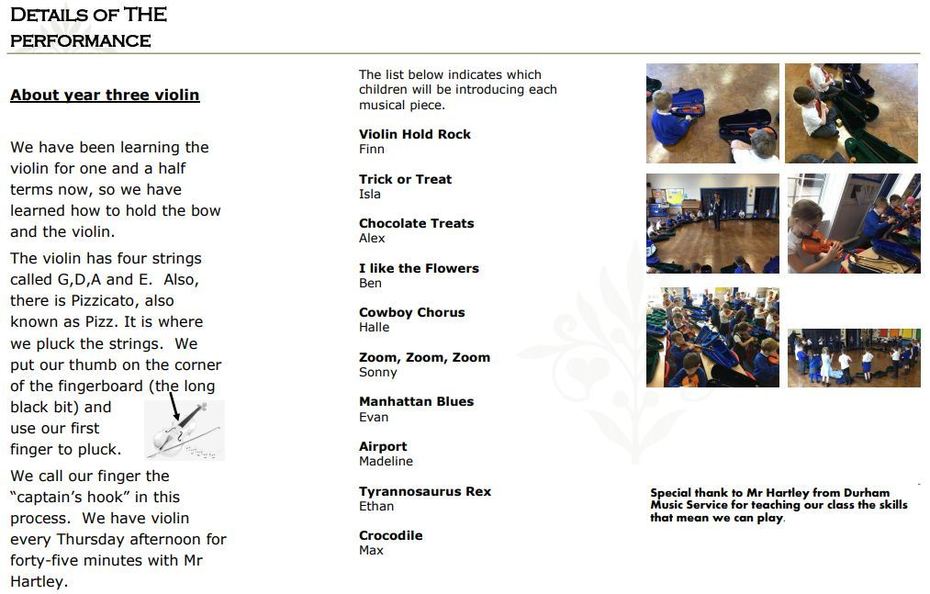 Year 4
In Year 4 the children have been using the laptops to help with their research.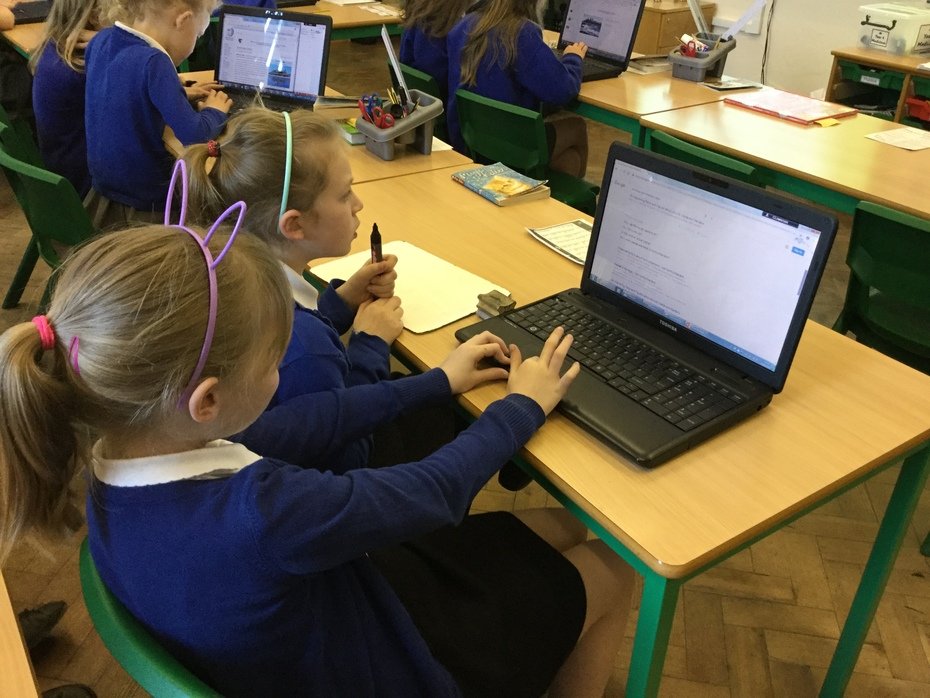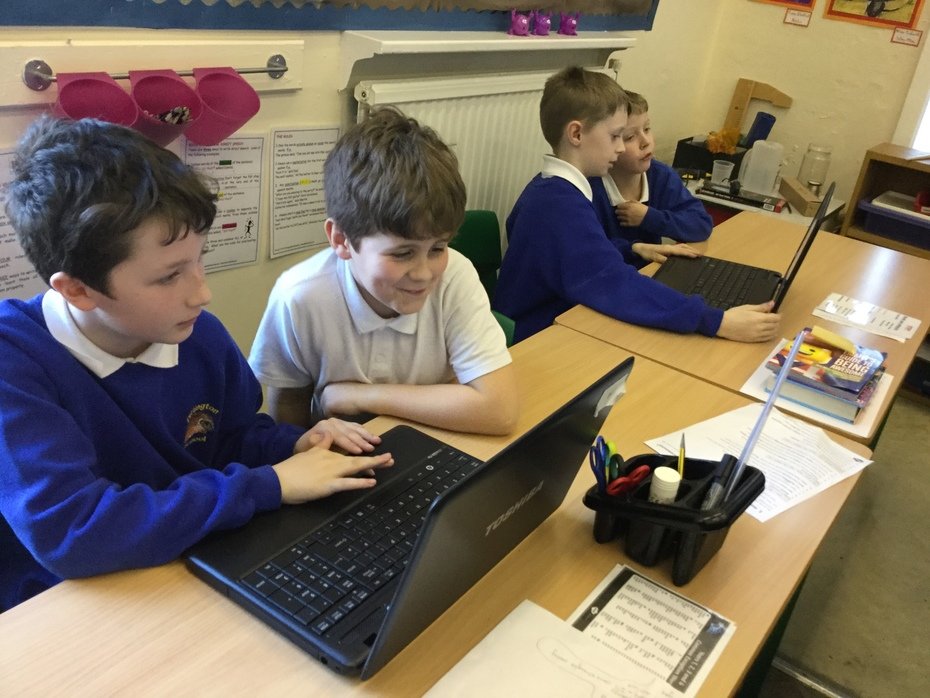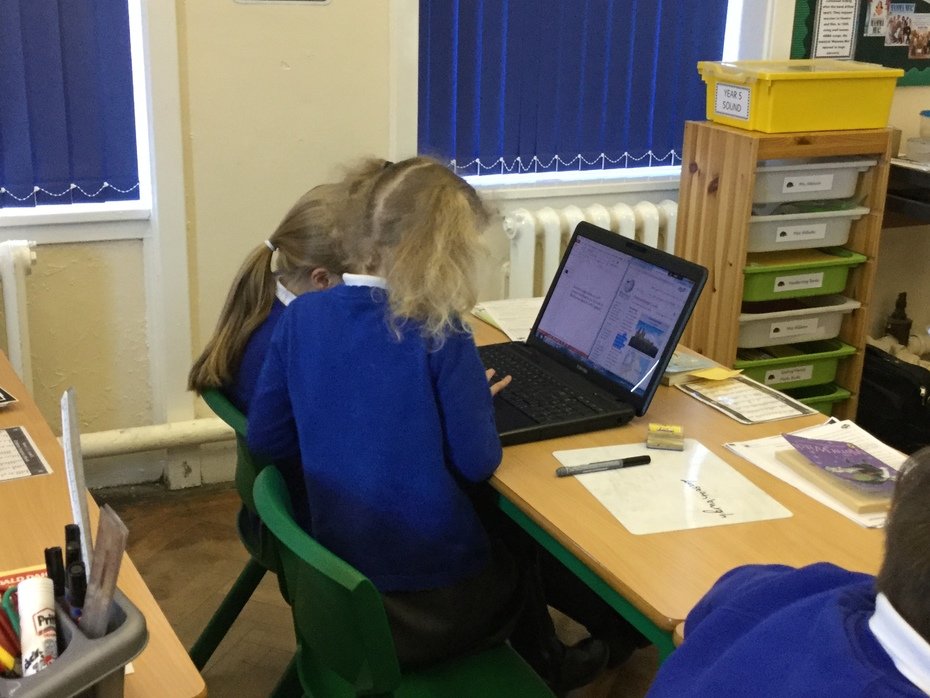 Year 5
In year 5 the children have been busy creating a game using Kodu which contains a point scoring variable. Here they have been learning about conditional statements in programming: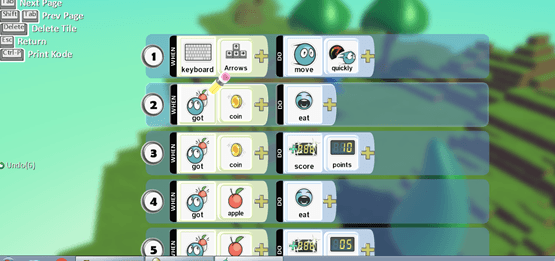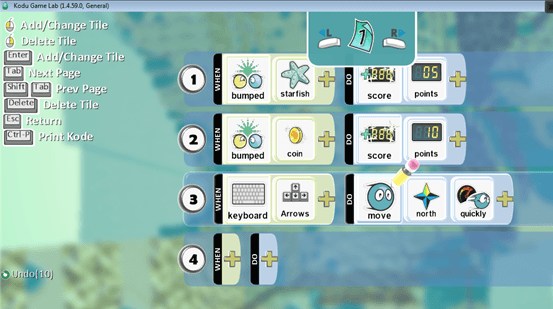 Year 6
Children in Year 6 have been using a 3D game design program called Kodu. The children have been challenged to create algorithms to develop the gameplay of a racing game. This has included creating a world and inhabiting it with playable and computer controlled sprites. The children have worked really hard developing their games which have even been play-tested by their peers.
Be Internet Legends Assembly
The Google Be Internet Legends assembly teaches Key Stage 2 pupils teaches pupils to be safe and confident explorers of the online world.
The assembly focused on the five core pillars of the Be Internet Legends educational programme, incorporating characters from an imaginary world called Interland. The pillars are:
· Be Internet Sharp: Centred around the importance of thinking before sharing, evaluating whether a piece of information is private or not, and bearing in mind who will be able to see what is shared.
· Be Internet Alert: Teaching pupils how to spot phishing scams and how to report them, be able to tell what is real and what is fake, and to think critically about information found online.
· Be Internet Secure: Focused on keeping personal information safe by creating unique passwords, combining characters, numbers and symbols.
· Be Internet Kind: Encourages pupils to spread positivity online, speak up against and report bullying, and teaches them how to identify inappropriate behaviour.
· Be Internet Brave: About standing up when witnessing something inappropriate online, and to speak to a trusted adult about any concerns.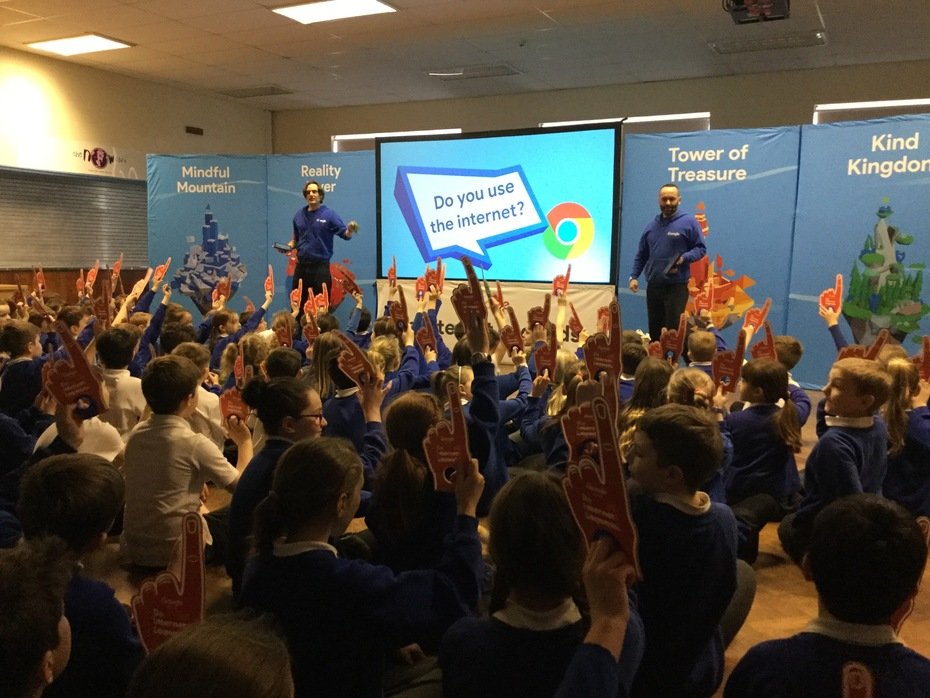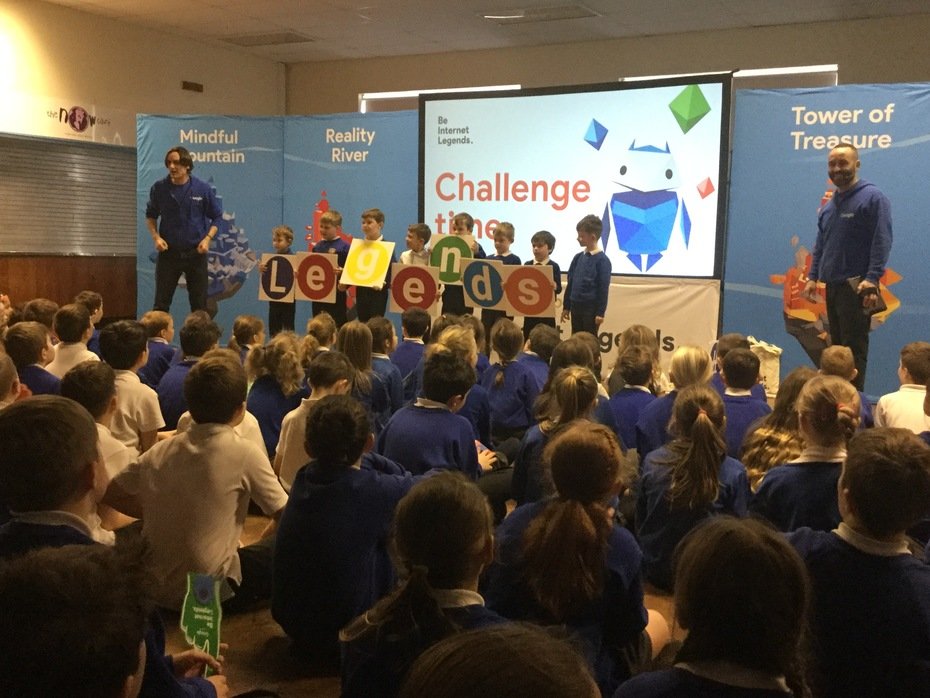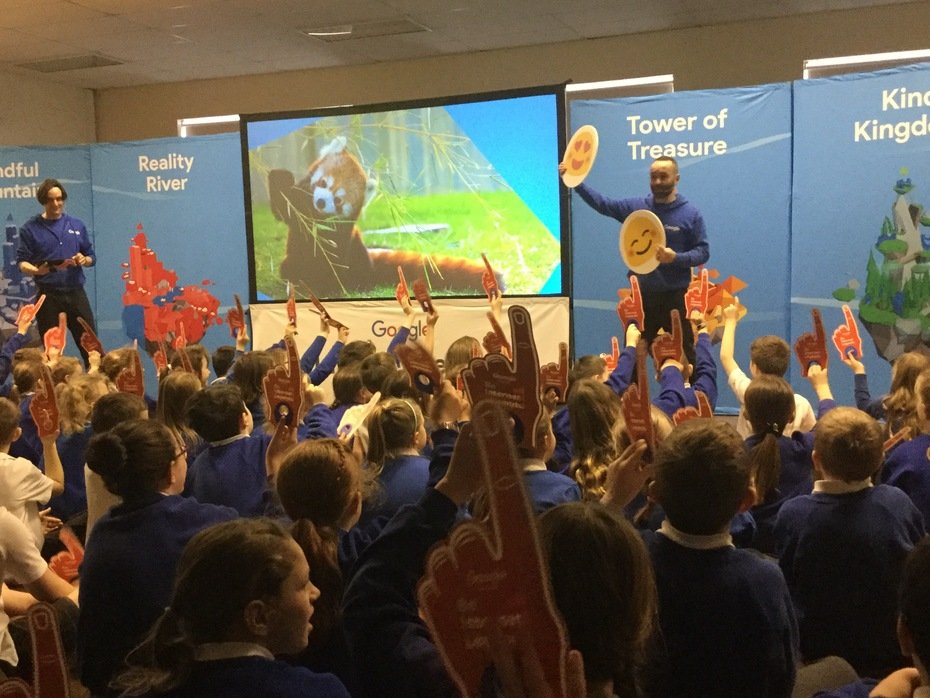 The children were brilliant at answering questions and they engaged really well with the two presenters. They loved the hands up signs they were given to answer the dilemma style questions. At the end of the assembly we were given a certificate for our school.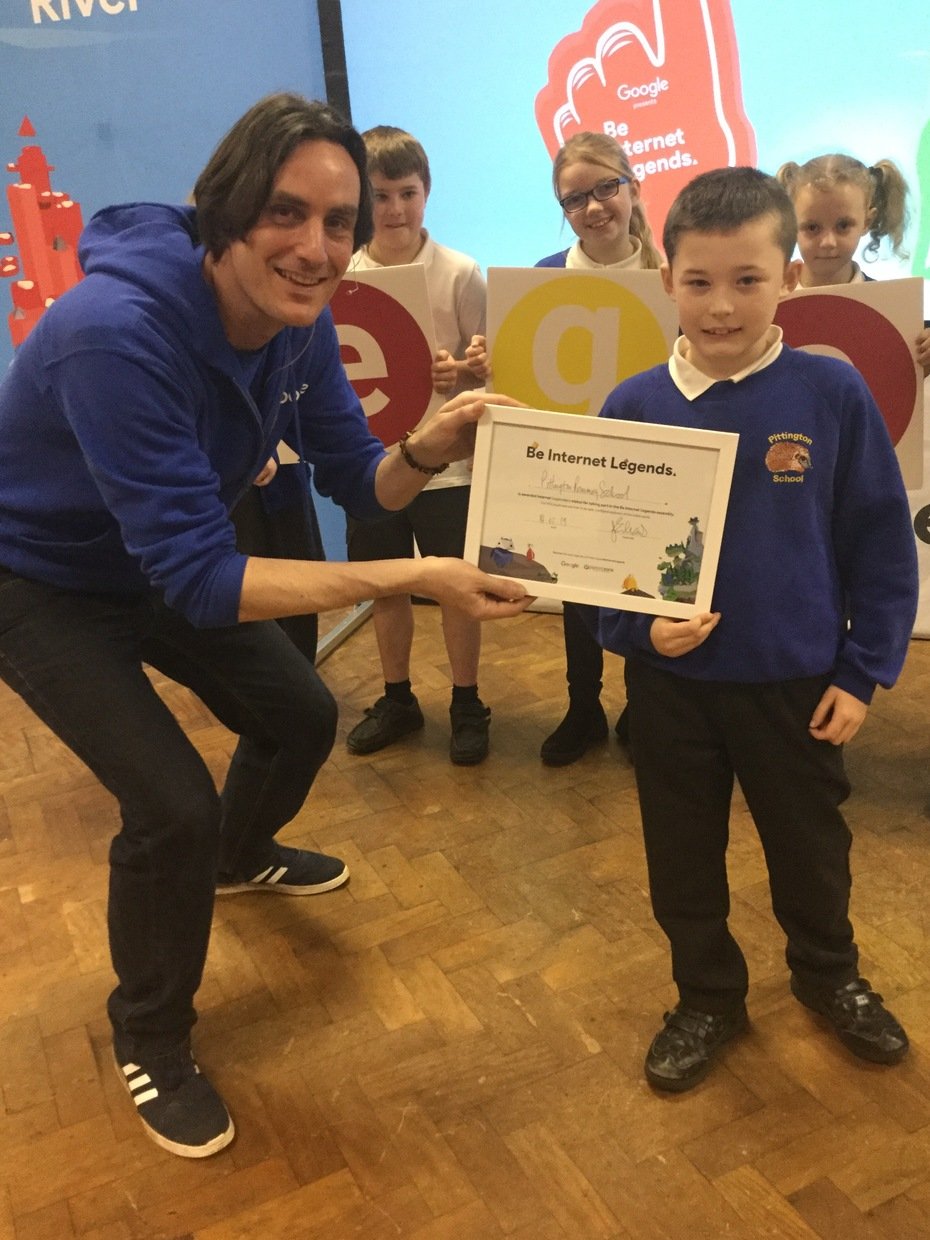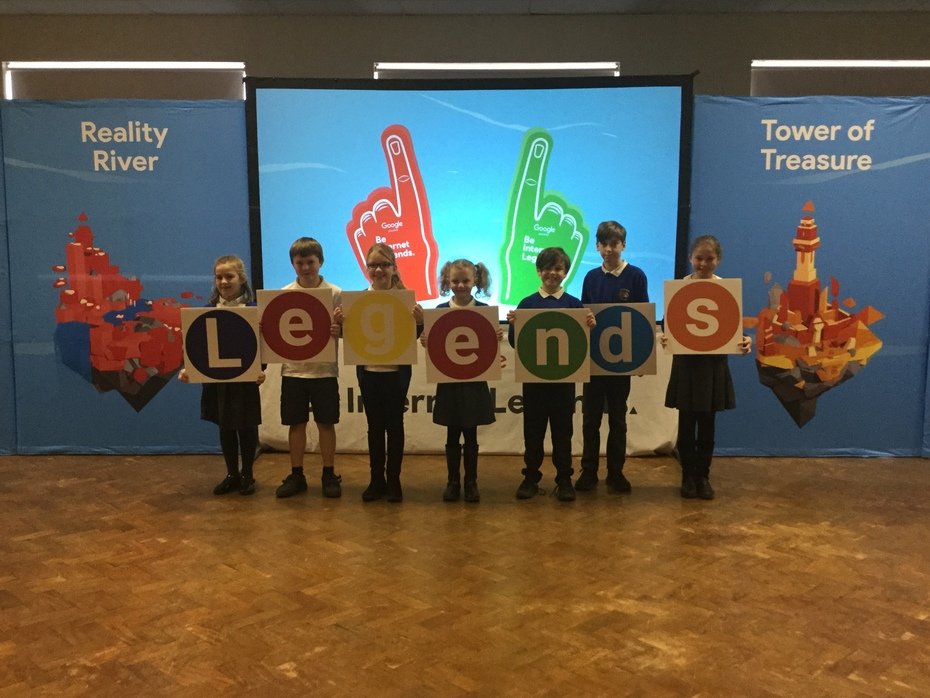 Enrichment - WebWatchers Trip to the Apple Store
Mrs Rowell took the Keystage 2 WebWatchers to the Apple Store at the Metro Centre to take part in one of their interactive workshops. The staff were amazing and showed the children how to use the app Clips and then assisted them in making their own magic videos. The children had great fun using the ipads and came up with some brilliant ideas.
Below you can see some of the children's amazing creations:
Safer Internet Week
As part of our Safer Internet Week in school the WebWatchers launched a competition to design an E-Safety Poster to be displayed around school. Here are the children designing posters to take back to their classes to show what they need to do to enter.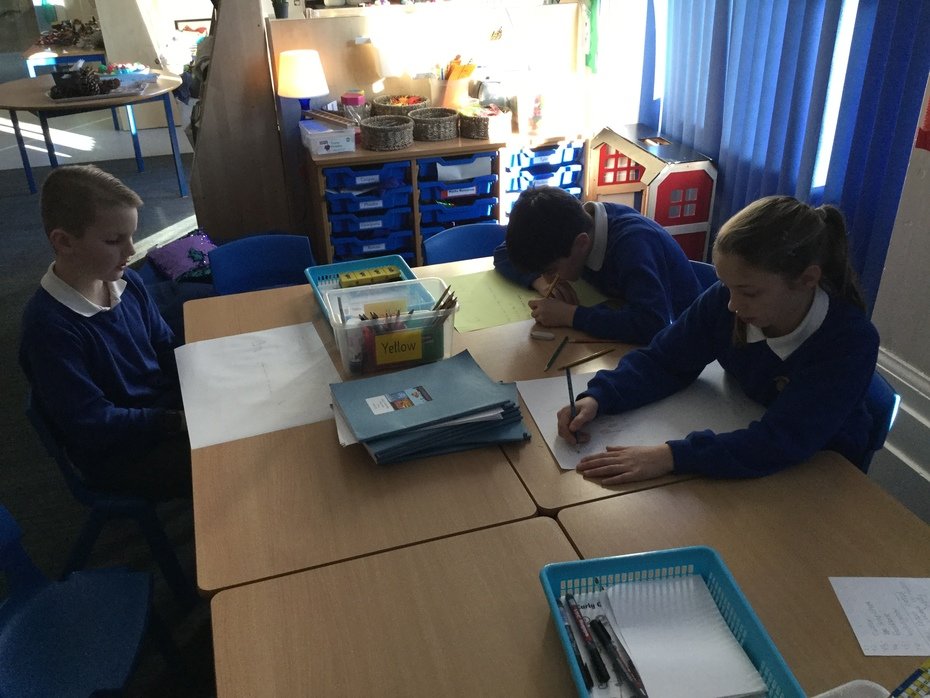 Autumn Term
EYFS
Reception
Reception have been learning all about computers, tablets and cameras and how we use equipment at home and in school. We are still practising controlling a mouse to create pictures using a computer.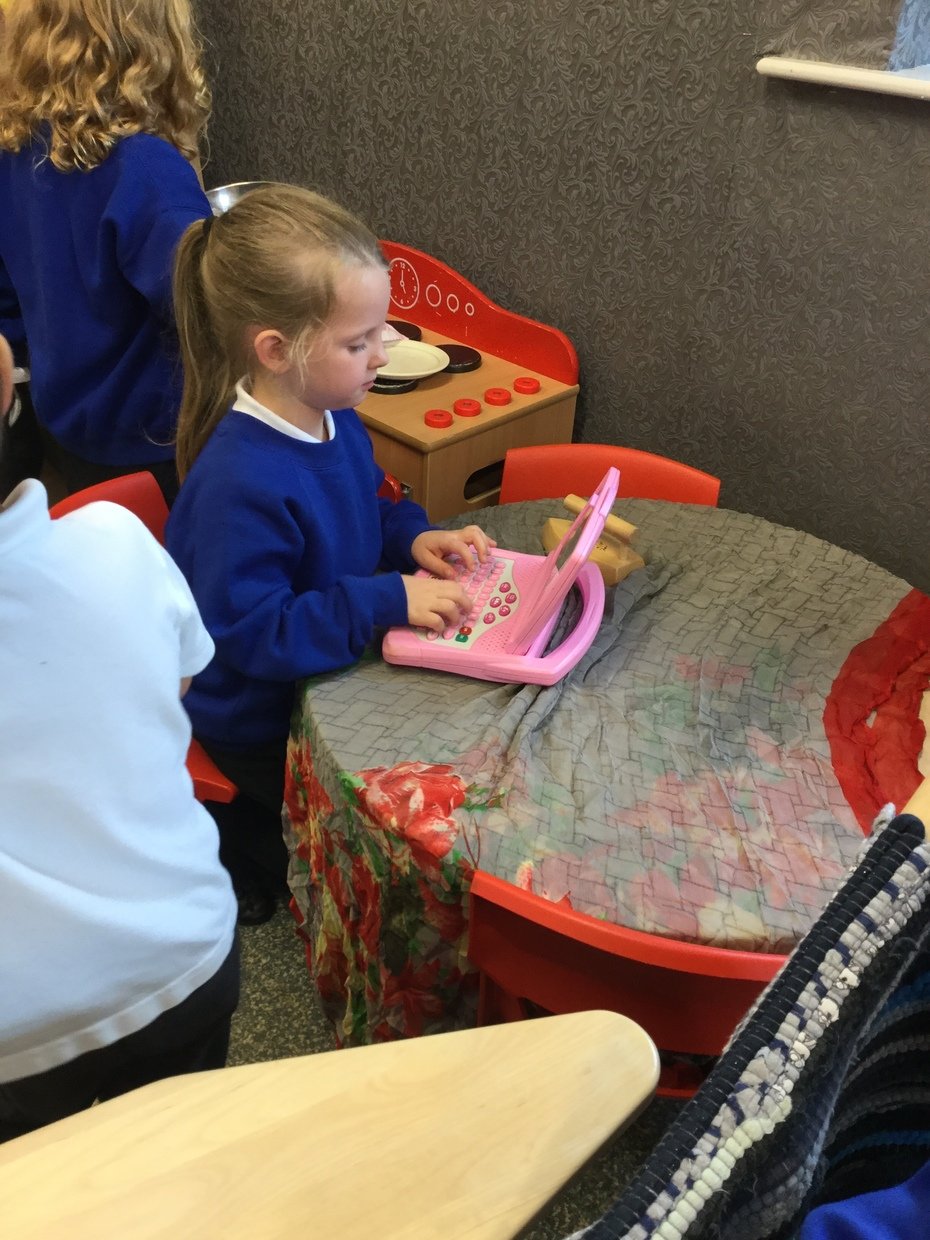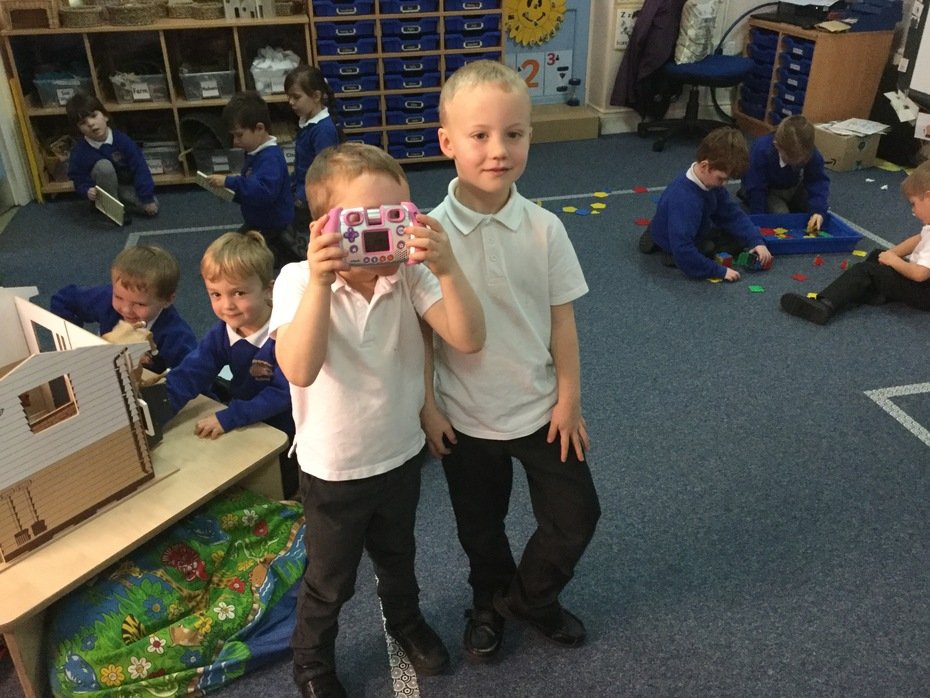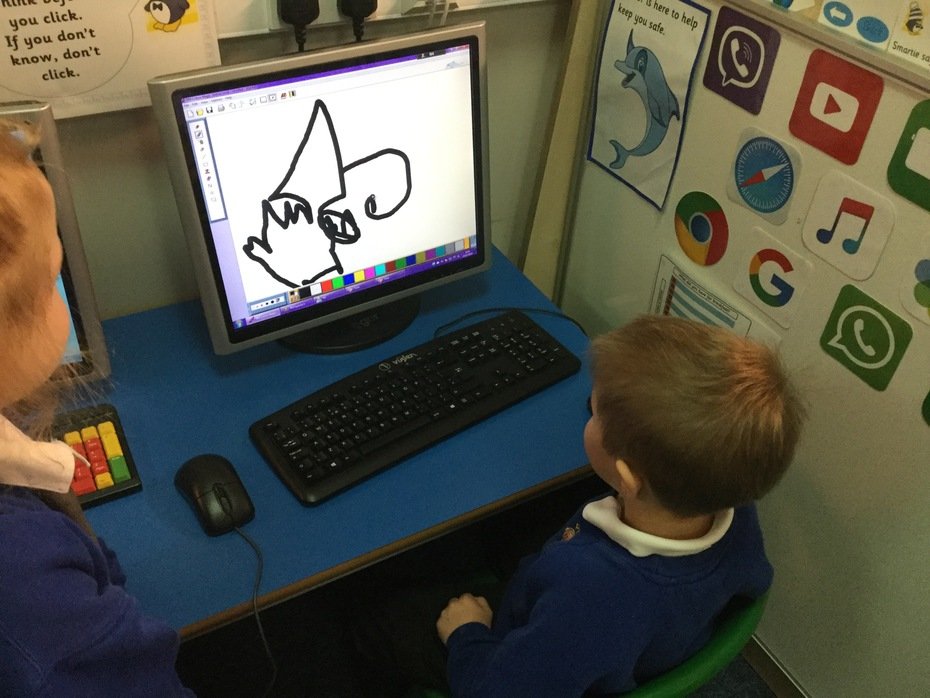 Keystage 1
Year 1
The Year 1 children were exploring using Ipads to create their own algorithms for making a lego block model. The children worked with a partner to ensure they held the ipad still to ensure their photographs were clear.
In preparation for our E Safety meeting to parents the children learnt all about Smartie the Penguin and how to stay safe when using the internet. We coloured in our own Smartie and sang the catchy song to our parents.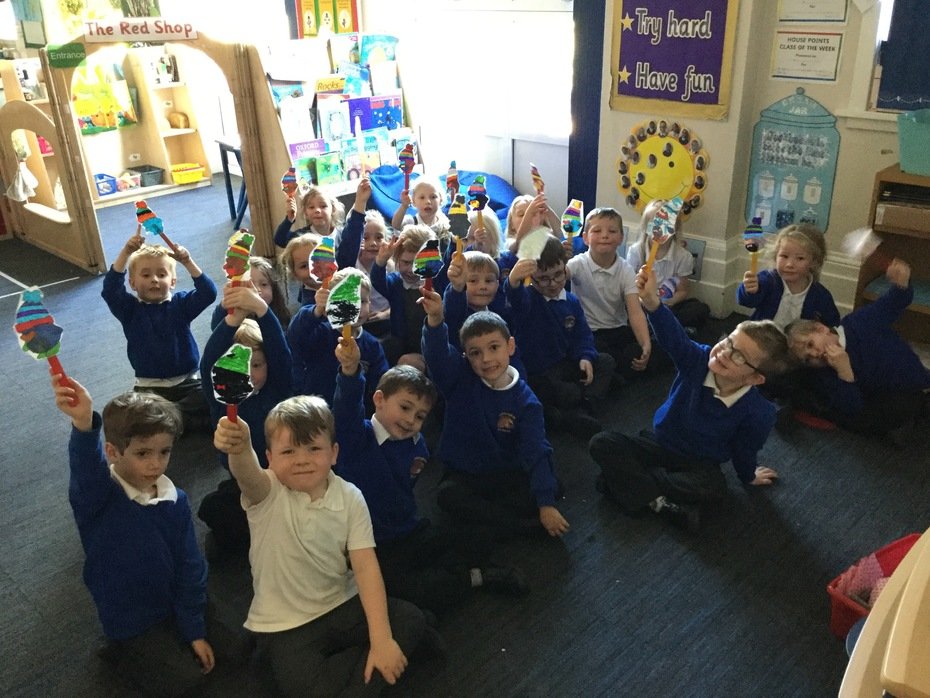 Year 2
Learning about computing doesn't always require a computer! Some of the class were turned into robots and the rest of the group had the task of writing a series of 'commands' to help the Pittington robots to perform tasks like opening a jar. This proved to be rather trickier than we thought so the next challenge was to 'debug' the commands in our programs.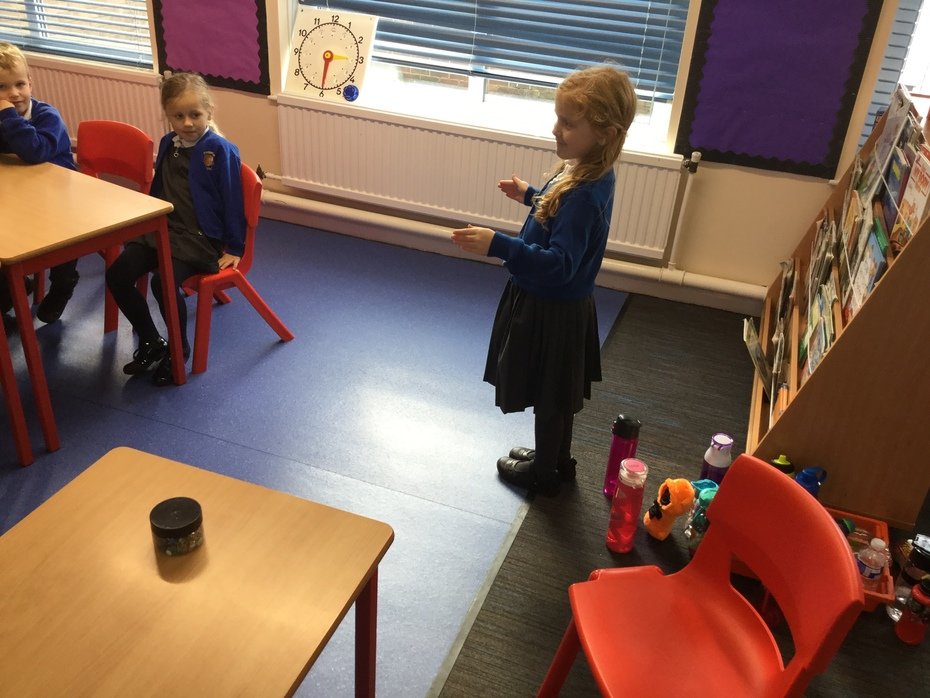 Keystage 2
Year 3
In Year 3 the children have explored various aspects of the computing curriculum.
They have explored algorithms using a programme called Scratch.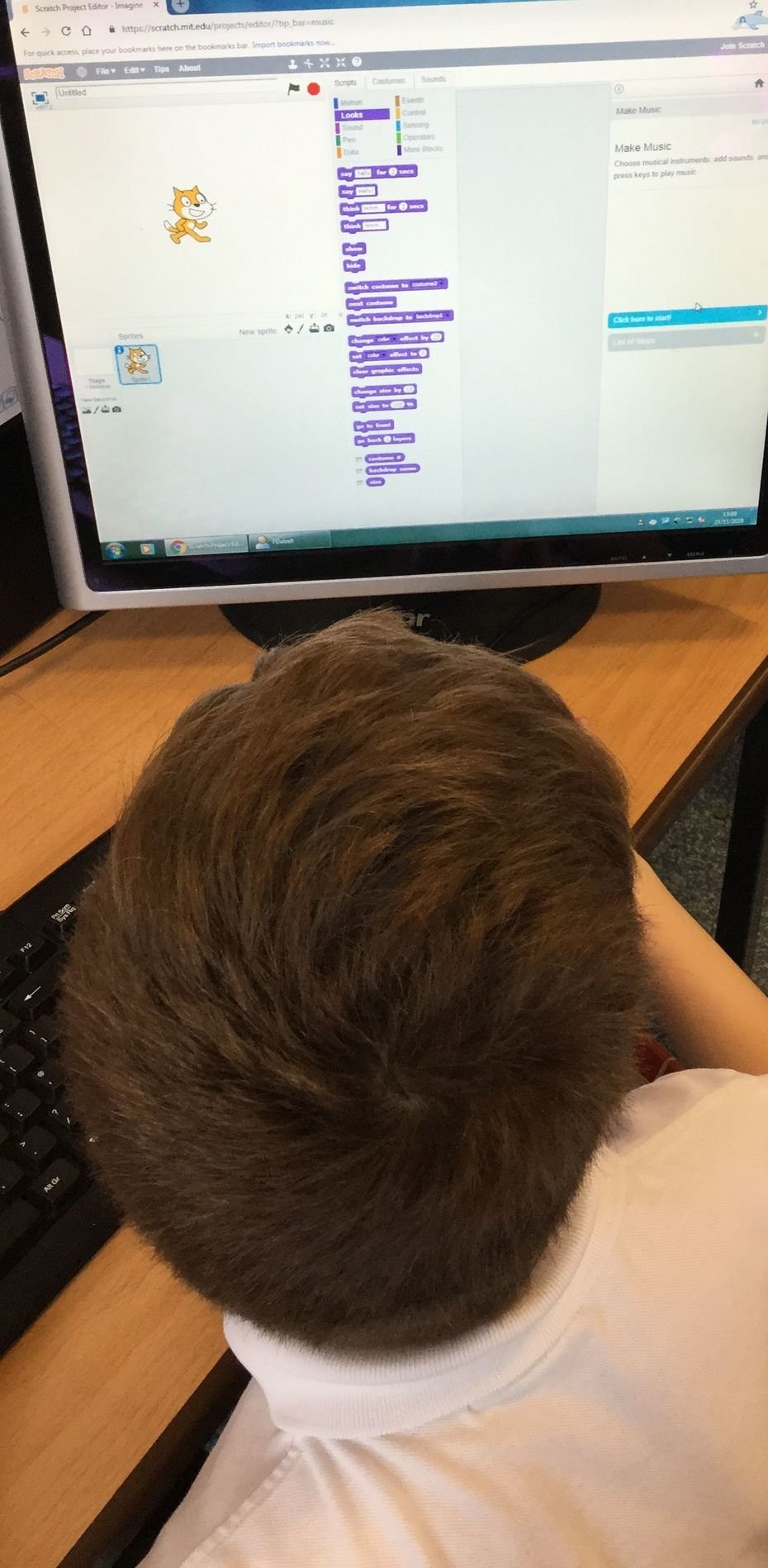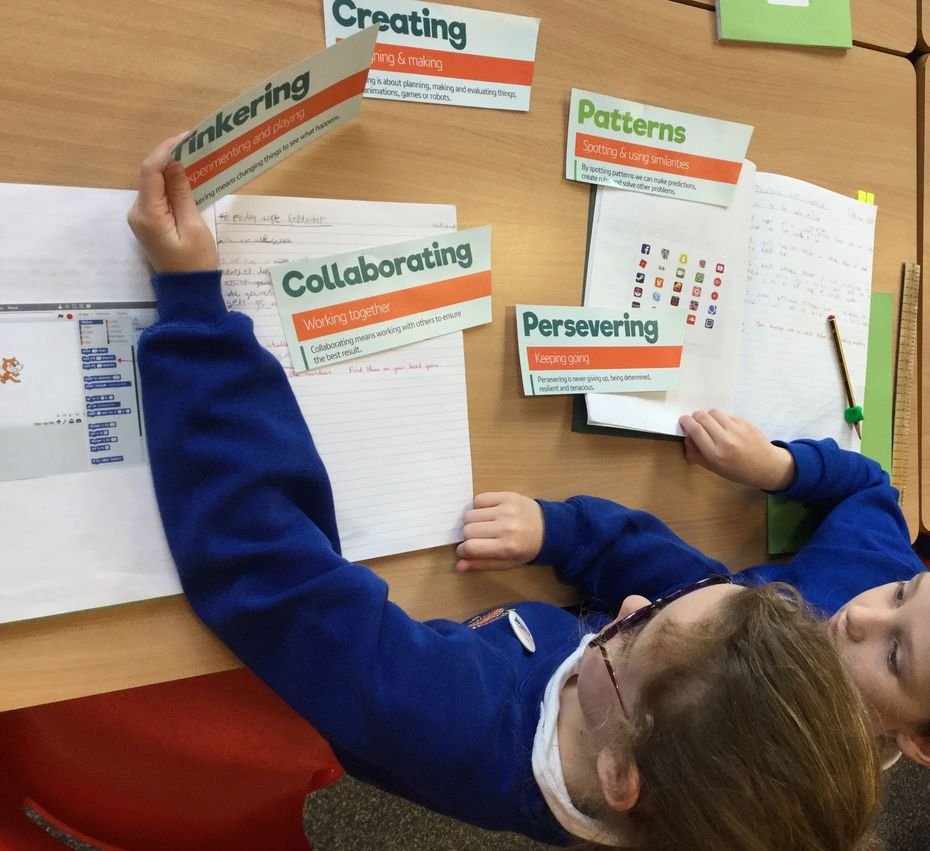 They have used Powerpoint to create a presentation about something that interests them. They explored how to add pictures and text, insert hyperlinks and add more pages as needed.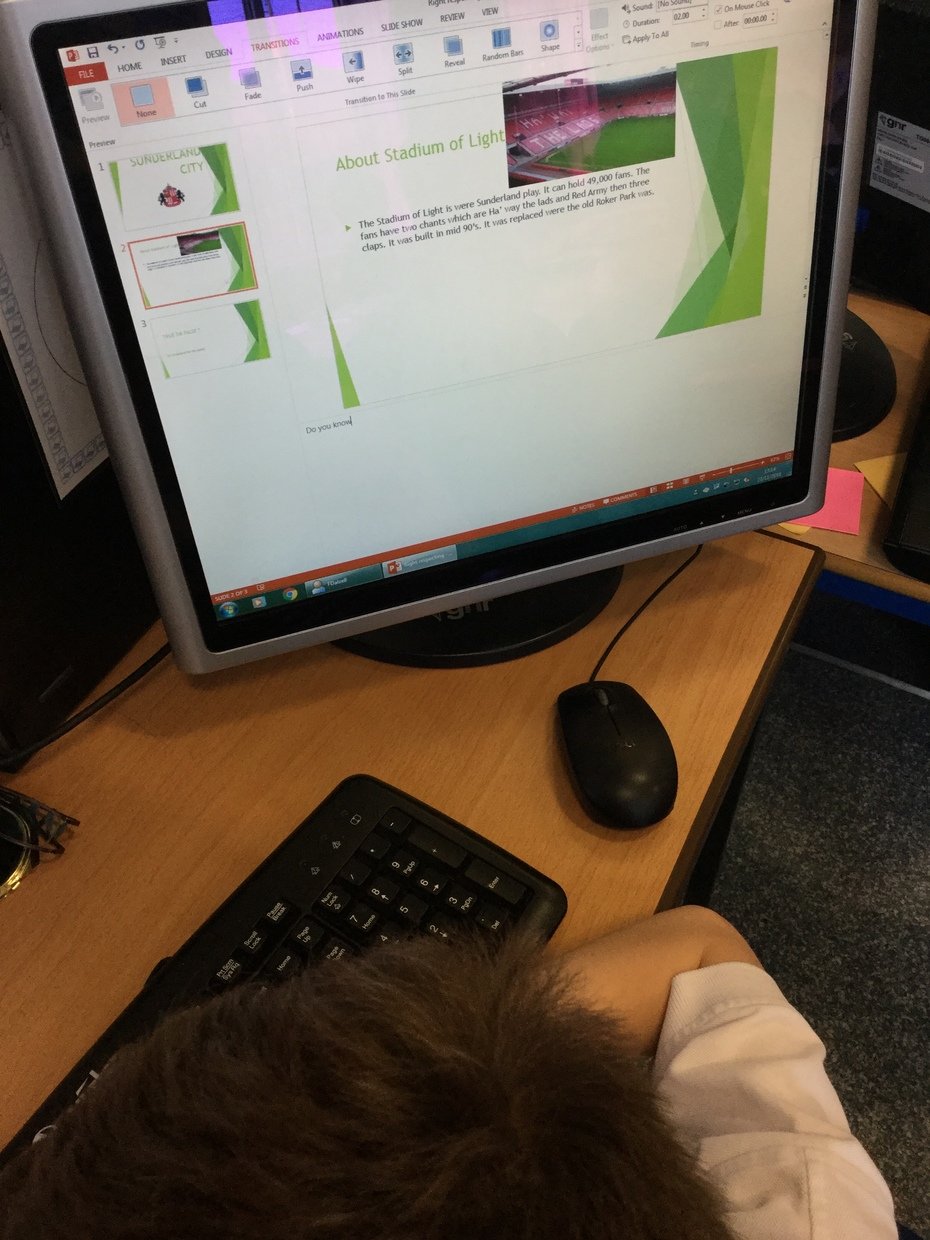 The children have used the laptops to research websites linked to their current topic.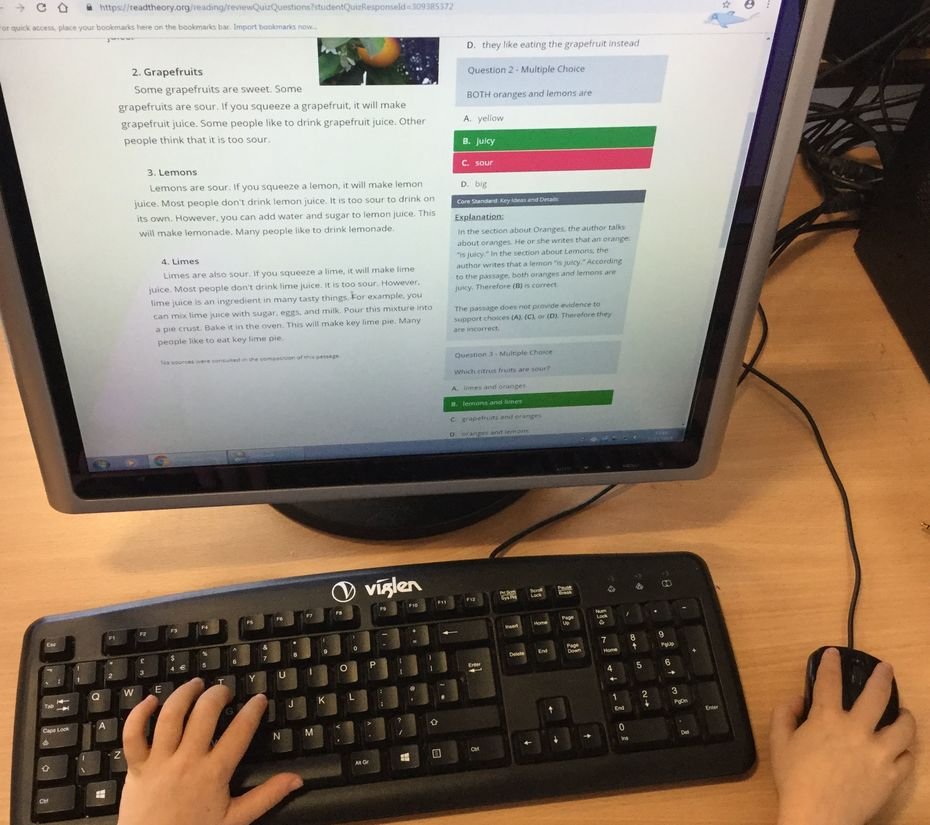 Year 5
Year 5 have been working on Scratch to create a maths quiz related to adding and subtracting fractions. We have looked at using selection and variables to enhance our quiz.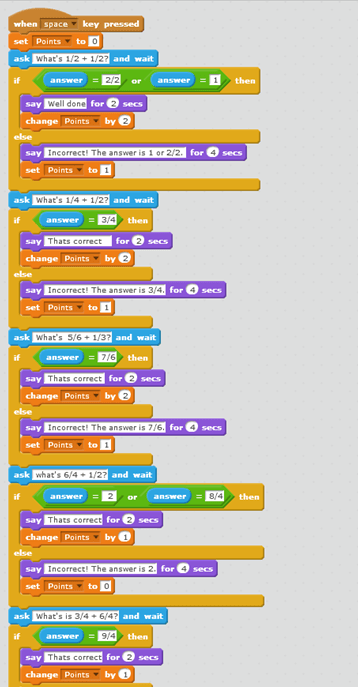 Year 6
The Year 6 children have been working on a stop animation project to create a new selling video for our school. The children edited pictures, music and slides to create their video and used many skills taught throughout school to get their finished product.
E-Safety Assembly for Parents
At the beginning of each school year we hold an E- Safety meeting for all parents in school. Each class gives a short presentation about what they will be covering over the school year and how parents can help to keep their children safe on the internet.