Languages at Pittington
Summer Term 2021
During this summer term in French, Year 3 have been succeeding with our pronunciation and understanding for how the spelling of certain colours changes when the colour describes a feminine noun. To do this we used our classroom display where the body part labels included the definitive articles so we could identify if the noun was masculine or feminine.
Year 3 also learned the body parts using a familiar rhyme and practised the pronunciation of the colours when singing a rainbow song. We then linked this with when we learned the numbers to twenty in a previous term so that we were able to describe a class monster.
In the final weeks of the summer term, we wrote simple sentences using what we had learned during this year.
Year 4 have been learning the names of different foods in French and have recently been expressing their preferences too. In these videos the children have selected their favourite foods to talk about, noted if they are masculine of feminine nouns and then chosen the correct adjective accordingly.
Converting media.
(Media will continue converting in the background)
In Year 5, we have been learning all about vocabulary associated with the beach through the exploration of the famous painting by Degas.
This has included developing our vocabulary range, being able to describe objects and people and working towards noun and adjective agreements. We have also been able to describe what things aren't and we have used a range of conjunctions.
Throughout this focus, we have developed both our spoken and written work. The children really were able to respond well and recalled lots of the vocabulary.
This term, Year 6 have been using the vocabulary which they learnt in Year 5 about features of towns and extending this to say what there is and is not in Durham. We have described Durham and compared it to Pittington. Take a look at some of our paragraphs:
We have also been learning the names for different types of shops such as la boulangerie, l'épicerie et (and) la patisserie.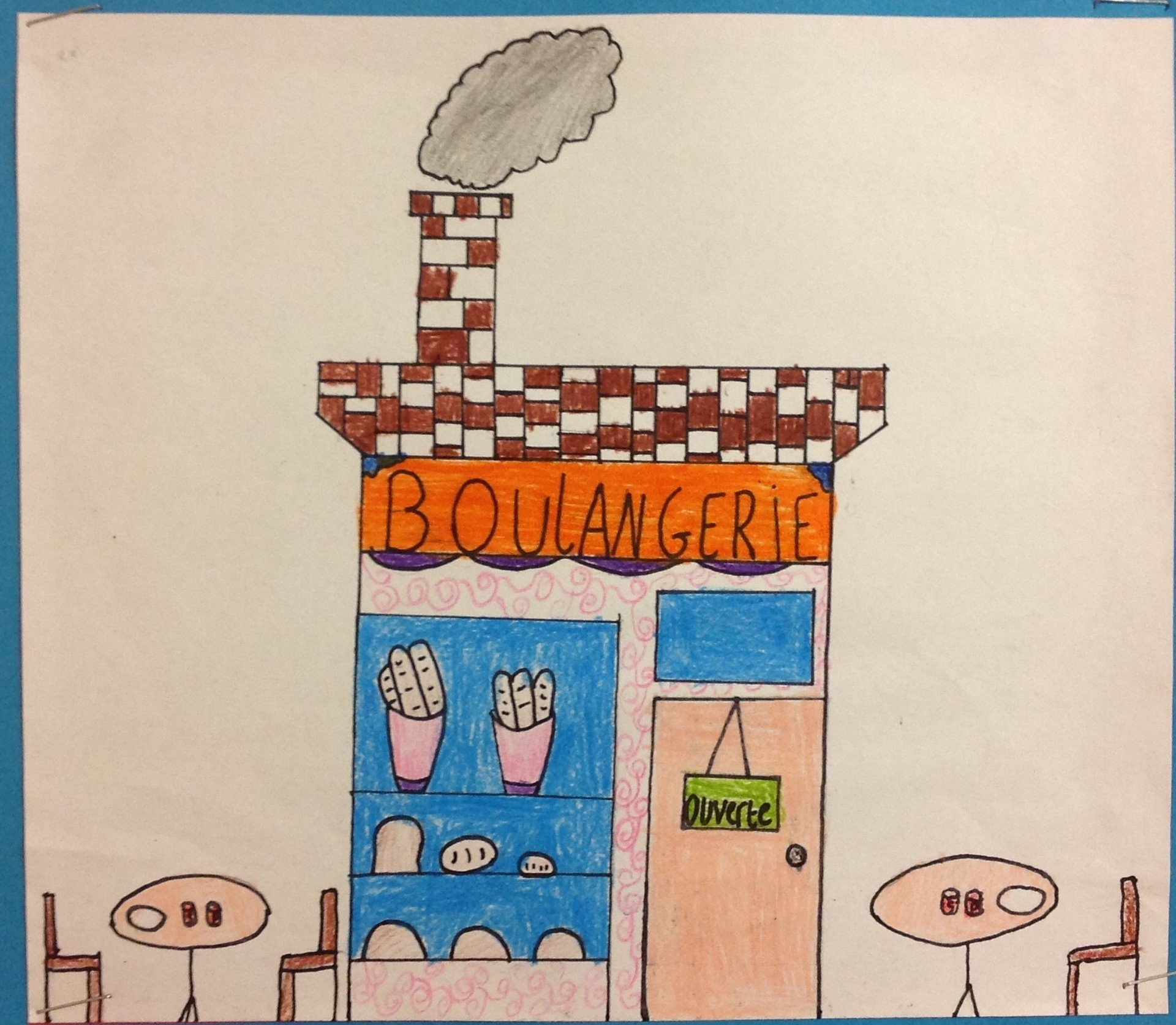 Spring Term 2021
During the first two months of this half term, the Year 3 children who were learning at home received activities that helped them to continue accessing the languages curriculum. The children both at home and in the classroom practised what they had been learning in the Autumn Term using the Usborne Quicklinks online resources where they could listen to a native French speaker and repeat to practise the pronunciation to revise vocabulary.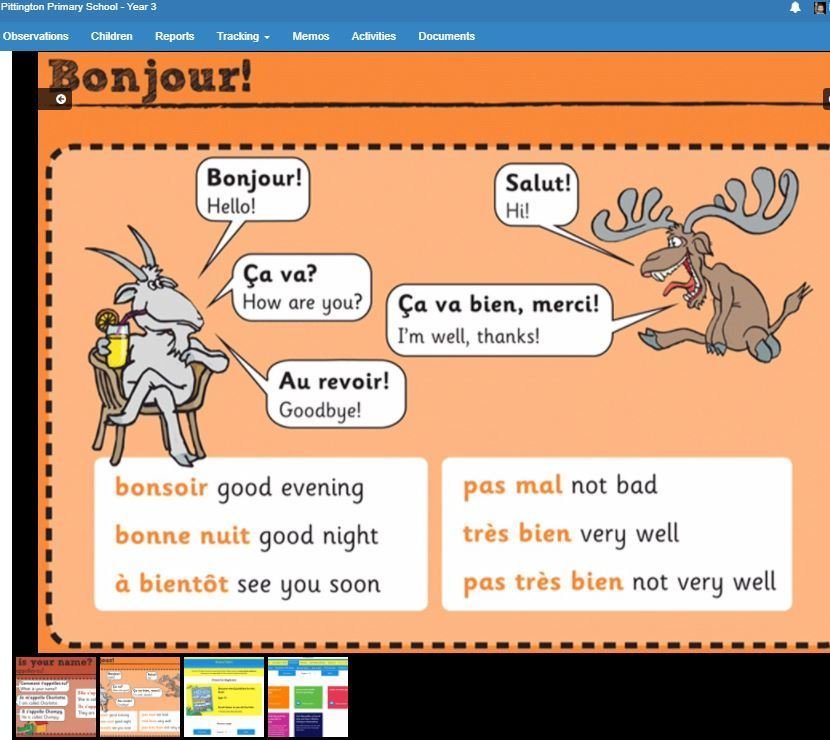 Once all the children were back in the classroom, we continued with learning how to say the numbers up to 31 and recognise the months of the year so that children could then respond to the question Quelle est le date de ton anniversaire?
The children began to understand words when seen and pronounce them with greater confidence when responding to the question 'Tu aimes….? about their preferences for break time games and activities.
In the last week of the term, Year 3 children learned the French words to the rhyme The famer in the Dell, noticing that there was some variation in the translation between words used in the English version and when using picture prompts for the French word being sung.
Year 4 have had a very busy term of French! They have learned the names of a wide range of different animals and foods and have also learned how to express their views about them, saying if they like them or not. As well as this the children have read a French storybook and created their own drawings based on the story, labelling what is shown in the picture using words from the book.
This term in French, Y5's topic has been 'What do you see on the way to school?' We have been learning how to count to 40 in French (building on our knowledge from Year 3) and this has been the case for both home learners and learners in school. Supporting videos have been provided for home learners through our online learning platform. These were recorded in the classroom.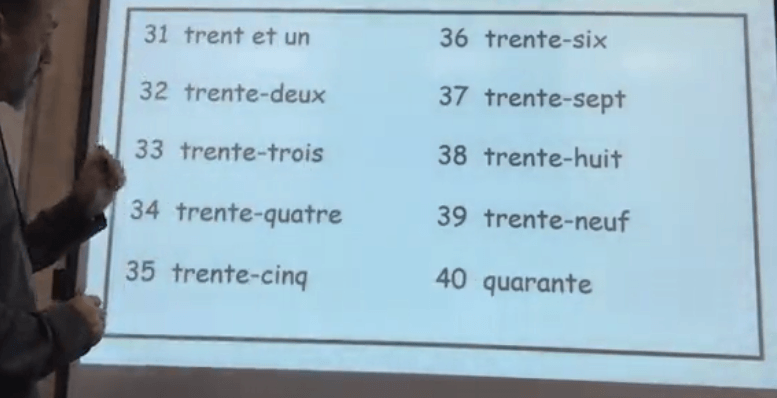 Additionally, we have explored the vocabulary used to name places found within a town and have developed our recall and pronunciation. This has included fun games and recall tasks in the class. We have also had the opportunity to record sentences in French relating to a journey to school.
Converting media.
(Media will continue converting in the background)
Year 6 have been focusing upon our world in French. It started by looking at the names for the continents and here is an example of a digital response from a home learner during lockdown.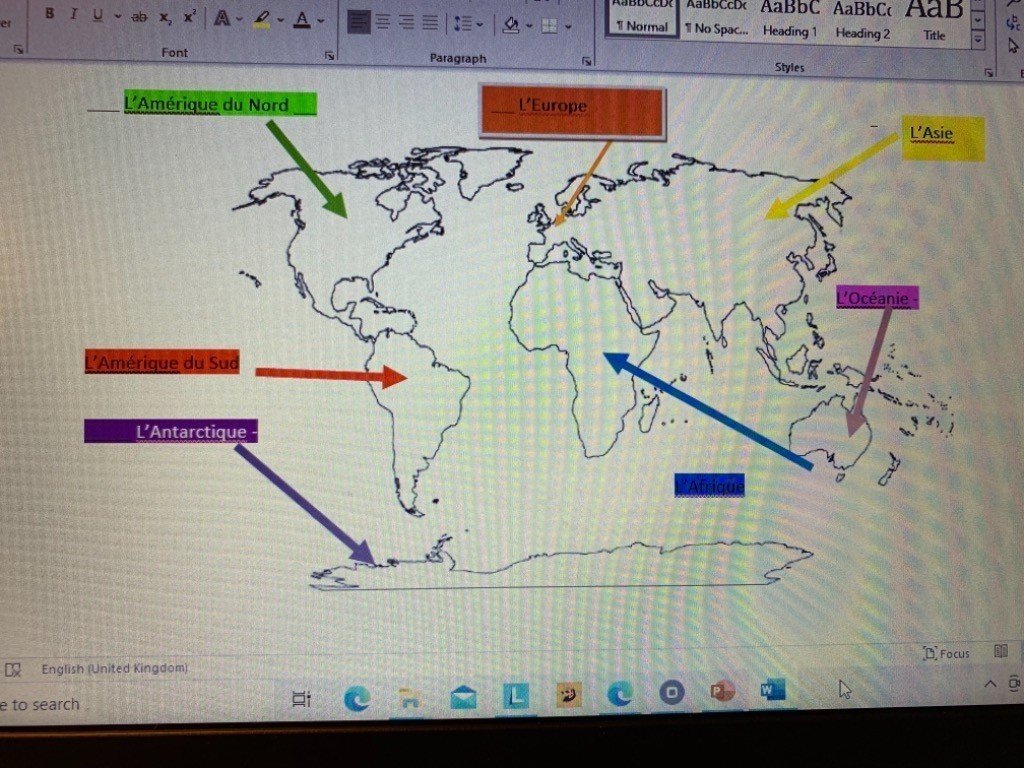 We then progressed to looking at famous rivers from around the world and wrote true or false questions about the continent where they are located.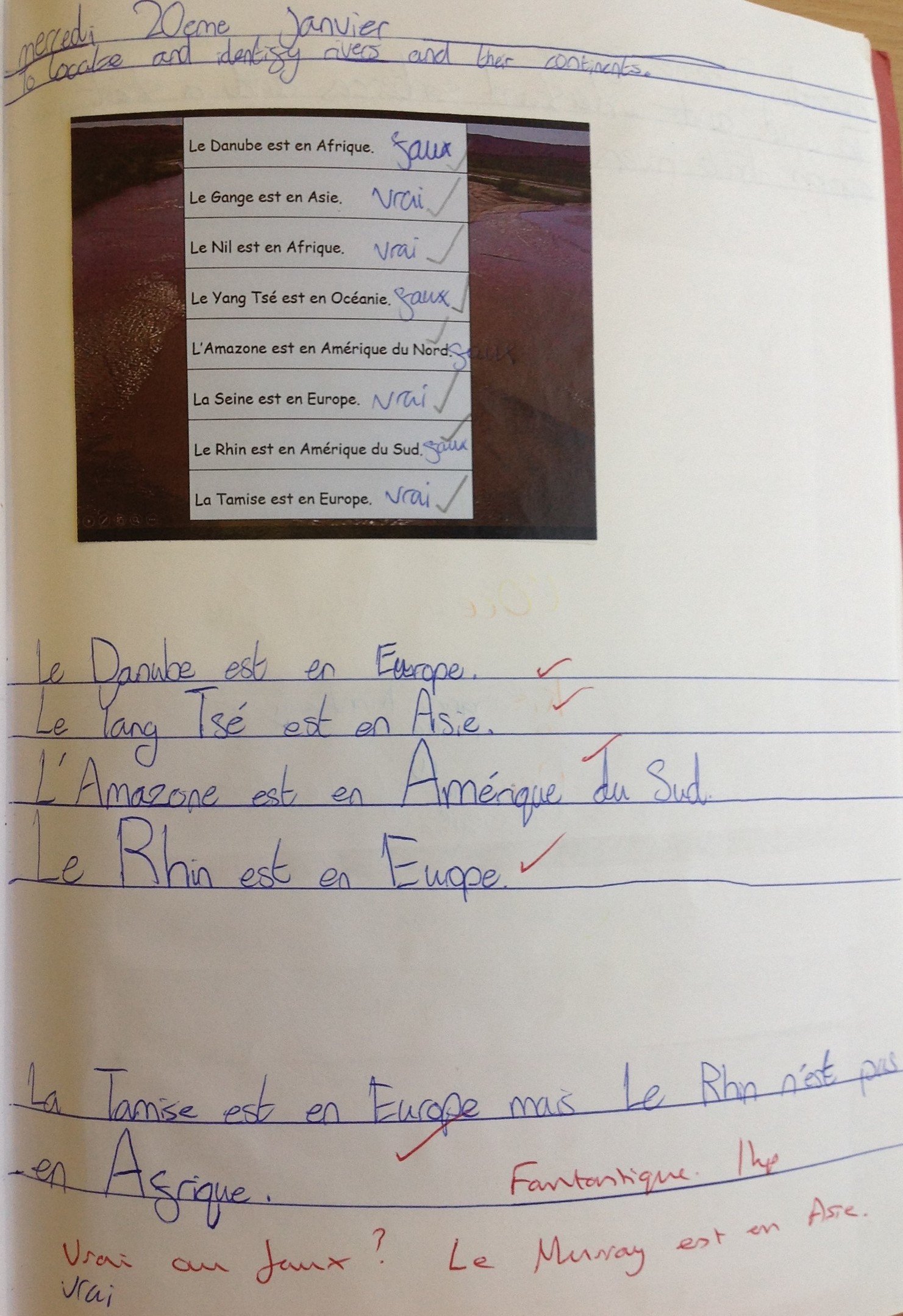 We then really challenged ourselves and translated a paragraph about some of the world's major rivers and extracted information from these to put into a factfile. Look at this about The Congo in Africa.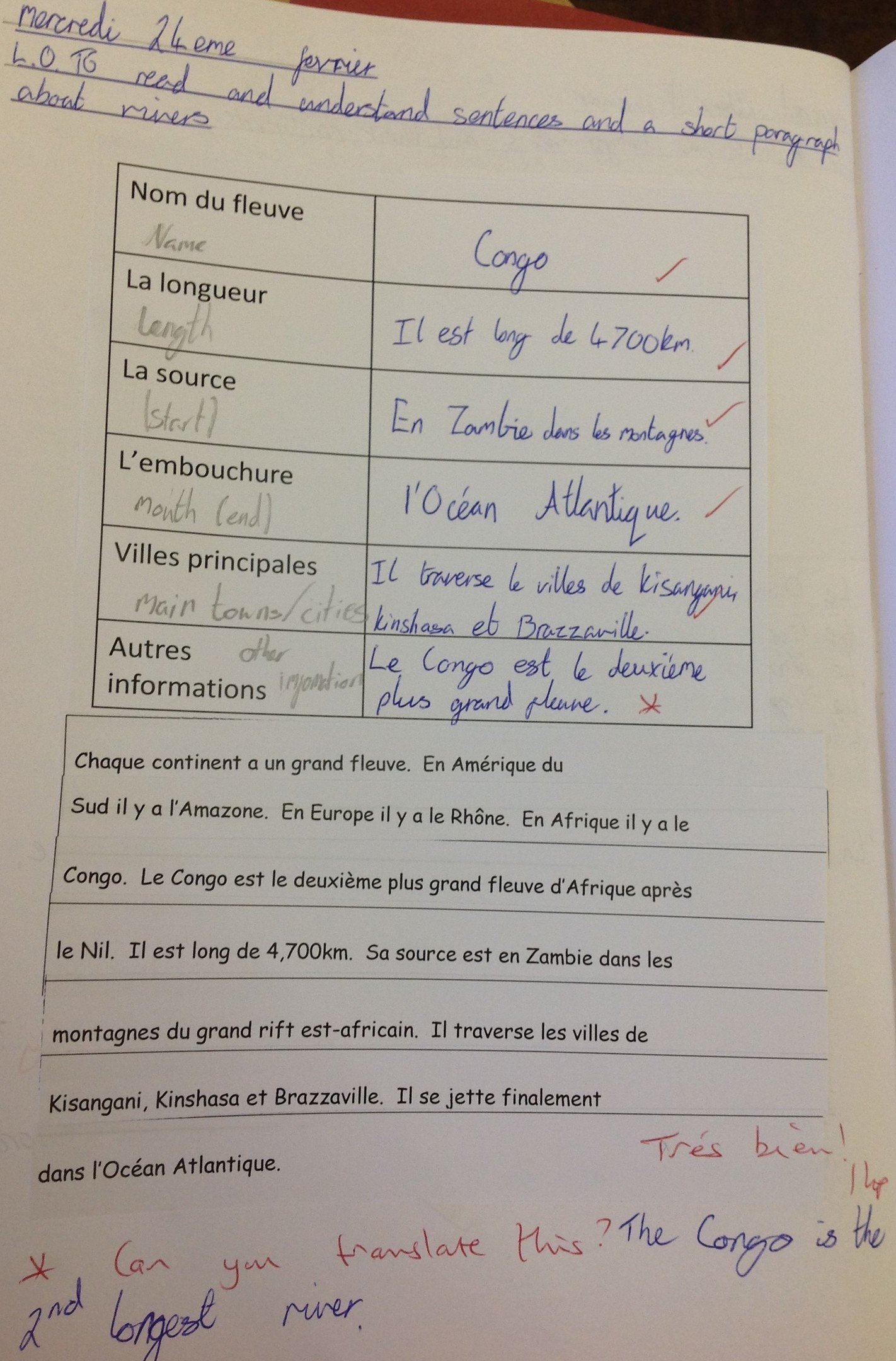 Autumn Term 2020
In Nursery we have been learning how to greet each other in other languages and can now say hello in French and Spanish. Some of the children were able to talk about other languages they had heard or that their family members speak at home or on holidays. We also took part in European Day of Languages with the rest of school where we learned some simple French phrases and found out about some French foods.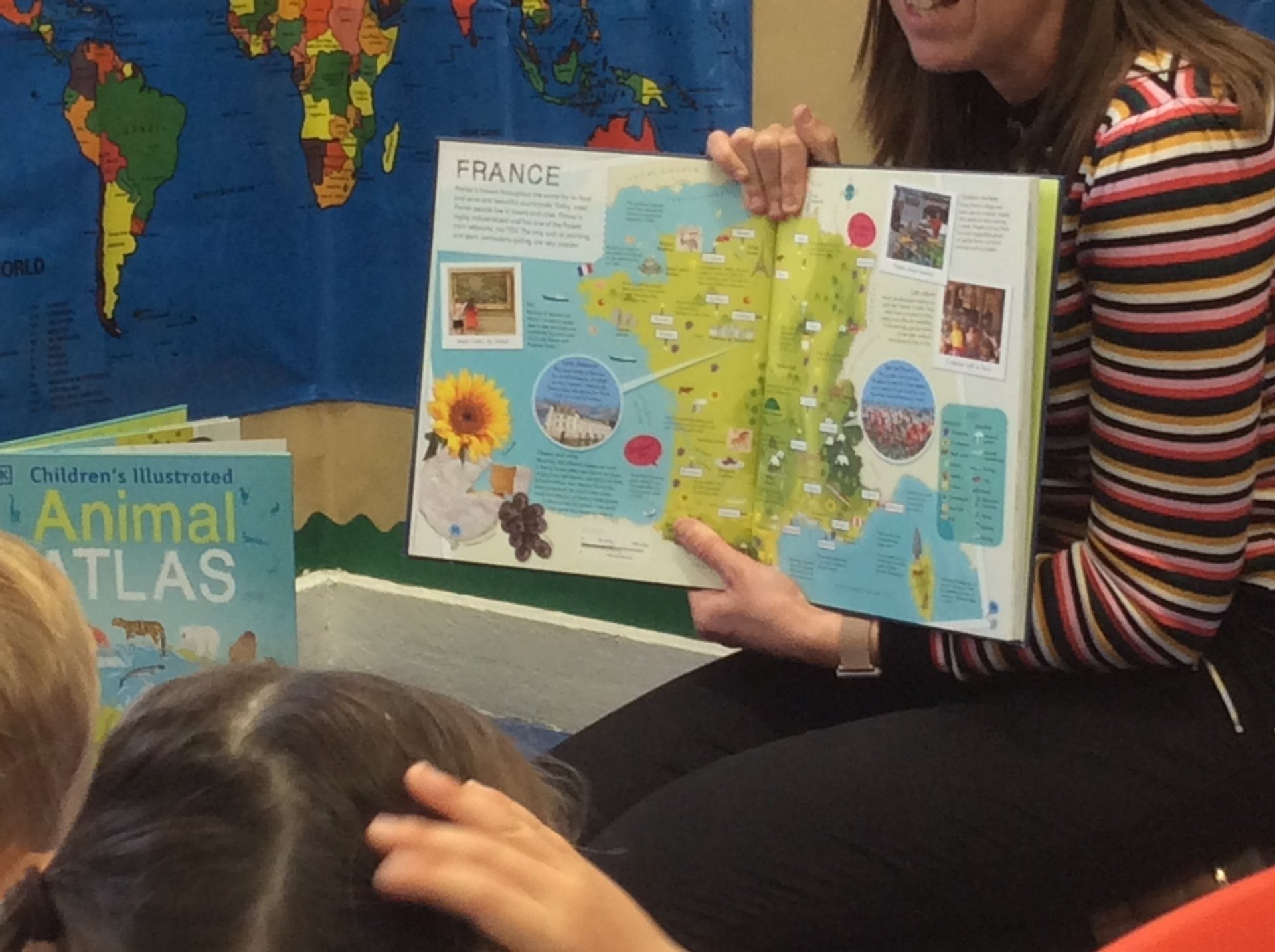 In September, to mark the occasion of European Day of Languages, Reception learnt all about France. We chose France so we could learn some words in French as this is the language that is taught as the children progress through school. First, we looked at a map to see where different countries are and mainly the countries in Europe. We located the United Kingdom on a globe and then looked to see where France is. We also used an Atlas to find more information.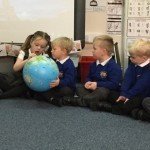 We learnt some simple phrases in French and chose to learn the words to Frère Jacques. The children enjoyed this version and also leaning the same translation of the song in English. We performed Frère Jacques to Mrs Atkinson who is the Languages co-ordinator of the school; she was very impressed!
Following on from this, Year 1 confidently respond to the register with 'Bonjour Madame…'
Lower KS 2 learned the names of many different modes of transport using flashcards. They then matched them all up in pairs before taking turns to test if they could say the French word to their partner who then had to match it to the picture.
In French this term, Year 5 have been learning all about the names of the planets and how we can use adjectives, prepositions and conjunctions to express information about them. We have developed our spoken and written work in this area and have been able to translate sentences in French which are about the planets. Our work on conjunctions has progressed to the use of 'because' and 'so'.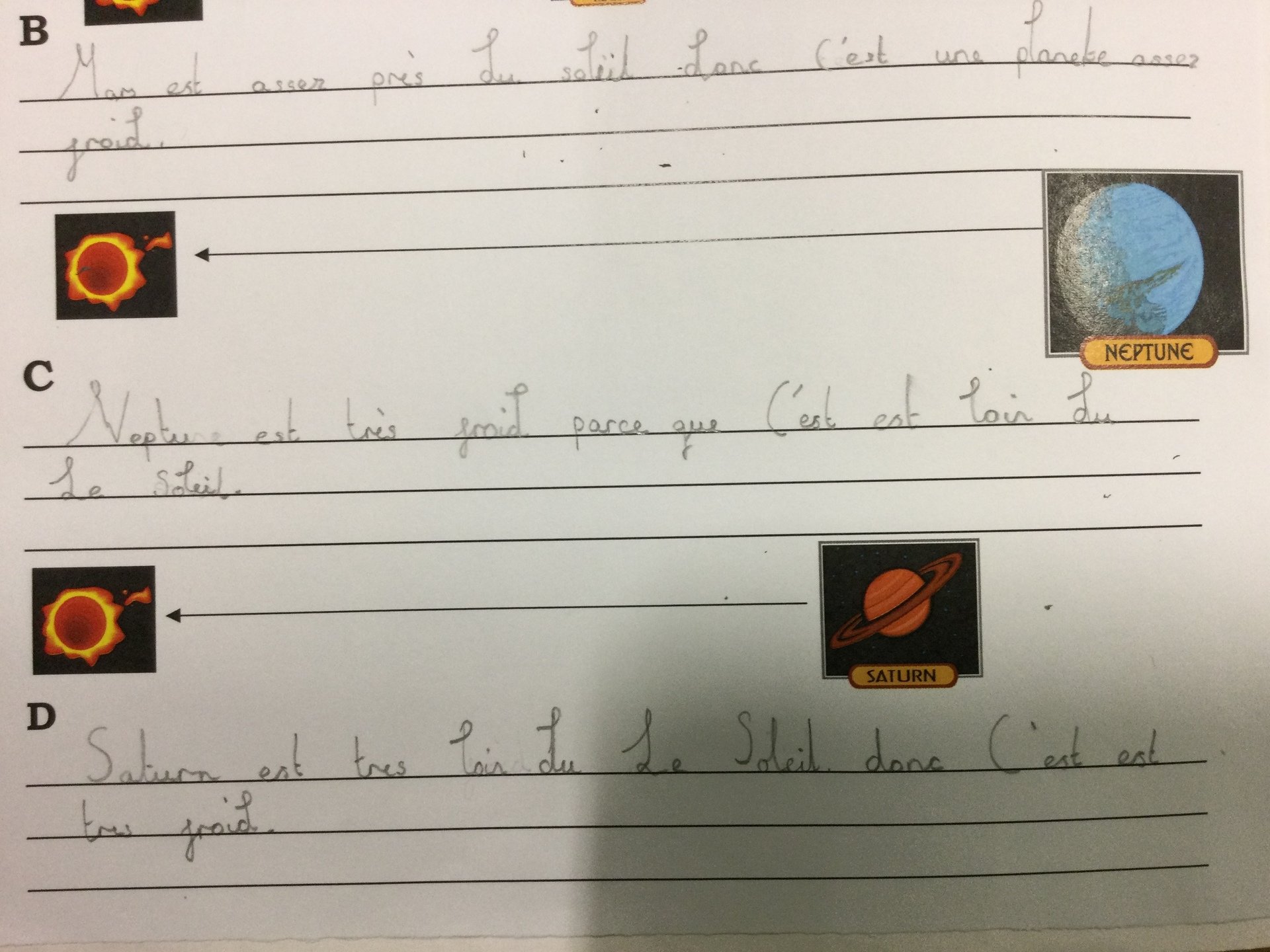 Additionally, we celebrated European Day of Languages by learning a number of phrases in German and we explored what life would be like in a school in Germany.
Y6 children have been exploring vocabulary for food and drink and to celebrate European day of languages, we sampled a range of French foods.
Spring Term 2020
Year 3
In Year 3 we learnt the French version of a familiar playground song.  It was 'Le Fermier dans son Pré.  Can you guess which song that is? Here is the music for you to try paying it at home: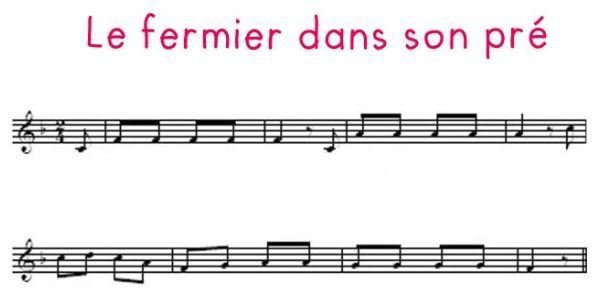 We learnt how to read and pronounce the French words and noticed that many don't follow the phonics rules that we know for English words.  We recorded our performance of the song using our class iPad.
Year 4
In French this term, Y4 we have been learning the names of different animals and enjoyed describing what each one does. For example, 'le cheval galope' (the horse gallops)
We have listened to, translated and retold the story of 'Les Quatre Amis' (The Four Friends) and enjoyed playing the characters of the horse, sheep, rabbit and mouse. We particularly focused upon identifying the nouns, verbs and adjectives.
Year 5
French students studying at Durham university came in to talk to Year 5 about life in their country. They shared pictures and information about places to visit in France, traditional foods they eat and celebrations that are unique to them. It was a fabulous opportunity for us all to hear their accents and get some practice with using the words and phrases we have been learning in class.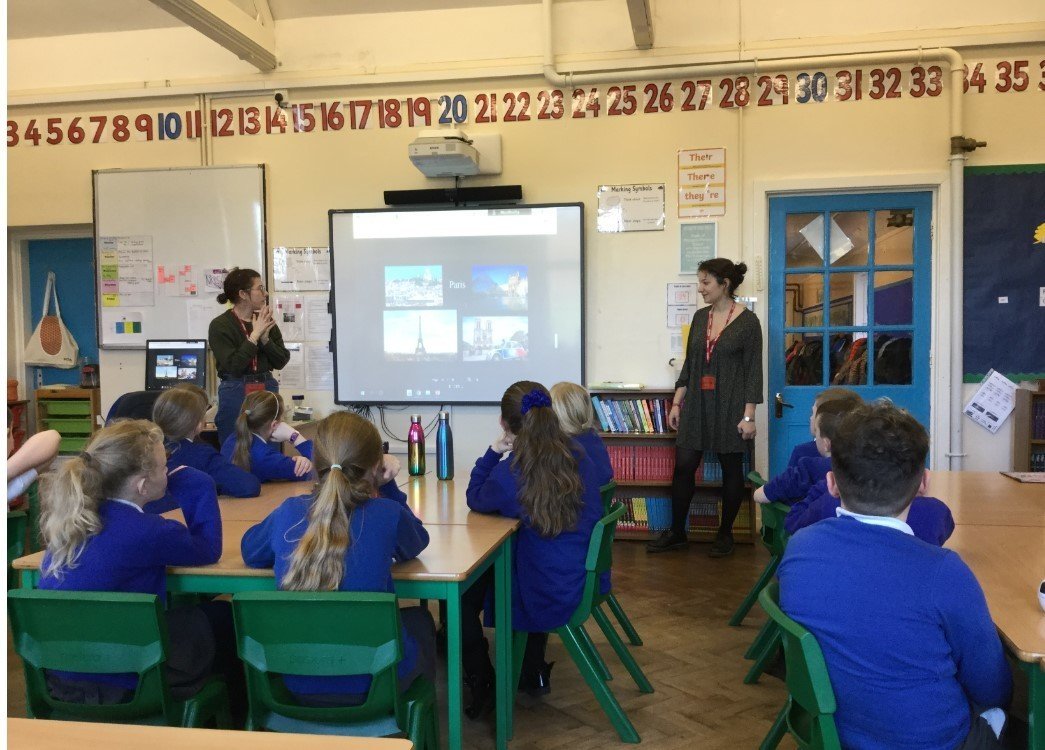 In Y5, we try to incorporate some French into our daily lives in class whether that be to answer in French during a Maths lesson to show our understanding of numbers in French, replying to the register or through playing games and activities we keep in our drawers to reinforce our learning in MFL.
This term we have focused on knowing numbers to 40 and to accurately read and pronounce multiples of 10 up to 100. We have continued to look at word class and started to write short sentences in French describing a journey.
Year 6
Y6's topic this term has been 'Our World'. We have been learning how to pronounce different geographical locations and features such as 'les fleuves' (the rivers) and 'les continents' (the continents) of the world.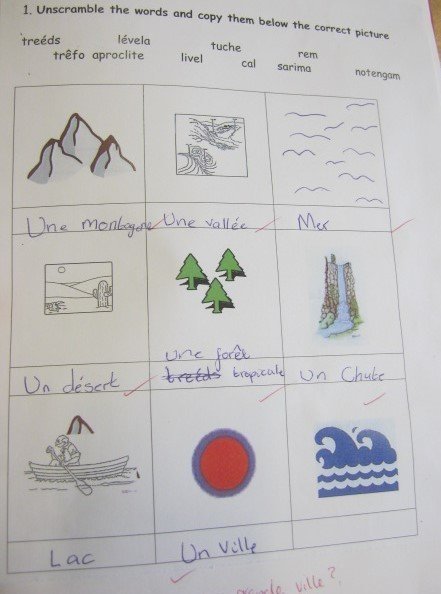 We enjoyed matching the rivers to Continents and wrote sentences such as
L' Amazon est en Amerique du sud.
Look below at some of our amazing translations!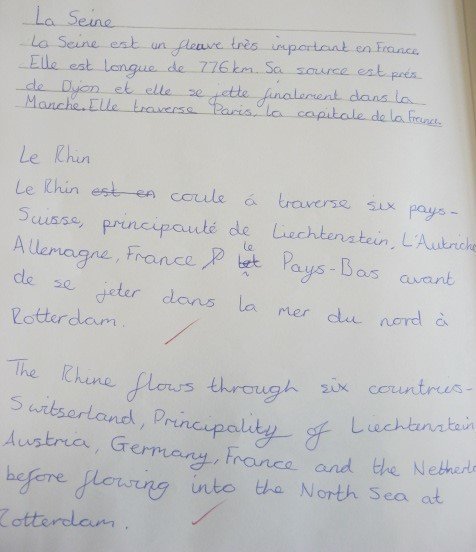 Autumn Term 2019
In September, the whole school took part in celebrating The European Day of Languages.
Early Years have been learning to say hello in lots of different languages and they use these new words to answer the register every day!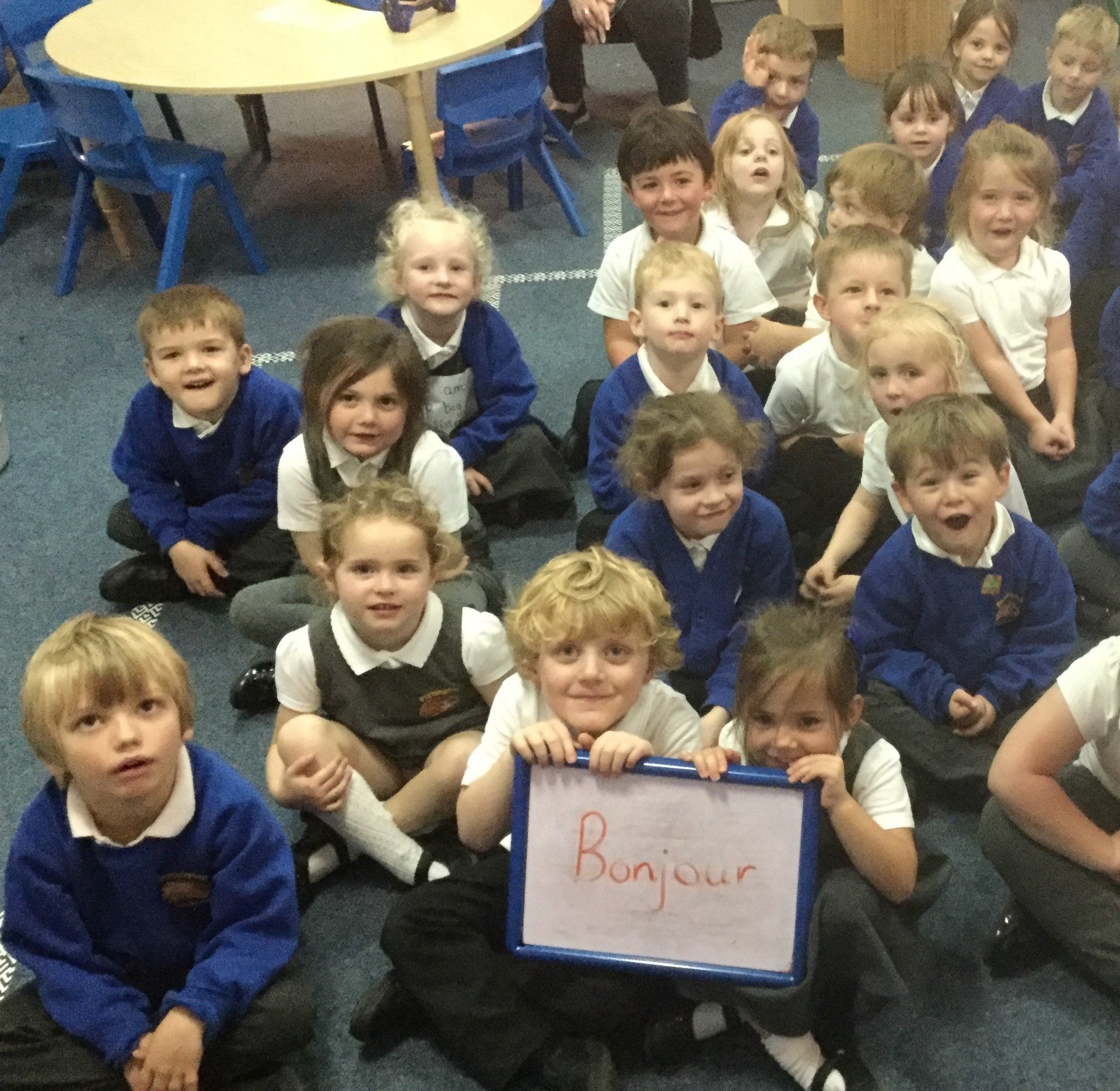 To highlight European Language day we explored everything French. We looked at landmarks such as the Eiffel Tower, learnt some colours in French and even learnt the rhyme Frère Jacques. We explored it's meaning too. We enjoyed this so much that we've added it to our class song-box!
In Year 1 we have been learning about France. We have learnt some simple phrases that are used in everyday life, have tasted some French cuisine and have shared what we know with others in the school and family members at home. During registration the children love to answer in French and will even respond to some questions in French!
We have also started to explore greetings in other languages such as Spanish, and German.
Key Stage 2
Year 3 began the busy term by learning about the countries and corresponding continents where the French language is spoken. We then learnt phrases that link with greetings and introducing ourselves. Then on the European Day of Languages we learnt these same phrases as are spoken in Spanish. As the term continued we looked at the numbers from one to twelve and linked them with the both the clock face. We began to ask question for each other and could now respond with our age. In the final weeks of this term we have began to learn to sing in French the traditional song 'Sur le pont d'Avignon'.
In our 'Let's Go' unit this term, the children in Y4 have been learning how to say the different modes of transport and describe how they get to school. They have also been learning how to say what the weather is like and created posters showing information on France and Belgium, describing the different types of weather in these countries.
The children can all name the days of the week and know how to say their birthday in French. They have enjoyed finding out about a school in the south of France and have written and sent Christmas cards to pupils at this school.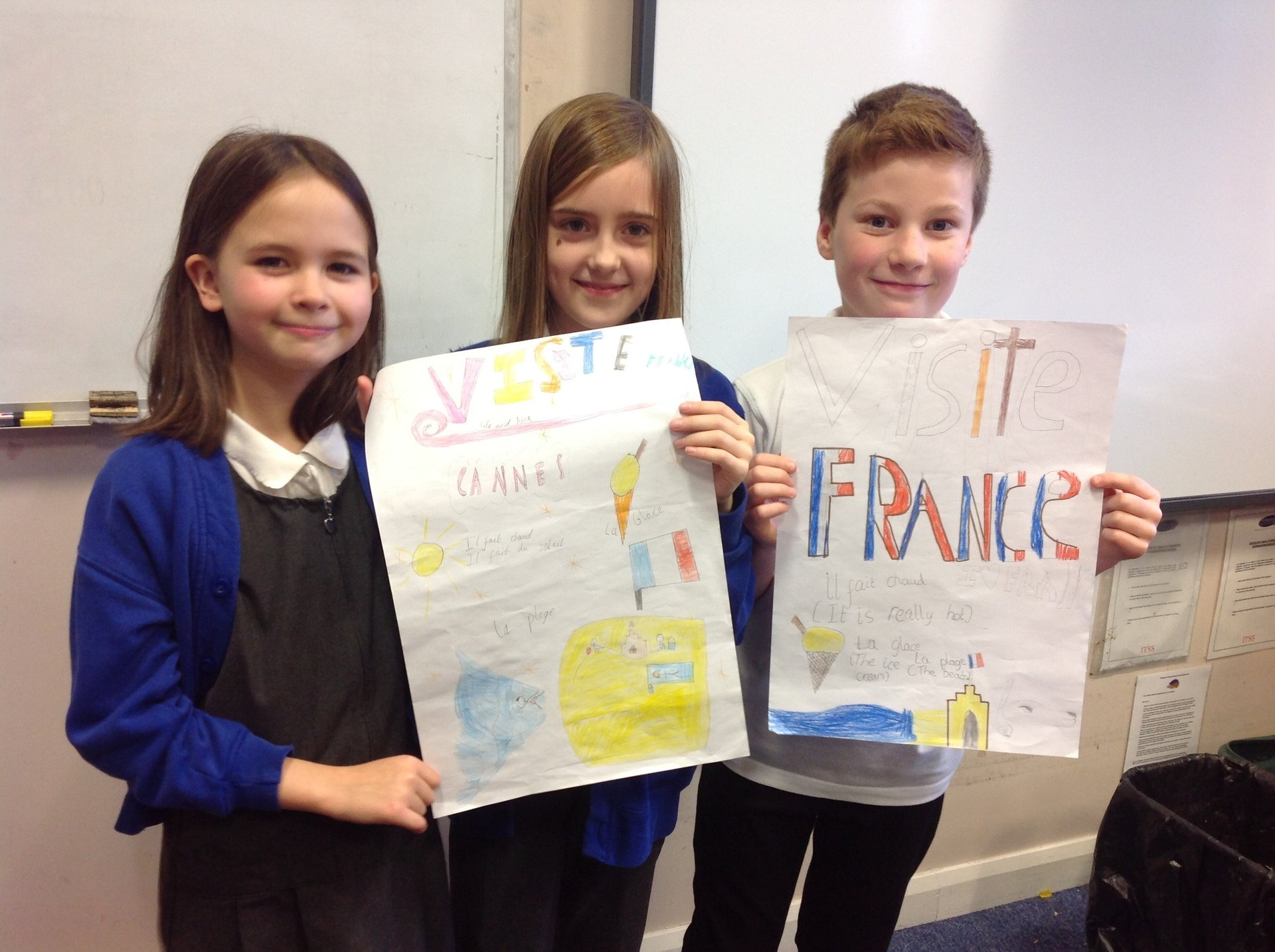 We also participated in the European Day of Languages and explored greetings in a number of different languages before developing our use of the German language.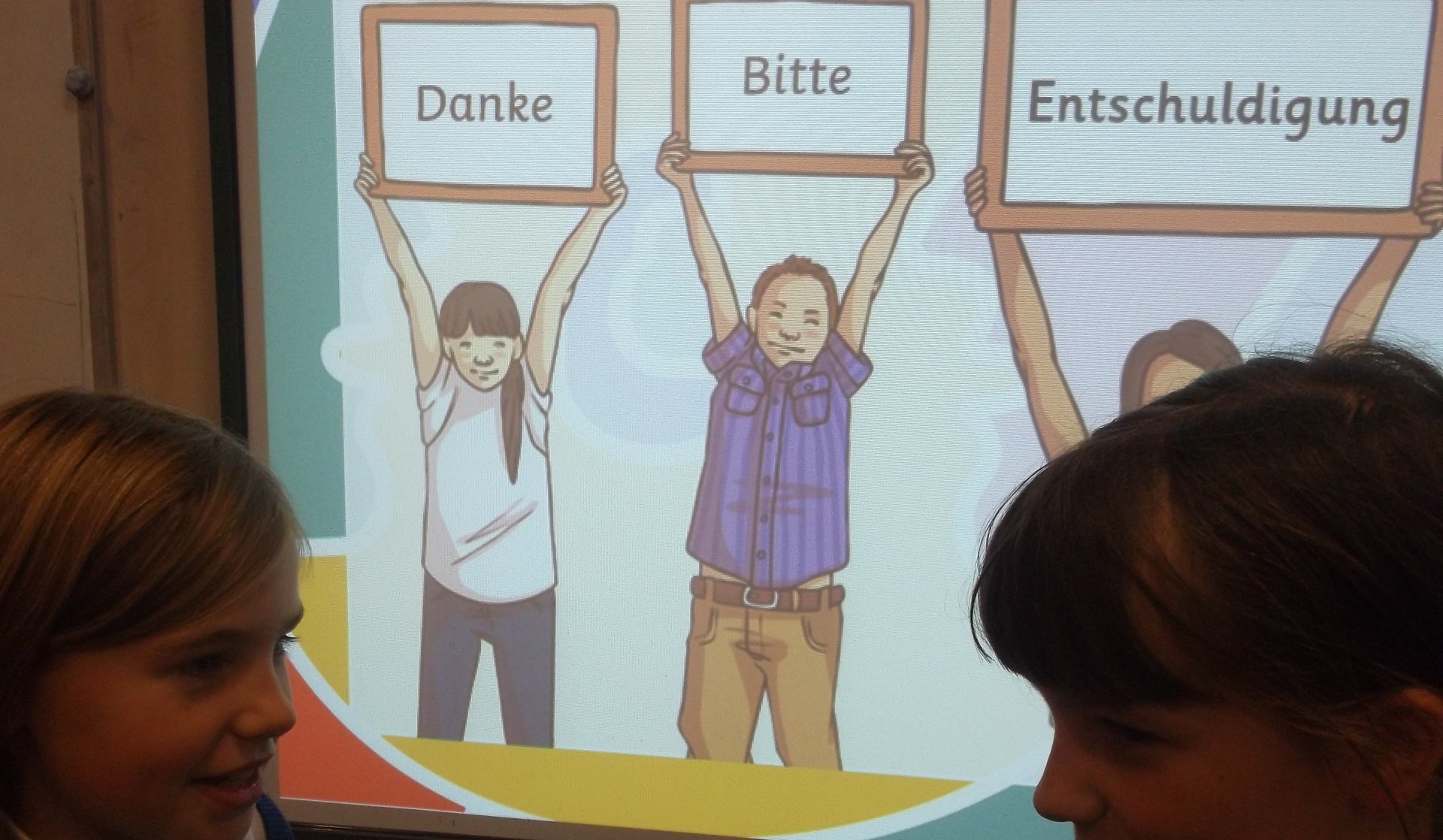 To celebrate MFL day, Y5 decided to look at a different language and learn some German. We found it on the map and looked at landmarks, did some research on food and made flags. We learned how to count to 10, how to greet each other, say where we live and how old we are. Mrs Emmerson needed to know numbers slightly higher than ten for her age...
Year 6 have been learning all about food and drink. By the end of the unit, we were able to translate most things off a French café menu!
Some French students from Durham University also came in to talk to Y6 about French culture. We enjoyed listening to what they had to say and having the chance to ask them questions.
When designing our Christmas cards, we also thought about using different languages.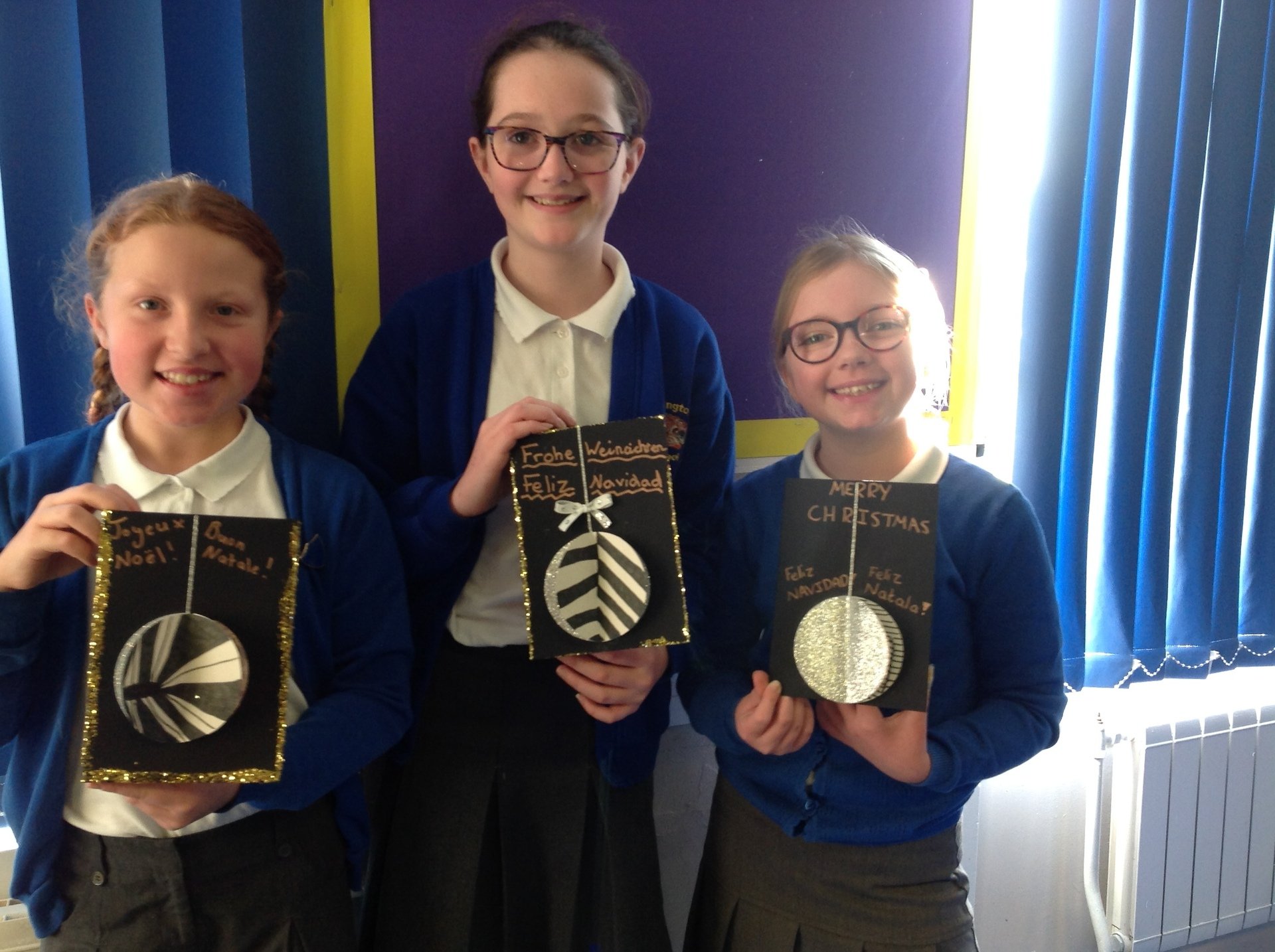 Summer Term 2019
We like to play games to enhance our understanding of the vocabulary taught. Below children from Upper KS 2 are playing a game called 'Allez Les Escargots' (Go Snails!)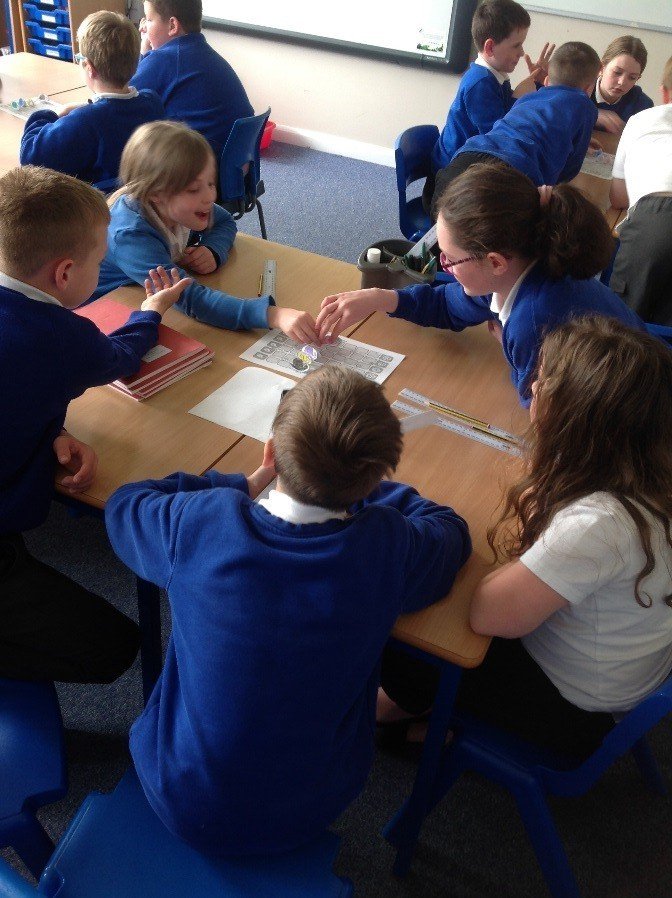 Here children are considering different types of French shops and the kind of items sold in each one.
Mr MacMahon, a French teacher from Belmont Community School, came in to impart his French expertise upon us!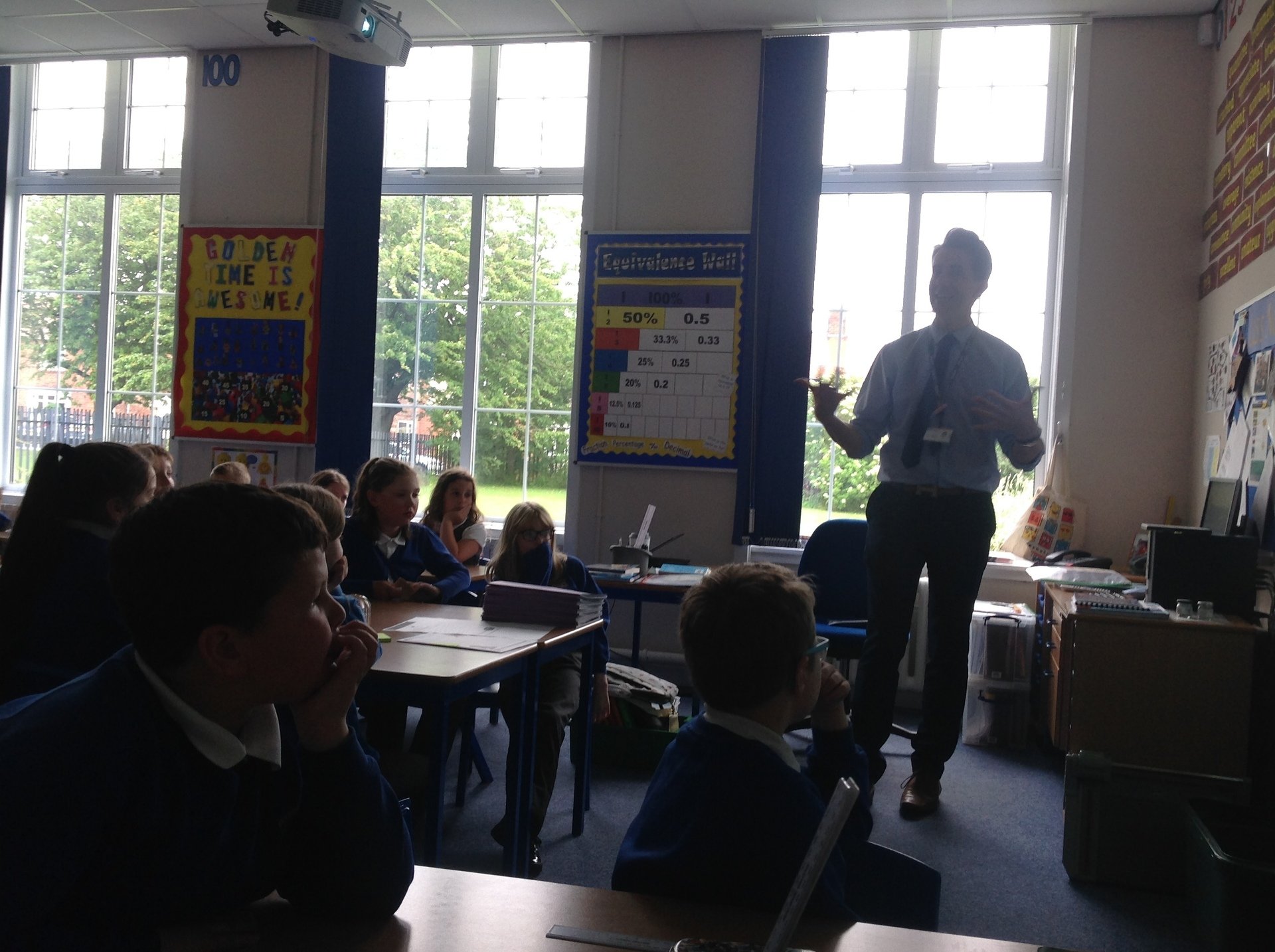 Y3 love to learn French by singing. Can you guess which song we are singing in the picture below? Clue: Tête, épaule, genoux et pieds.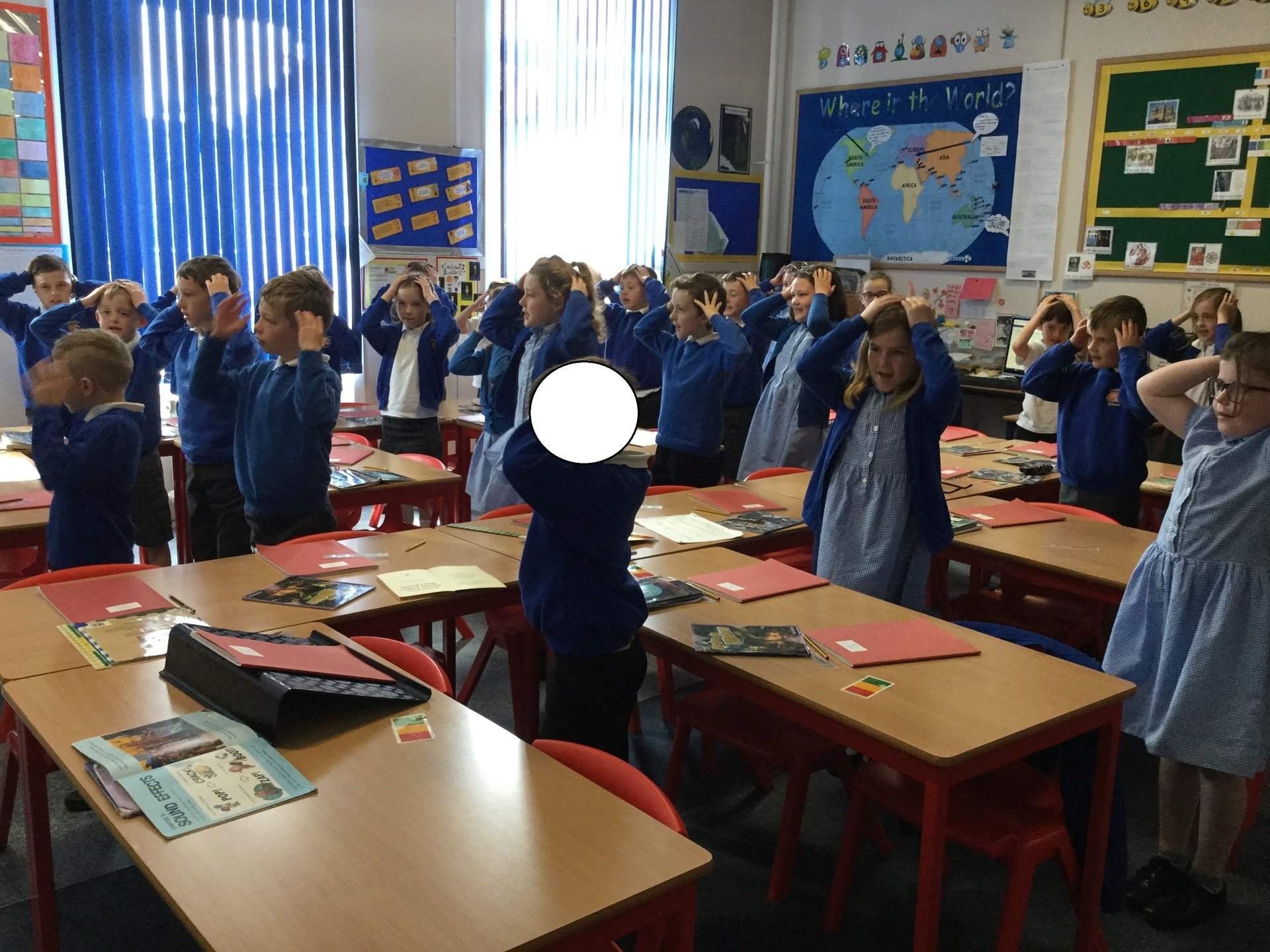 Lower Key Stage 2 enjoyed playing musical statues to practise different commands and actions. Can you guess what they were doing?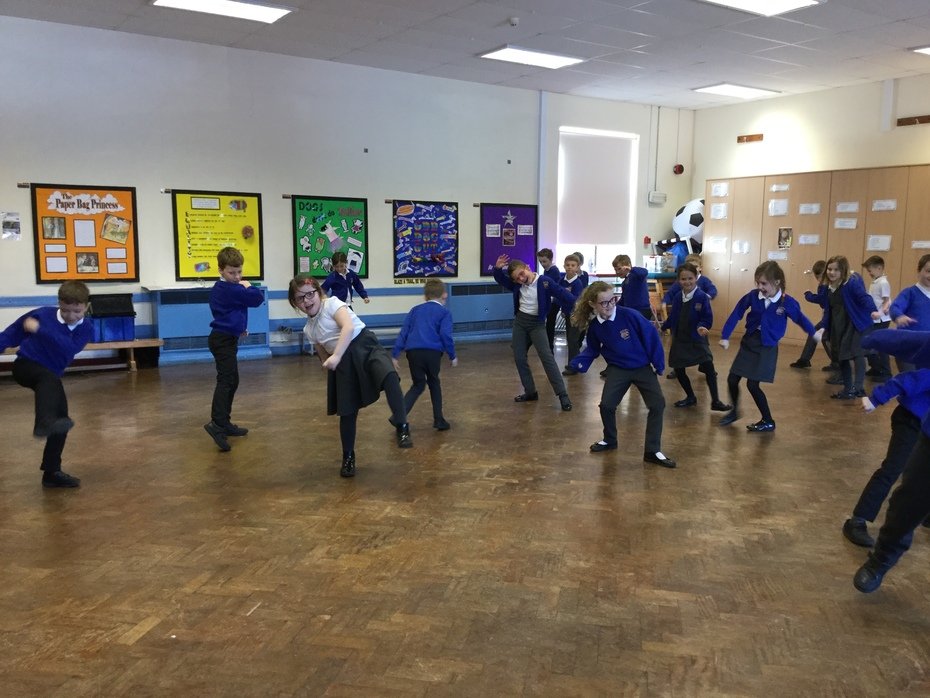 This was the command 'joue au foot'. (Play football).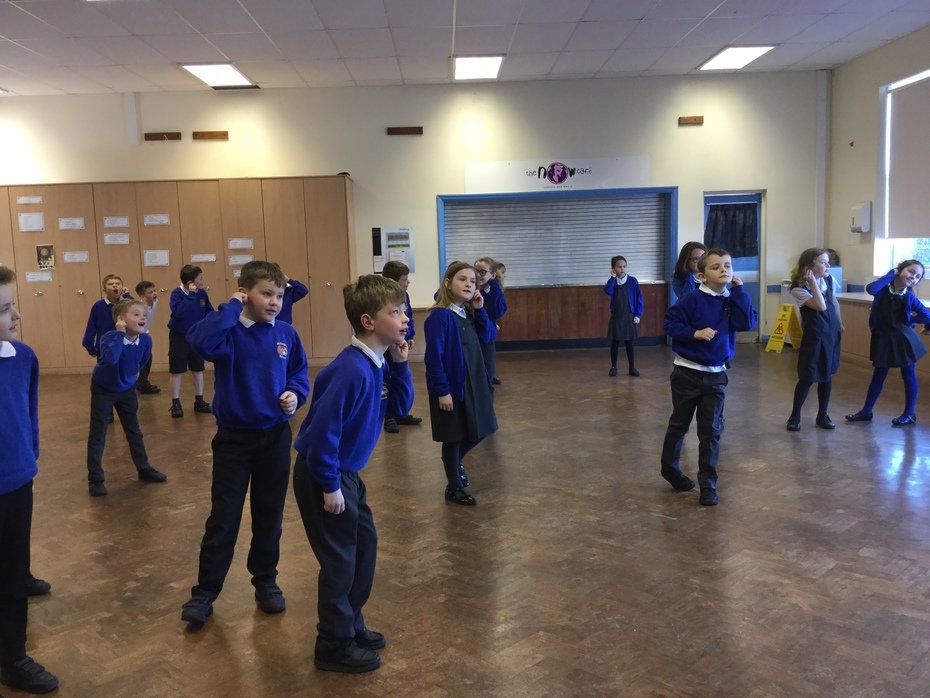 Ecoutez. (Listen.)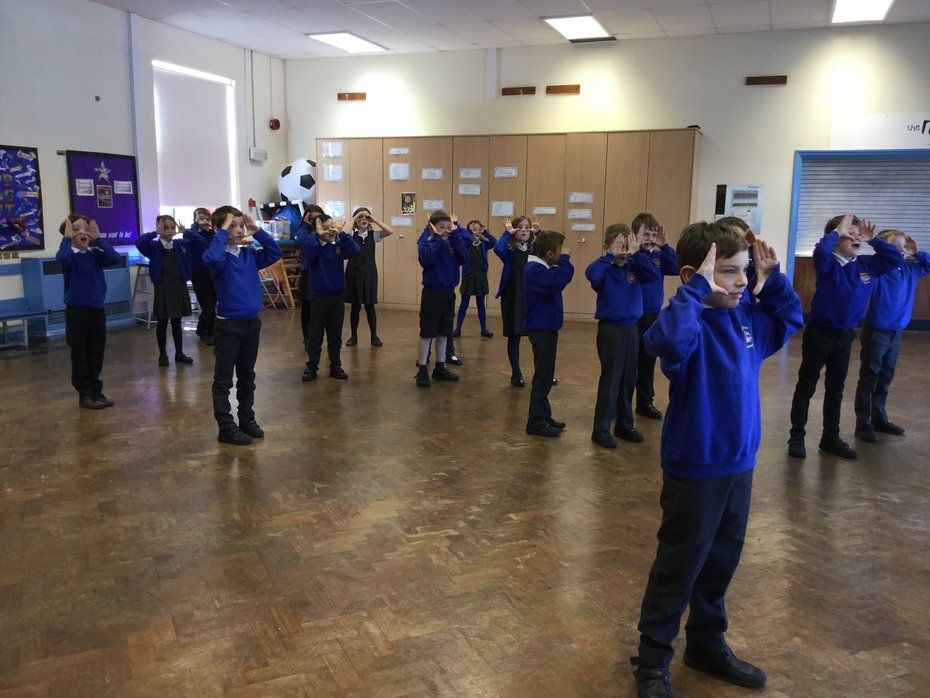 Ouvrez les yeux. (Open your eyes).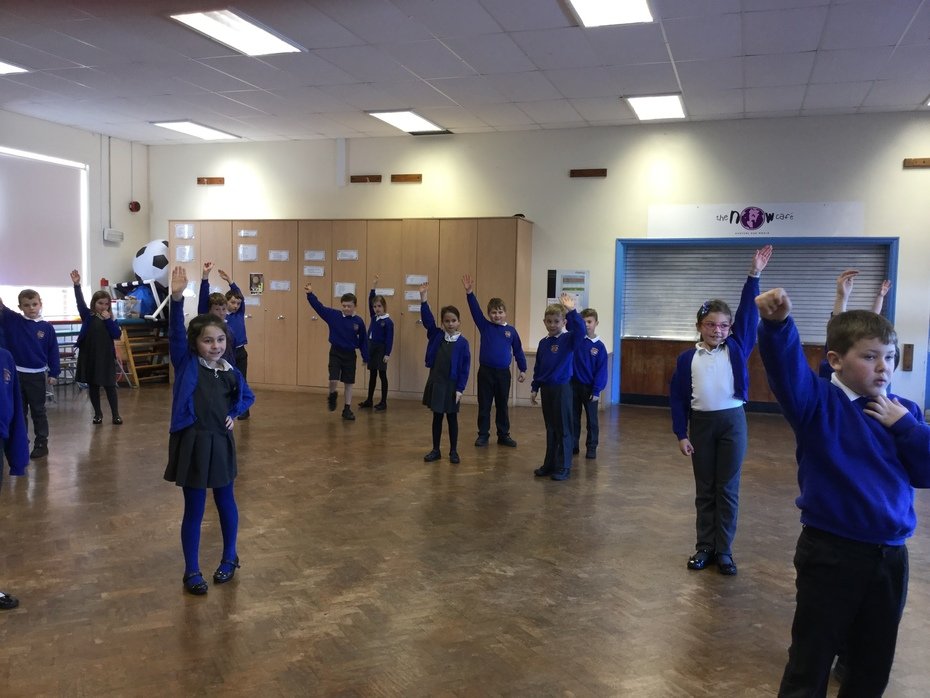 Levez la main. (Raise your hand).
We have also enjoyed singing and learning the vocabulary for Le Fermier Dans Son Pré (The Farmer's in his Den).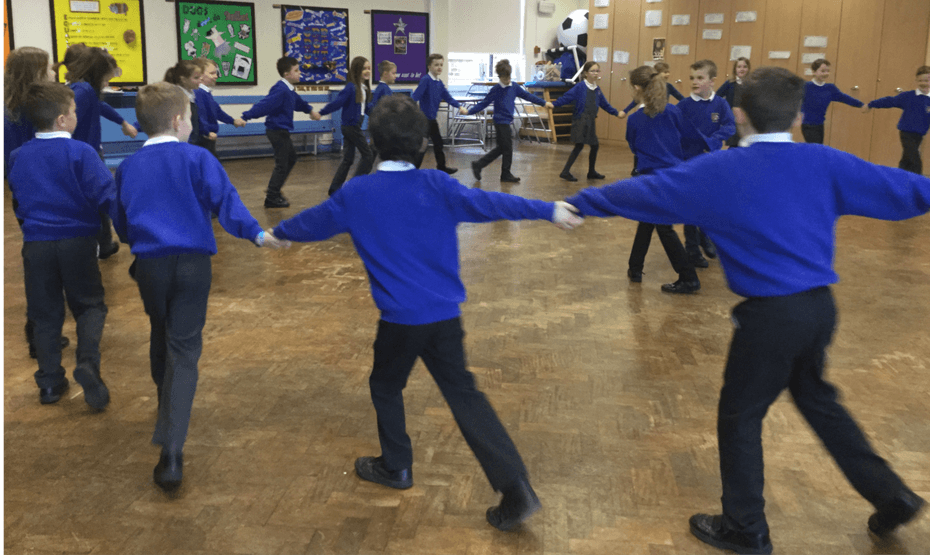 Year 4 have been learning about a story called Les Quatre Amis (The Four Friends).
In this picture, the children have thrown a cube to generate sentences to say what an animal can or can't do.
For example: Le cheval galope. (The horse gallops).
La souris ne lit pas. (The mouse does not read).
Upper Key Stage 2 have been learning about features of a town and planned an imaginary journey to school. Look at the map below and see if you can follow these instructions to find out where school is: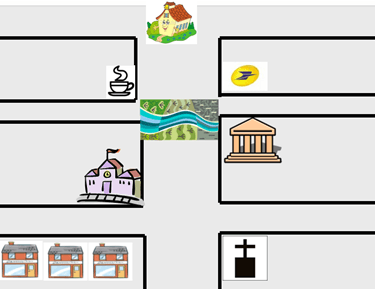 Quand je vais à l'école, je passe devant une café et une poste. Je traverse le riviére et après ça je passe devant un musée. Cinq minutes plus tard, je passe devant une gare et je passe devant un église. Je traverse la rue au passage pour piétons. Je passe devant trois magasin. Finalement, j'arrive à l'école.
Autumn Term 2018
| | | | |
| --- | --- | --- | --- |
| | Term 1 | Term 2 | Term 3 |
| Y3 | All about me | Games and Songs | Portraits |
| Y4 | Let's go | The Four Friends | Life and Health |
| Y5 | Planets | On our way to school | Beach Scene |
| Y6 | Our World | The Café | Durham - Past and Present |
An example of this can be given from Term 3 in Year 3. At this point, children are introduced to colours which are used to describe simple facial features. By Year 5, in the Beach Scene unit, colours are revisited and used in full sentences to describe Degas' painting.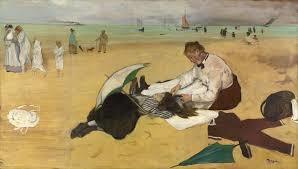 This time, not only will the noun and adjectives will be in the correct order (which is different to English), but masculine and feminine noun agreement with the adjectives will also be taught. Here are a couple examples of our Year 5 sentences:
Elle porte une jupe noire.
Le ciel est gris.
Elle brosse les cheveux de la fille.
We learn French in a variety of ways, including singing, playing games and role play. In the following photograph, Lower Key Stage 2 children are role-playing being in a French market.
Here is a clip of children singing a traditional French song called 'Sur le pont d'Avignon' (On the bridge of Avignon).