Autumn Term
Nursery – Numbers and Patterns are all around
Nursery is exploding with numbers this term! We have been practising count quantities to 5 accurately with 1:1 correspondence, this helps us to count how many children are in Nursery each day. We can even spot when Mrs TG makes a mistake and writes the wrong number on the board now. We have been thinking about the different ways in which numbers can be represented and what they are made from. Did you know 3 is a triangle number? We found lots of '4s' in our classroom, squares, 4 seems to be used in toys, shape, furniture and building lots more than triangles. Beat babies have been singing number songs with us too to help us count up and down accurately.
We have also been starting to look at 2D shapes and patterns. Can you find patterns on your clothes? We found lots!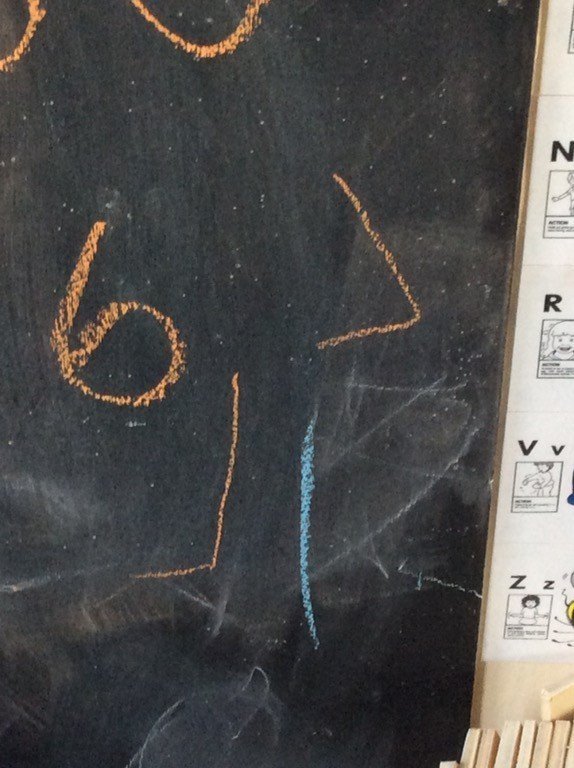 Starting to represent numbers with numerals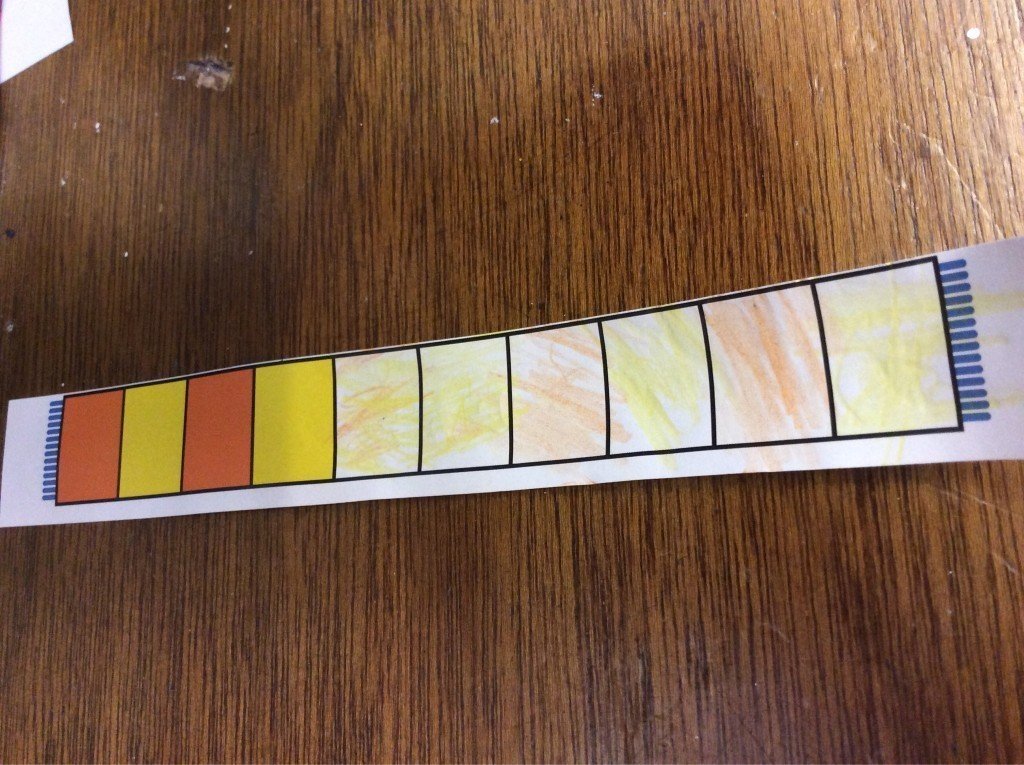 Continuing patterns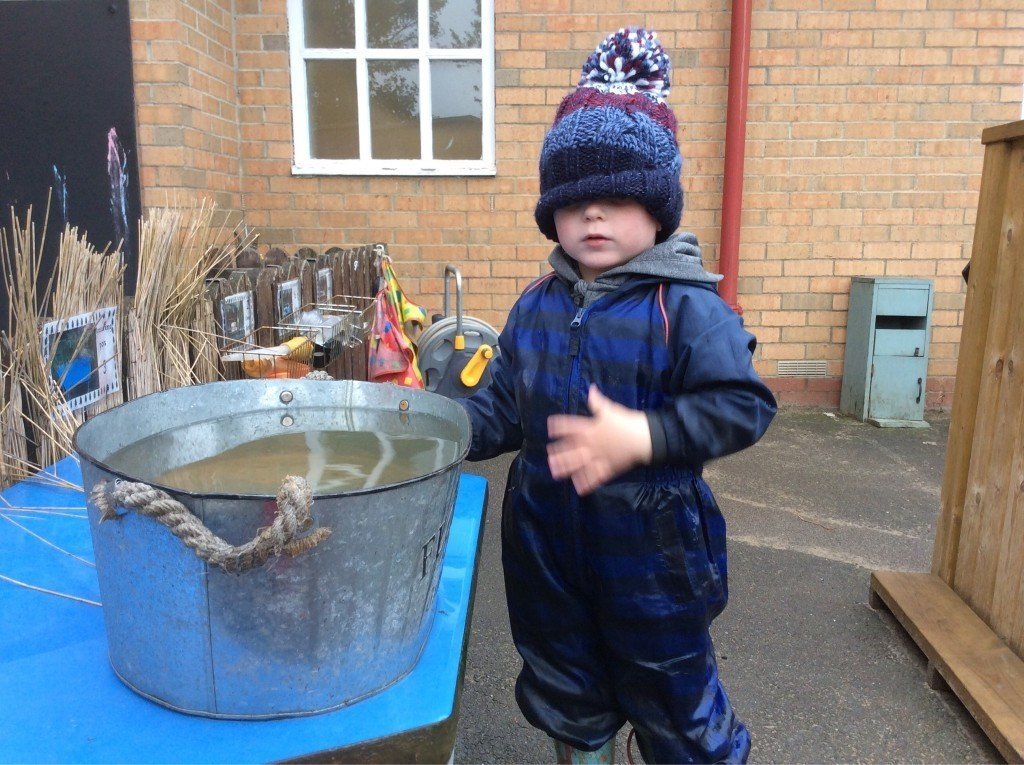 Exploring capacity- what does full look like?
Reception – The pattern continues…..
We have been learning lots of new things in maths. As well as practising numbers, colours and shapes we have been using repeating patterns to make our own Masai jewellery!
We also took part in a maths enrichment opportunity. The children were given some challenges and they had to work as a team to solve the maths based problems. The class worked so well and we saw some great team work and negotiation skills.
The challenges involved-
*Using small shapes to fill the outline of a large triangle (this one was very tricky as there were more shapes given than were needed!)
*Using 4 small shapes to make a square and then a rectangle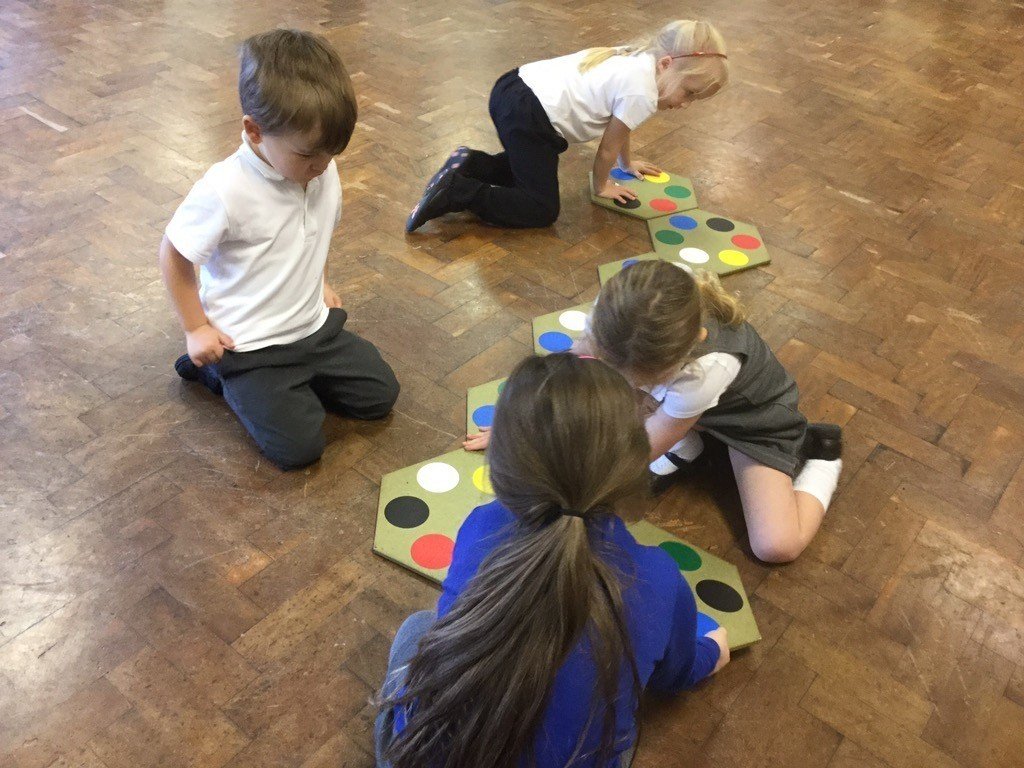 *Making a caterpillar through placing only matching coloured dots together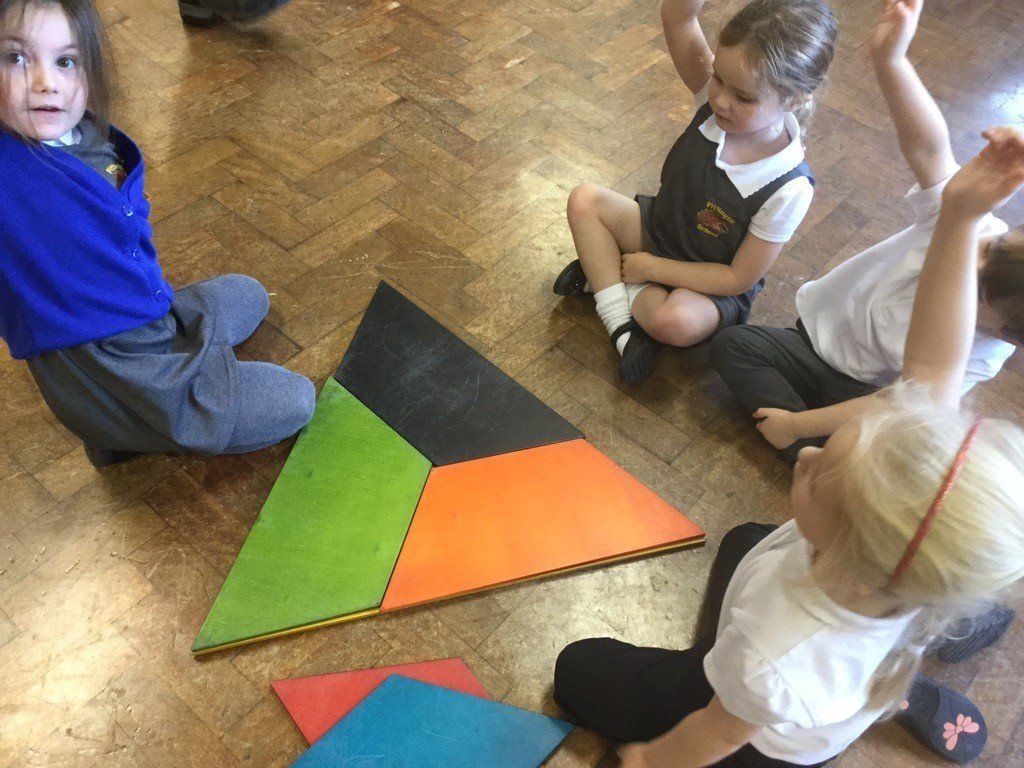 Every child had a turn of every challenge. Very impressive work Reception!
Keystage 1
Year 1 – Things seem to be shaping up nicely!
In Year 1 so far we have been working hard and expanding our knowledge on place value, 2D and 3D shape, addition and subtraction. We have done lots of active practical maths lessons around these different areas of learning before doing some maths activities in our books. The children especially enjoyed learning about shape and going on a shape hunt around the school.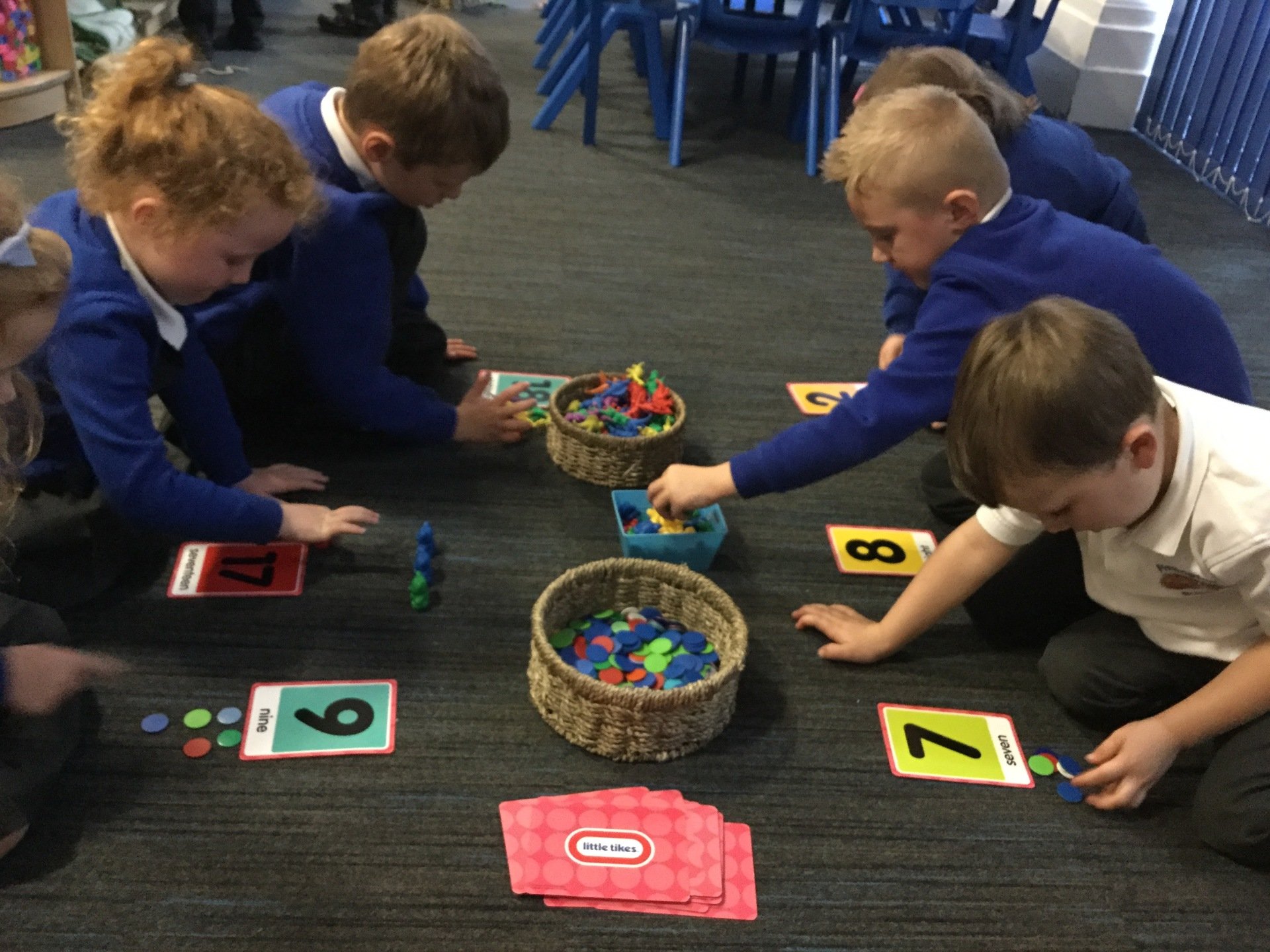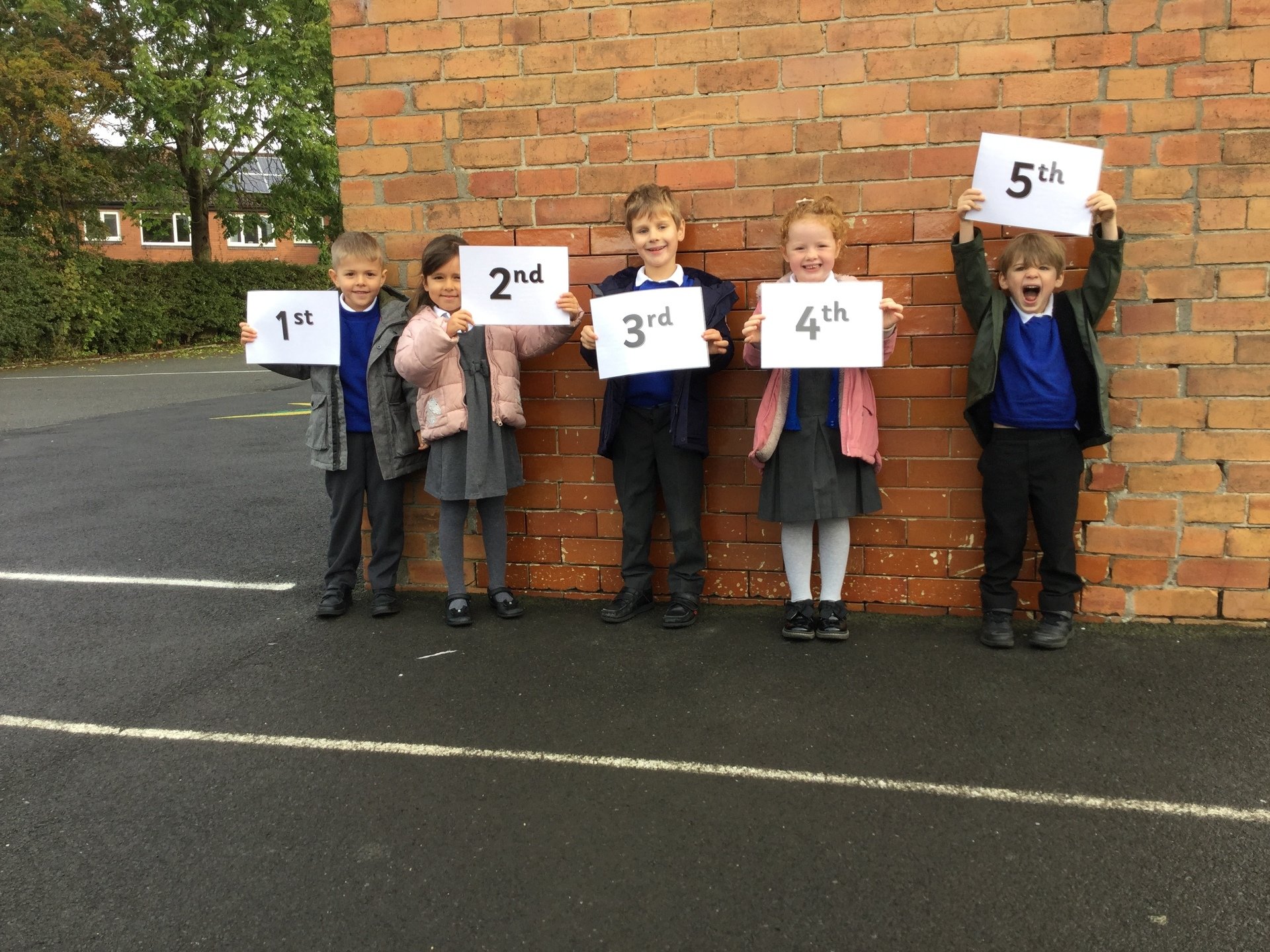 We have had a visit from Problem Solving Company where they delivered a fantastic workshop all about shape. The children found this challenging but were very engaged and eager to complete it correctly.

Year 2 – All change!
We set up the Pittington shop and had to make sure that the amount was enough and the shopkeepers made sure that the change was correct. It turned out everyone was very good at spending lots of money!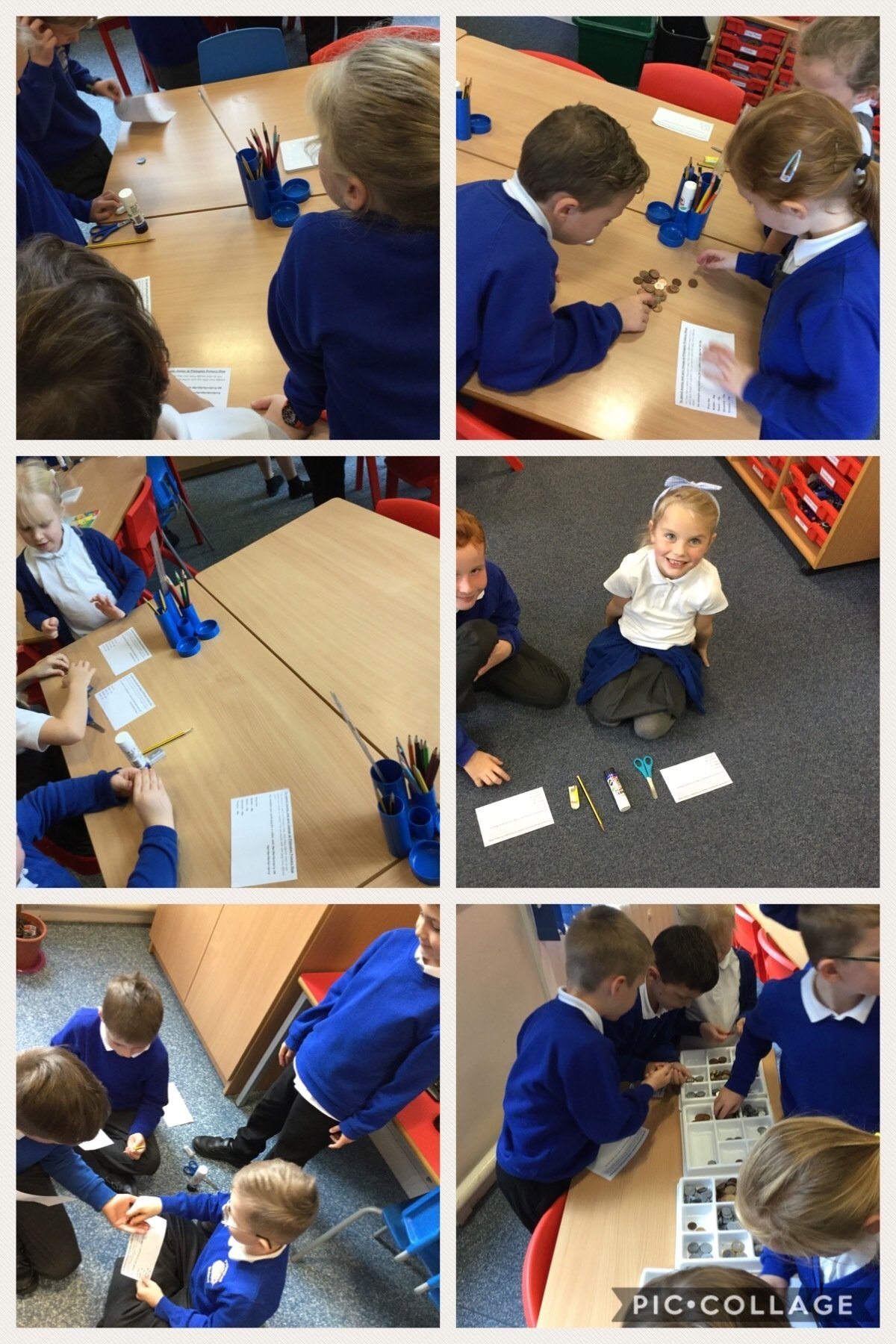 The problem solving company visited the school this term and teamwork was the order of the day.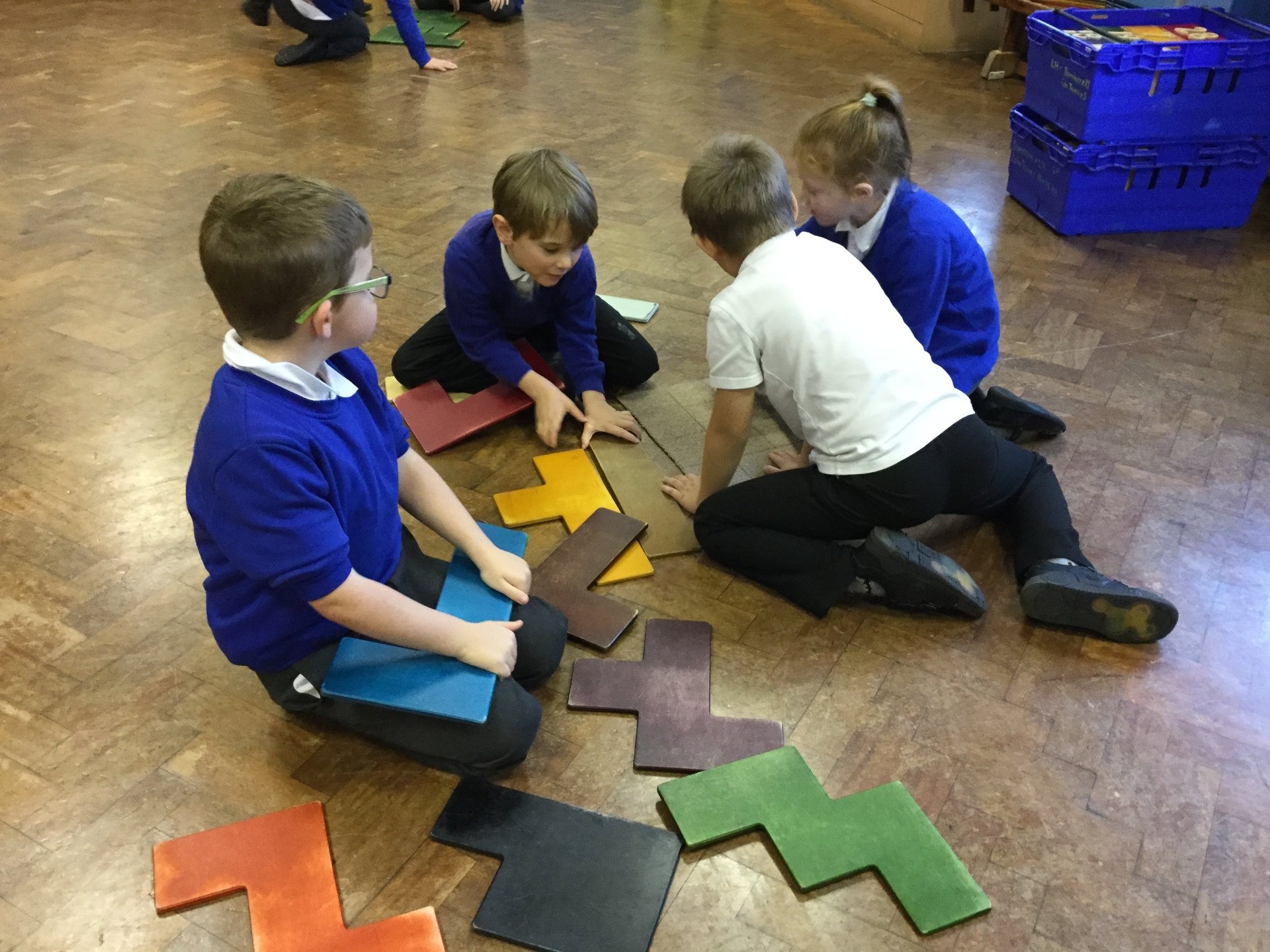 Year 2 had their 'dobbers' at the ready to play fractions bingo. It was a great way to consolidate all of the hard work the class had put in learning about different fractions of number and shape.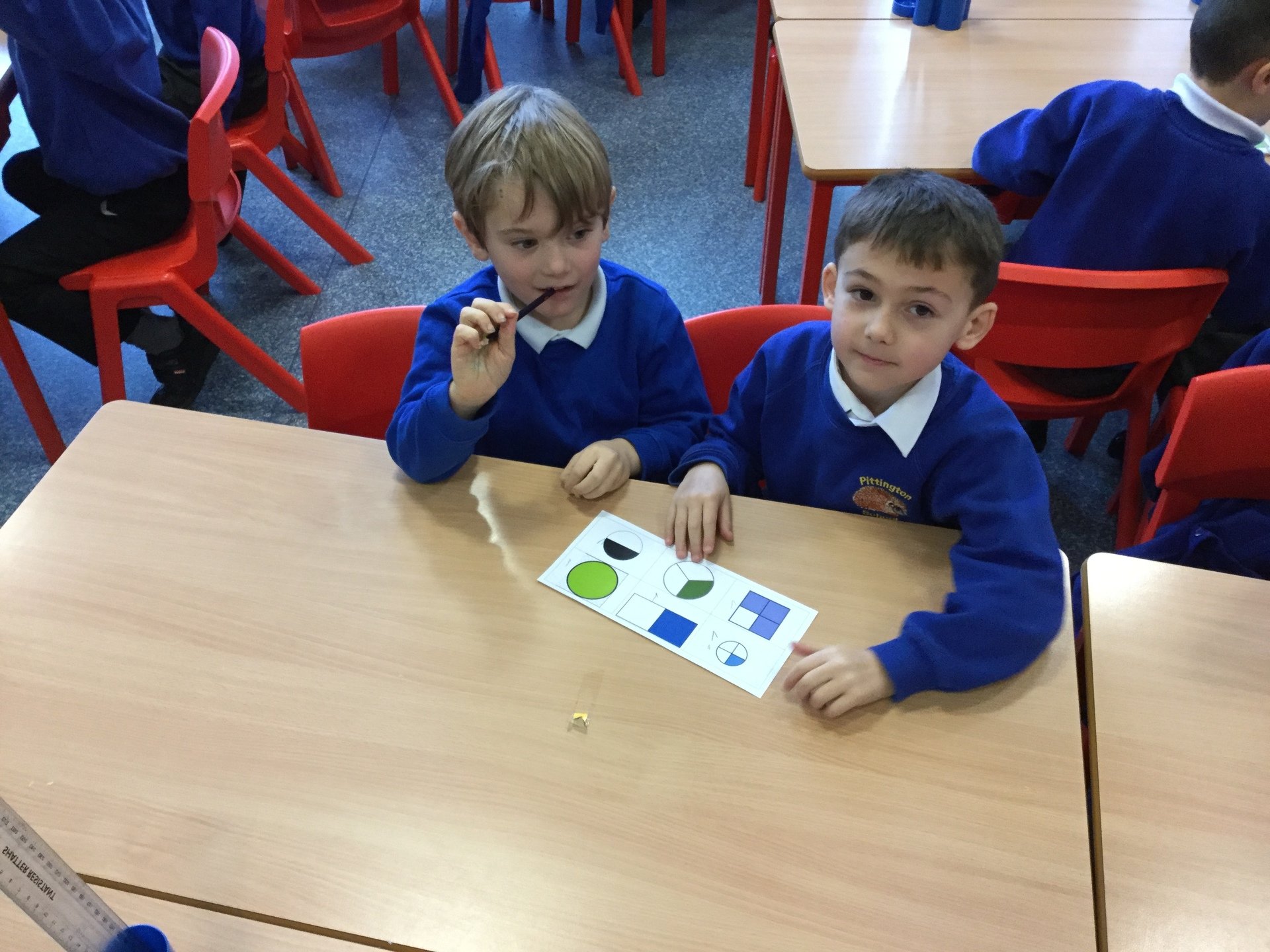 Year 3 – A great insight into step by step progression
Year 3 have been focussing on using apparatus to help explain their mathematical understanding. Sometimes we have used different apparatus and found more than one way of explaining how to add or subtract.
After feeling confident with apparatus we used picture or simple single step worded challenges to improve how we totalled numbers or found the difference. Then we had the confidence to use formal written methods, which we could then check by explaining how thinking to our peers.
Year 4 – Topping the lot!
In Year 4, we have been focusing on the aspects of place value, addition and subtraction, multiplication, fractions and measures. We have explored maths in a number of different ways such as: games, number challenges, computer-based challenges, songs and reasoning tasks.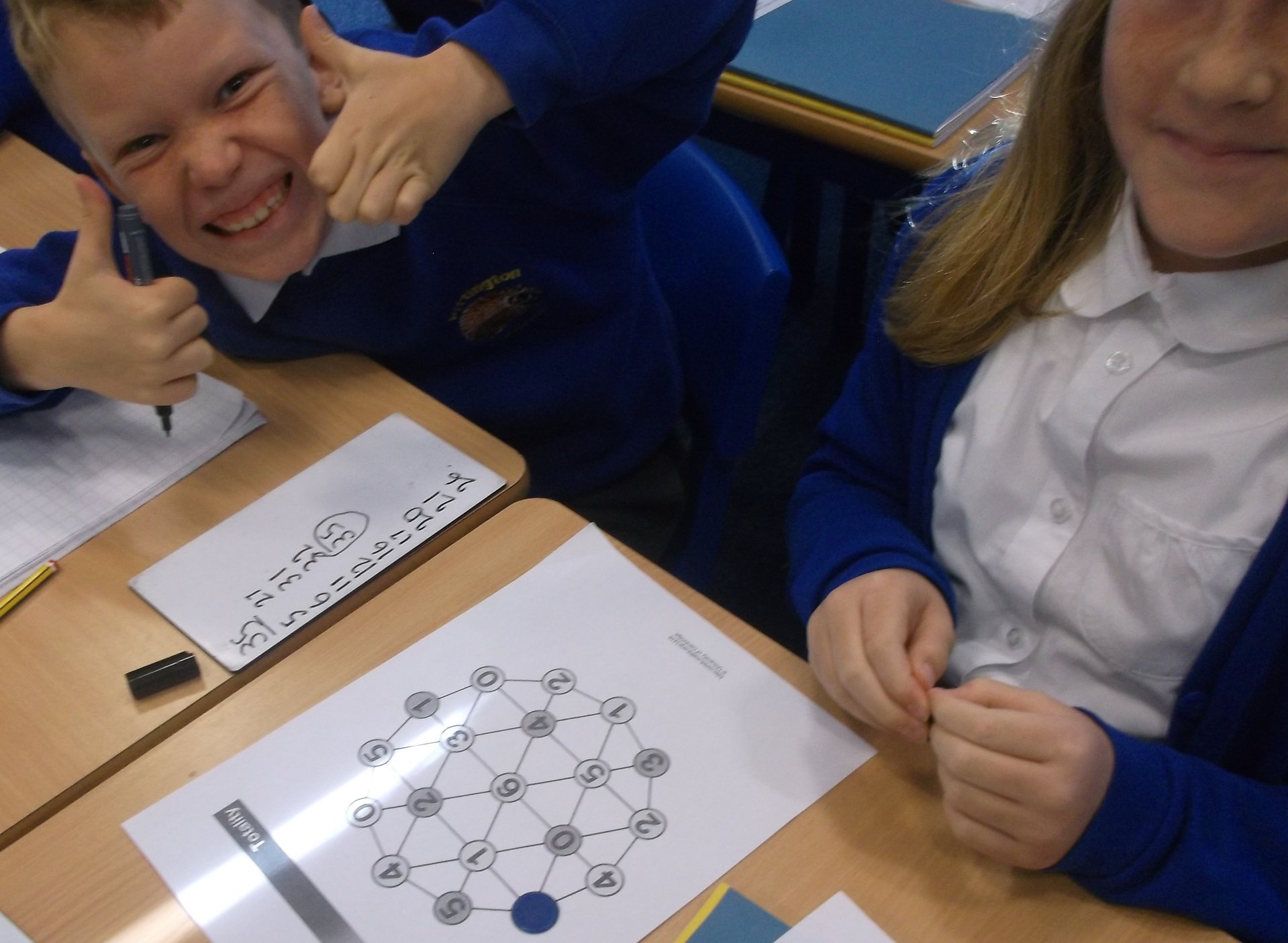 We even had to arrange the toppings onto the pizzas for the pizza shop. The children have been working very hard on their recall of times table facts and they are getting very quick – you can hear us singing and practising on the way to assemblies. We also had the opportunity to join in the math problem solving day and were very engaged in a thoroughly engaging challenge.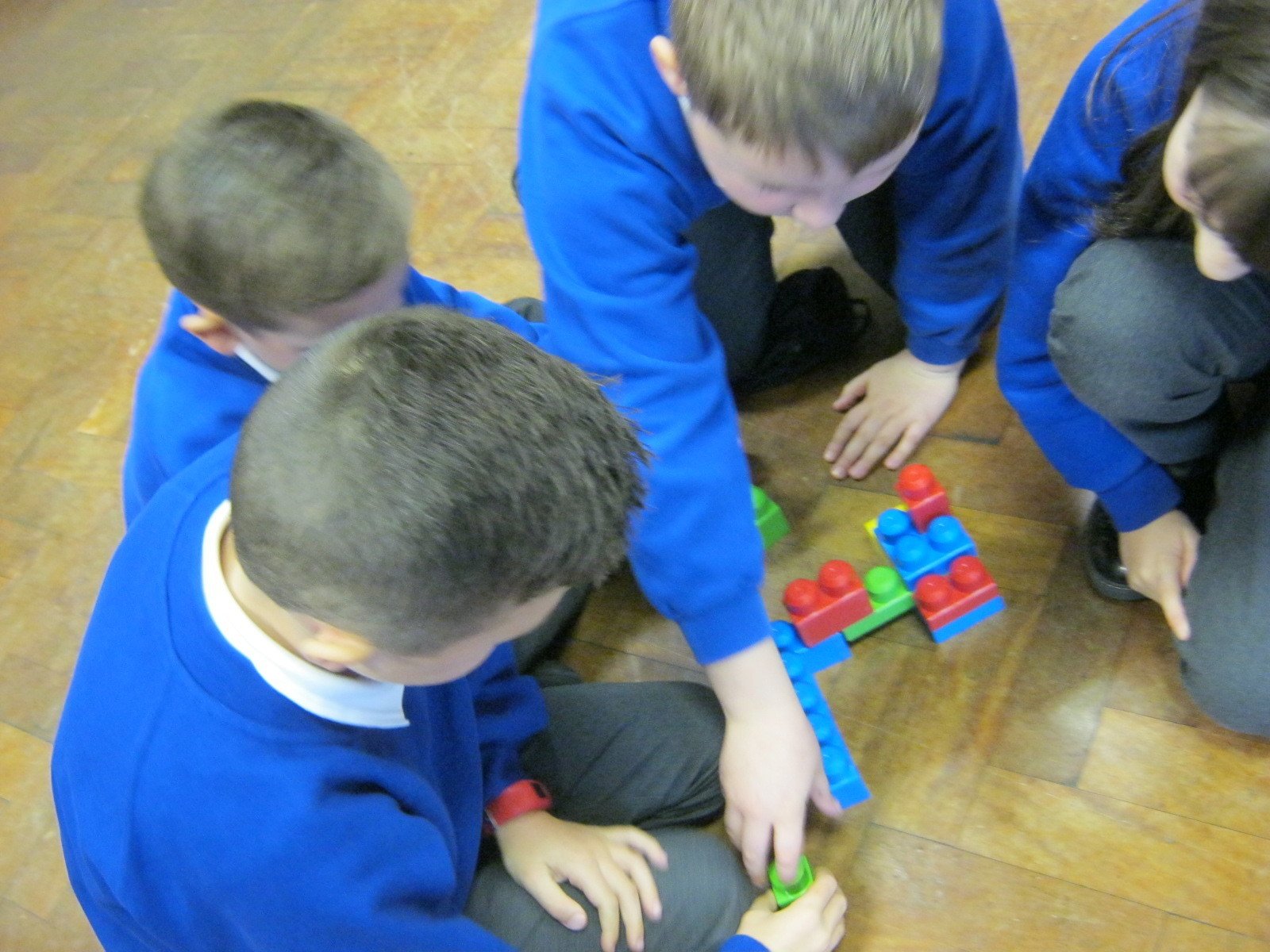 Year 5 – Yet more problem solving!
We love a bit of practical problem solving because we love to talk in year 5! We were set several challenges by our visitors, found some answers and worked very hard to get close to other solutions.
Mrs Emmerson was impressed by our use of logic and determination throughout. Another worthwhile visit which we thoroughly enjoyed.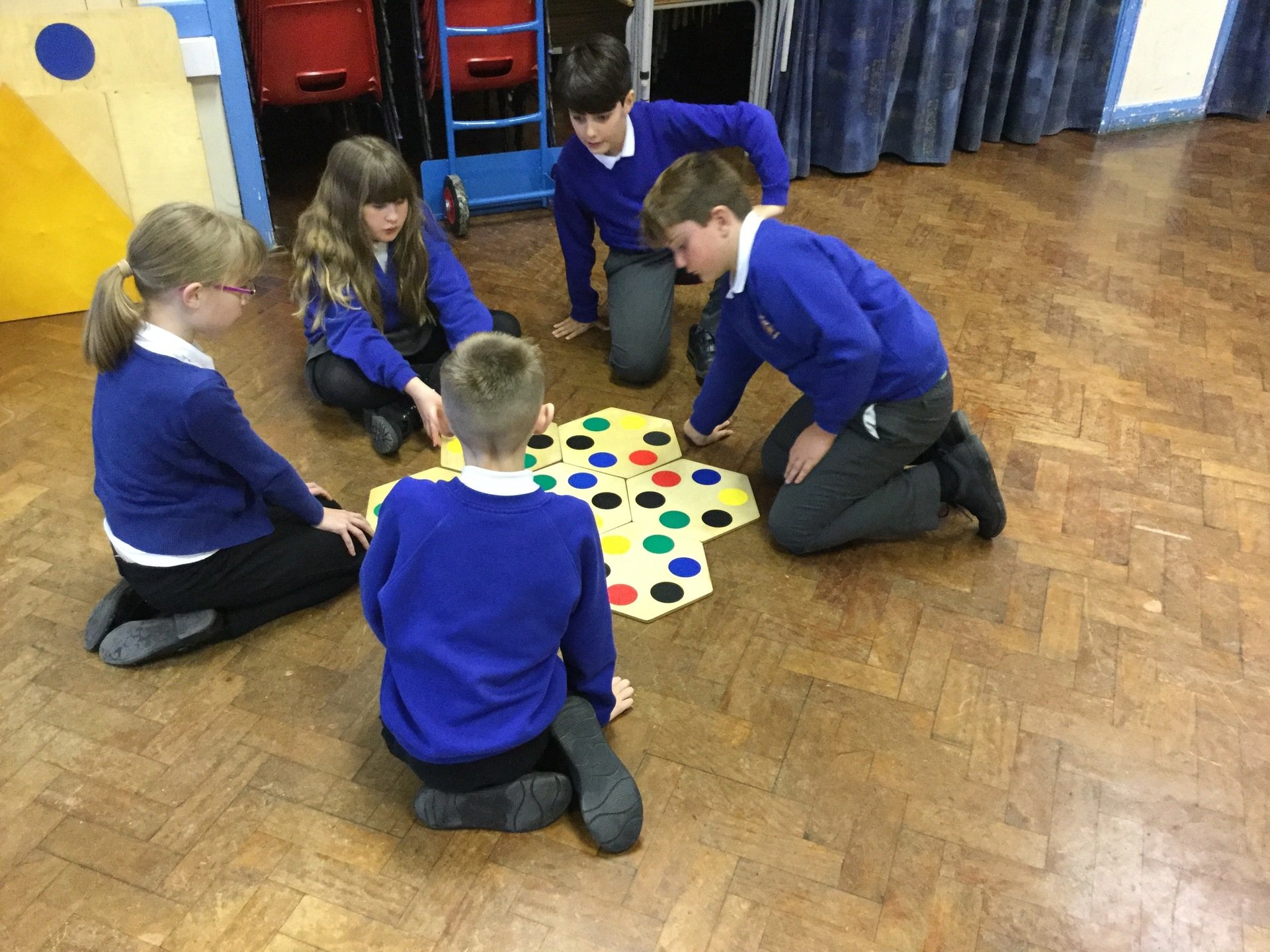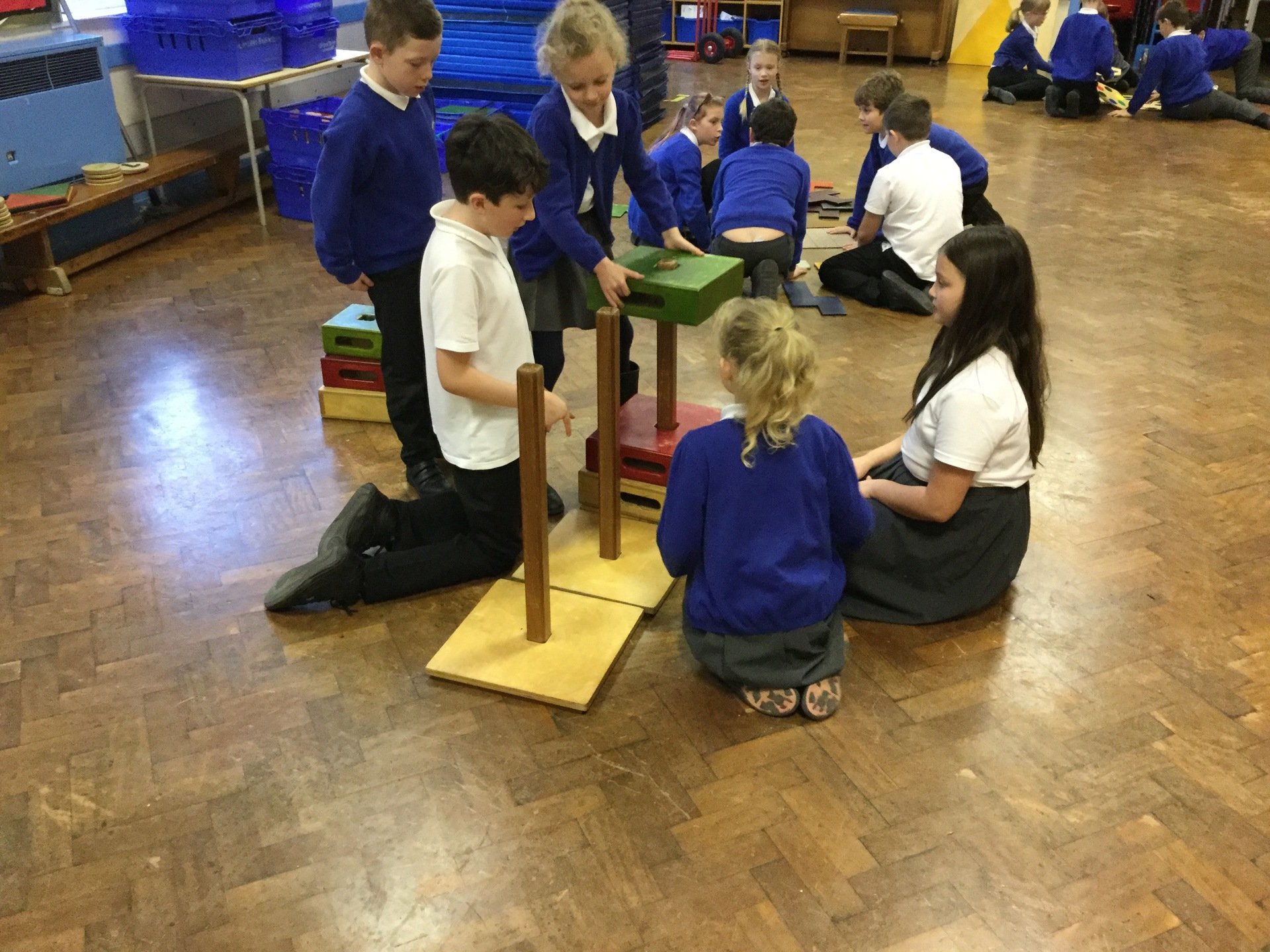 Year 6 – The place (value) to be? Not half!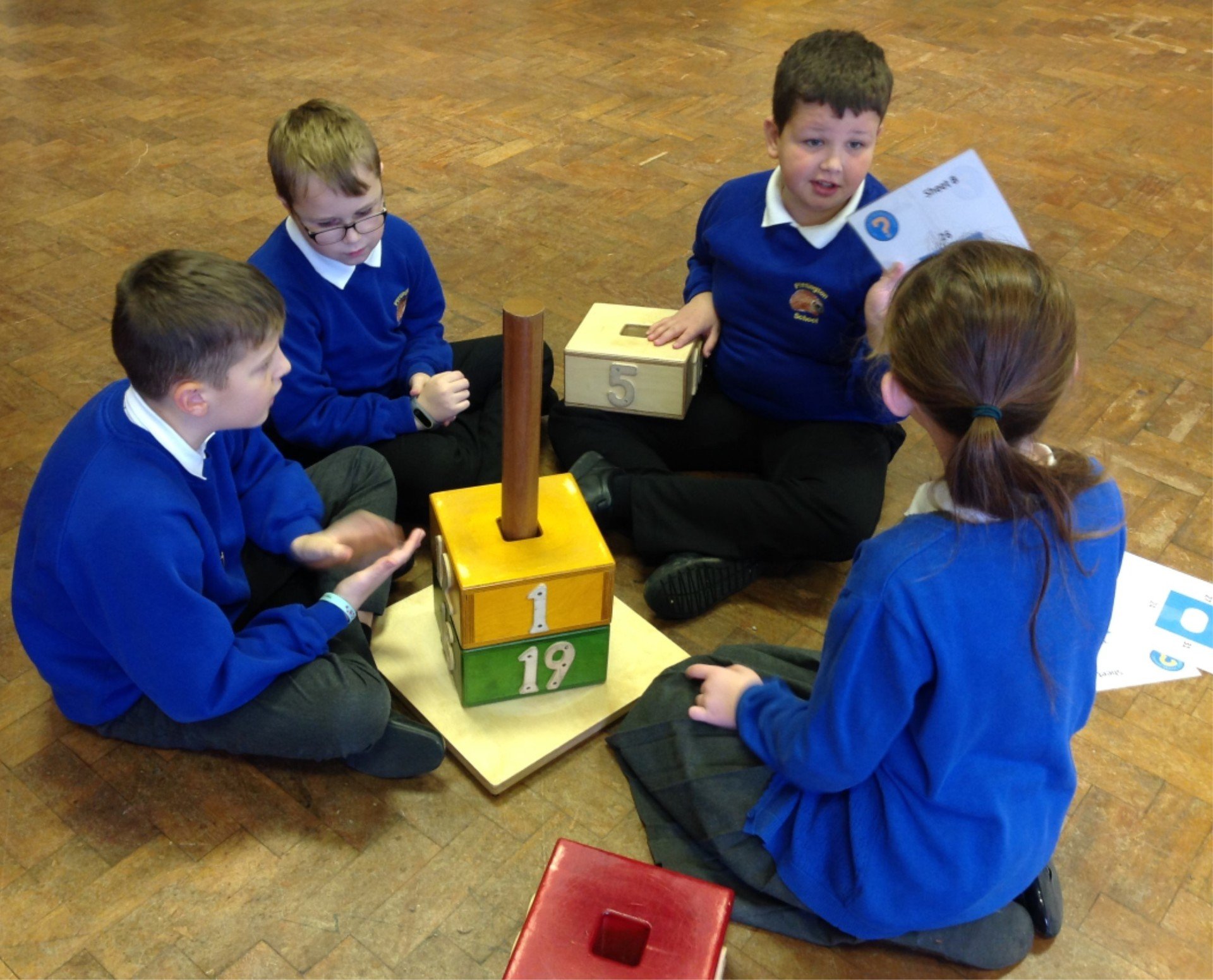 In maths, Y6 have been very busy securing their knowledge on place value. We have also been mastering fractions and playing games to consolidate our knowledge and understanding of these.
Summer Term
A Summer of Practical Maths at Pittington
The summer term has been a wonderful one for the children applying skills in a practical context. There have been countless excellent examples of children developing their understanding and applying their learning in a practical way. Brilliant!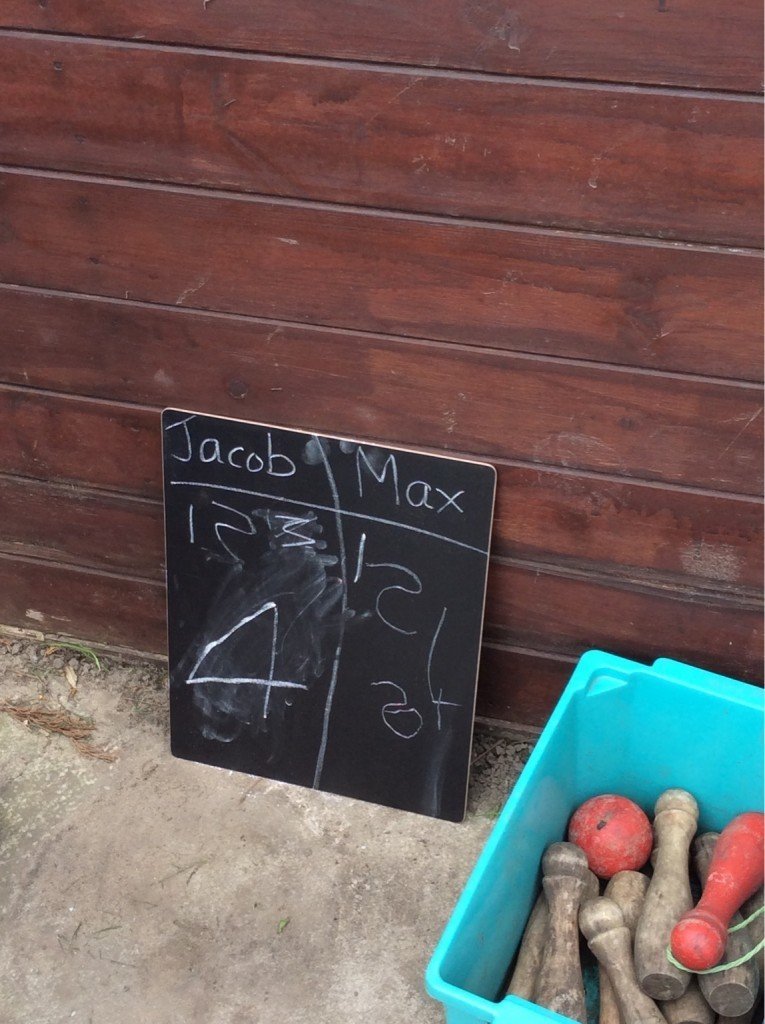 Nursery children certainly 'know the score'! After shooting hoops and impressively keeping score in their heads, the children moved on to using a scoreboard to record their successes.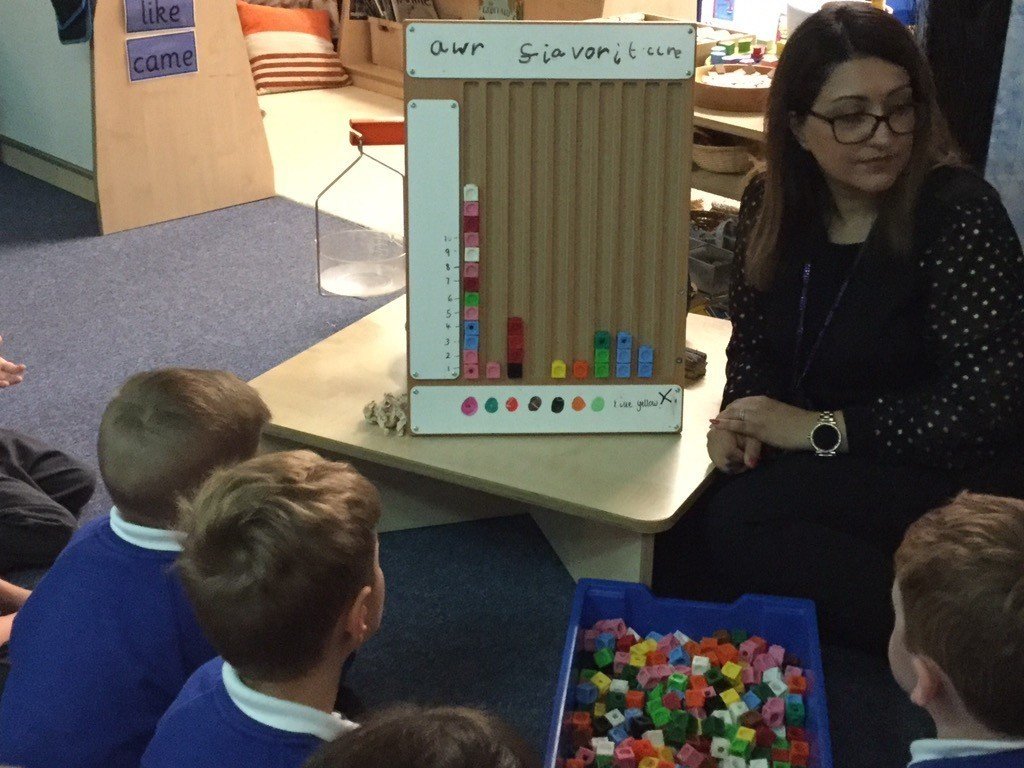 It is great to see the superb skills recording information being developed further in reception class. Here are the children representing their favourite colours in a block chart. The conversations and questioning that were woven around this task are wonderful – including the children having to solve the conundrum of more blocks on the board than children in the class. The solution – some children had voted more than once! Well…..it can be hard to choose your favourite!
There is no better way to learn that actually 'doing' and in year 1 practical maths is in full swing where comparing capacity and weights really excited and interested the children.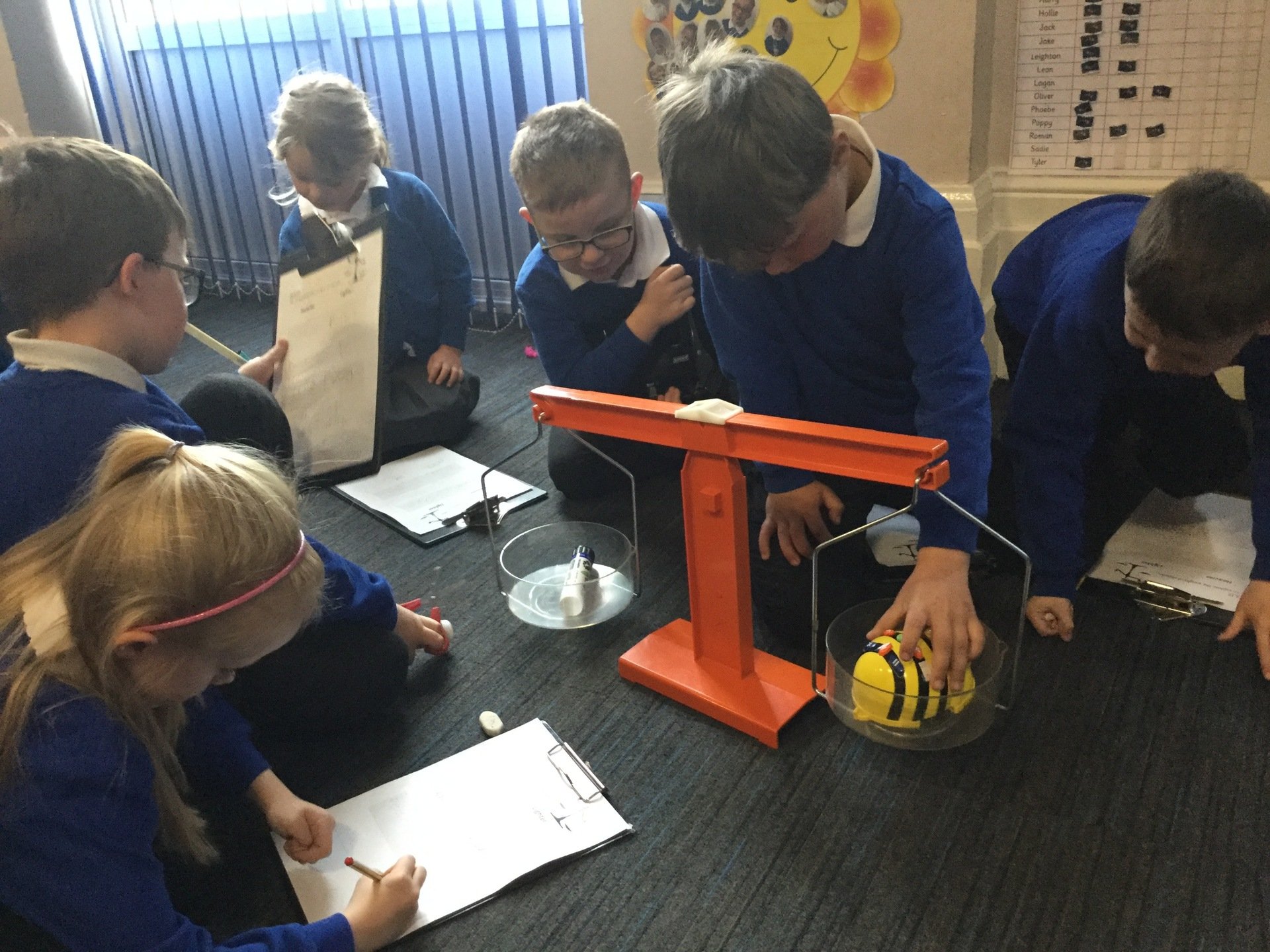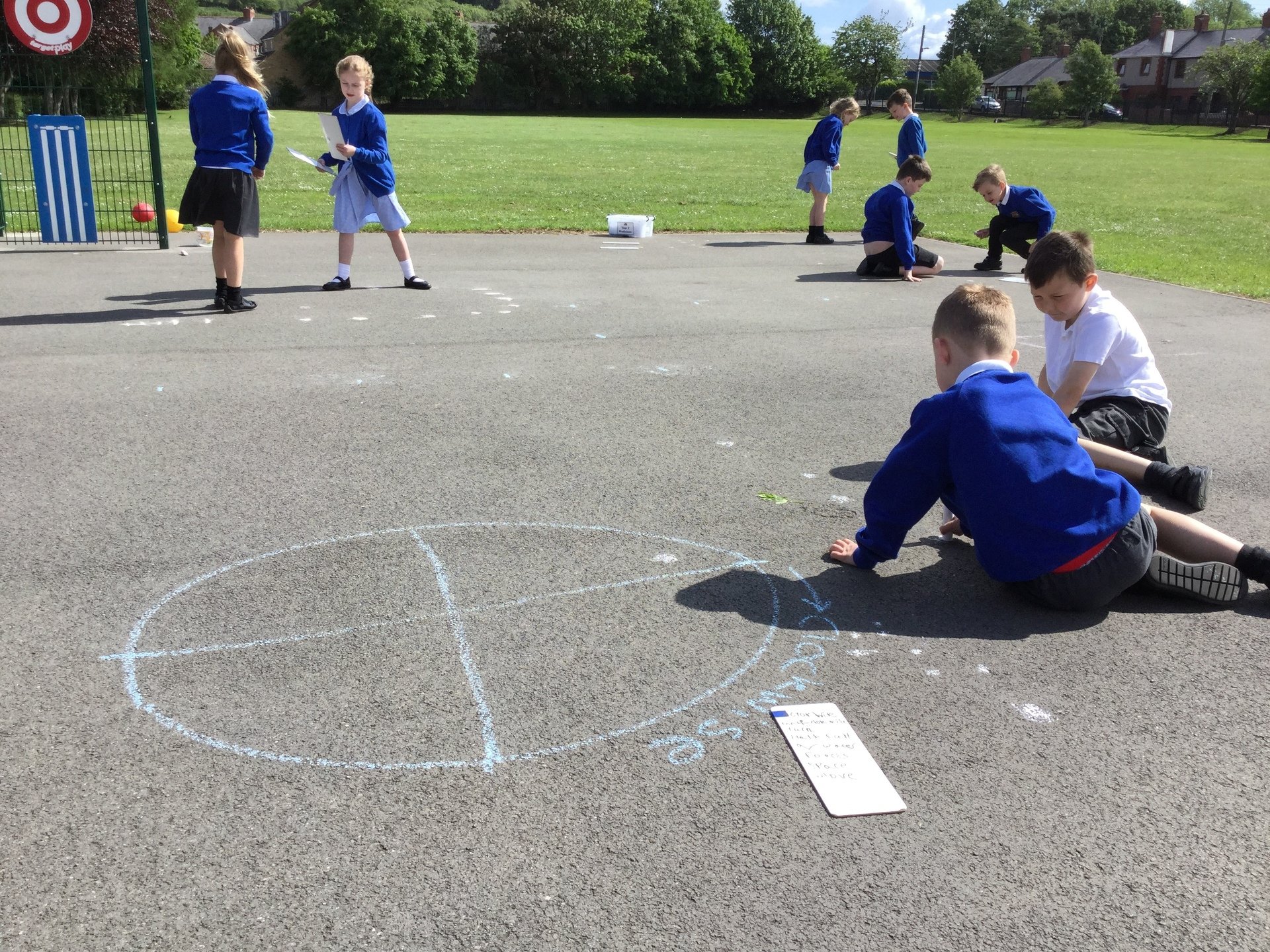 One of the best things about the summer term is being able to get outside and learn. The children in year 2 have been developing their understanding of directional language and rotations. They took turns setting the challenge of a route to follow and instructions to get them through it.
It is wonderful to see skills acquired earlier in school being developed by older children and here is a great example of the children in year 5 using directional language too with more complex instructions and degrees too!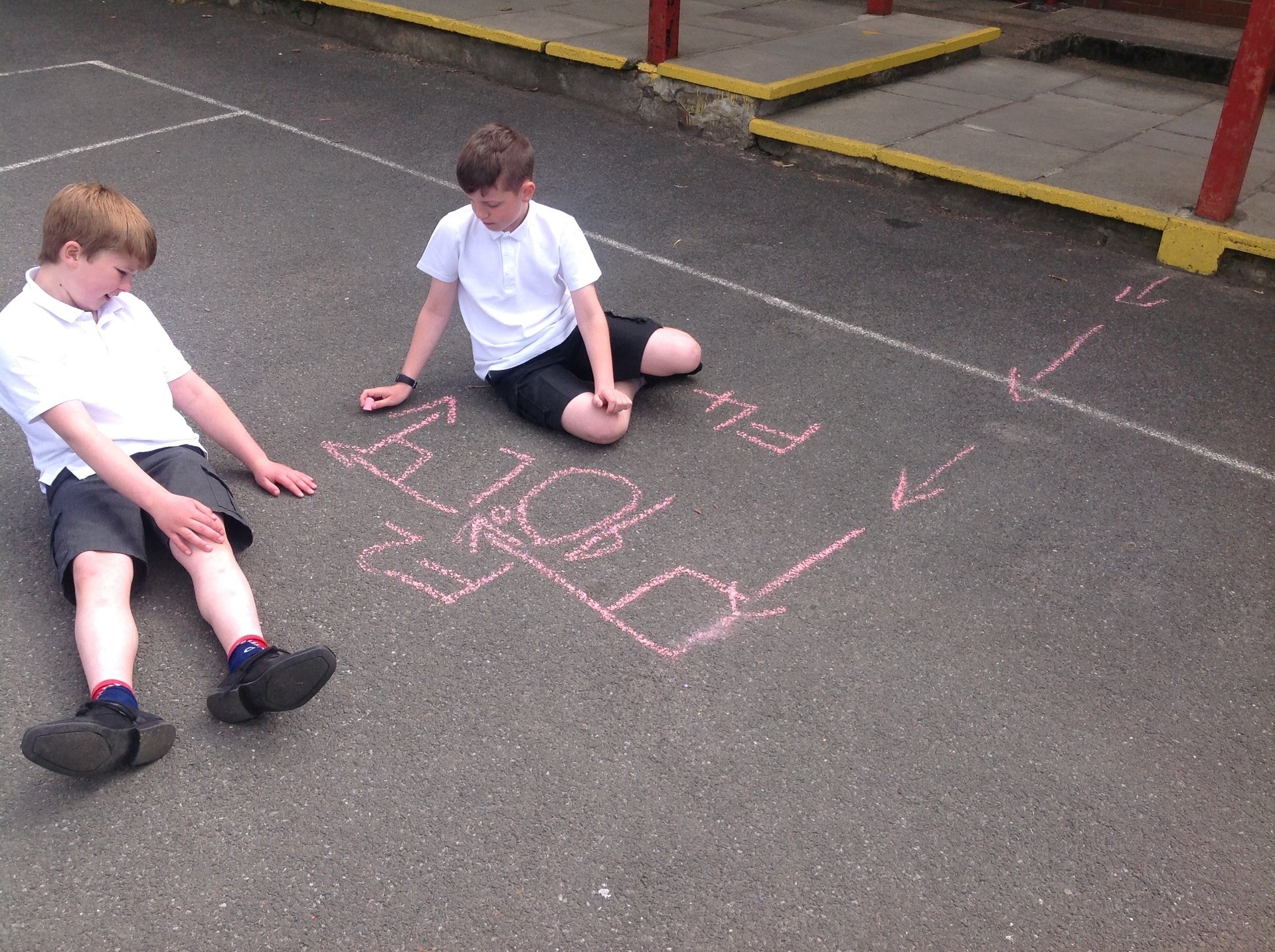 Spring Term
Spring into Maths at Pittington this term!
Year 5 delighted the rest of the school by sharing their Soccerstarz stash with each class.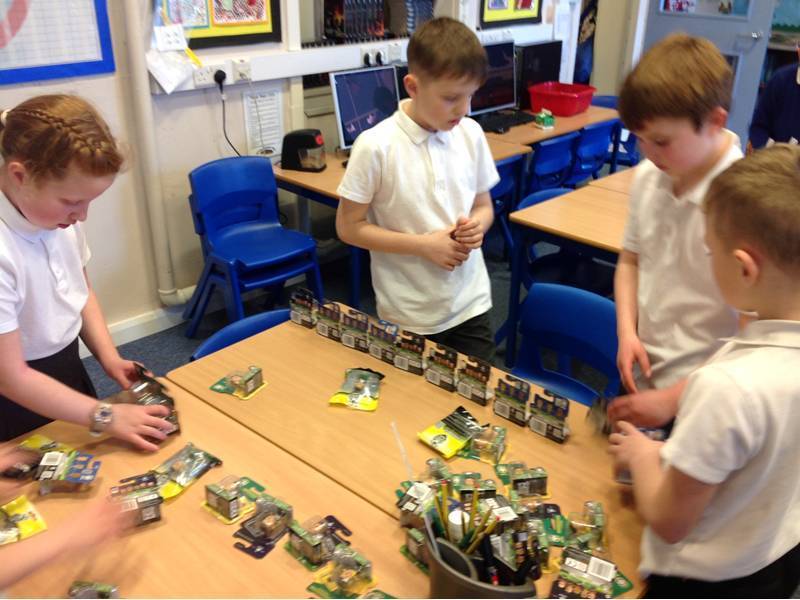 The children had to share them out equally throughout whole school and needed to find an efficient way to total, work out fraction and percentage each class would get and then divide equally. This was a great show of team work and sharing of strategies applying maths in everyday situations.
As you can see, it didn't take long for Reception class to put them to good use in another maths context!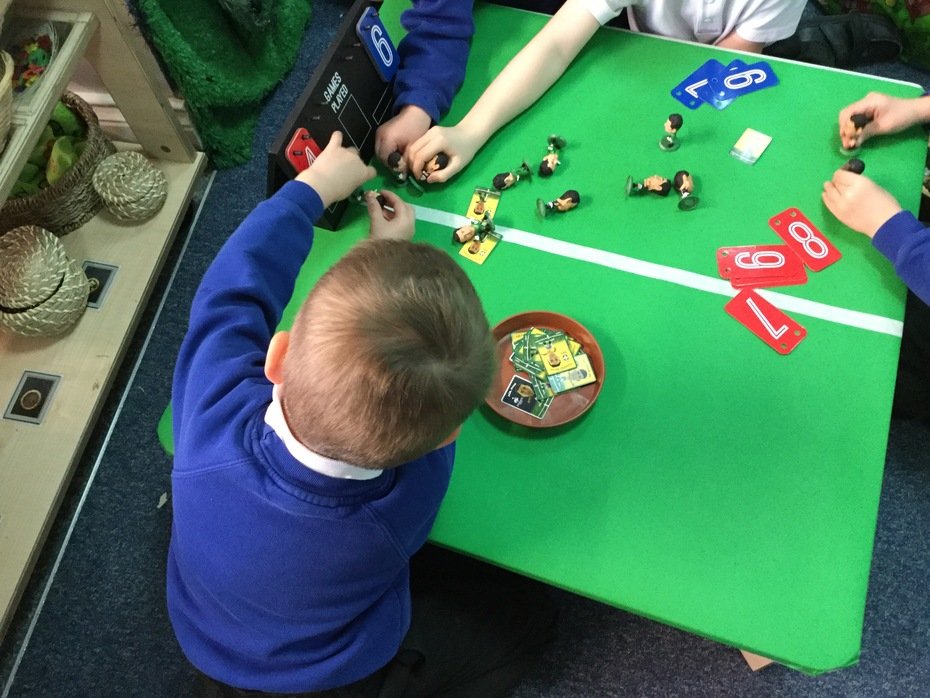 In Year 3, practical maths is the buzzword and they have been using polydron to construct their own 3D shapes.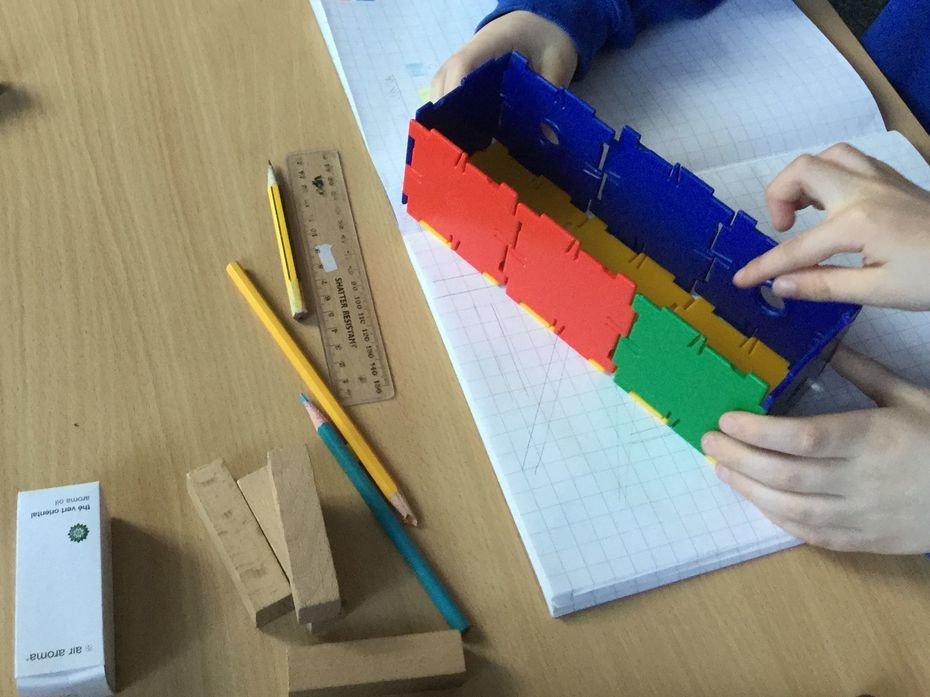 In Nursery Mr Wright really enjoyed joining the children as they created pictures using 2D shapes.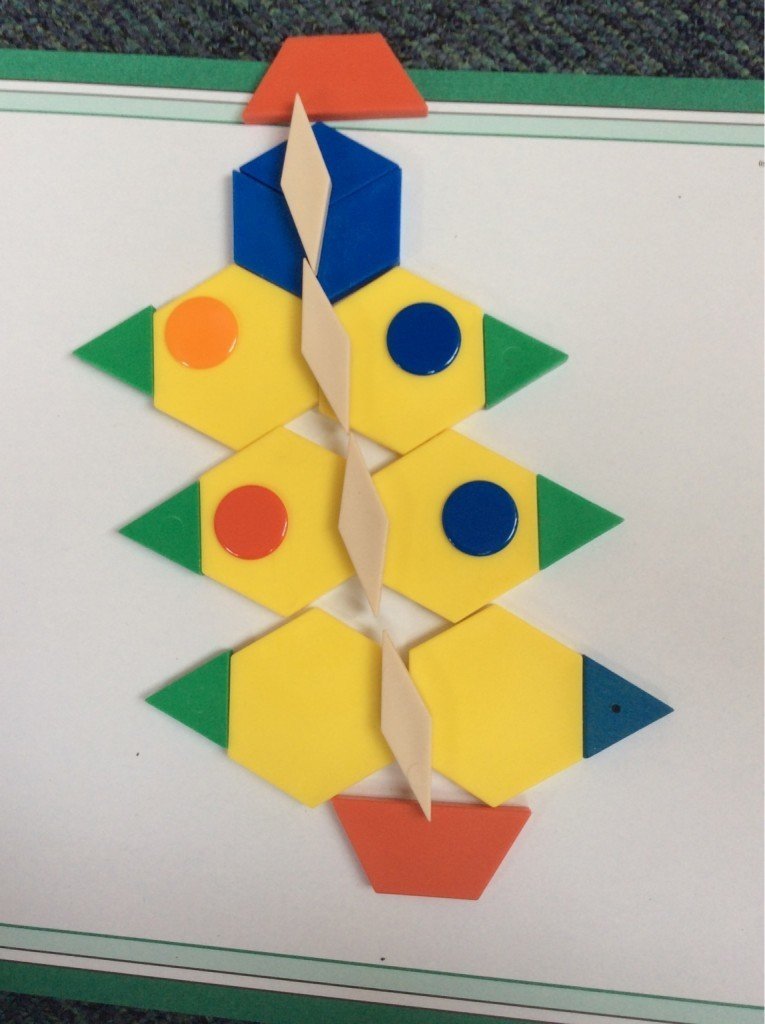 Each class has also started their own unique x tables challenge and we particularly like the Year 1 superhero x tables approach!
Autumn Term
Problem Solving? No problem!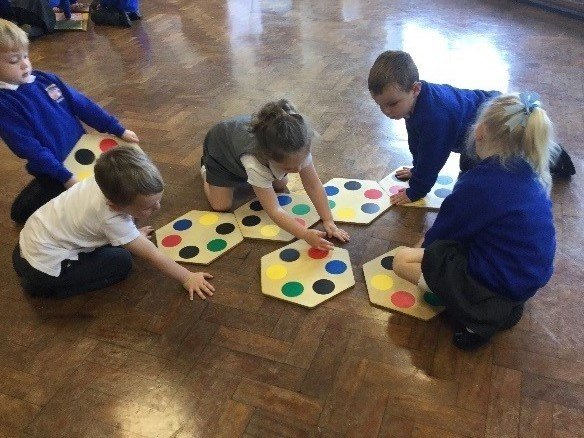 This term, all classes from Reception to Year 6 have enjoyed working with 'The Problem Solving Company' who specialise in creating a 'pen free' approach to practical maths problem solving. Each year group had their own bespoke activity and really impressed their teachers with their communication, teamwork and problem solving skills.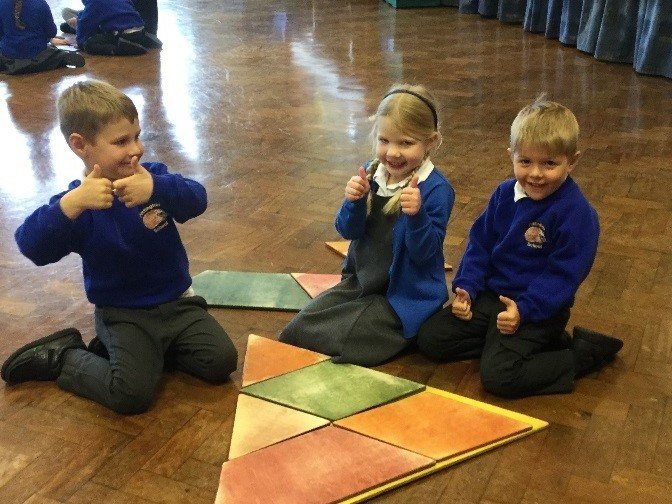 "The best thing was team work"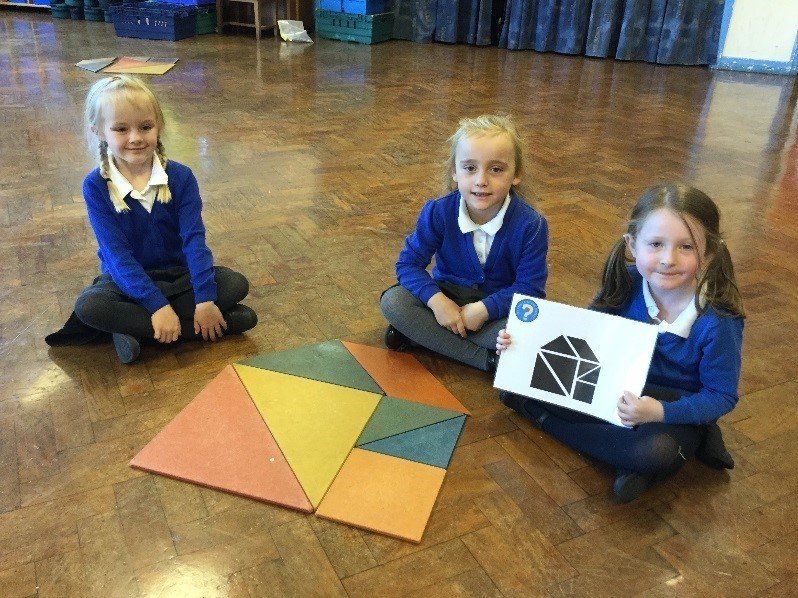 "I didn't know shapes made other shapes"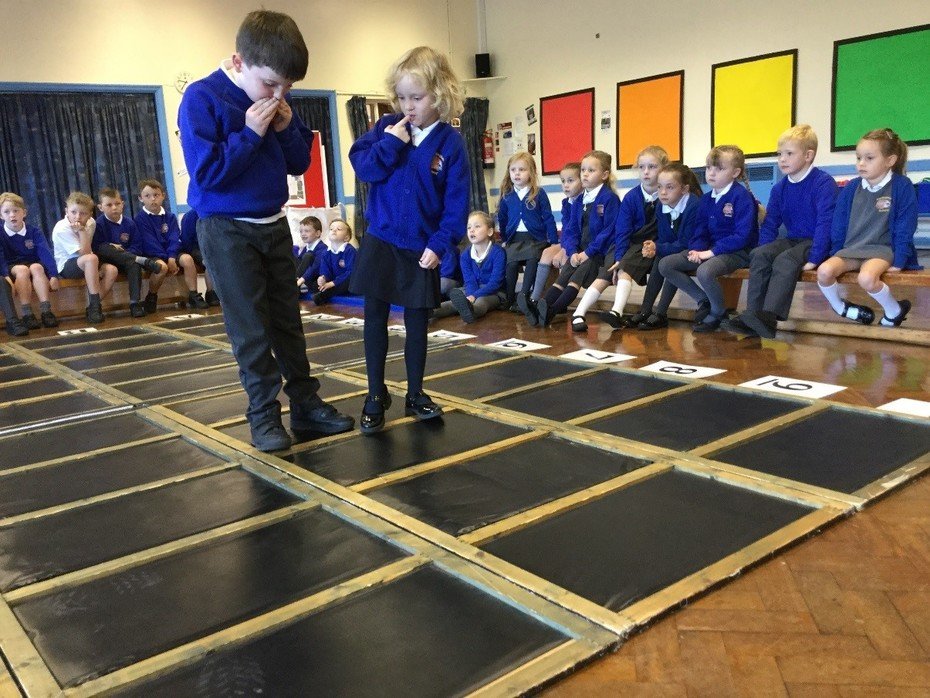 "Great to have a chance to be a leader and set myself targets."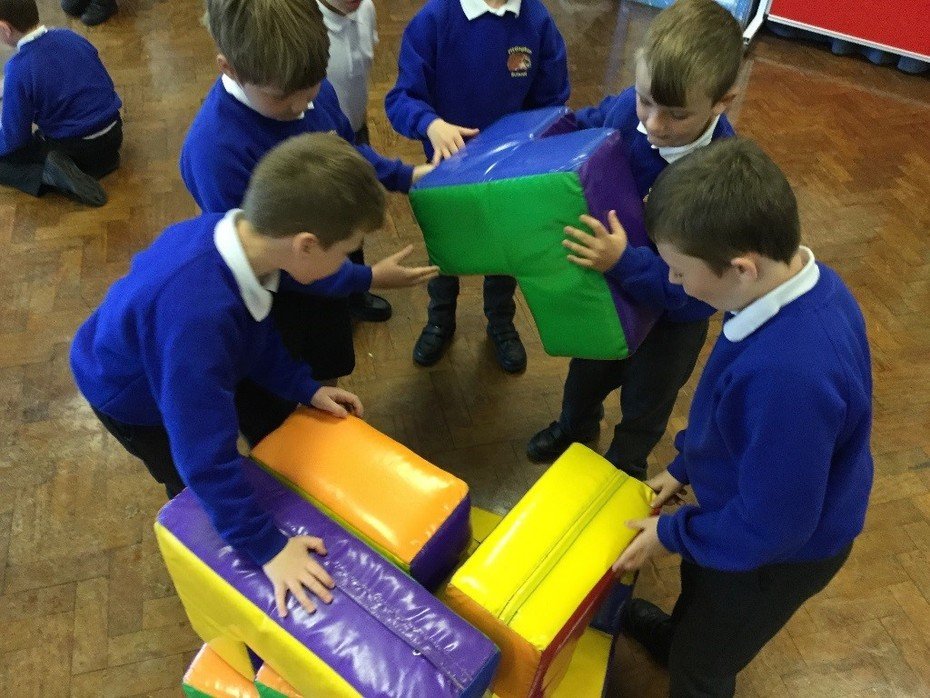 "It kind of wasn't like Maths, so it made it more fun."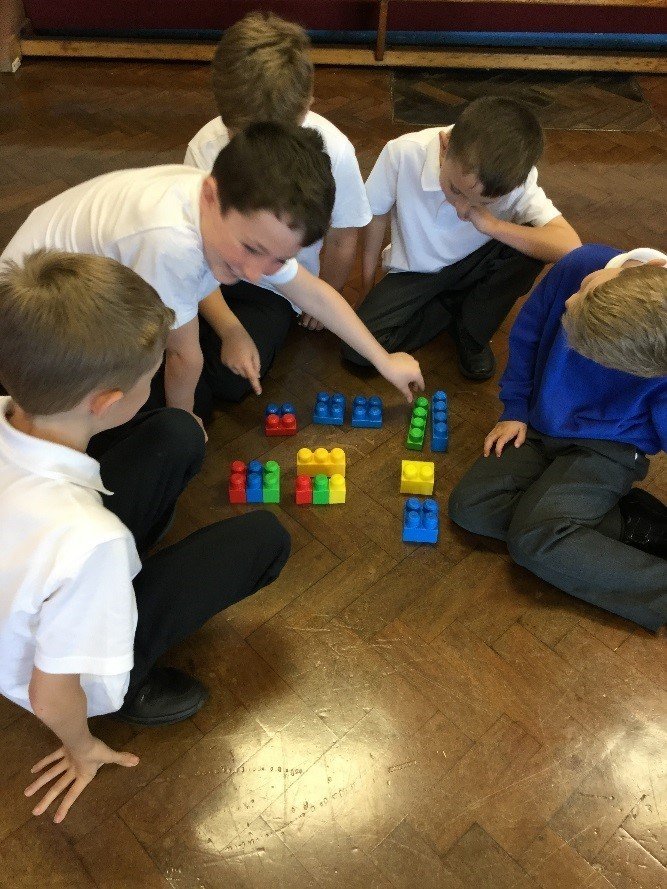 "We learned to problem solve and keep trying if we couldn't do it"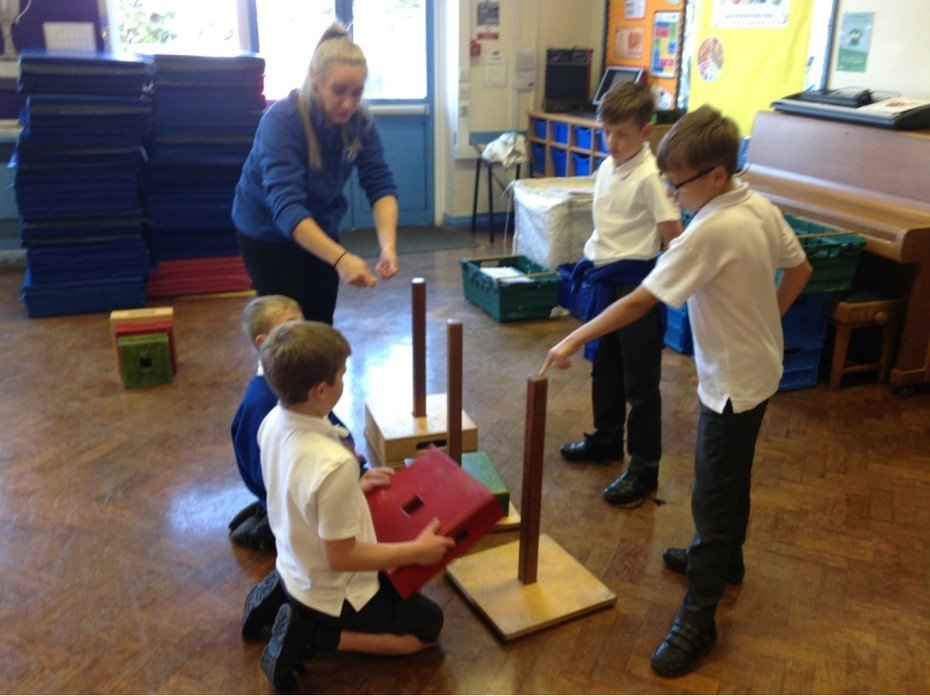 "It was challenging and awesome"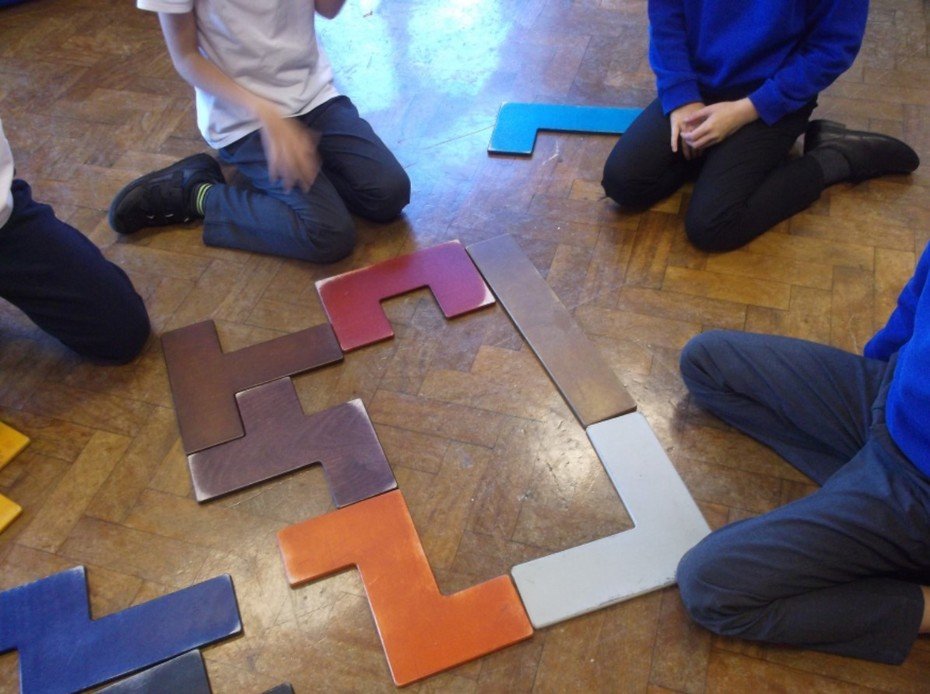 The knowledge and skills the children applied in these activities were wide ranging: from those based around shape and geometry to coordinates and mapping skills. The resilience shown by the children who encountered the challenges was impressive and is applied every day in the classroom giving them the confidence to approach challenging maths with a 'can do' attitude.
Marvellous Maths at Early Years & Foundation Stage
We have started to use 5 frames to develop our concept of number.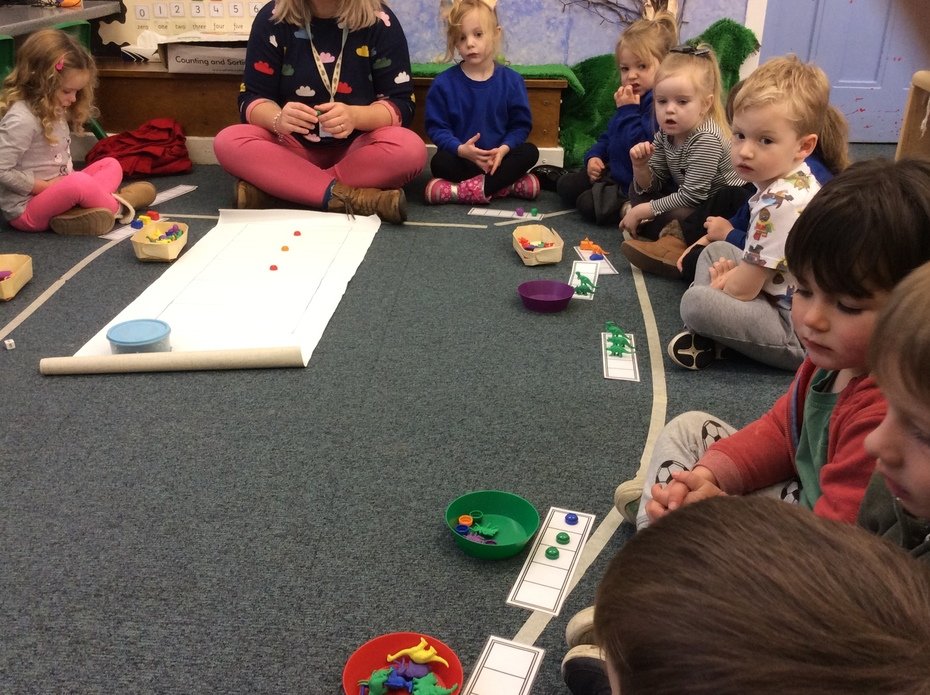 We have been learning about numbers around us. We have been voting and counting the number of votes for our favourite books, forming our numbers wherever we can and organising numbers into the correct order.