Religious Education at Pittington
Summer Term 2021
Nursery have enjoyed learning all about Christenings. We talked about our own christenings and brought in pictures of us when we were christened. We learned about the use of holy water, a font and the importance of Godparents too. We looked at some of our Christening gowns and the special parties we had with all of our families and friends as well as christening cakes and special keepsakes such as bracelets.
Nursery also really enjoyed learning all about the Hindu festival of Raksha Bandhan. We learned that this festival celebrated the love and special bond between siblings. We talked about how our brothers and sisters are very special to us. We found out about the special Rakhi bracelet sisters give their brothers as a symbol of their love and enjoyed making our own bracelets to give to someone special.
Insert photos rak1 and rak2
Reception have been thinking about special buildings, special places and religious buildings of worship. We explored videos of tours around religious building such as-
A Mosque
A Gurdwara
A Synagogue
A Church
We talked about:
-What places are special to the children and their families
-What places are special to lots of people
-What makes the places so special?
-How do special places make us feel?
-The world is a very special place!
We compared a variety of religious and non-religious but equally special places.
The children then designed their own unique special place and reflected on what they would see, hear, smell and feel in their special place. The children talked about their ideas and why they made certain choices.
Here are some of the comments that the children made when comparing the different places of worship and the congregation who visit-
"I can see people praying"- Elliott
"A special place is for the community"- Eryn
"I can hear different music"- Francesca
"Someone is looking at a piece of paper"- Otis
"There are no chairs but there is a comfy carpet"- Seb
"They are all looking the same way"- Theo
"They are praying to God"- Henri
"Some people are wearing hats and some aren't"- Jacob
"Some people are bowing"- Florence
"I can see people singing"- Jack
"Some people have got their head covered to pray"- Meredith
In year 1 this term we have been learning about the Buddah and Buddism. Here is us having a go at meditation where we did some reflection on our own lives.
Year 2 have been learning about Buddha and understand that Buddhists respect all living things. They have learnt about the life of prince Siddartha and have enjoyed recreating their own Buddhist shrine. They know that the wheel of life represents the cycle of birth, life, death and rebirth and understand Buddhists believe that when you die you are reincarnated.
They have practised meditating and reflected on their own thoughts about life and what is important to them. They know Vesak (or Wesak) is one of the most important festivals for Buddhists and enjoyed making Vesak lanterns.
During this summer Term in RE, Year 3 have been learning about how Hindus believe life to be a journey, that there are four stages and how Karma links with a cycle of birth, death and re-birth until it ends with Moksha.
During these lessons we practise using the correct vocabulary in conversations with our learning buddy, in small groups and during whole class discussions. In July we wanted to capture what we had learned, so used our keyboard and MS Office skills to create fact files about Hinduism, including information that we learned in the autumn term and then a PowerPoint about Christianity.
This term, Year 4 researched online how and most importantly why Christians help each other. They then created a panel tv show where each member presented their findings suggesting how Christians help each other but also why, linking it to Christian beliefs and the gospel.
This term in RE, Year 5 have been furthering our knowledge and understanding of Judaism and we have explored ways in which Jewish beliefs can be expressed in the home. This has included learning about the Mezuzah, Kiddush cups and Shabbat. We have explored the significance of Shabbat within Judaism and how it is observed by Jewish families. Recently, we have also explored the differences between traditions and rituals. This has included exploring Puja within Hinduism.
| | |
| --- | --- |
| | |
Year 6 children took part in a County-wide interfaith Teams meeting in May. It focused upon the impact of Covid on our mental health and explored how people of different faiths reflect on behaviours and actions and look towards the future. Lent, Ramadam and Yom Kippur were some of the religious activities which were focused upon. As part of a bridging unit as children head towards secondary school, Y6 have also been focusing upon what they already know about Christianity and extending their understanding, looking at moral codes for Christians and the concept of salvation.
Take a look at our modern versions of Jesus' 'I Am' statements from the Bible.
Spring Term 2021
In Nursery, the children have been learning about the Bible. We talked about how it is a special book and has lots of stories about Jesus. The children have also been enjoying a range of stories which Jesus told from our book 'Favourite Stories from the Bible'. We have enjoyed reading 'The Lost Sheep' and 'The House on the Rock'. We enjoyed also learning a song about the wise man who built his house upon the rock.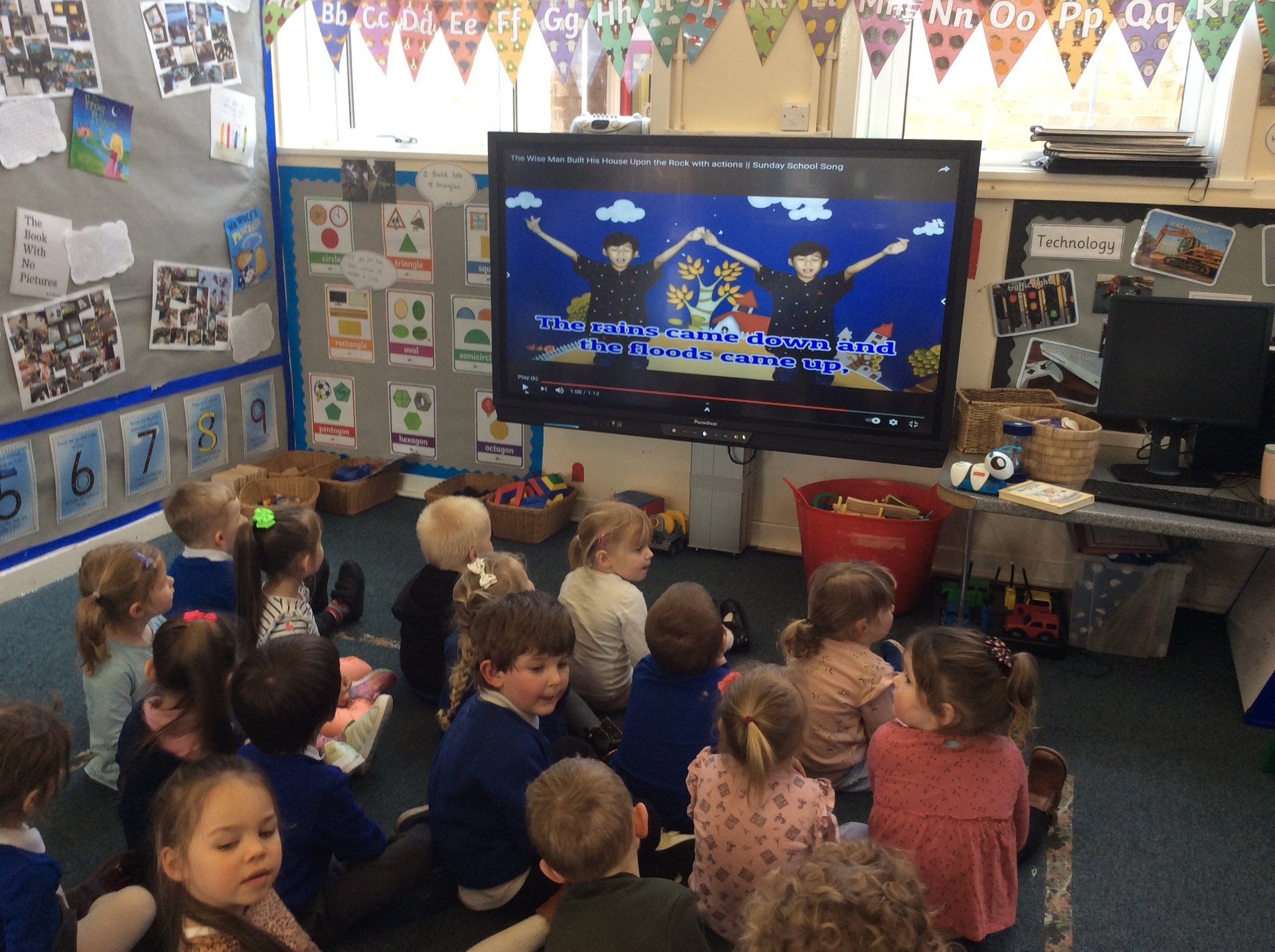 Some of the children were able to tell us that they went to church and know about Jesus and the Bible. It was nice to hear their stories and ideas. We read the Easter story together and used the new story sack to help us to understand the significance of this story to Christians.
This term, Reception have reflected upon Holy Books such as the Torah and the Bible. Most recently we have been learning about the Christian celebration of Easter. We made paper crosses which traditionally would be made from palm leaves.
The children discussed the meaning of new life and reflected upon the many traditions celebrated by lots of faiths during Easter time…chocolate eggs were mentioned a lot!
In Year 1 we have been learning about why Jesus cared about others and that Jesus told special stories called parables. We read the story of The Lost Sheep which taught us that 'God finds everyone'.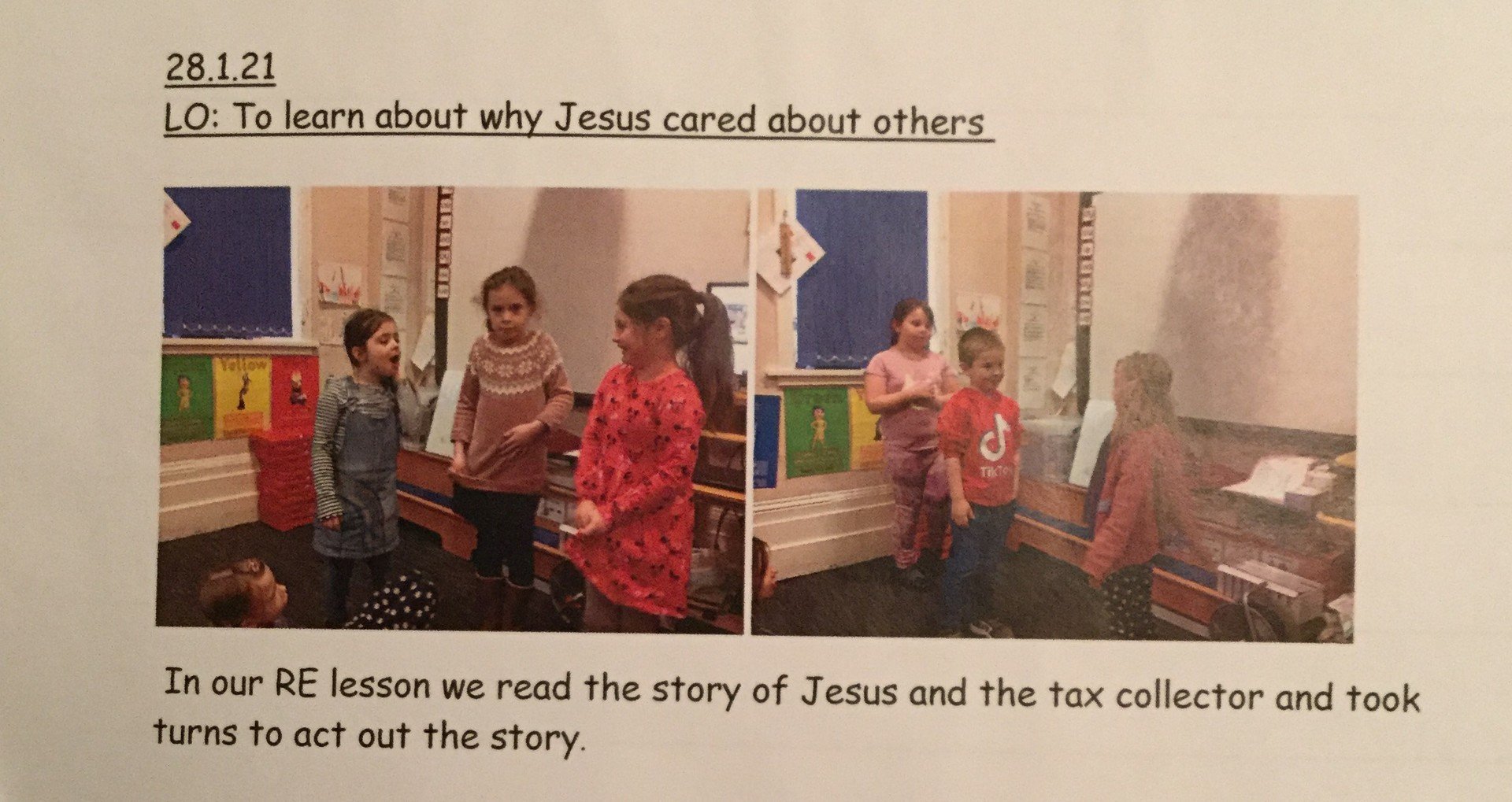 We went on to learn about the Easter story. We talked about why Good Friday is such a sad day for Christians and Easter Sunday is a happy day for Christians. We watched a version of the Easter story from the children's Bible and then we sequenced the story into the correct order.
Year 2 have been talking about Christianity in R.E. The children have talked about what they might see in a church and role played a baptism. There are lots of symbols that the children are used to seeing all around but did not necessarily realise come from the Christian faith so it has been interesting discussing these further.
We have also been discussing the story of Easter. The children now recognise lots of the symbols of Easter. The easiest to remember is perhaps the cross as we made hot cross buns and talked about their symbolism! They did have crosses on before cooking, we promise!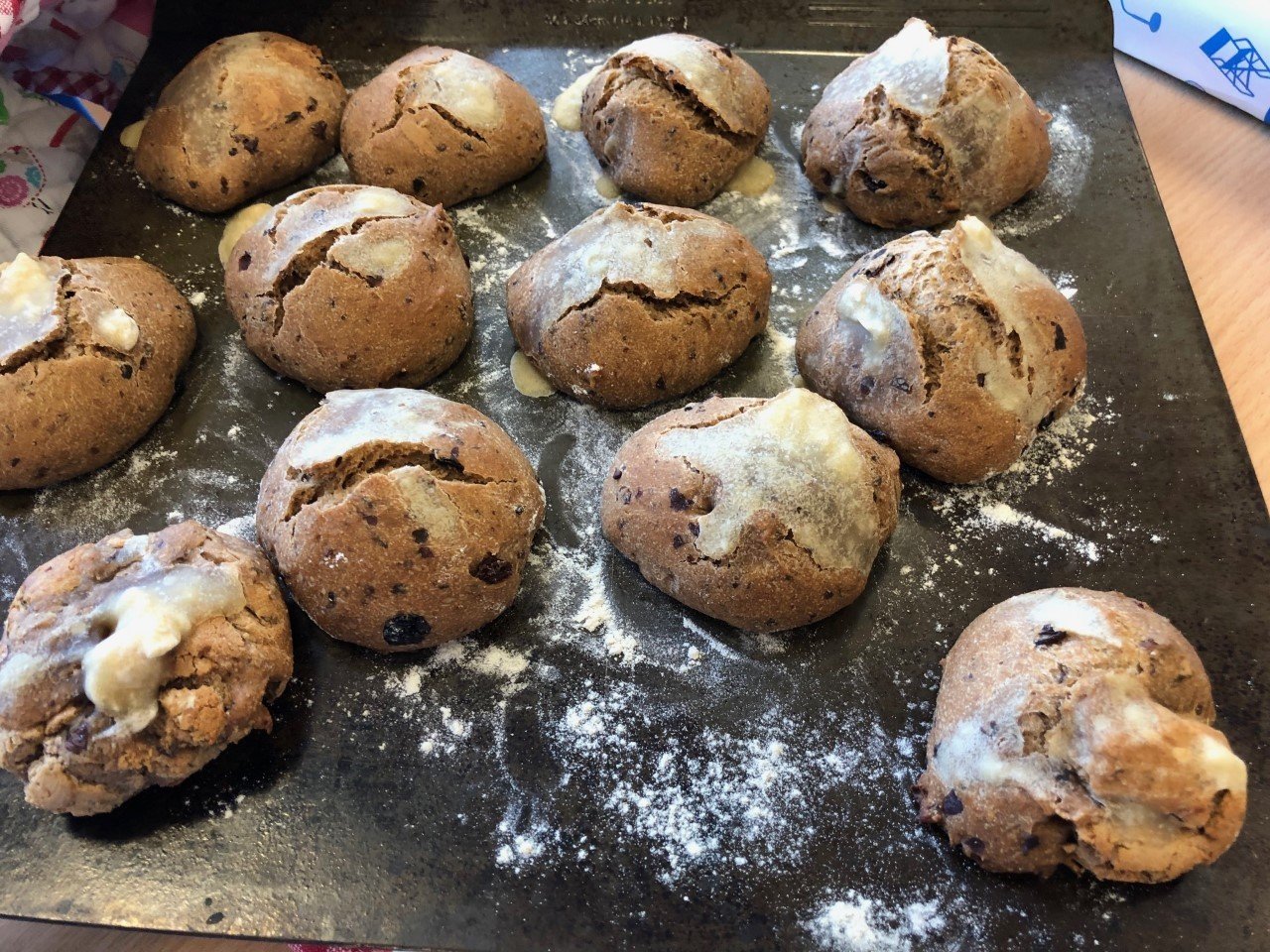 During the first two months of this half term, the Year 3 children who were home learning received activities that helped them to continue accessing the RE curriculum. The children both at home and in the classroom explored the vocabulary that linked with the tower, steeple and spire of some Christian churches and used online virtual tours during discussions for how the interior of a church relates to the belief and faith of Christians.
Continuing with Christianity, we explored the connection between the days within Holy Week and focused on the events and significance of Palm Sunday. We used an audio book to help us, especially the home learners.
Year 4 have been learning about the significance of Lent for Christians this term. They have familiarised themselves with the parable of Jesus spending 40 days in the wilderness and resisting temptation from the Devil. They have also explored the different parables from the Bible and the deeper messages behind them; often finding that they hold a valuable message for Christians and non-Christians alike.
This term in RE, Year 5 have been exploring the Christian beliefs about God. This has included exploring the symbols of God found within the Christian faith and also learning about the Holy Trinity and other aspects of God. The children have shared stories from the Bible and looked for evidence of the different aspects of God being seen within these. Online learning upon these aspects have been provided for those taking part in home learning and this has included links to learning videos available online.
Recently, Y5 have explored the key events surrounding 'The Last Supper' as part of the Christian celebration of Easter.
Year 6 have been learning about why people from faiths care for the environment. To do this, we studied some of the creation stories and looked at why people from different faiths have a sense of responsibility to care for God's world. We also looked at the Big Bang theory. To end the topic, we created an image of a world which we would like to see in the future. We drew around our feet to represent our carbon footprint and copied the native American saying of 'We do not inherit their Earth, we borrow it from our children.'
Autumn Term 2020
EYFS
Nursery have explored the celebration of Harvest and Harvest Festival and talked about the importance of the crops which farmers grow and gather. The children looked at different fruit and vegetables and painted their favourites. We enjoyed having a fruit and vegetable role play shop too.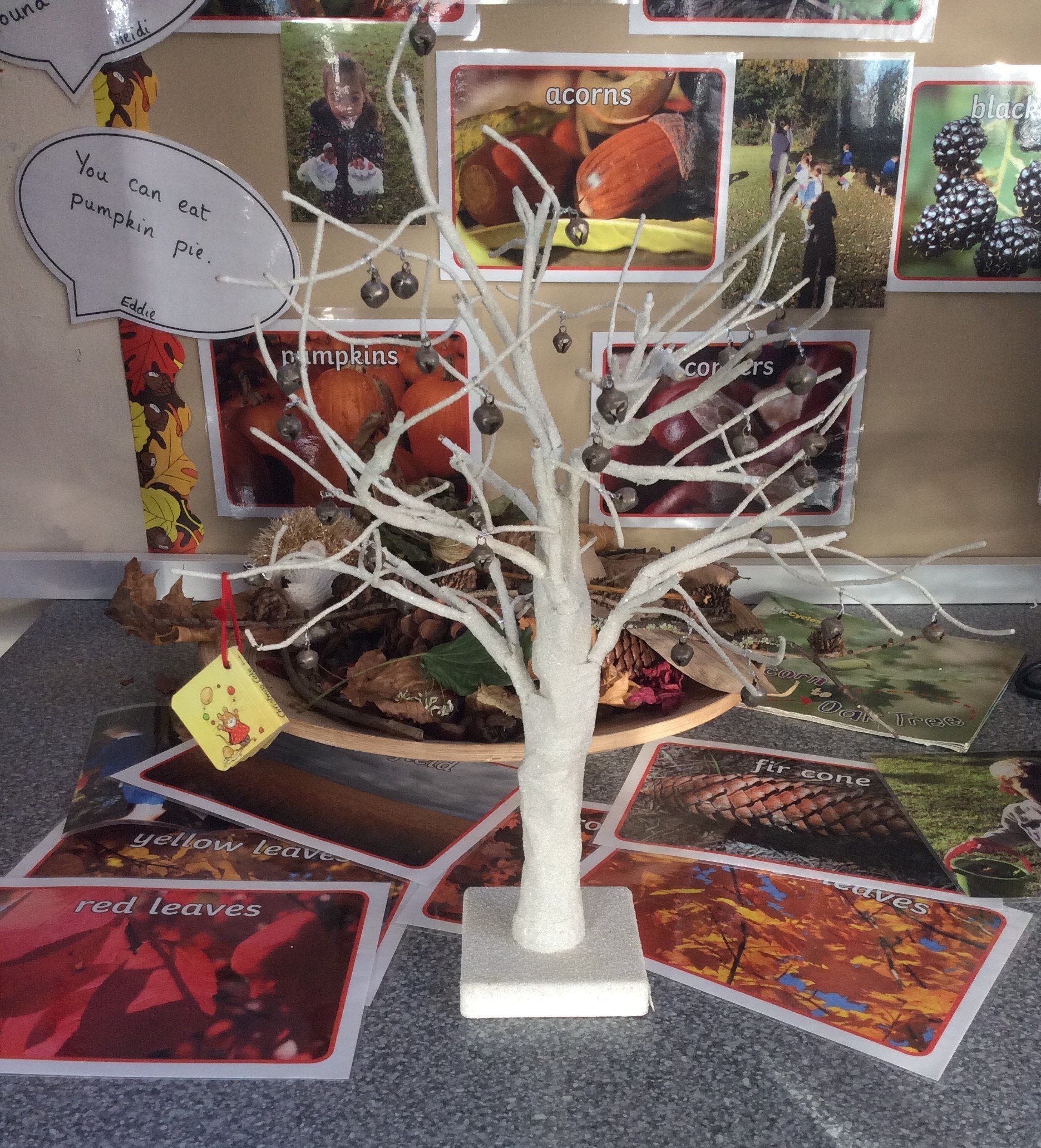 We have learned about the Hindu festival of Diwali, sometimes called the festival of light. We read the story of 'Rama and Sita' and discovered the origins of the festival. The children enjoyed exploring the new story sack to retell the story and we made Diwali window decorations with coloured cellophane and displayed them in our classroom window. We explored the shapes used in Rangoli patterns.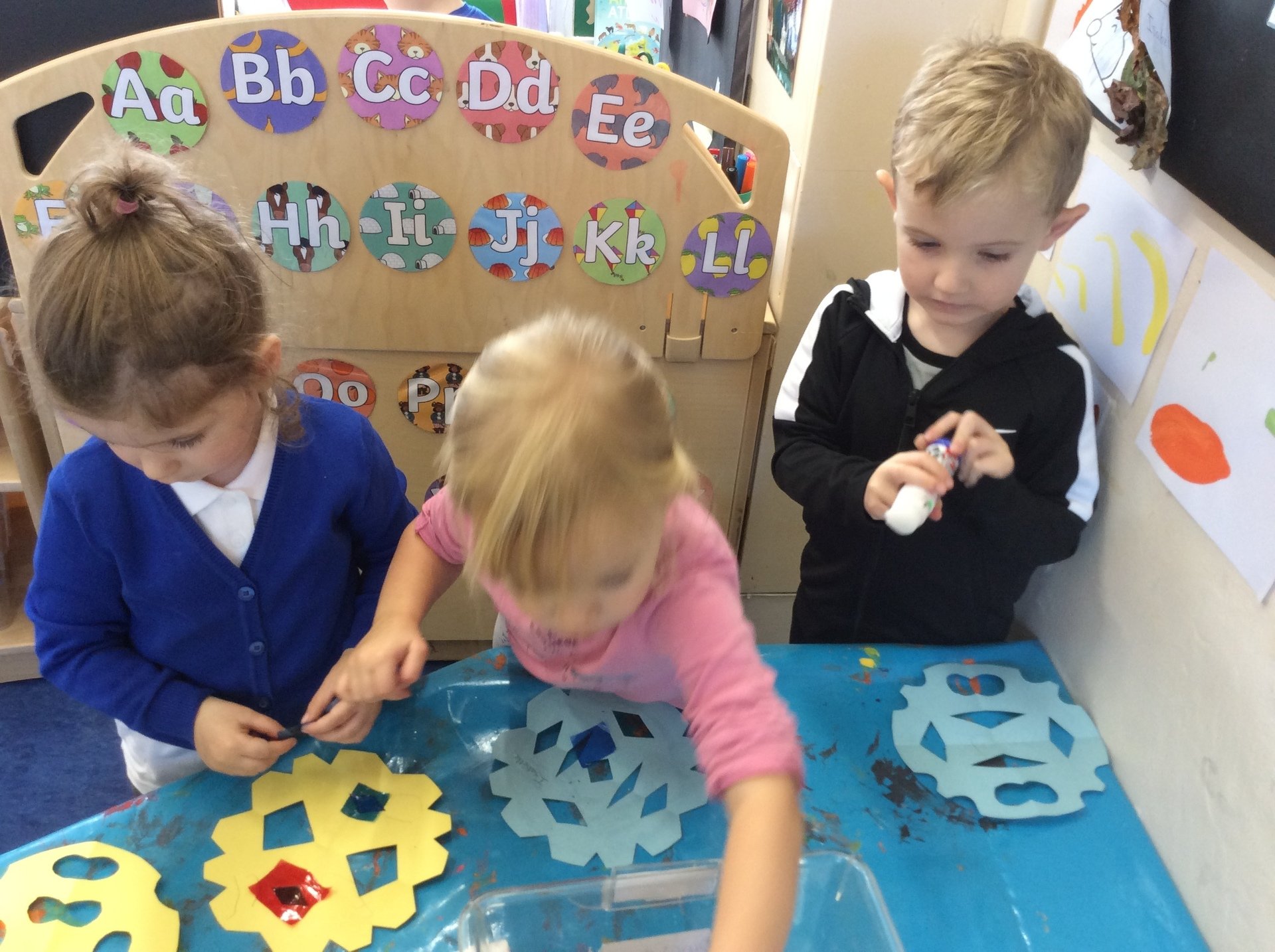 We have looked at the Christmas story together using books and video clips and enjoyed listening to some traditional Christmas carols to help with our understanding. Our favourite was 'Little Donkey'.
Reception have been learning about the Jewish religion and some of the important things that Jewish children like to celebrate. We watched a video clip about a Jewish family preparing for Shabbat. Shabbat is a Jewish holiday of rest which begins each week on Friday evening and lasts until Sunday. There are lots of preparations that take place before Shabbat, it is like preparing for a visit from the Queen! The house is cleaned from top to bottom and all the cooking for the weekend has to be done before Friday evening.
We also explored the Torah and looked at the scripture (which is read from right to left).
We also learnt the greeting 'Shallom'.
With Christmas approaching, Reception have linked this to learning about religions. We talked about Christianity and the birth of Jesus. We read the traditional Bible story of the birth of Christ.

Key stage 1
Year 1 have been learning about Christian churches this term and the children can name the things they would expect to find inside. We compared lots of different churches from around the world, looking for similarities and differences. We wrote questions to our local vicar about features of our church, for her to answer.
We also learned about the Christmas story and thought about why gifts are given at Christmas.
Year 2 have been learning about why the Bible is special to Christians. They have learned that it was written over 2000 years ago and that it is a gathering of special books. The children know that the New Testament is all about Jesus and have shared and read stories together.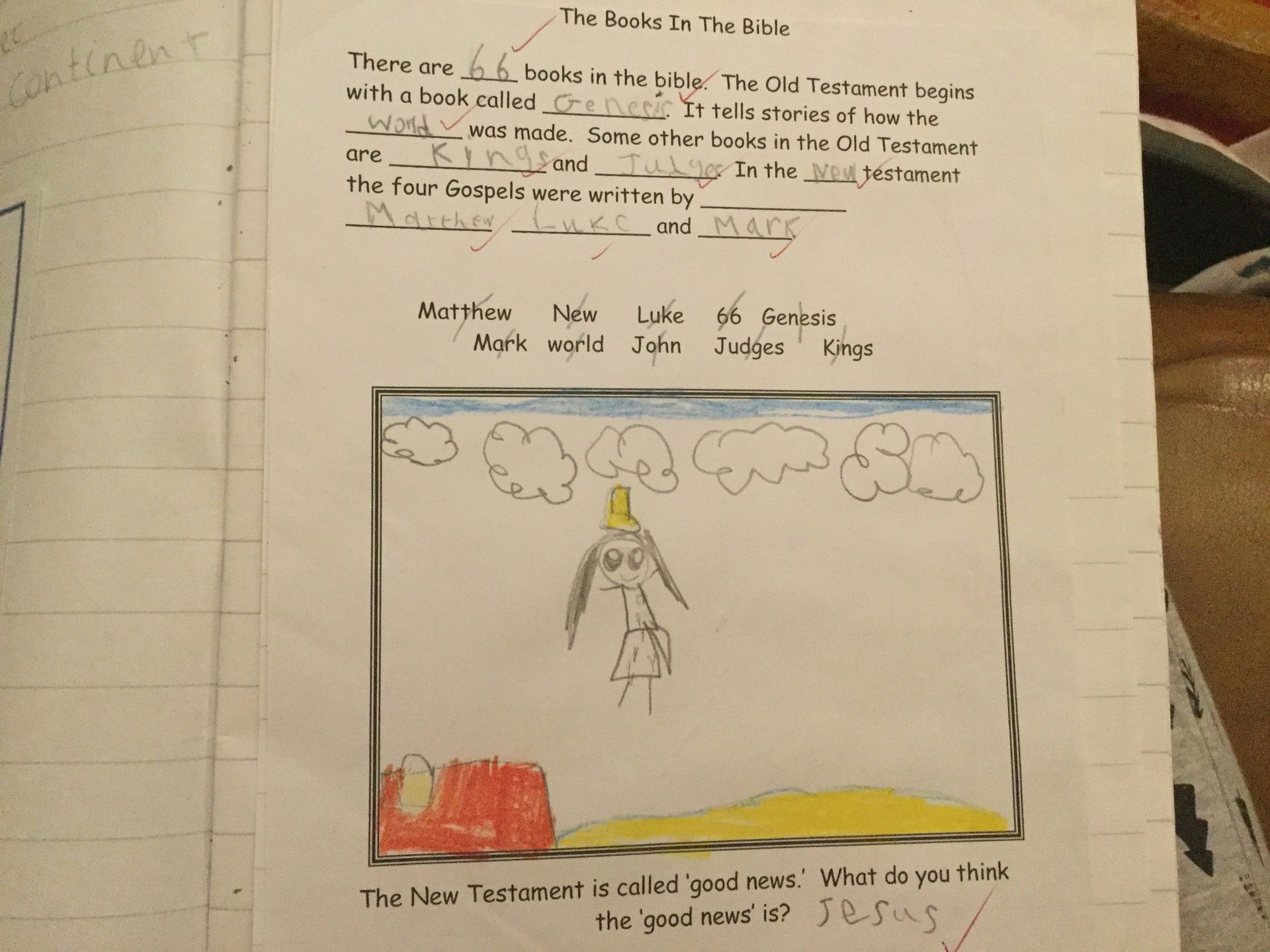 The children have also been learning about what kind of person a saint is and have asked and found answers to questions about St Cuthbert. They know that he is buried in Durham Cathedral and that it was built for him.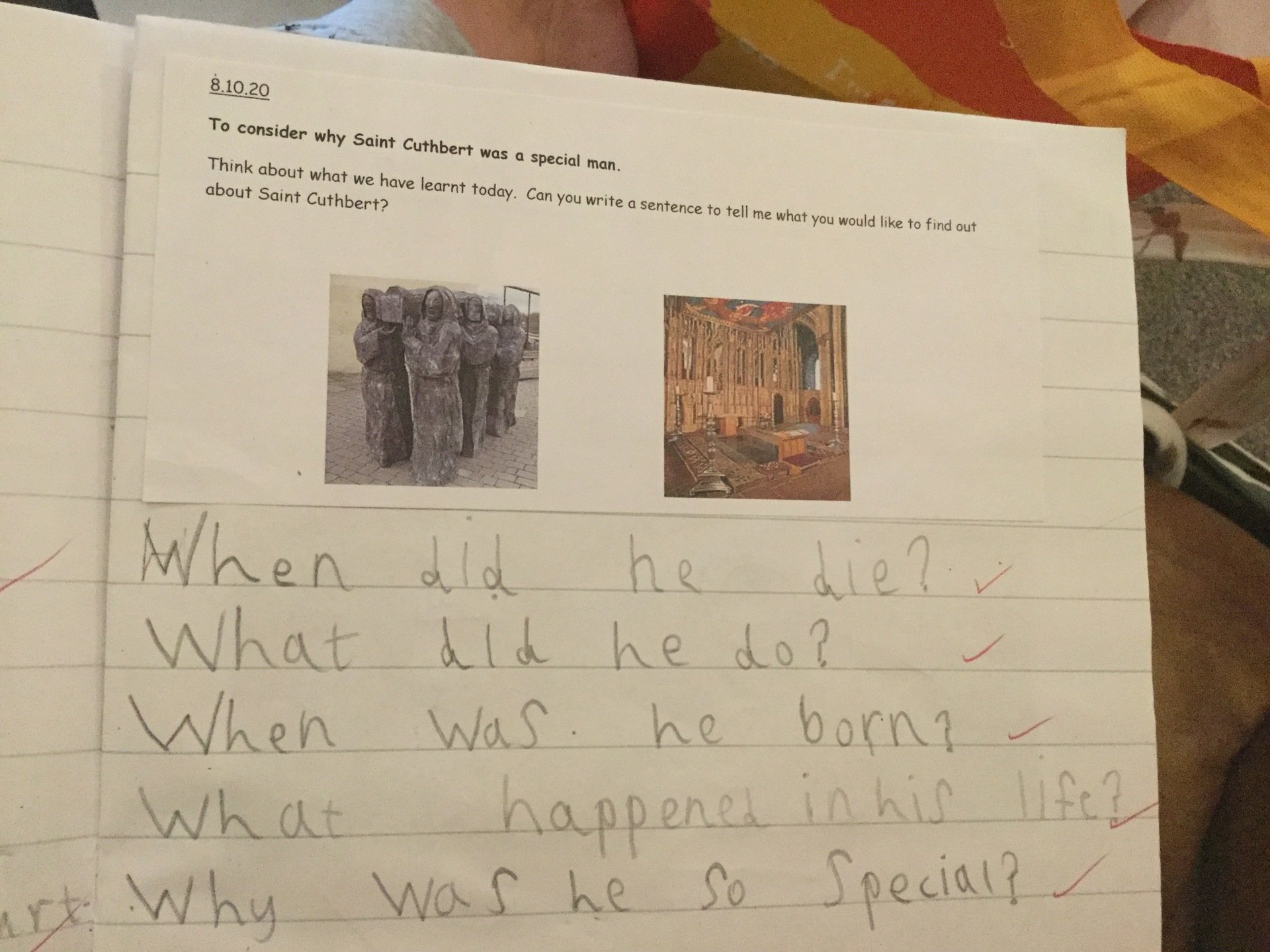 The children have also been looking at the Christmas story and why light is important at Christmas.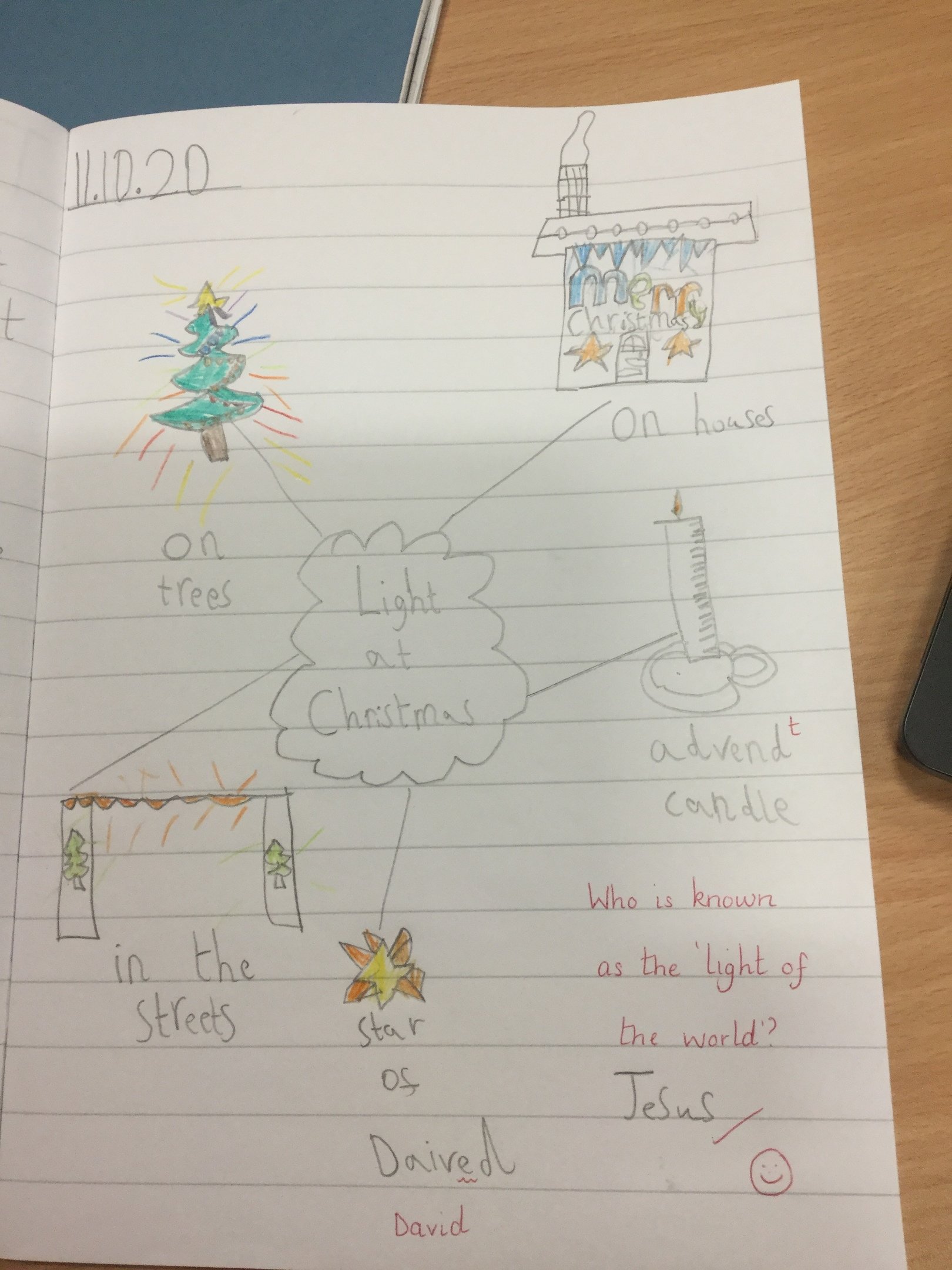 They have made their own Christingle and had some time to reflect on their own feelings and experiences of light.
Key Stage 2
Year 3 have enjoyed learning about Hinduism and made use of the books and artefacts available at our school to better understand aspects of prayer and worship practiced by followers of this faith. To conclude our focus on Hinduism we had access to online resources prepared for the celebration of Diwali.
During the final months of this autumn term we re-visited the Christian faith and focussed on the period of Advent and its importance at this time of year when Christians reflect on the significance of the Nativity. We made links to scripture and looked again at the Bible, with a focus on the prophets from the books in the Old Testament. A visit by the local Reverend helped us better understand the reason why this time is of great importance to followers of the Christian faith.
Year 4 have been finding out about the Bible. They considered what they know about the Bible and why it is important to Christians.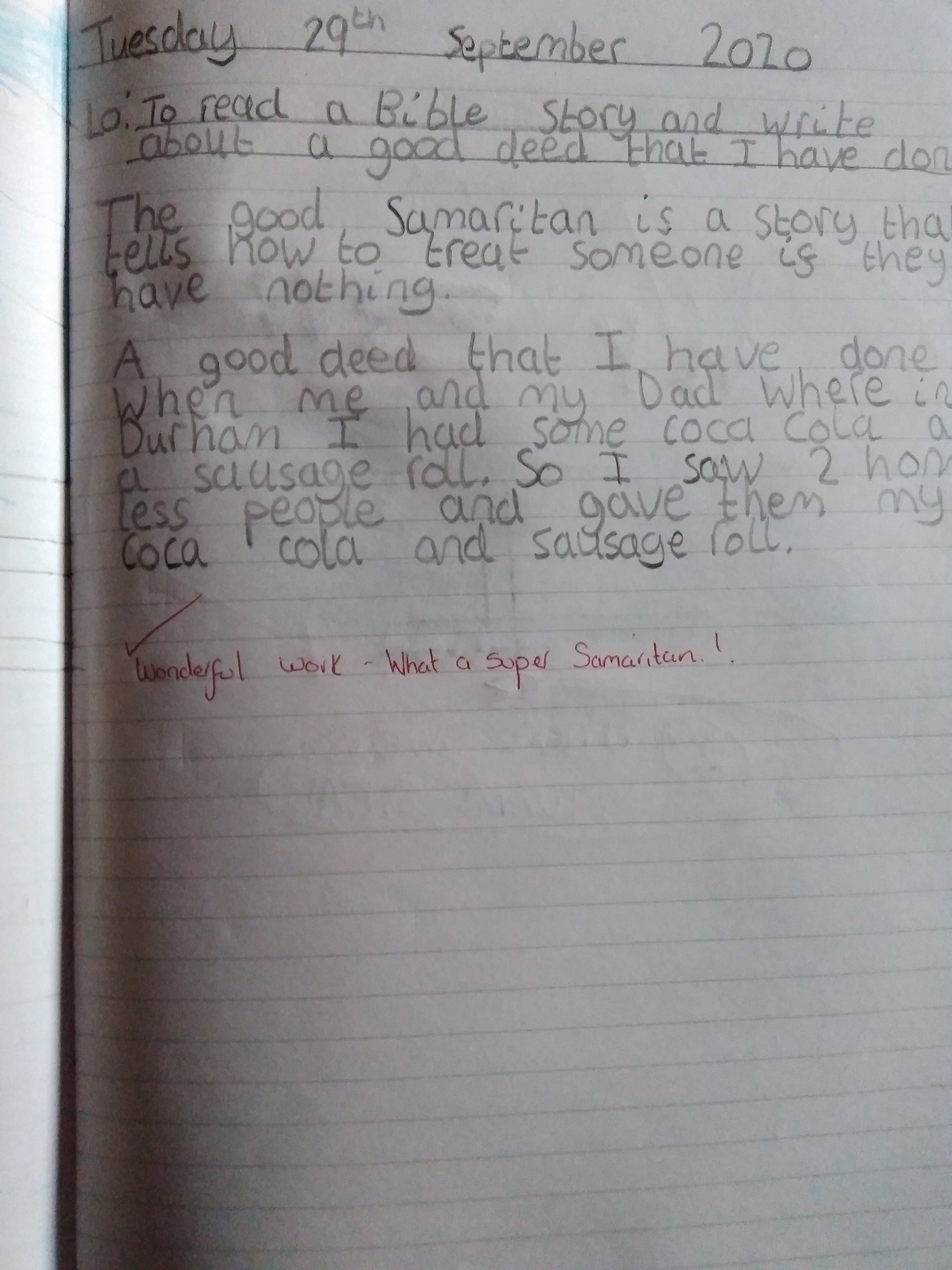 In RE this term, Year 5 have been learning about Judaism and have focussed upon why Moses is such a key figure. This included learning all about the story of Exodus and the belief within Judaism of how the Ten Commandments were given to Moses on Mount Sinai. We also learnt about the synagogue and some of the key items which are found there and t
he rules which are in place. This included the Torah Scrolls and the Eternal Light. Recently we have explored the key themes of Christmas.
Autumn Term started with Y6 thinking about different faiths in our local area. We also thought carefully about whether you can always tell which faith a person belongs to by their appearance. This was taken into our unit about Islam. Children were shown this picture and they had to say which of the people shown were Muslims:
Insert picture
(Answer…all of them!)
Year 6 enjoyed a virtual meeting with a practising Muslim from our local community to talk to her about her beliefs and experiences to enhance our understanding about Islam. The children were very attentive and asked some meaningful questions.
To improve our understanding of the birth narratives in Matthew's and Luke's gospels, Rev Liz from St Lawrence's Church came into school (socially distanced of course!) We used a Venn Diagram to help us understand the differences in the 2 gospel accounts.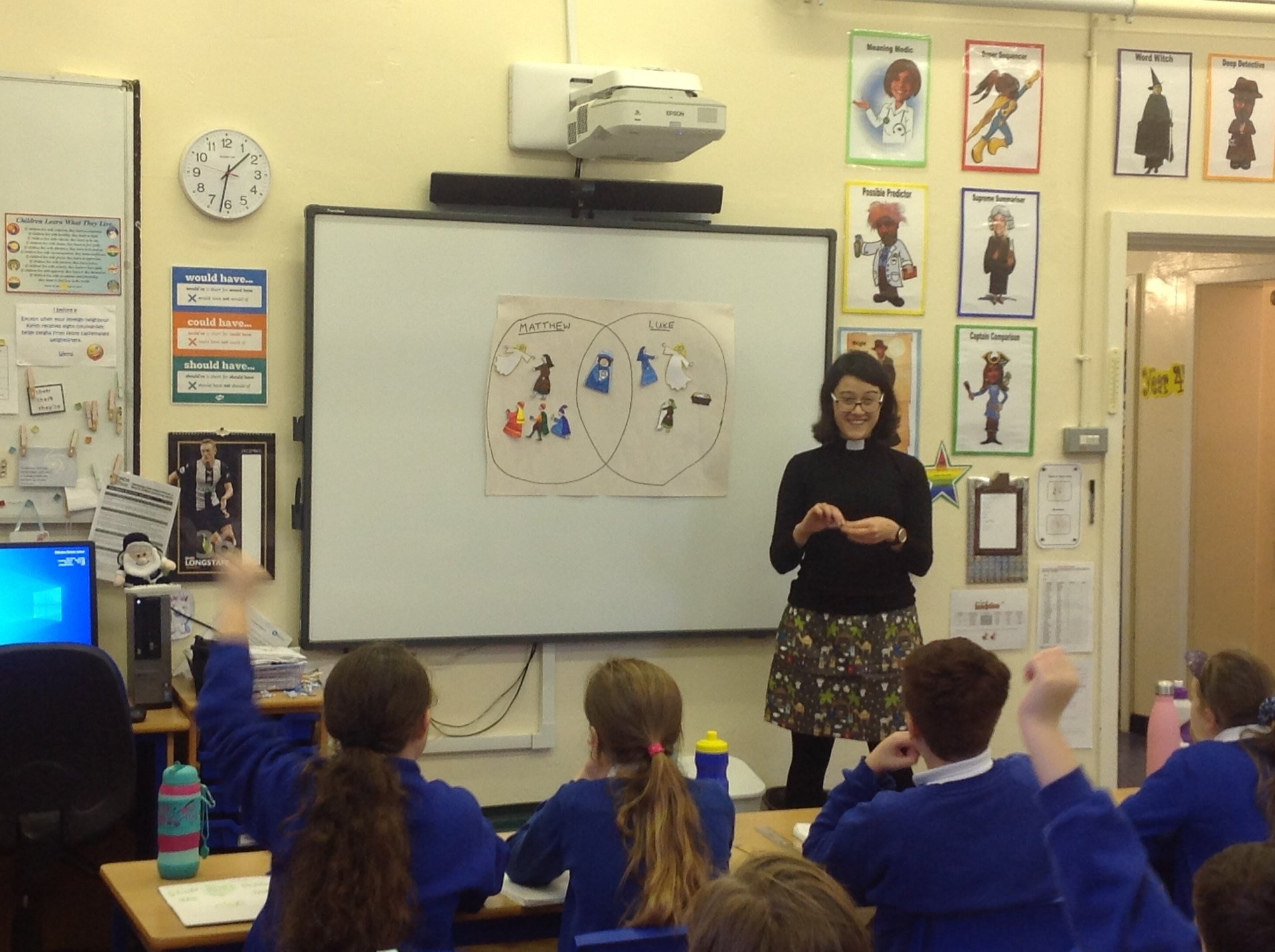 Spring Term 2020
EYFS
EYFS have read the story of Noah's Ark in our group session and discussed how Noah helped the animals by letting them come on to his ark. We also talked about what a flood is and how these can affect both people and animals.
Year 1
Year 1 have read stories about Jesus and the 12 disciples. The children know about the miracles Jesus performed and why Christians think He is very special. The children learnt about Holy Week and why Easter is an important celebration for Christians. We know why the cross is a significant symbol and we thought of some words to describe what the cross means to Christians.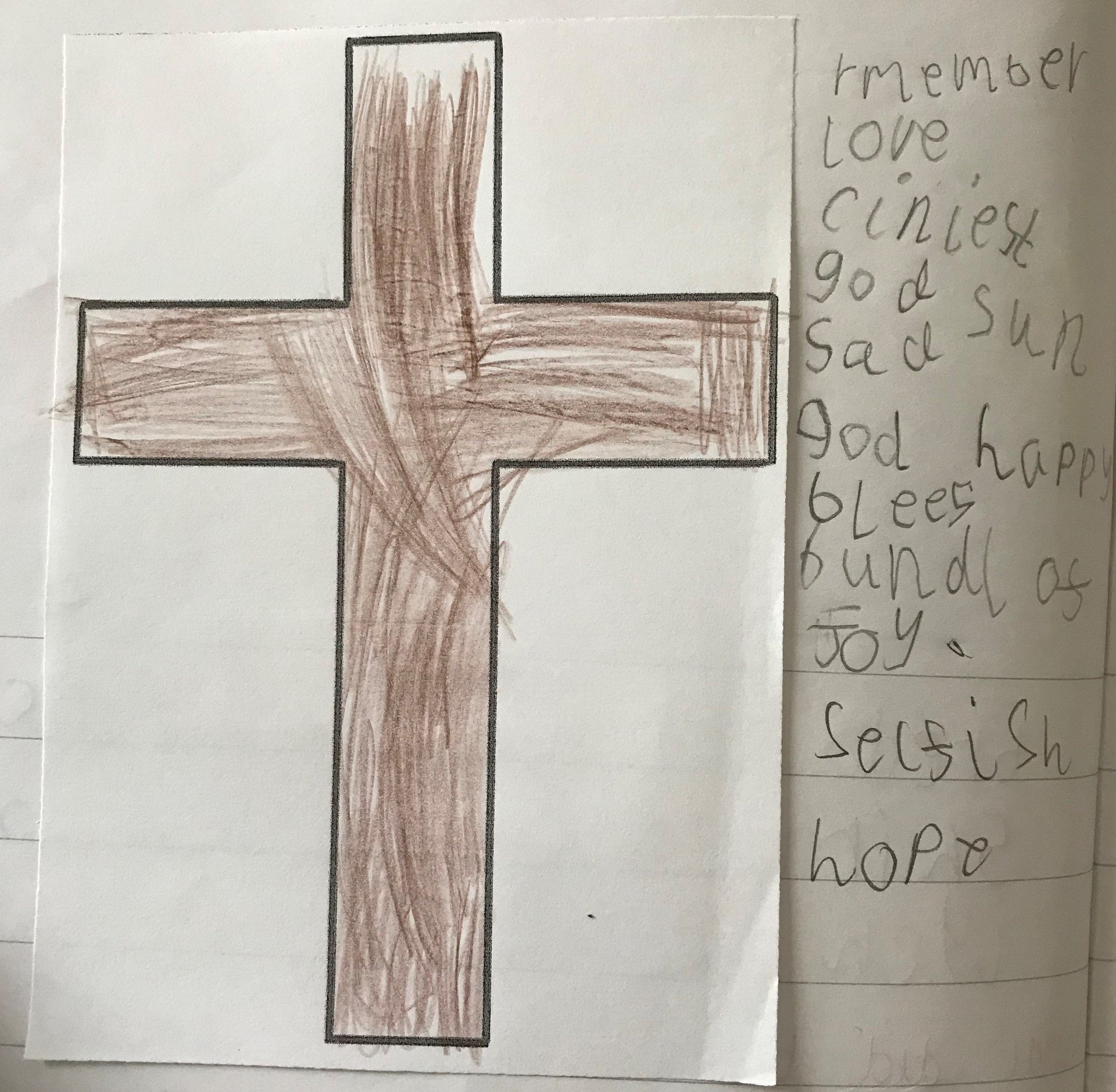 Year 2
This term, Y2 have been learning about what it means to belong in Christianity. We have discussed the different families and groups which we belong to and are important to us. We learnt about how being Christened is important to Christians and what it means to be welcomed into the church.
We enjoyed our visit from Reverend Heather and Reverend Liz, who came to talk to us about Christianity and we enjoyed participating in our own Christening service.
Y2 have also been learning about the Easter Story.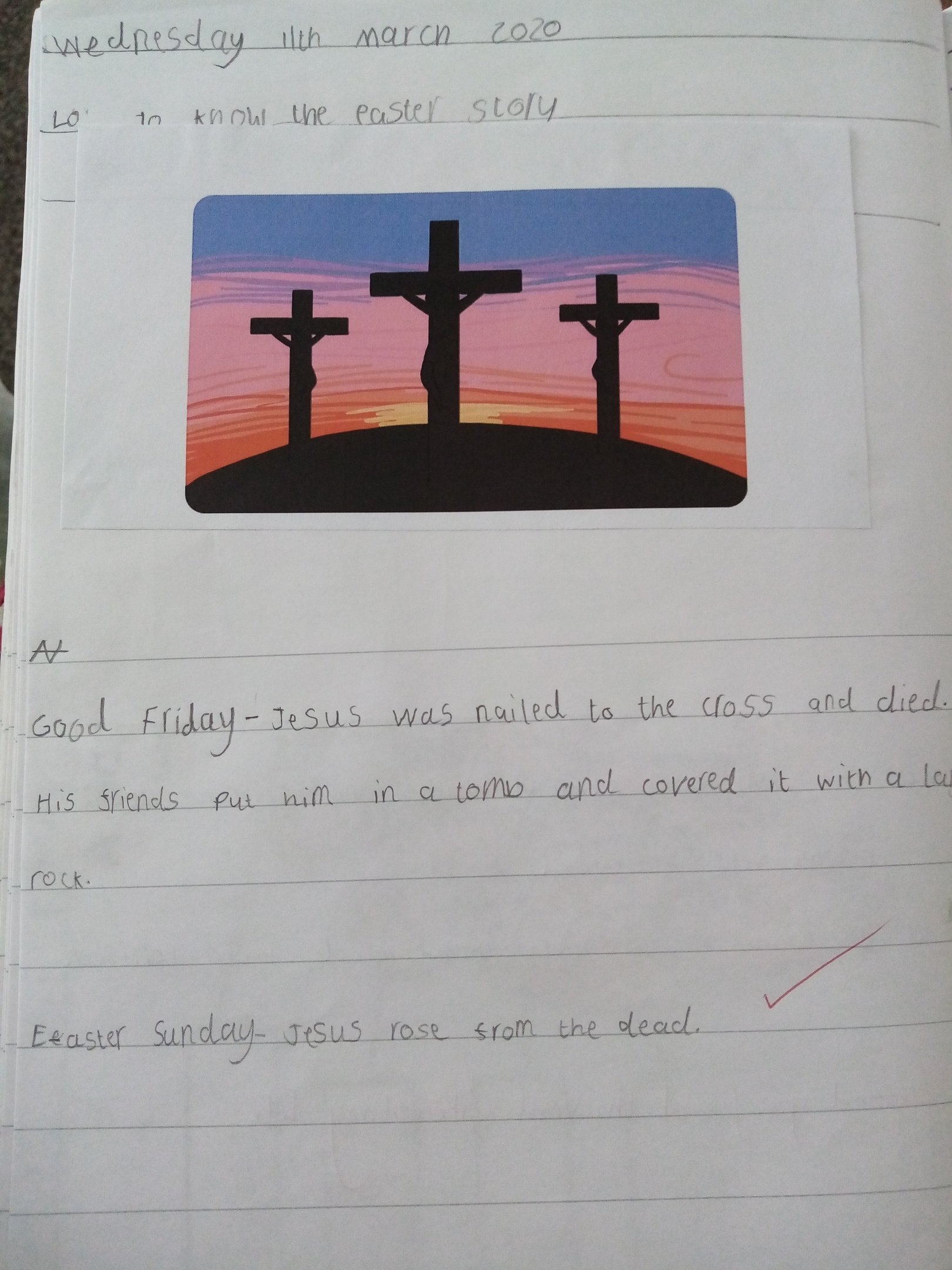 Year 3
In Year 3, we learnt about the local places for Christian worship and the Easter Story with particular focus on Palm Sunday. To help remember the events we learnt the sequence of nine events from the parade of palms through to The Last Supper and the empty tomb. During the last two weeks before end of school term, we had hoped to make links between the events and what was written in the bible verses.
Year 4
Y4 have been learning about Christianity and focussed on who Christians believe Jesus is. Building upon work which we did in Y1, we looked at parables and explored what they tell us about what Jesus taught. We also explored some of the miracles performed by Jesus and the meaning behind them. We enjoyed performing our own version of the feeding of the 5,000 then reflected upon the meaning of the miracle and discussed our feelings about miracles. We had a wide range of views.
We also learnt about lent and looked at the story of Jesus in the desert and discussed the idea of temptation.
Year 5
Y5 have been learning about the Bible and why it is important to Christians. We have talked about it being the world's best-selling book and how it is a collection of writings from many different times.
The children have learned how individual Christians use the Bible and looked at passages with specific significance to different Christians. Throughout this work, the children have been encouraged to ask and reflect on questions still to be answered about the Bible, to reflect on their own feelings and appreciate varying viewpoints and opinions held by people in our community and the wider world.
Year 6
This term in RE, Y6 have been talking about our personal beliefs and have discussed how important it is to respect everyone's beliefs. We imagined what we thought God would look like and drew symbols to represent what God means to Christians.
As a class we thought about what our perfect world would look like and read the story of Adam and Eve. We learnt that there are many stories in the Old Testament about people who chose to disobey God and decoded some of the vocabulary used in them.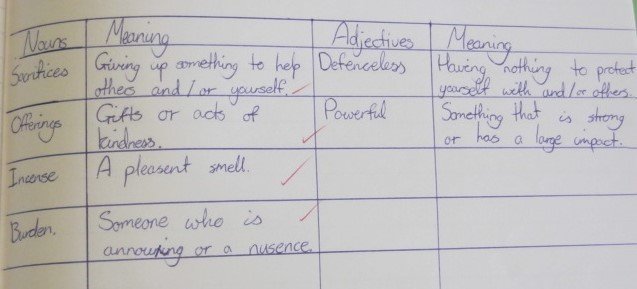 Before the school had to close, Y6 looked at the key events of Good Friday and Easter Sunday and how they are pivotal to the Christian belief.
Autumn Term 2019
Early Years
In EYFS we have been learning about a Hindu festival called Diwali which many Hindu's will celebrate in November. We watched a video clip about a little girl who helped her family prepare for the celebration. She visited a Hindu temple, made some special traditional sweets and watched a firework display. We looked at a story about a prince called Raam and a princess called Sita and discovered how lamps were lit to guide them home.
We looked closely at diva lamps that are lit during the celebration. We investigated Rangoli patterns (the colourful shape decorations used) and attempted to decorate big diva lamps.
We enjoyed listening to traditional Hindi music too. We finished off exploring the celebration by lighting our lamps outside and making our own individual wishes to give thanks for the things that are important to us.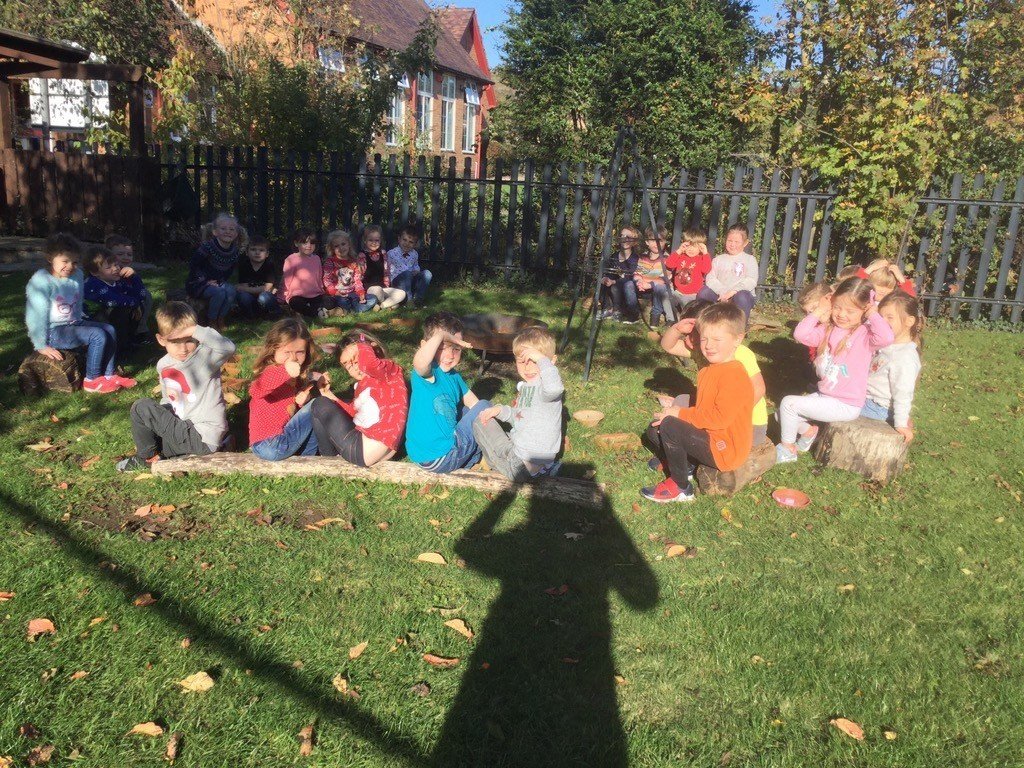 Key Stage 1
Year 1 have been learning about Christian churches this term and the children can name the things they would expect to find inside. We compared lots of different churches from around the world, looking for similarities and differences.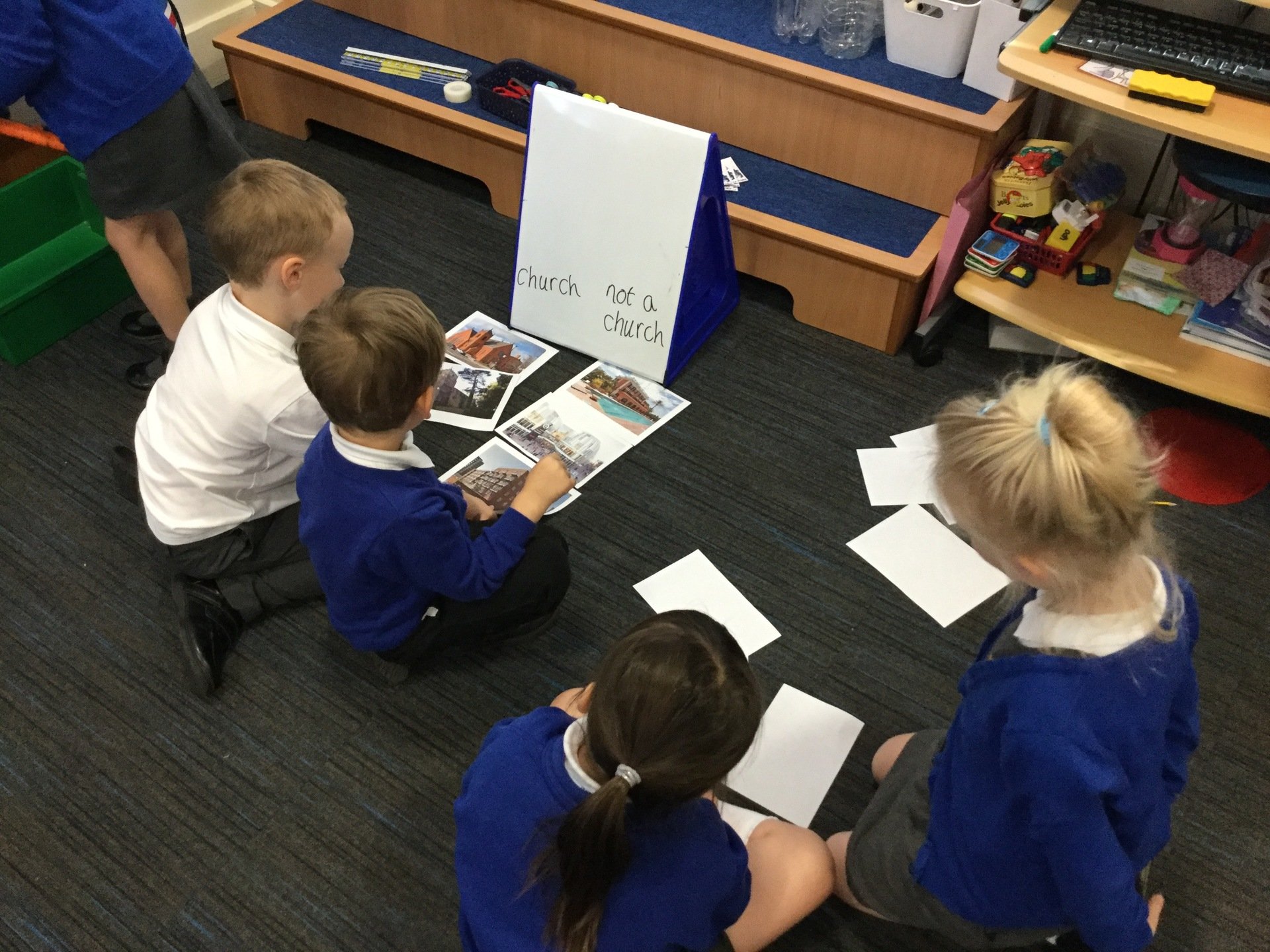 We also read the Christmas story and we created freeze frames of the key events in the story. We used the freeze frame images to retell the story of the birth of Jesus. We know the importance of giving gifts at Christmas and how special gifts can make us and others feel.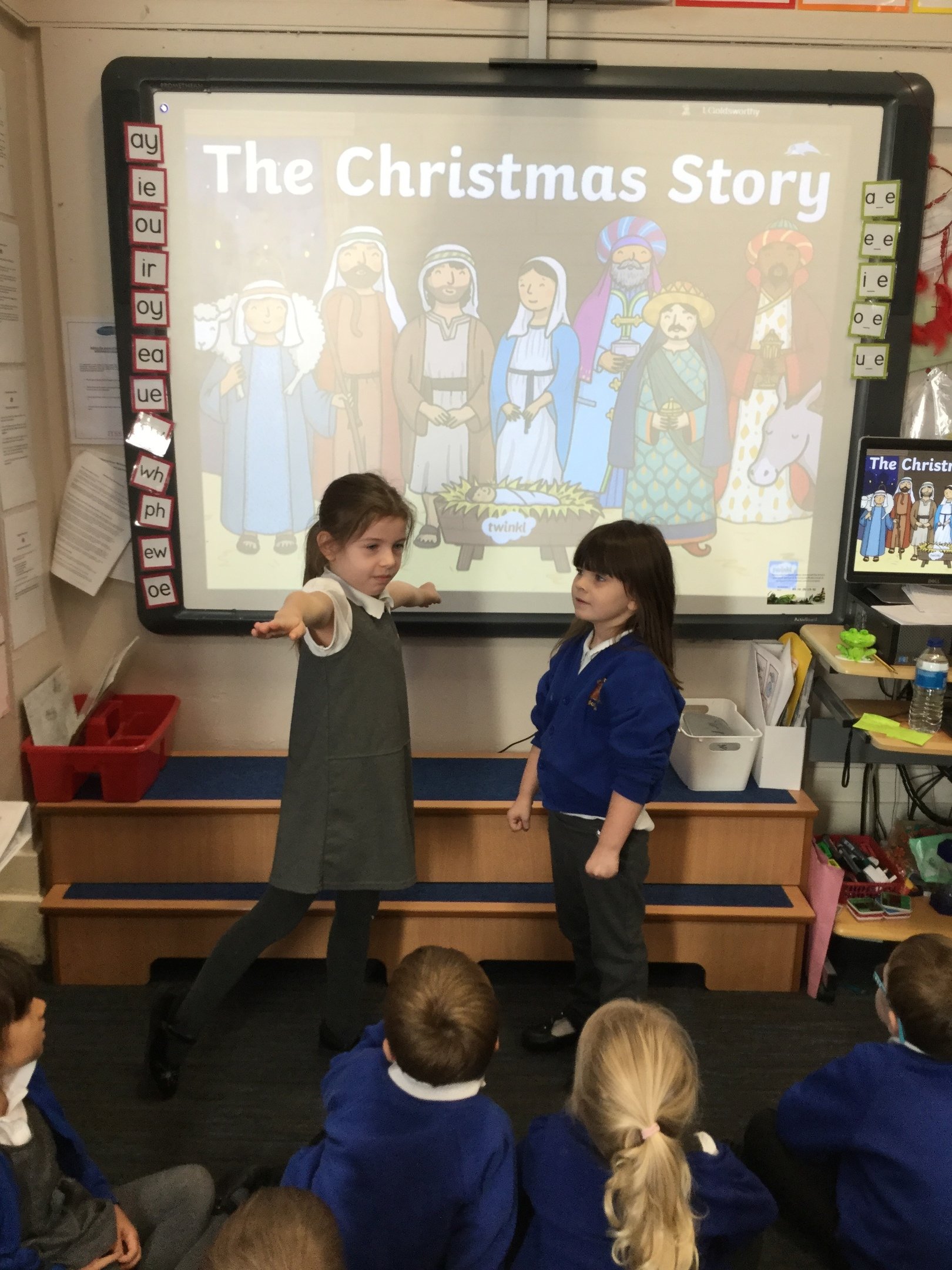 Year 2 have been very busy in the Autumn Term! Firstly, we started off by exploring the Bible.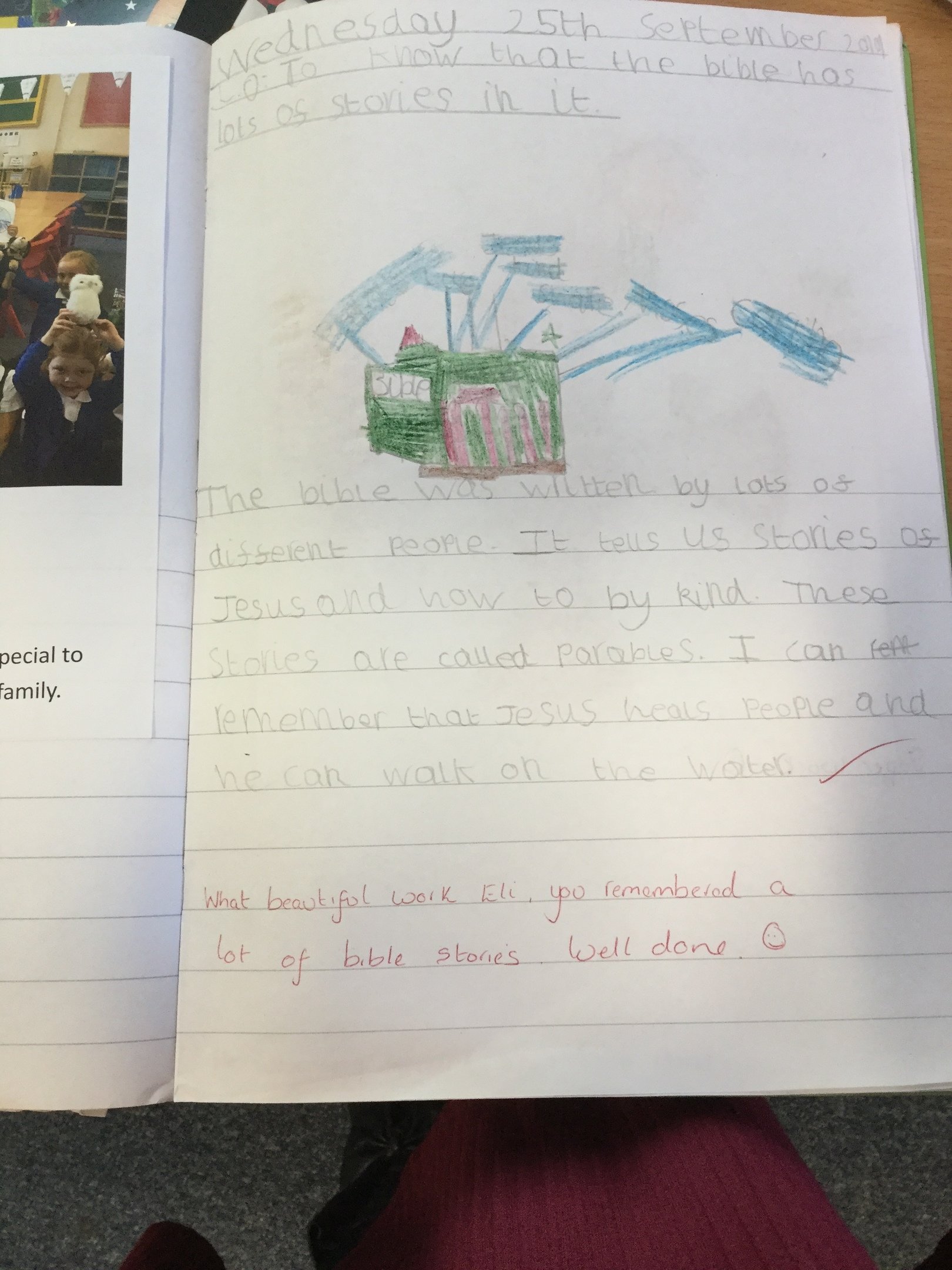 Then we decided to find out more about our local saint: St Cuthbert.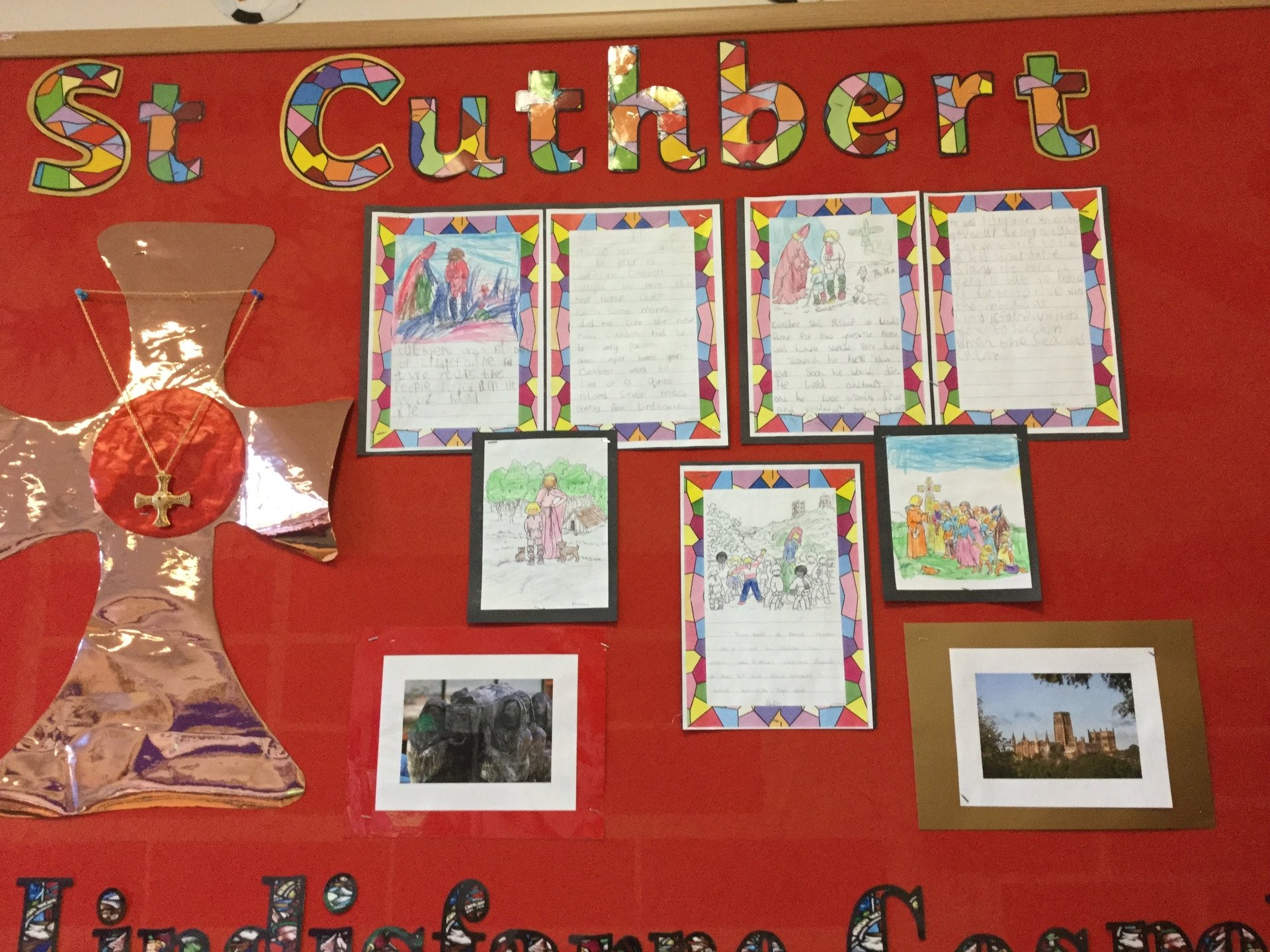 Year 2 played an important part in the Christingle service by making Christingles.
Key Stage 2
Year 3 concluded the autumn term learning about the nativity and creating an advent calendar that uses images to depict the Christian story. Before this, we learnt about the Hindu faith and how they worship both in the home and in a mandir. We also explored objects associated with prayer. The children found learning about the many forms of Brahman particularly interesting.
In Year 4 we have explored how religious people show how they care for others. This has included examining what is meant by a good deed, and exploring how the Christian and Sikh religions show that they care for others. Rev Liz came into school to chat to us about her beliefs. We also extended out learning by considering climate change and how we all, regardless of our faith, should do our bit to help the environment.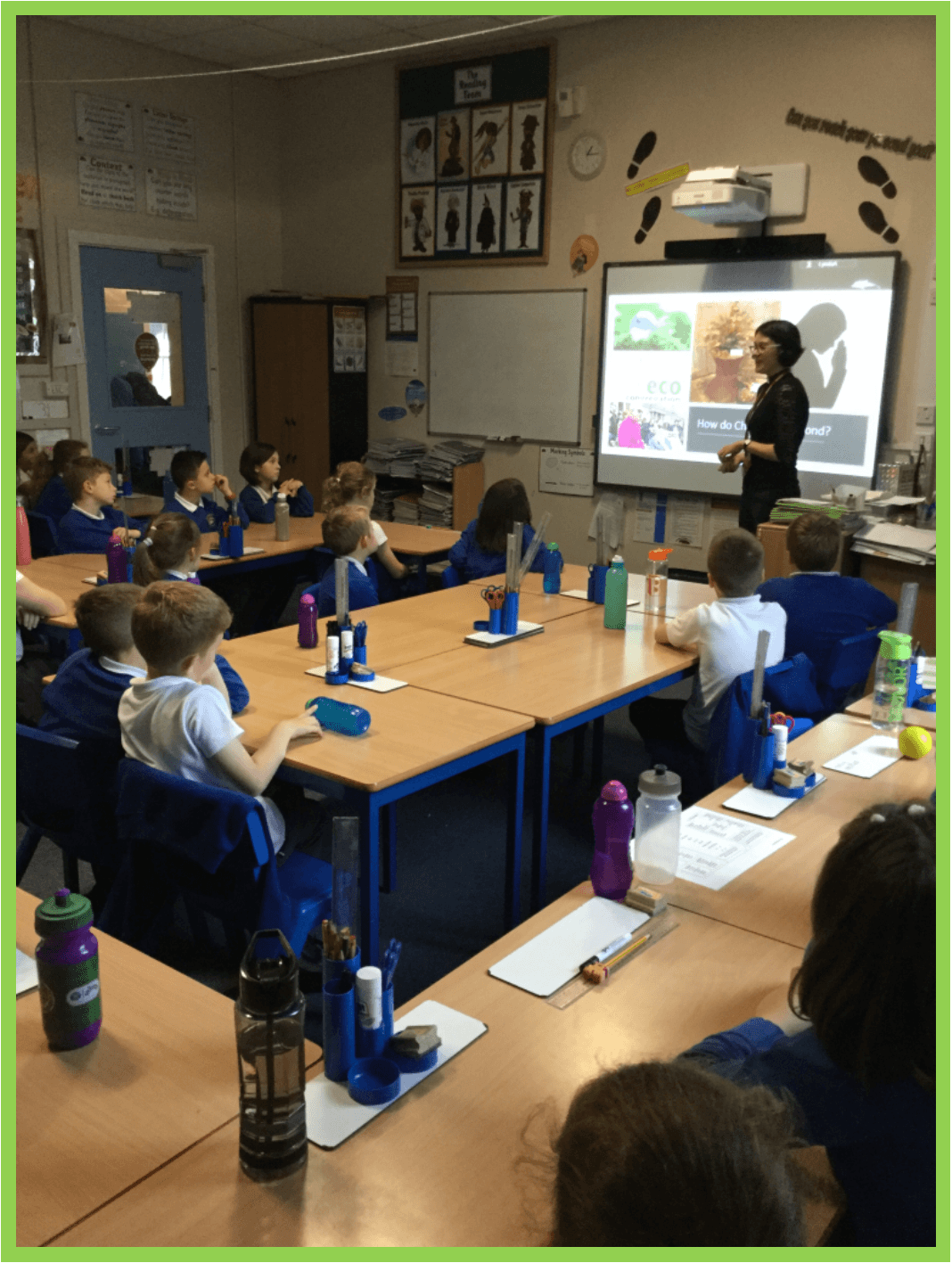 We have also explored why Christians call 'Jesus the Light of the World' and investigated the range of symbols and imagery used by artists to depict this.
Year 5 have been exploring what Sikhs believe and they have been recognising the impact that belief has for members of the Sikh community. In the following photo, children researched different gurus and how their teachings guide Sikhs today.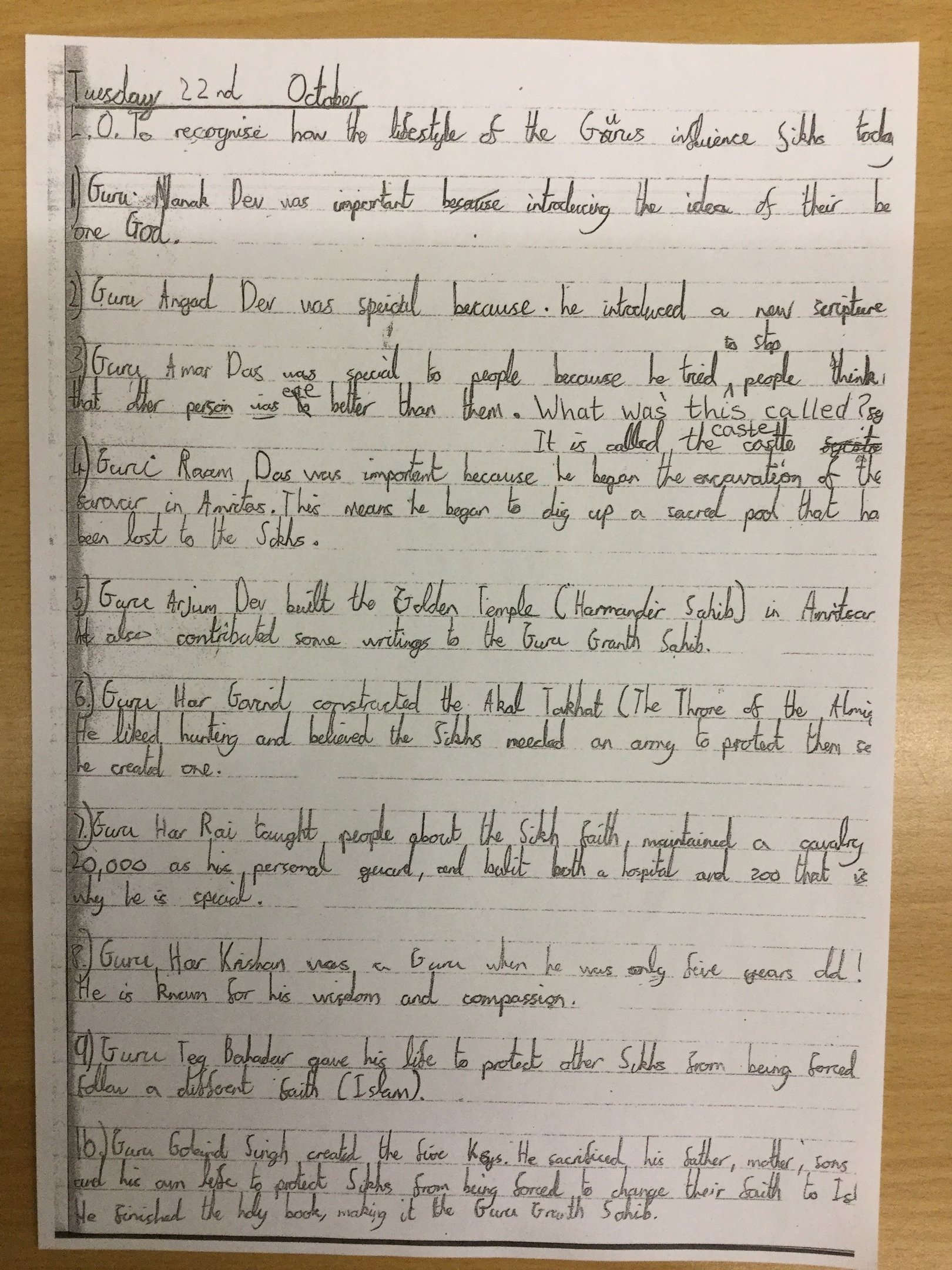 Y6 have been thinking about rituals in the lives of people who worship. We started by defining a tradition and a ritual. From these 2 examples, can you decide which is a ritual and which is a tradition?
A _______ happens on a regular basis (daily, weekly, monthly, yearly) and it has religious meaning behind it.
A ______ happens on a regular basis (daily, weekly, monthly, yearly) and it does not necessarily have a religious meaning behind it.
Our Y6 Christmas unit was to investigate the birth narratives. We found out that the story of Jesus being born can only be found in Luke and Matthew's Gospel. We compared the stories and put them in a Venn Diagram.
Summer Term 2019
Key Stage 1 have been learning about Buddha. We know that Buddhists are kind to animals and we enjoyed making stick puppets to retell the story of Buddha and the injured swan.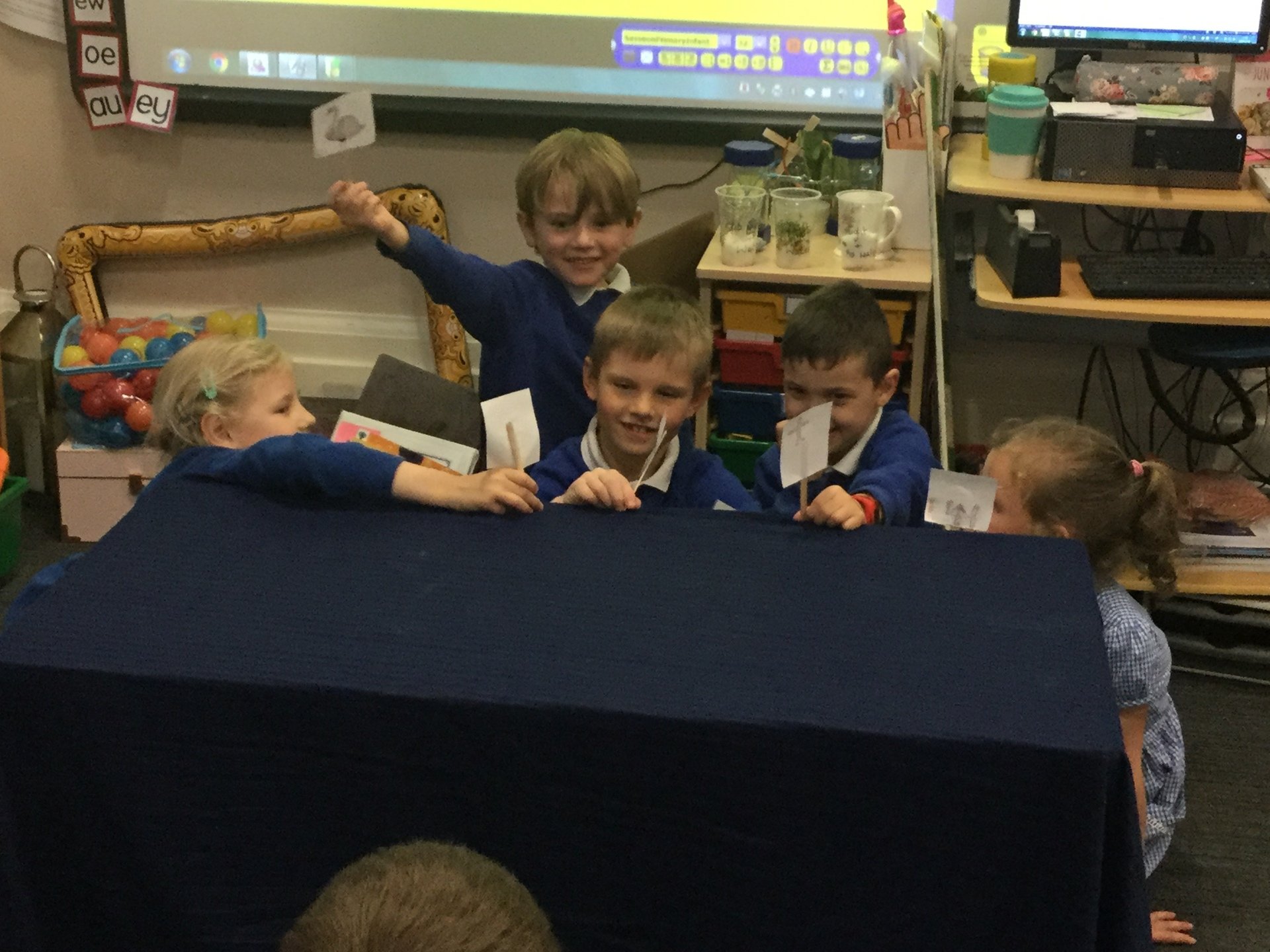 Lower Key Stage 2 have been thinking about what God means to Christians. Here is a poem written to explain from a Christian point of view that just because you can't see God, it doesn't mean that He is not there.
Wind is soaring through the air; you can't see it but you know it is there.
Atoms make up everything; you can't see them but you know they are there.
Thoughts are in my head; you can't see them but you know they are there.
Sounds are in my ears; you can't see them but you know they are there.
Oxygen is what you breathe; you can't see it but you know it is there.
Bacteria is in my body; I can't see it but I know it is there.
By Oliver
We had a great time enacting the life of St Oswald through drama. Watch out for our battle scene!
Year 6 posed challenging questions about Christianity based on what they already know.
How do people know God's gender?
Because of Adam and Eve, are we all related to each other?
If God created the world, who created God?
How would we know about Jesus and God if the Bible didn't exist?
Why was Mary chosen to be Jesus' mother?
If heaven and hell do exist, is there ever rest?
If Judas loved Jesus, why did he betray him?
If Christianity did not emerge, would our country be mainly Jewish?
How can God never die because every living thing dies, and if God isn't living or dead, what is God?
Spring Term 2019
Reception have been finding out about Chinese New Year.
Key Stage 1 participated in drama to help us understand the parable of The Lost Coin and The Lost Sheep.
Quiz Time!
Year 5 children have been learning about the Bible being a collection of writings. They have composed some multiple choice questions to test your knowledge! Good luck!
1. What are the 4 Gospels called?
a) Joshua, Samuel, Ruth and James.
b) Matthew, Mark, Luke and John.
c) Matthew, Mark, James and Peter
d) Luke, Samuel, John and Jude
2. What is the first book of the Bible?
a) Genesis
b) Romans
c) Job
d) Deuteronomy
3. Which of these is a book in the Bible?
a) Isaih
b) Simon
c) Kings 3
d) Jennifer
4. Which book is the first letter in the New Testament?
a) Phillipians
b) Titus
c) Romans
d) James
5. Which religion was Jesus?
a) Sikh
b) Jew
c) Muslim
d) Christian
6. How many books are there in The Bible?
a) 39
b) 27
c) 66
d) 16
7. Which books from the Old Testament make up the Torah?
a) Genesis. Exodus, Leviticus, Numbers and Deuteronomy
b) Proverbs, Psalms, Ecclesiastes, Song of Songs and Lamentations
c) Ruth, Ezra, Esther, Nehemiah and Joshua
d) Hosea, Joel, Amos Obadiah and Micah
Answers: 1) =b 2) =a 3) =a 4) =c 5) =b 6) =c 7) =a
Easter celebration at Pittington
Just before we broke up for the Easter holidays, Year 1 – Year 6 children attended an Easter celebration service at St Laurence's church. Our singing was beautiful and we learnt sign language for the chorus of 'Shine Jesus Shine' and 'Lord I Lift Your Name on High'.
Every year, a class from Lower Key Stage 2 attend St John's church to hold a short service for members of our local community. They were treated to juice and cakes afterwards!
Information about RE at Pittington
At Pittington Primary School we seek to deliver an exciting RE curriculum based on the Durham Agreed Syllabus from 2012. See below for our Long Term Plan:
Autumn

Spring

Summer

Y1

What can we learn about Christianity from visiting a church?

Why are gifts given at Christmas?

Why is Jesus special to Christians?

What is the Easter story?

What can we find out about Buddha?

Y2

Why is the Bible special to Christians?

What can we learn from the story of St Cuthbert?

How and why is light important at Christmas?

What does it mean to belong in Christianity?

How do Christians celebrate Easter?

How do Buddhists show their beliefs?

Y3

How do Hindus worship?

How and why is Advent important to Christians?

What can we learn about Christian symbols and beliefs by visiting churches?

What do Christians remember on Palm Sunday?

What do Hindus believe and how does this affect the way they live their lives?

Y4

How and why do religious people show care for others?

Why do Christians call Jesus the light of the world?

What do Christians believe about Jesus?

Why is Lent such an important period for Christians?

What do Christians believe about God?

Y5

What do Sikhs believe and how are these beliefs expressed?

What are the themes of Christmas?

What do we know about the Bible and why is it important to Christians?

Why is the Last Supper so important to Christians?

What can we learn about Christian faith through studying the lives of northern saints?

Why should people with religious faith care about the environment?

Y6

What do people use ritual in their lives?

What do the gospels tell us about the birth of Jesus?

What is religion? What concepts do religions have in common?

Why are Good Friday and Easter Day the most important days for Christians?

So, what do we now know about Christianity? (exploration through the concepts)
The 4 key concepts which underpin our RE teaching are Belief, Authority, Expressions of Belief and Impact of Belief. Within in these concepts, the following 3 elements of RE emerge: Knowledge and understanding, critical thinking and personal reflection.
RE helps children to understand and respect each other's personal beliefs and it should f RE never compromise a child's personal faith. Learning about other faiths can enrich our lives and enhance and enhance community cohesion.
Where appropriate, drama is used to enact stories from different faiths. Our younger children have performed a stick-puppet show to the rest of the class to retell the story of Buddha and the injured swan.
In the following photos, Lower Key Stage 2 children enacted Jesus arriving in Jerusalem on Palm Sunday.
Below, Upper Key Stage 2 children are familiarising themselves with a story about Guru Nanak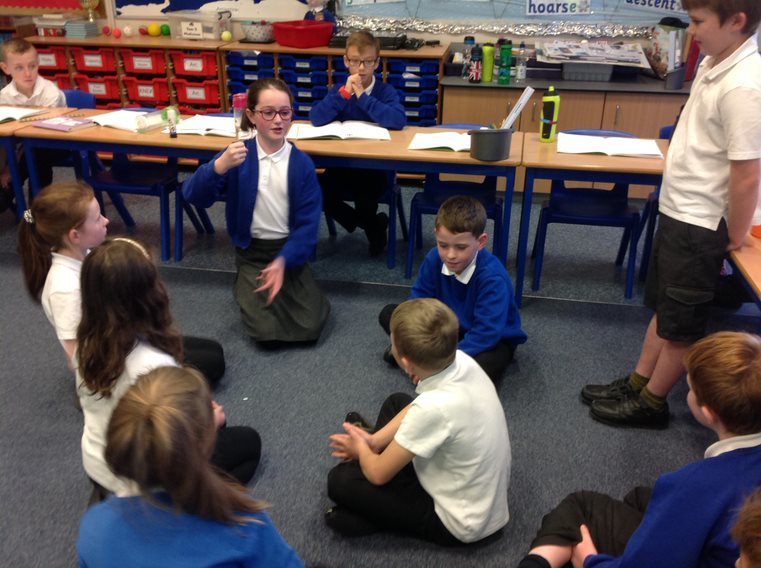 Enrichment in School
We are proud of our close links with our two local churches: St Laurence's Church and St John's Methodist Chapel.
http://www.saint-laurence.org.uk/
https://www.durhammethodist.org/churches/pittington-st-johns/
Every Easter, children from Y3 visit St John's to perform a short Easter Service to parents, carers and the local community. Before Christmas this year, we will be holding a Christingle celebration at St Laurence's Church which will involve Key Stage 1 and Key Stage 2 children. Recently, some of our younger children visited St Laurence's Church to find out what we can learn about Christianity from visiting a church.
In Lower Key Stage 2, we explore what can we learn about Christian symbols and beliefs by visiting churches.
At Pittington, we are keen to acknowledge and celebrate the diverse society in which we live.
Upper Key Stage 2 children visited a Sikh gurdwara and Hindu mandir in Newcastle to heighten our understanding of these world faiths.
Mr Cloud Singh visited school very recently to talk to us about his Sikh faith. It was a pleasure to welcome him into our school and we all learnt a lot.
Christmas celebration at Pittington
Year 6 children made Christingles.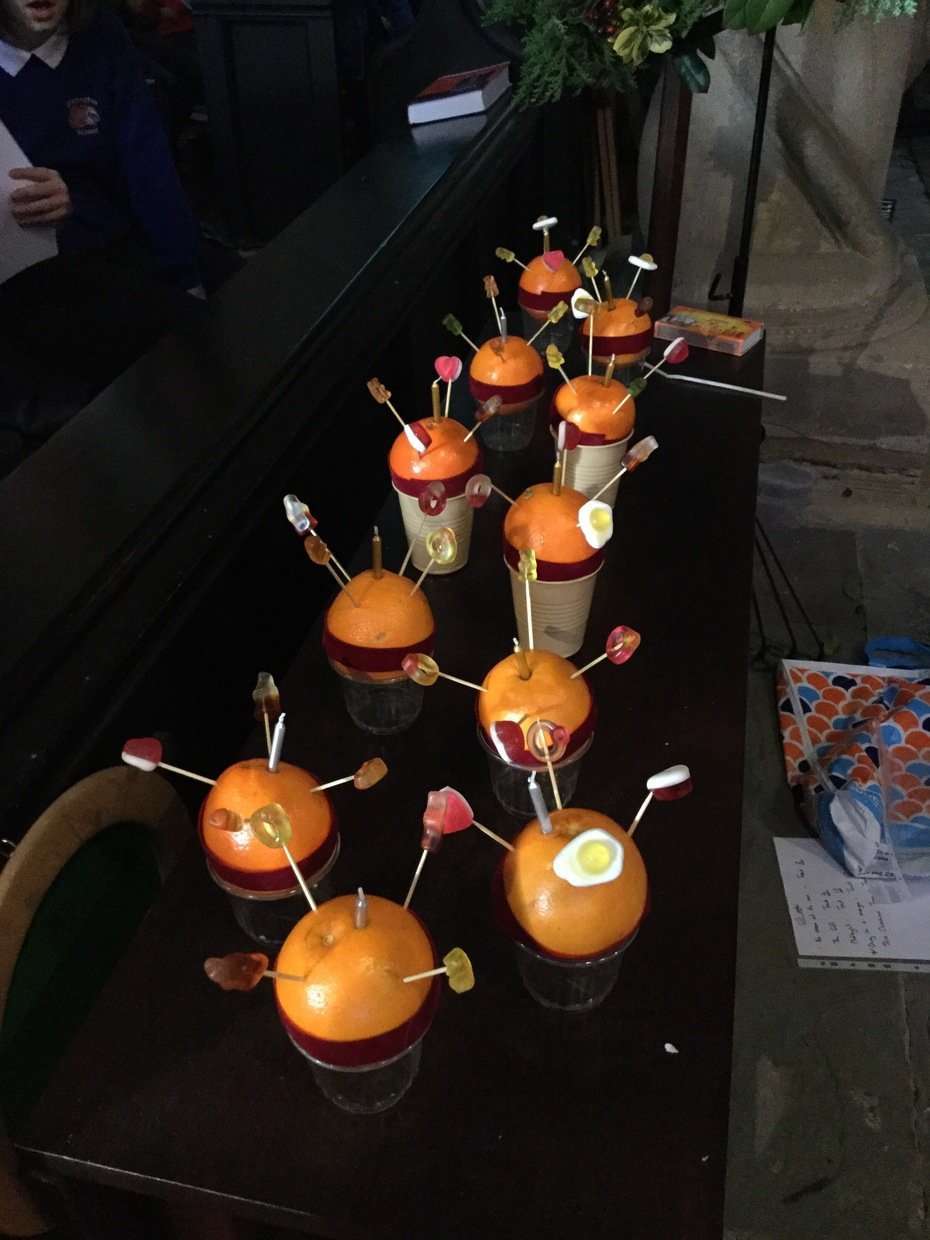 We took these to St Laurence's church and Y1-Y6 and celebrated Christmas through a Christingle service.