Religious Education at Pittington
Autumn Term
Early Years
In EYFS we have been learning about a Hindu festival called Diwali which many Hindu's will celebrate in November. We watched a video clip about a little girl who helped her family prepare for the celebration. She visited a Hindu temple, made some special traditional sweets and watched a firework display. We looked at a story about a prince called Raam and a princess called Sita and discovered how lamps were lit to guide them home.
We looked closely at diva lamps that are lit during the celebration. We investigated Rangoli patterns (the colourful shape decorations used) and attempted to decorate big diva lamps.
We enjoyed listening to traditional Hindi music too. We finished off exploring the celebration by lighting our lamps outside and making our own individual wishes to give thanks for the things that are important to us.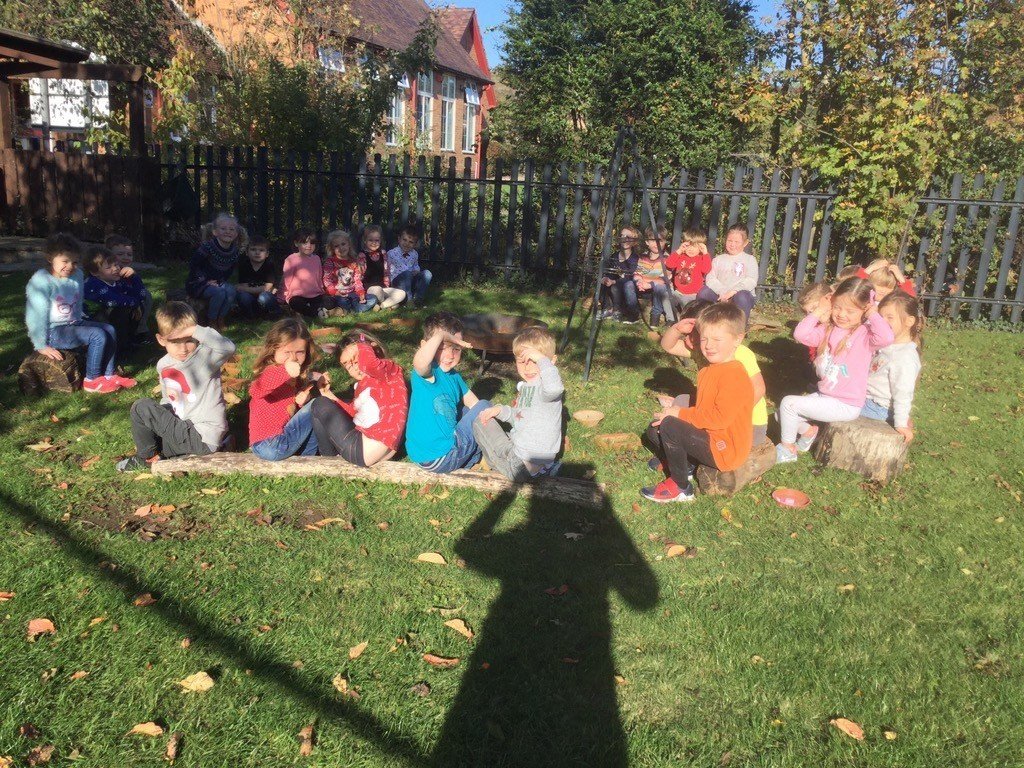 Key Stage 1
Year 1 have been learning about Christian churches this term and the children can name the things they would expect to find inside. We compared lots of different churches from around the world, looking for similarities and differences.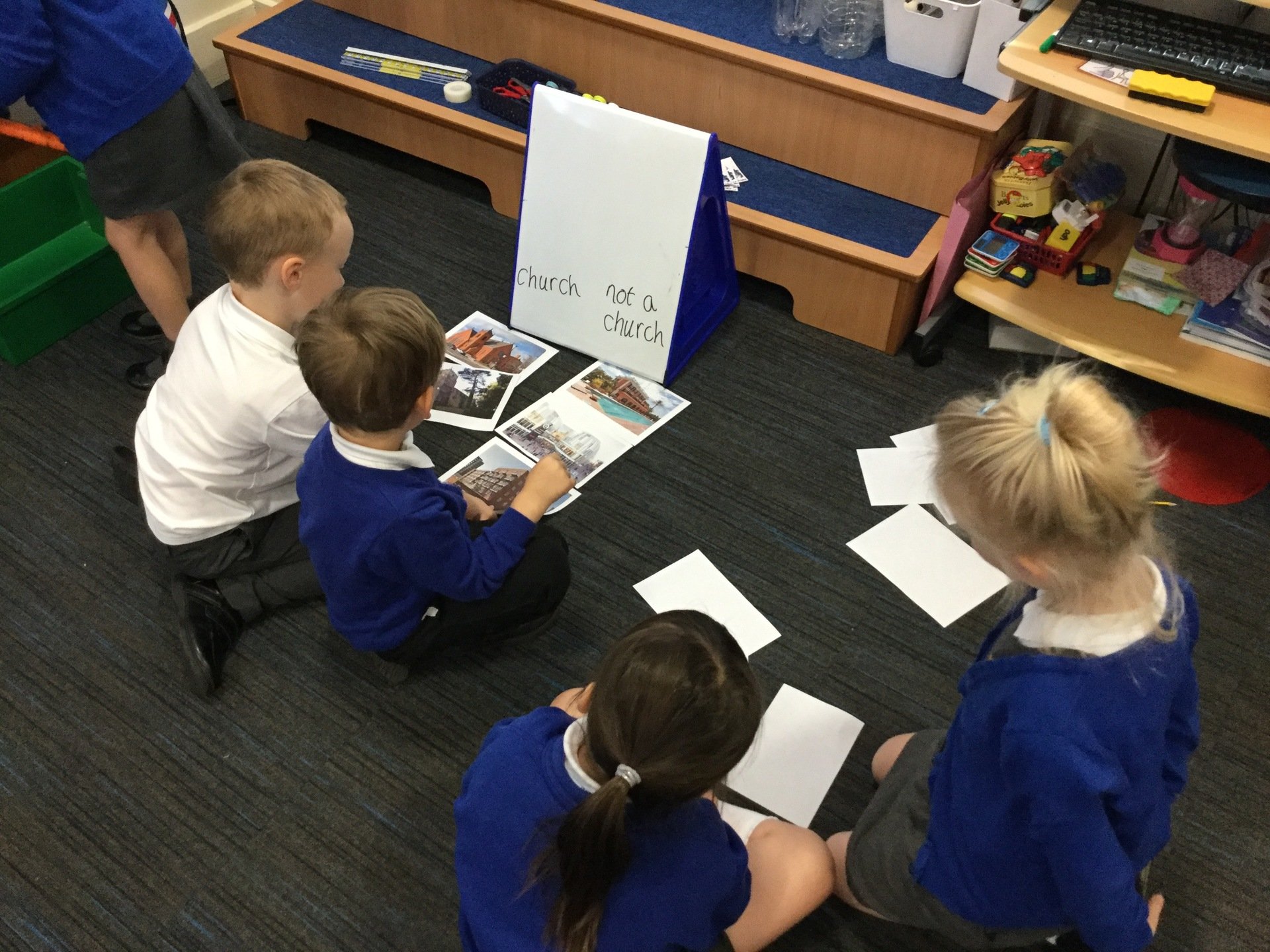 We also read the Christmas story and we created freeze frames of the key events in the story. We used the freeze frame images to retell the story of the birth of Jesus. We know the importance of giving gifts at Christmas and how special gifts can make us and others feel.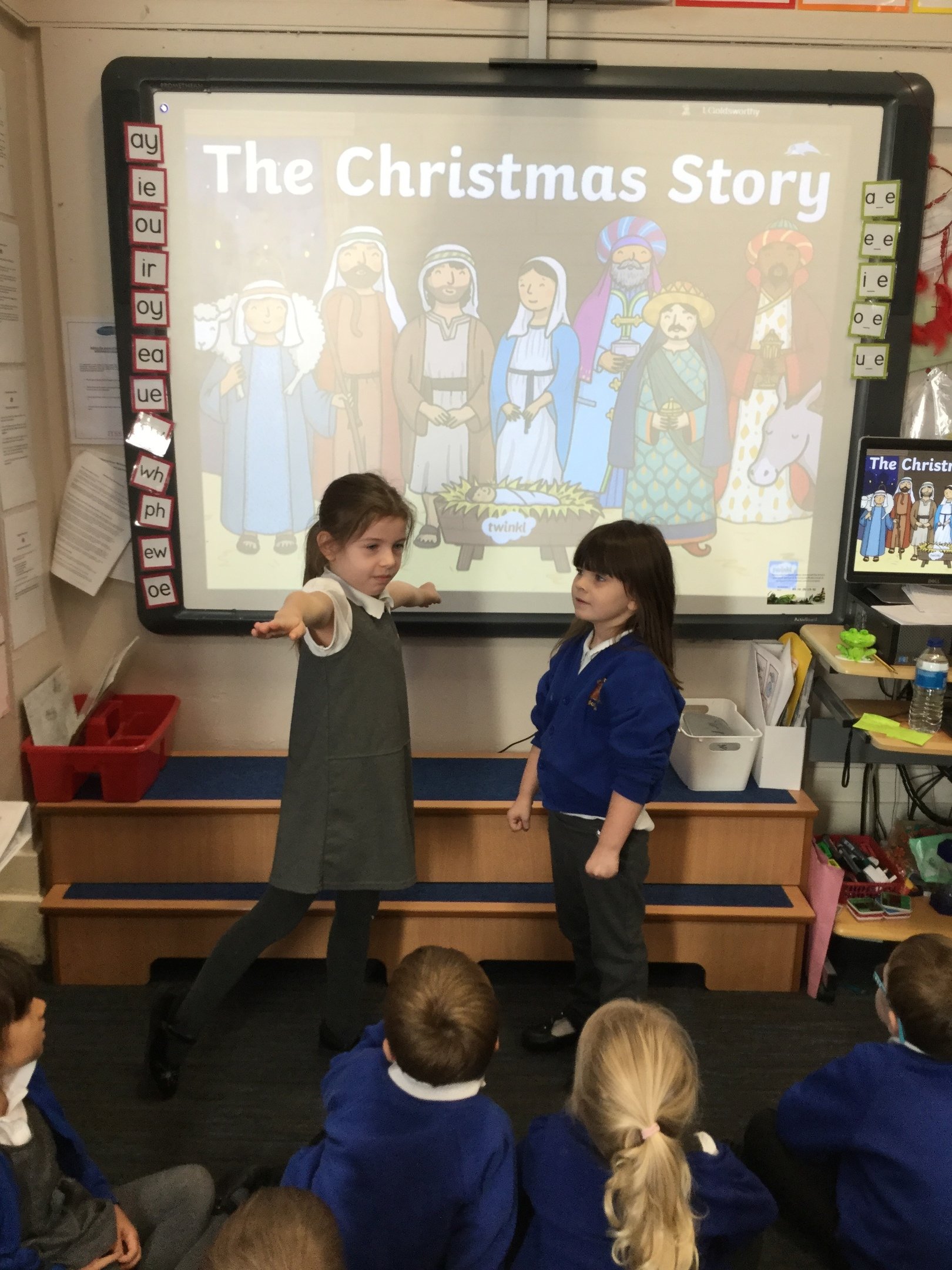 Year 2 have been very busy in the Autumn Term! Firstly, we started off by exploring the Bible.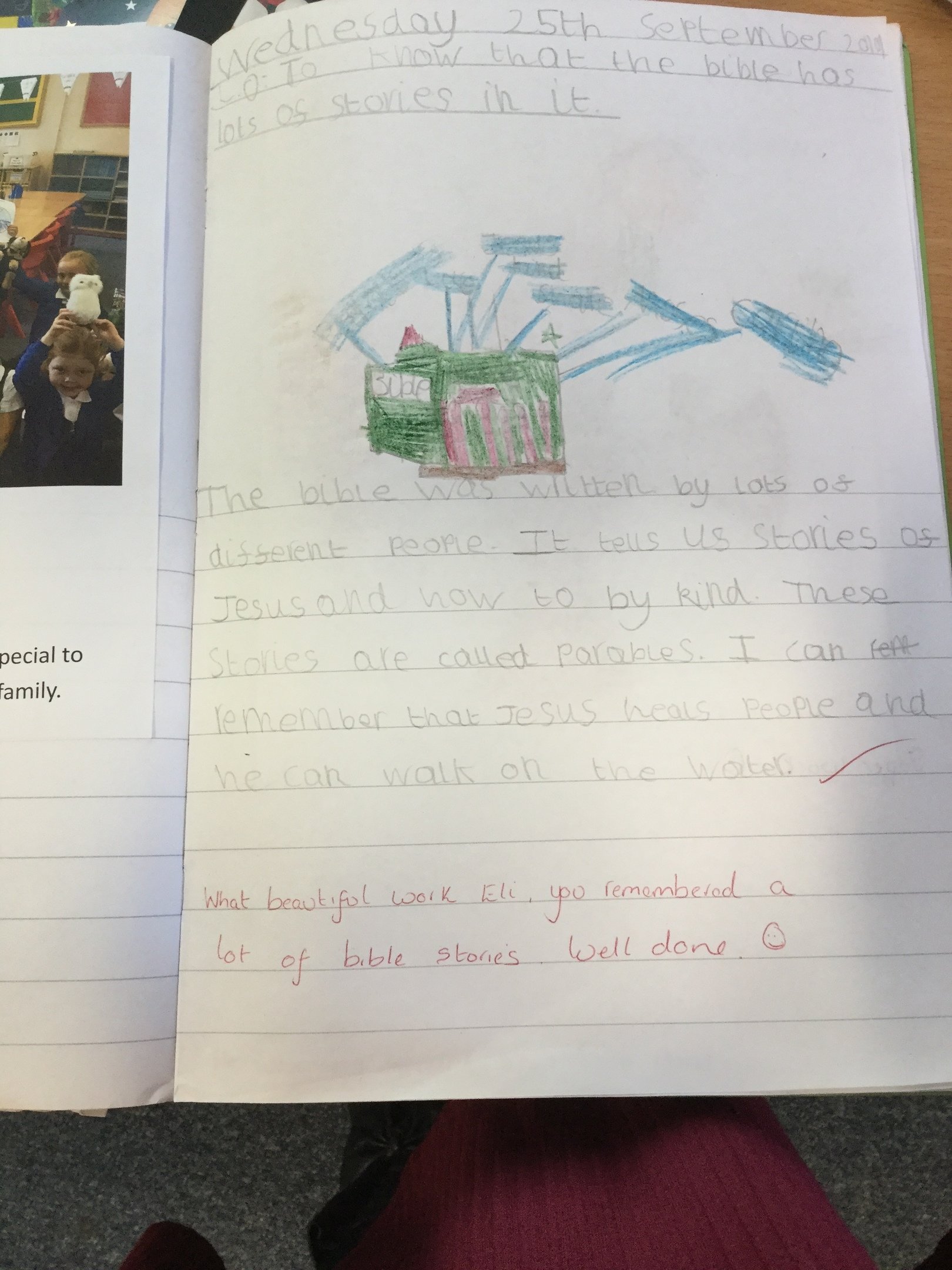 Then we decided to find out more about our local saint: St Cuthbert.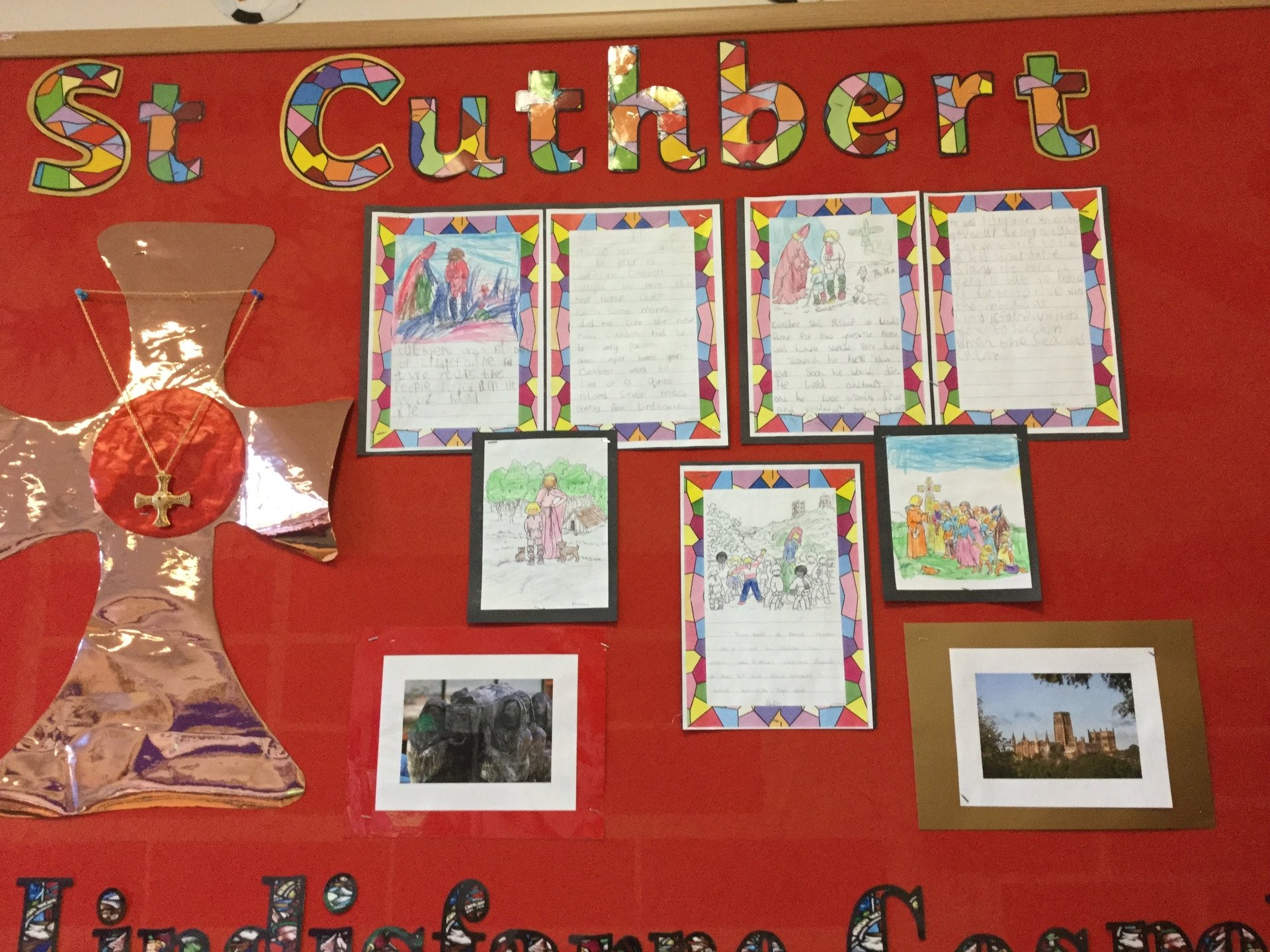 Year 2 played an important part in the Christingle service by making Christingles.
Key Stage 2
Year 3 concluded the autumn term learning about the nativity and creating an advent calendar that uses images to depict the Christian story. Before this, we learnt about the Hindu faith and how they worship both in the home and in a mandir. We also explored objects associated with prayer. The children found learning about the many forms of Brahman particularly interesting.
In Year 4 we have explored how religious people show how they care for others. This has included examining what is meant by a good deed, and exploring how the Christian and Sikh religions show that they care for others. Rev Liz came into school to chat to us about her beliefs. We also extended out learning by considering climate change and how we all, regardless of our faith, should do our bit to help the environment.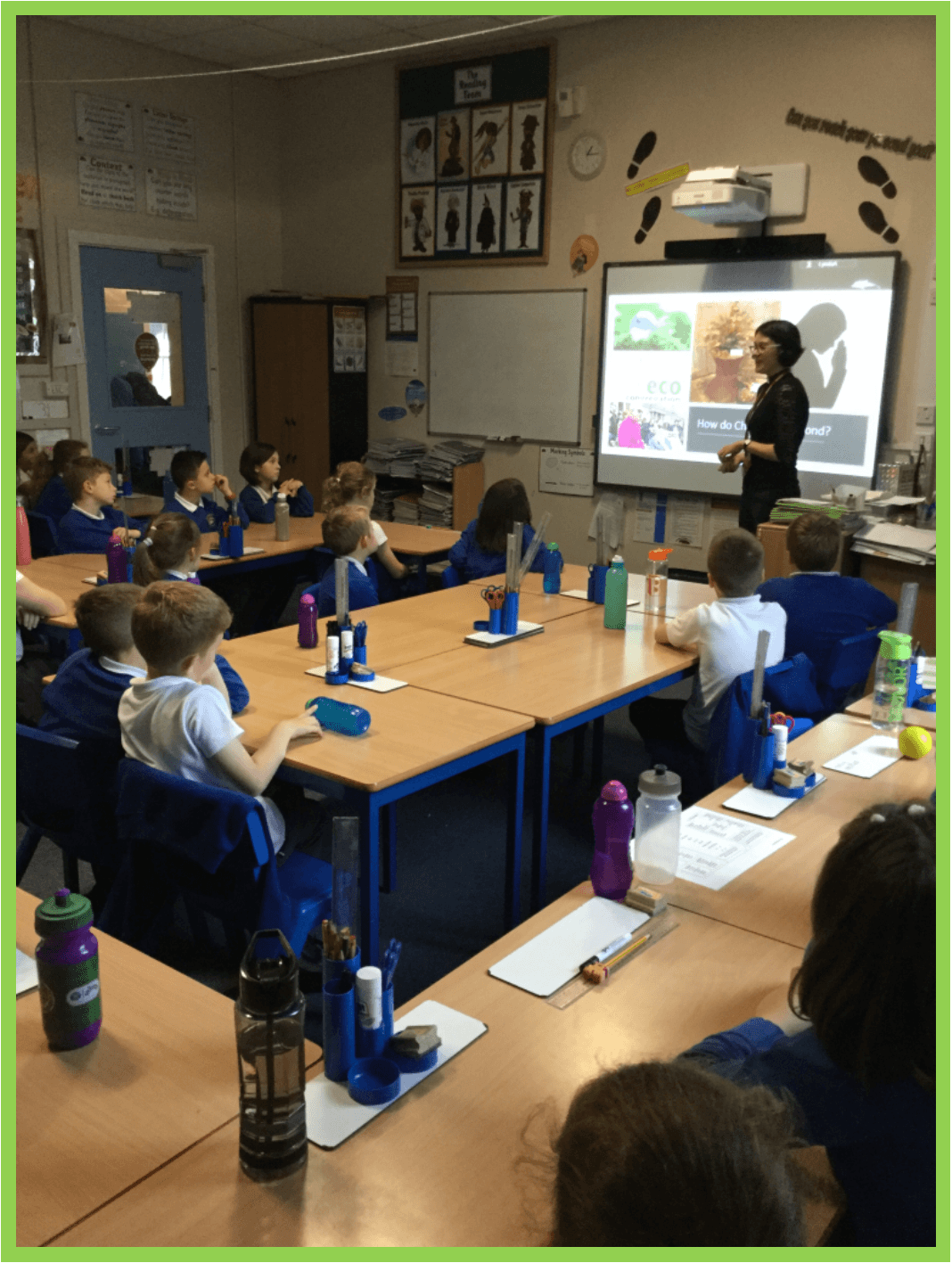 We have also explored why Christians call 'Jesus the Light of the World' and investigated the range of symbols and imagery used by artists to depict this.
Year 5 have been exploring what Sikhs believe and they have been recognising the impact that belief has for members of the Sikh community. In the following photo, children researched different gurus and how their teachings guide Sikhs today.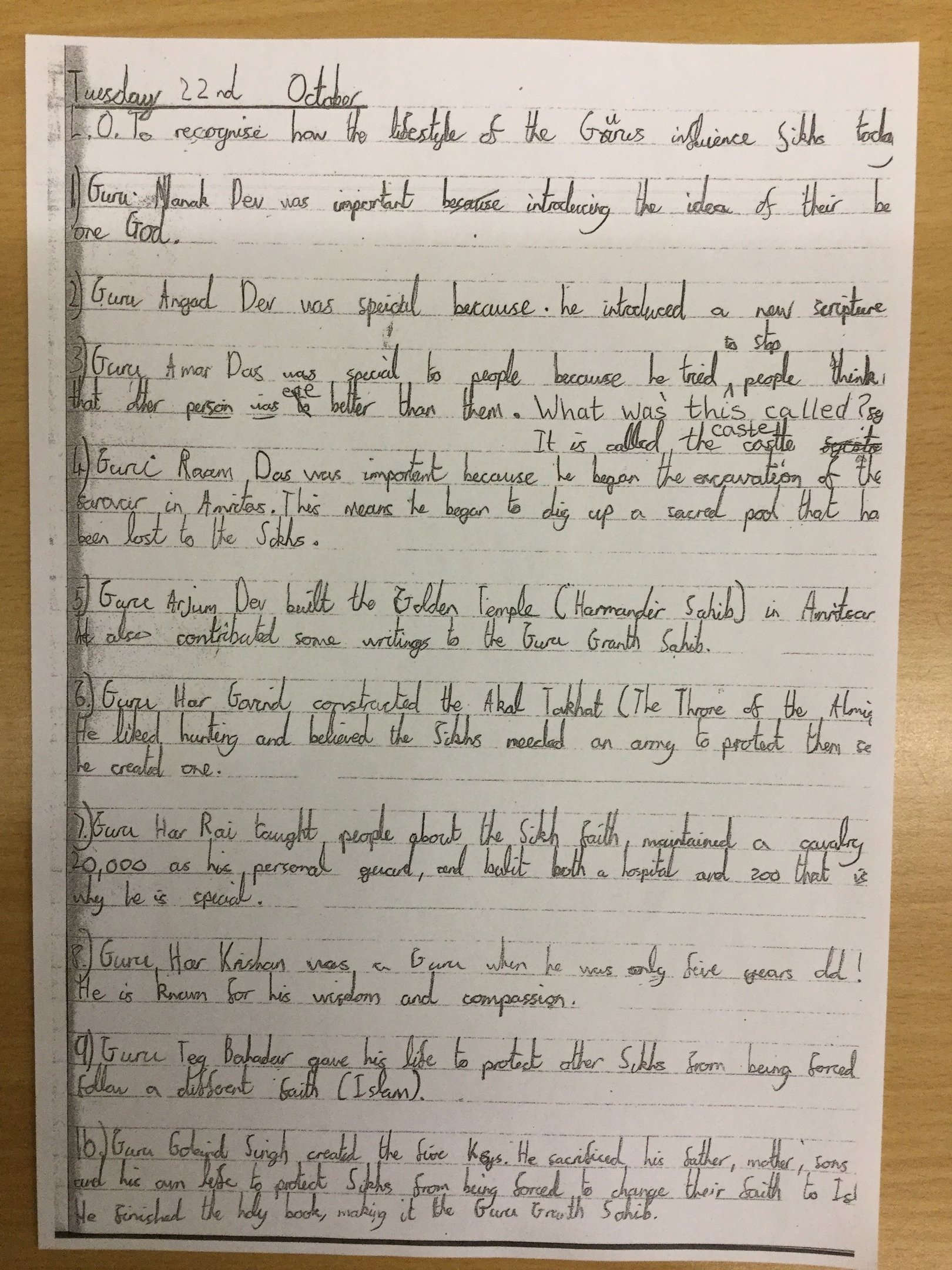 Y6 have been thinking about rituals in the lives of people who worship. We started by defining a tradition and a ritual. From these 2 examples, can you decide which is a ritual and which is a tradition?
A _______ happens on a regular basis (daily, weekly, monthly, yearly) and it has religious meaning behind it.
A ______ happens on a regular basis (daily, weekly, monthly, yearly) and it does not necessarily have a religious meaning behind it.
Our Y6 Christmas unit was to investigate the birth narratives. We found out that the story of Jesus being born can only be found in Luke and Matthew's Gospel. We compared the stories and put them in a Venn Diagram.
Summer Term
Key Stage 1 have been learning about Buddha. We know that Buddhists are kind to animals and we enjoyed making stick puppets to retell the story of Buddha and the injured swan.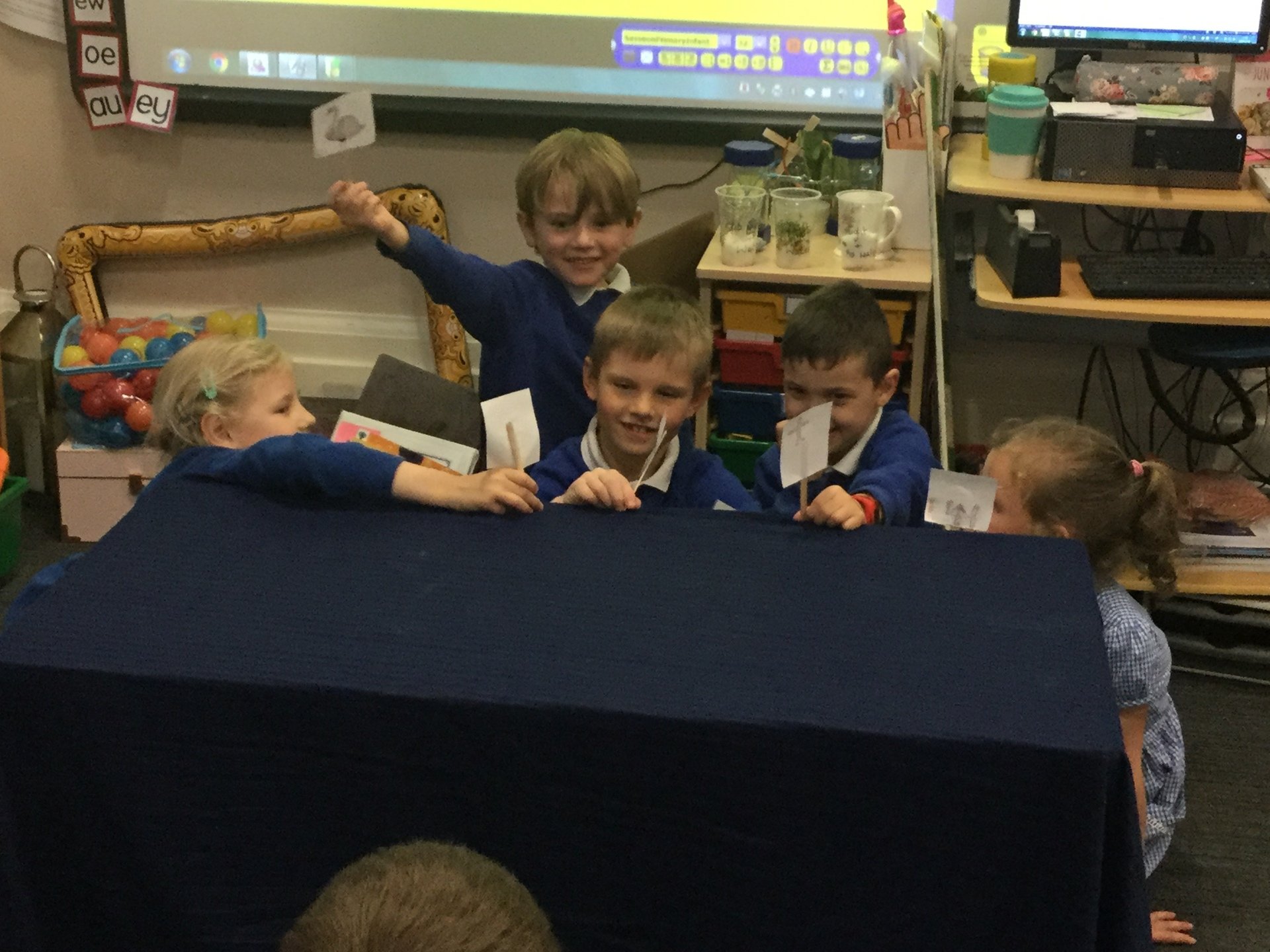 Lower Key Stage 2 have been thinking about what God means to Christians. Here is a poem written to explain from a Christian point of view that just because you can't see God, it doesn't mean that He is not there.
Wind is soaring through the air; you can't see it but you know it is there.
Atoms make up everything; you can't see them but you know they are there.
Thoughts are in my head; you can't see them but you know they are there.
Sounds are in my ears; you can't see them but you know they are there.
Oxygen is what you breathe; you can't see it but you know it is there.
Bacteria is in my body; I can't see it but I know it is there.
By Oliver
We had a great time enacting the life of St Oswald through drama. Watch out for our battle scene!
Year 6 posed challenging questions about Christianity based on what they already know.
How do people know God's gender?
Because of Adam and Eve, are we all related to each other?
If God created the world, who created God?
How would we know about Jesus and God if the Bible didn't exist?
Why was Mary chosen to be Jesus' mother?
If heaven and hell do exist, is there ever rest?
If Judas loved Jesus, why did he betray him?
If Christianity did not emerge, would our country be mainly Jewish?
How can God never die because every living thing dies, and if God isn't living or dead, what is God?
Spring Term
Reception have been finding out about Chinese New Year.
Key Stage 1 participated in drama to help us understand the parable of The Lost Coin and The Lost Sheep.
Quiz Time!
Year 5 children have been learning about the Bible being a collection of writings. They have composed some multiple choice questions to test your knowledge! Good luck!
1. What are the 4 Gospels called?
a) Joshua, Samuel, Ruth and James.
b) Matthew, Mark, Luke and John.
c) Matthew, Mark, James and Peter
d) Luke, Samuel, John and Jude
2. What is the first book of the Bible?
a) Genesis
b) Romans
c) Job
d) Deuteronomy
3. Which of these is a book in the Bible?
a) Isaih
b) Simon
c) Kings 3
d) Jennifer
4. Which book is the first letter in the New Testament?
a) Phillipians
b) Titus
c) Romans
d) James
5. Which religion was Jesus?
a) Sikh
b) Jew
c) Muslim
d) Christian
6. How many books are there in The Bible?
a) 39
b) 27
c) 66
d) 16
7. Which books from the Old Testament make up the Torah?
a) Genesis. Exodus, Leviticus, Numbers and Deuteronomy
b) Proverbs, Psalms, Ecclesiastes, Song of Songs and Lamentations
c) Ruth, Ezra, Esther, Nehemiah and Joshua
d) Hosea, Joel, Amos Obadiah and Micah
Answers: 1) =b 2) =a 3) =a 4) =c 5) =b 6) =c 7) =a
Easter celebration at Pittington
Just before we broke up for the Easter holidays, Year 1 – Year 6 children attended an Easter celebration service at St Laurence's church. Our singing was beautiful and we learnt sign language for the chorus of 'Shine Jesus Shine' and 'Lord I Lift Your Name on High'.
Every year, a class from Lower Key Stage 2 attend St John's church to hold a short service for members of our local community. They were treated to juice and cakes afterwards!
Information about RE at Pittington
At Pittington Primary School we seek to deliver an exciting RE curriculum based on the Durham Agreed Syllabus from 2012. See below for our Long Term Plan:
Autumn

Spring

Summer

Y1

What can we learn about Christianity from visiting a church?

Why are gifts given at Christmas?

Why is Jesus special to Christians?

What is the Easter story?

What can we find out about Buddha?

Y2

Why is the Bible special to Christians?

What can we learn from the story of St Cuthbert?

How and why is light important at Christmas?

What does it mean to belong in Christianity?

How do Christians celebrate Easter?

How do Buddhists show their beliefs?

Y3

How do Hindus worship?

How and why is Advent important to Christians?

What can we learn about Christian symbols and beliefs by visiting churches?

What do Christians remember on Palm Sunday?

What do Hindus believe and how does this affect the way they live their lives?

Y4

How and why do religious people show care for others?

Why do Christians call Jesus the light of the world?

What do Christians believe about Jesus?

Why is Lent such an important period for Christians?

What do Christians believe about God?

Y5

What do Sikhs believe and how are these beliefs expressed?

What are the themes of Christmas?

What do we know about the Bible and why is it important to Christians?

Why is the Last Supper so important to Christians?

What can we learn about Christian faith through studying the lives of northern saints?

Why should people with religious faith care about the environment?

Y6

What do people use ritual in their lives?

What do the gospels tell us about the birth of Jesus?

What is religion? What concepts do religions have in common?

Why are Good Friday and Easter Day the most important days for Christians?

So, what do we now know about Christianity? (exploration through the concepts)
The 4 key concepts which underpin our RE teaching are Belief, Authority, Expressions of Belief and Impact of Belief. Within in these concepts, the following 3 elements of RE emerge: Knowledge and understanding, critical thinking and personal reflection.
RE helps children to understand and respect each other's personal beliefs and it should f RE never compromise a child's personal faith. Learning about other faiths can enrich our lives and enhance and enhance community cohesion.
Where appropriate, drama is used to enact stories from different faiths. Our younger children have performed a stick-puppet show to the rest of the class to retell the story of Buddha and the injured swan.
In the following photos, Lower Key Stage 2 children enacted Jesus arriving in Jerusalem on Palm Sunday.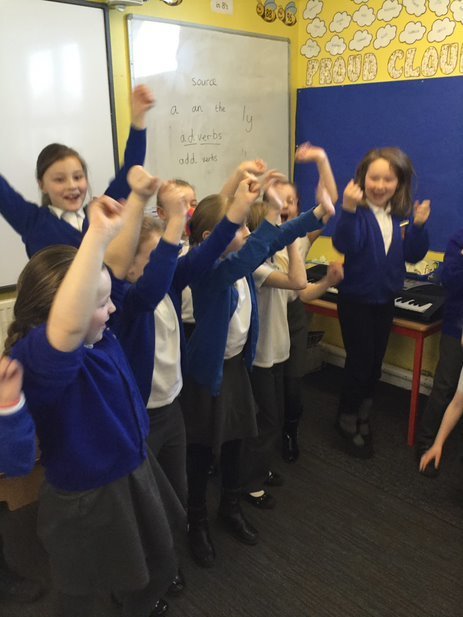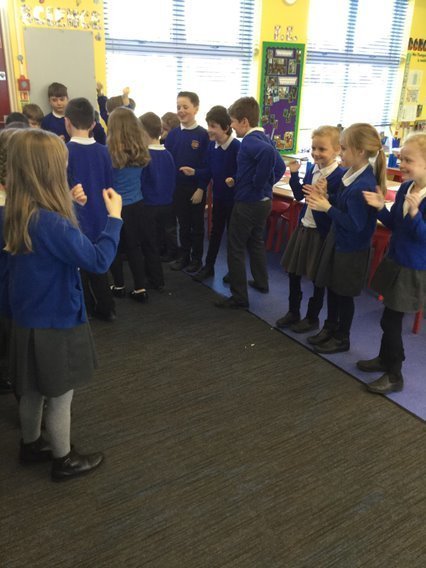 Below, Upper Key Stage 2 children are familiarising themselves with a story about Guru Nanak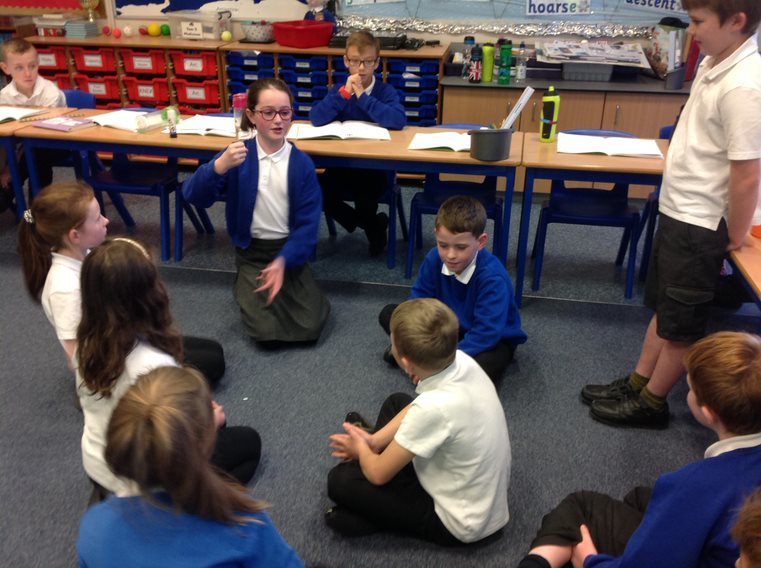 Enrichment in School
We are proud of our close links with our two local churches: St Laurence's Church and St John's Methodist Chapel.
http://www.saint-laurence.org.uk/
https://www.durhammethodist.org/churches/pittington-st-johns/
Every Easter, children from Y3 visit St John's to perform a short Easter Service to parents, carers and the local community. Before Christmas this year, we will be holding a Christingle celebration at St Laurence's Church which will involve Key Stage 1 and Key Stage 2 children. Recently, some of our younger children visited St Laurence's Church to find out what we can learn about Christianity from visiting a church.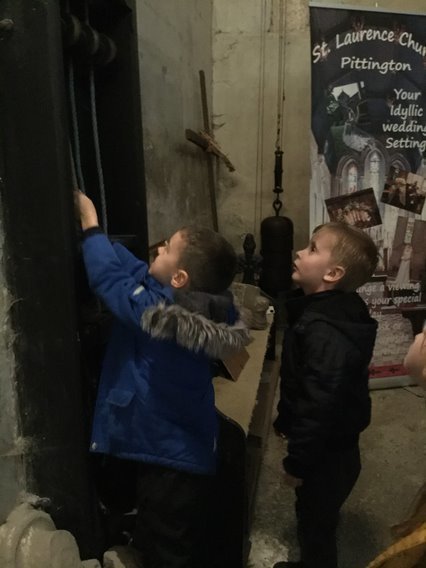 In Lower Key Stage 2, we explore what can we learn about Christian symbols and beliefs by visiting churches.
At Pittington, we are keen to acknowledge and celebrate the diverse society in which we live.
Upper Key Stage 2 children visited a Sikh gurdwara and Hindu mandir in Newcastle to heighten our understanding of these world faiths.
Mr Cloud Singh visited school very recently to talk to us about his Sikh faith. It was a pleasure to welcome him into our school and we all learnt a lot.
Christmas celebration at Pittington
Year 6 children made Christingles.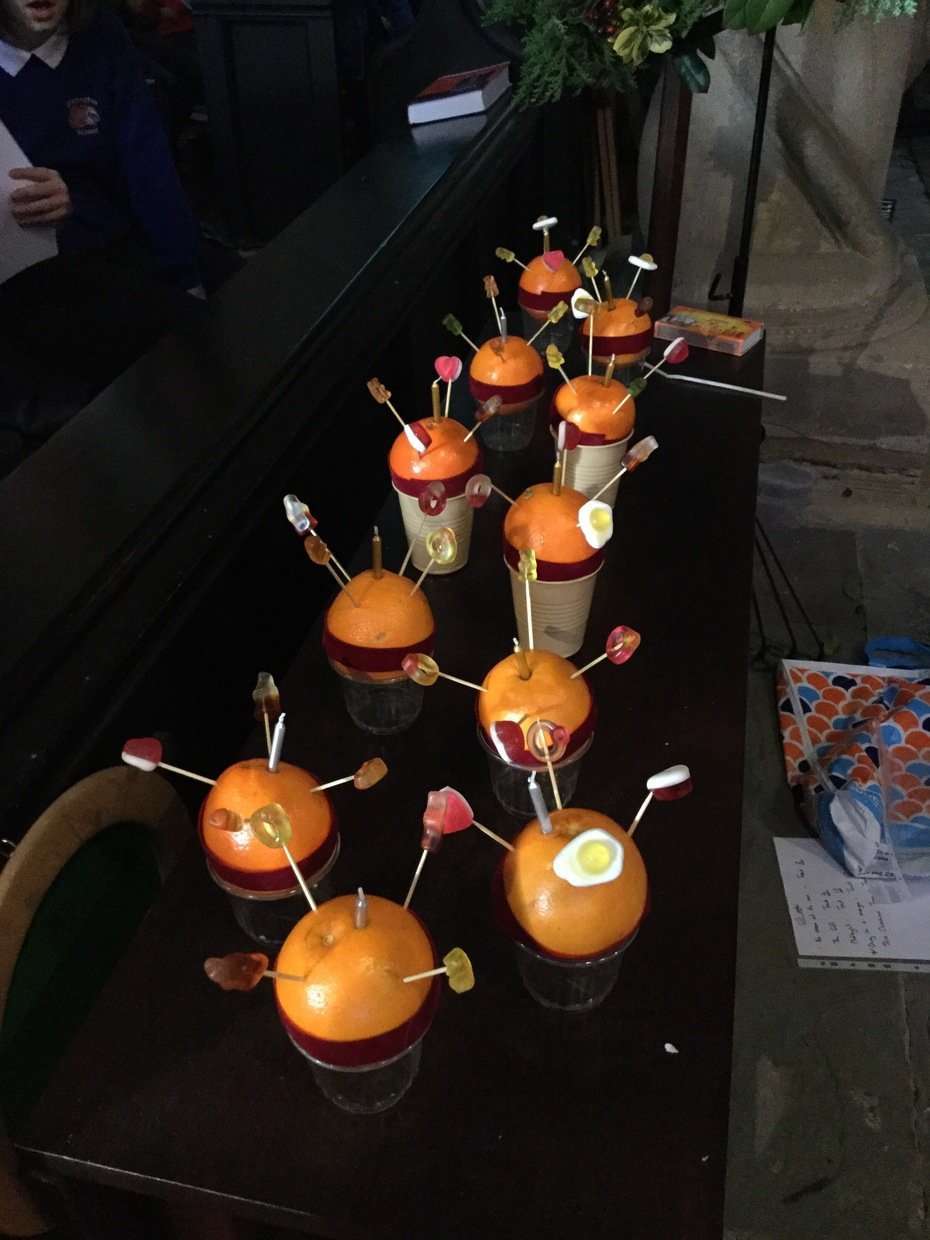 We took these to St Laurence's church and Y1-Y6 and celebrated Christmas through a Christingle service.