Music at Pittington
Spring Term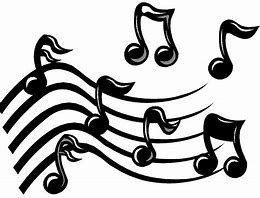 Music in the Early Years
Nursery
The children have been enjoying exploring the new percussion instruments. They have experimented with making sounds and have been learning the names of the instruments.
We have looked at the different ways to play each instrument and played lots of games of 'guess the instrument'. We have used picture cues to play our instruments: quiet, loud, fast and slow. We have been learning about rhythm and learned to play a steady beat as part of a small group.
We have been singing lots of songs; our favourite has been the days of the week song sung to the tune on the Addams Family. We even added some percussion instruments into this song when we performed it as a group. We were also very excited with the delivery of our new large xylophone, it makes lots of different sounds and we all queued up to play every day!
Reception
The children in Reception have been focussing on traditional Nursery Rhymes this term.
They have talked about the rhyme Humpty Dumpty. Some of the children didn't know the words to the nursery rhyme but after lots of practice, they are word perfect!
The children have enjoyed exploring a range of musical instruments and added their own accompaniments to the rhymes The Grand Old Duke of York and Humpty Dumpty.
The children have also become much more confident at recognising and clapping to the beat of the music.
Music in Key Stage 1
Year 1
The children in Year 1 have been learning about some new instruments, such as a glockenspiel. We have worked on creating our own pulses and beats to share with the class.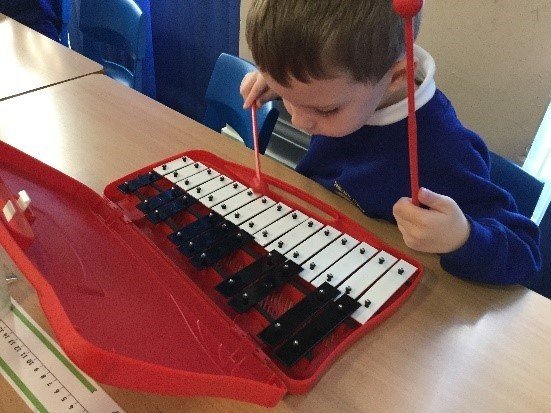 The children have listened to music from different eras. They can recognise the differences in the songs and explain which songs they like the best and why.
Year 2
Year 2 have been exploring different music styles including afro-pop, rock and reggae. They have been using musical language to appraise different pieces of music such as pitch, pulse and tempo.
Recently, we have been building up our understanding of musical notation and have been improving on the glockenspiel as well as playing along to some class songs.
Autumn Term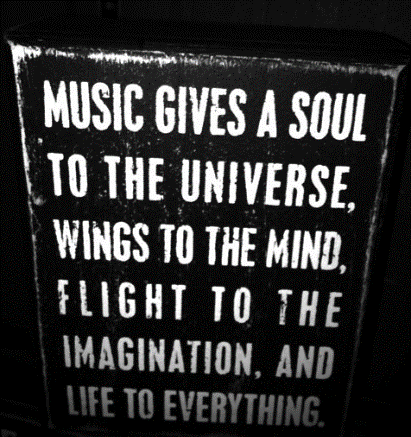 Early Years Foundation Stage
Nursery
In Nursery this term we have been learning about steady beats and matching the beat modelled. Each morning we welcome our friends to nursery by singing our welcome song. We do this whilst tapping out a rhythm on our legs. Sometimes Mrs TG is a bit naughty and changes the speed of the beat and we have to match it. We like it best when Mrs TG goes really fast as we are clapping the beat. Each week we also learn a new beat baby song, this too helps us to develop a steady beat and to match the rhythm of the song.
We have also had a practice with some simple percussion instruments. We talked about the different sorts of sounds they made and then tried to, without seeing, identify what instrument was playing and match it.
We also performed our Christmas Nativity with Reception: Whoops a Daisy Angel. We enjoyed singing all the songs together.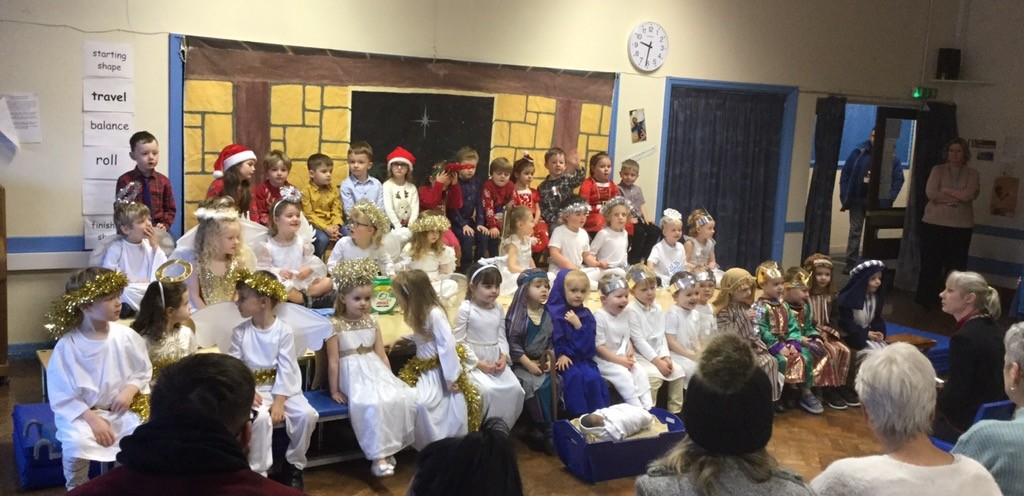 Reception
We have truly entered the world of songs around the world this term.
We have started a class Song Box which contains a picture or word of something that may give us an idea of a song (it may be a familiar song or one the children make up independently).
We have explored French songs during European Language day and the rhyme Frère Jacques was a firm favourite. We explored its meaning too. We enjoyed this so much that we've added it to our class song-box!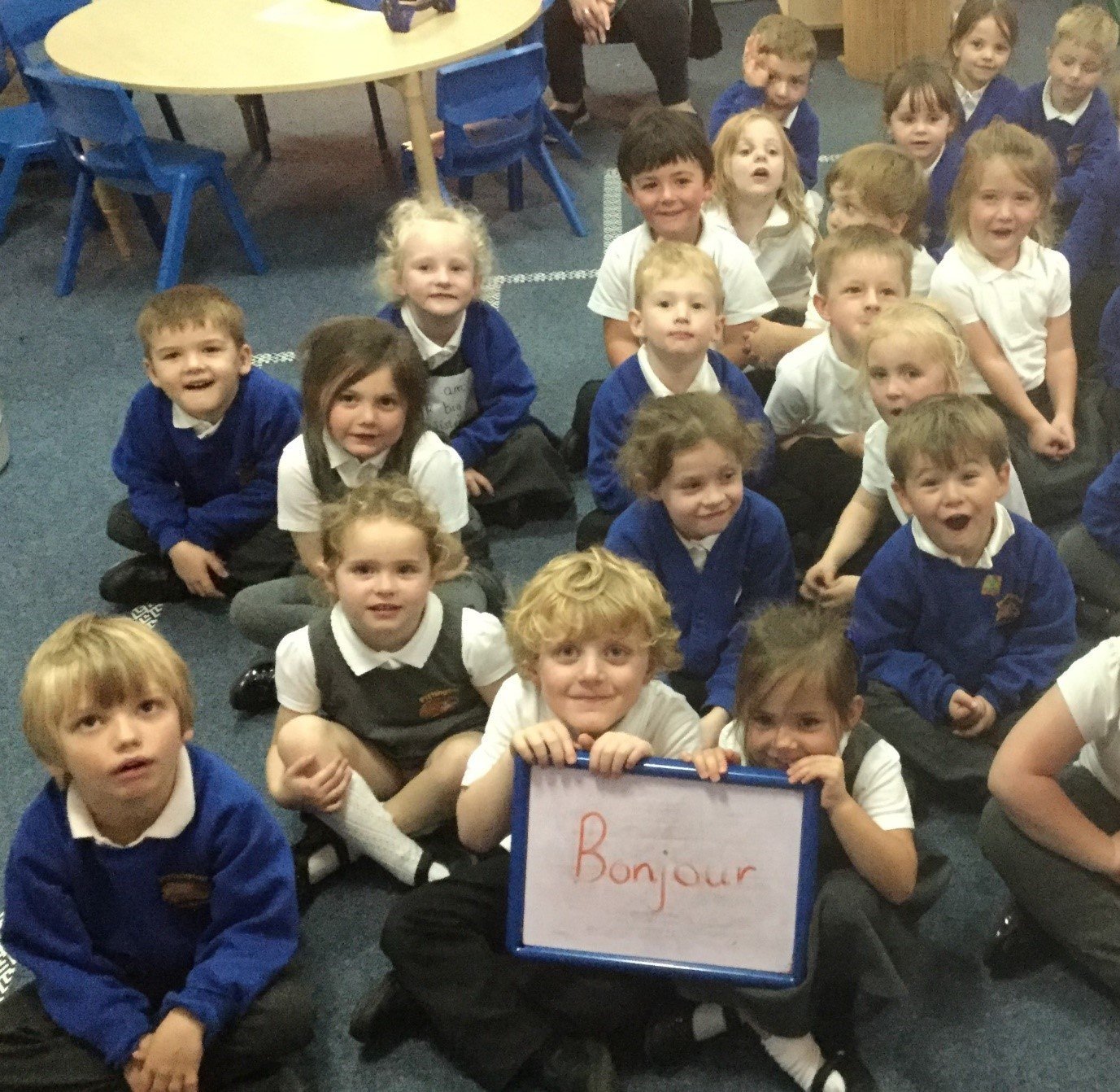 Whilst learning about Diwali and Hinduism we listening to a variety of Bollywood music. We explored movement to this genre of music as well as thinking about how the sounds of instruments made us feel (loud dhol drums, bells, sitars etc). We used Bollywood music to inspire us while we created giant Diva lamps.
Reception are now in full swing of practising for our Christmas Production. We are learning songs about angels, wise men, shepherds and a place called Bethlehem!
Key Stage 1
Year 1
In Year 1 we have listened to a variety of musical styles. We have started to recognise and learn the names of instruments and, through discussion, we have used a range of musical vocabulary.
We are starting to understand how pulse, rhythm and pitch work together to create music. In small groups we have started to play music together.
We love to sing! We worked really hard learning 8 songs for our Christmas Nativity, Baubles and really enjoy singing assembly each week with Mrs Lee.
Year 2
Year 2 have been learning about music from around the world. The song 'Hands, Feet, Heart' is an Afropop song from South Africa. We have discussed the style, tempo and features, learned to sing it and even played different tuned instruments to it such as xylophones and glockenspiels.
Key Stage 2
Year 3
The children in year three have been using Charanga to learn a new song and to play tuned percussion.
Year 3 have being learning to play the violin in school as part of the Wider Opportunities programme. Mr Chris Hartley was our tutor from Durham Music Services and he is a fantastic violin and piano player. The sessions concluded with a violin performance to KS1 and parents/carers of the year three children.
Year 4
In Year 4 we have focused on the song 'Mamma Mia' and have explored other songs by ABBA. We have thoroughly enjoyed rehearsing our singing performance and we have explored the key features of the music. This has progressed to accompanying the song with tuned percussion instruments and we even explored some improvisations. Finally, we composed our own accompaniment for the track and preformed it for the rest of the class.
Year 5
This term we have combined music with our literacy work. We have listened to and appraised 'Troika' from Lieutenant Kije by Prokofiev which is a piece of music about a sleigh ride which linked perfectly to our Work on the white witch from our class reader. We wrote about Edmunds journey to the ice palace and used our writing to compose short musical phrases to depict a scene. Donovan's writing was fabulous so as a class we broke it down into sections and wrote our own tunes to accompany the work – making up our own ways to record each note. We then looked at how music is recorded on a stave and have started to learn about different notes and Italian terms to describe music. We have some expert musicians in our class who supported friends with reading music and identifying notes. We have experimented with hand bells, water flutes, keyboards and xylophones in our composition work.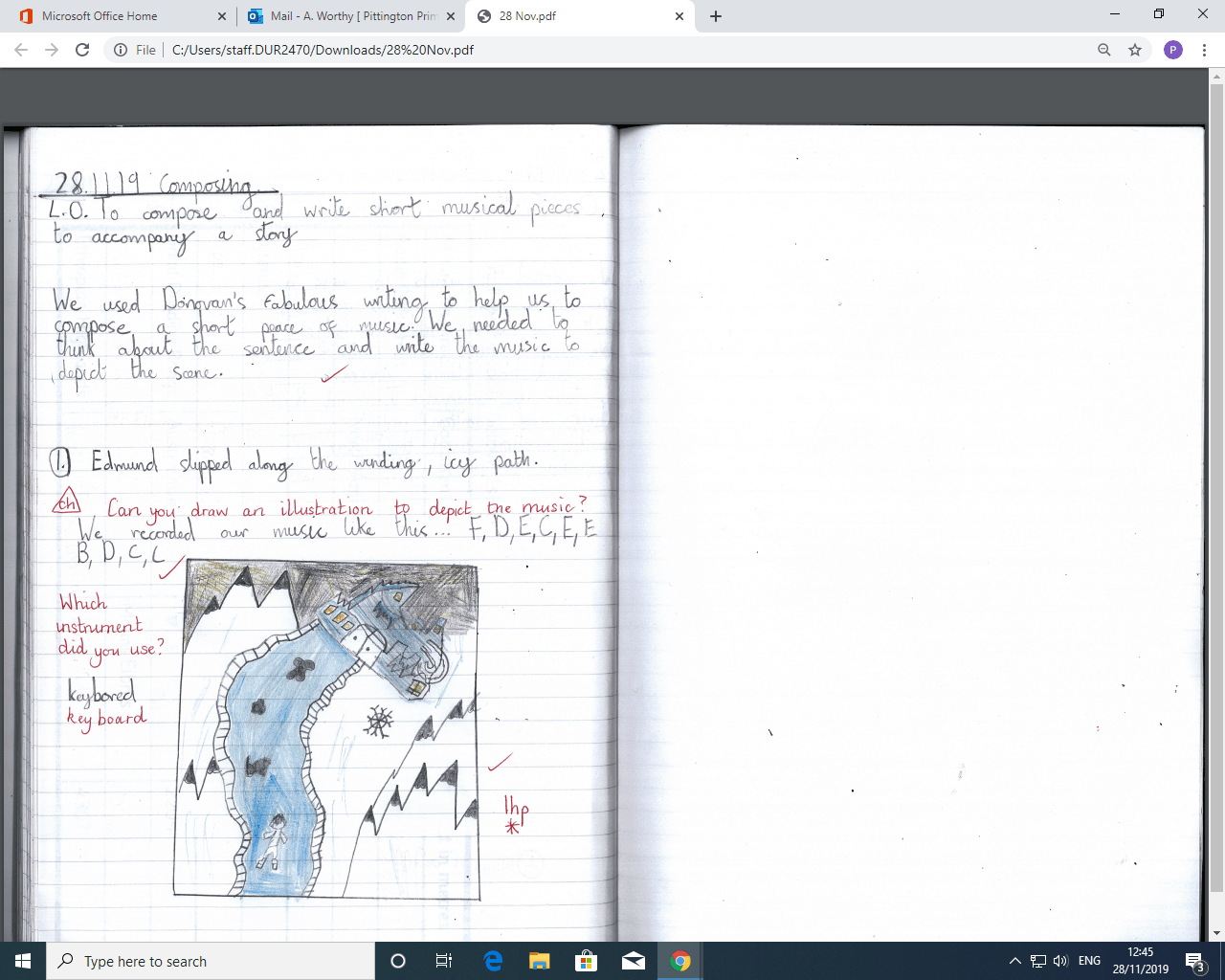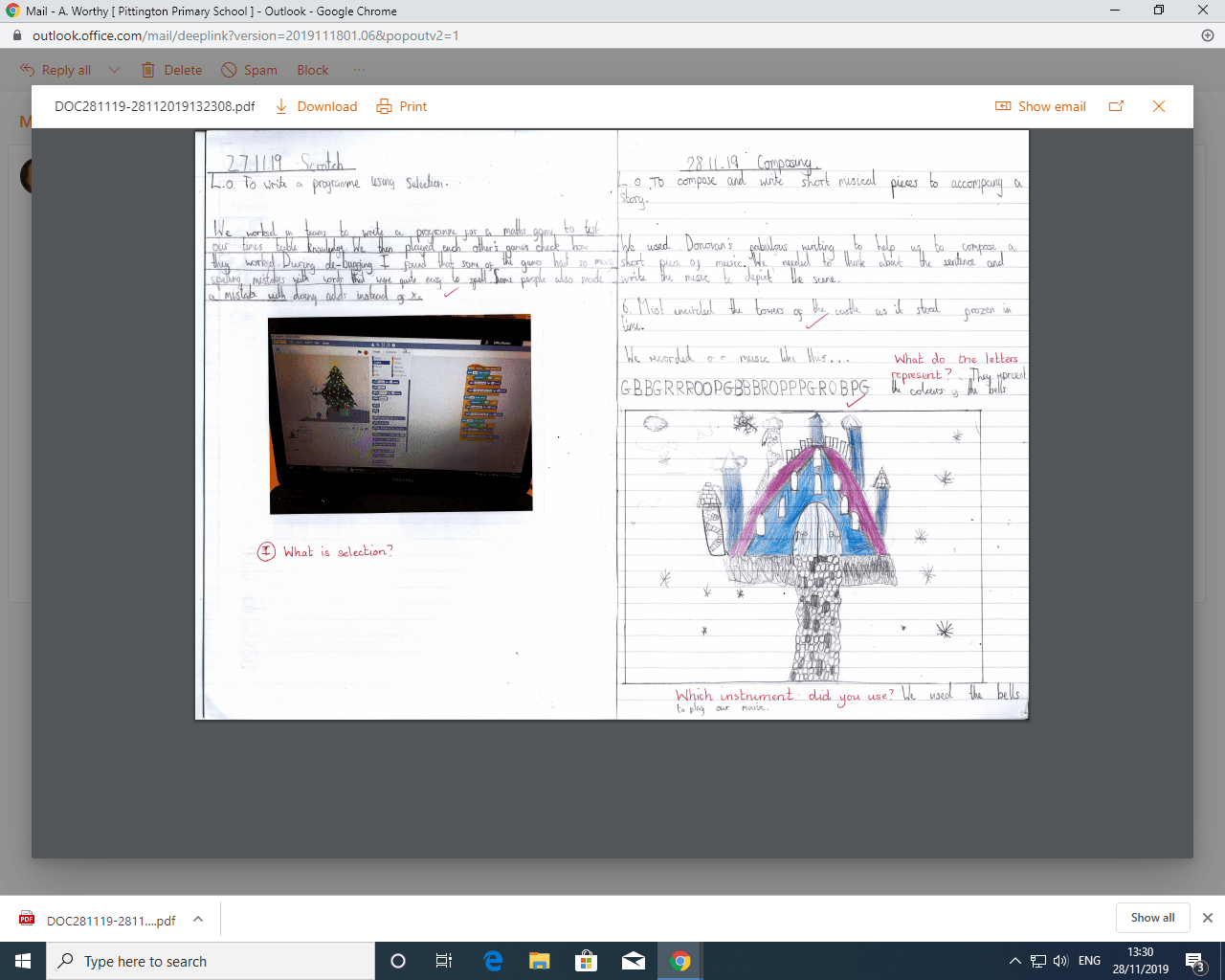 Year 6
We have been raising our spirits by listening, appraising and composing songs which make us happy. We considered instruments, texture, tempo, dynamics and mood in the songs. We have played tuned percussion accompaniment and enjoyed improvising to instrumental sections.
Summer Term
Keystage 1
Year 1 and 2 continue to have singing sessions from students at Durham University. They have extended their song library and have learnt a lot about pitch and rhythm. We would like to thank the students for coming each week to sing with the children.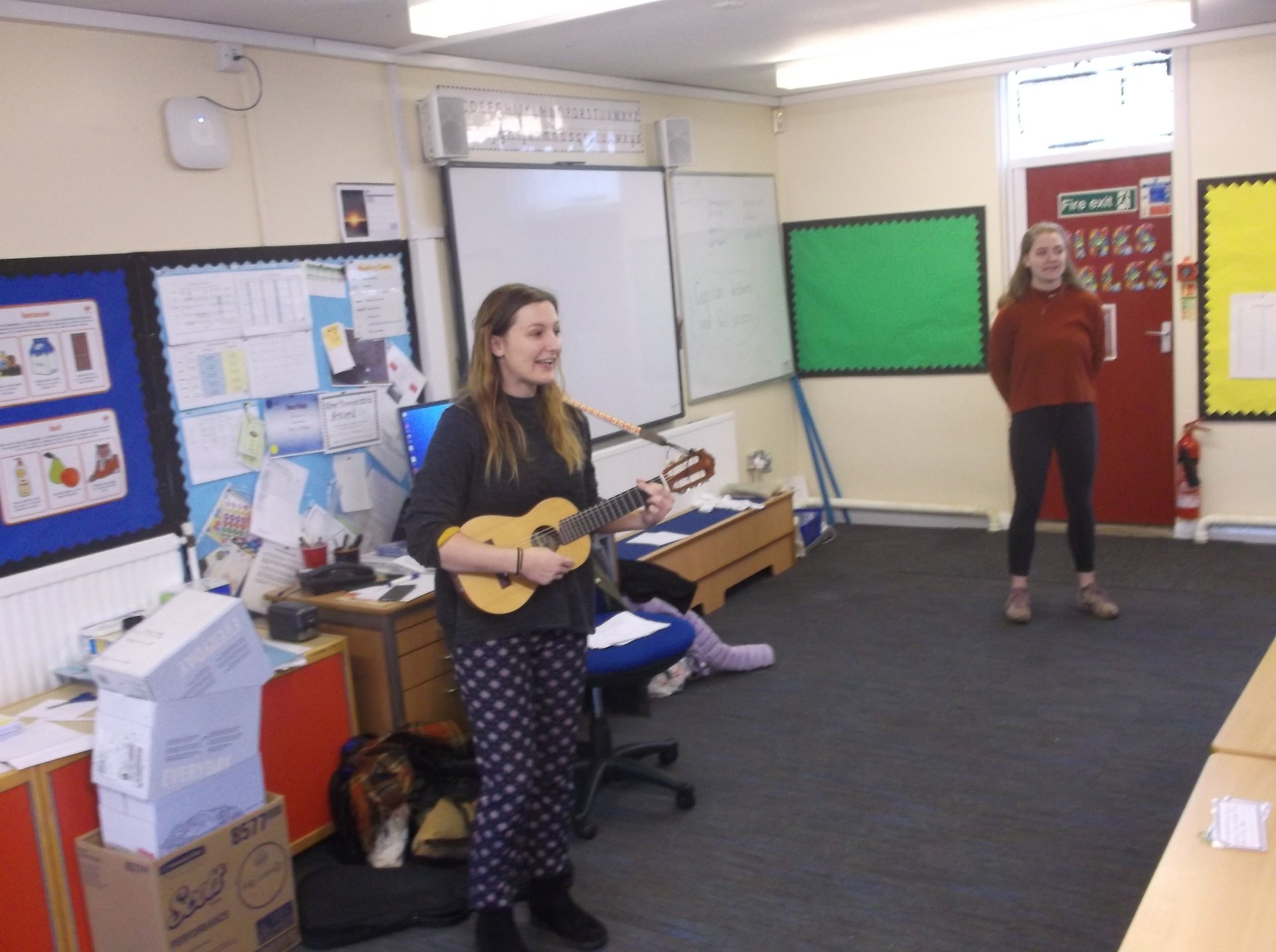 Keystage 2
Year 3
During this summer term the children evaluated their percussion section, composed when they were in year two, within a school song that they've been singing again this term. After discussion amongst themselves they realised that it was to provide a sense of anticipation before the final verse.
Many children throughout school have music lessons outside of school. Here is one of our year 3's performing to his class.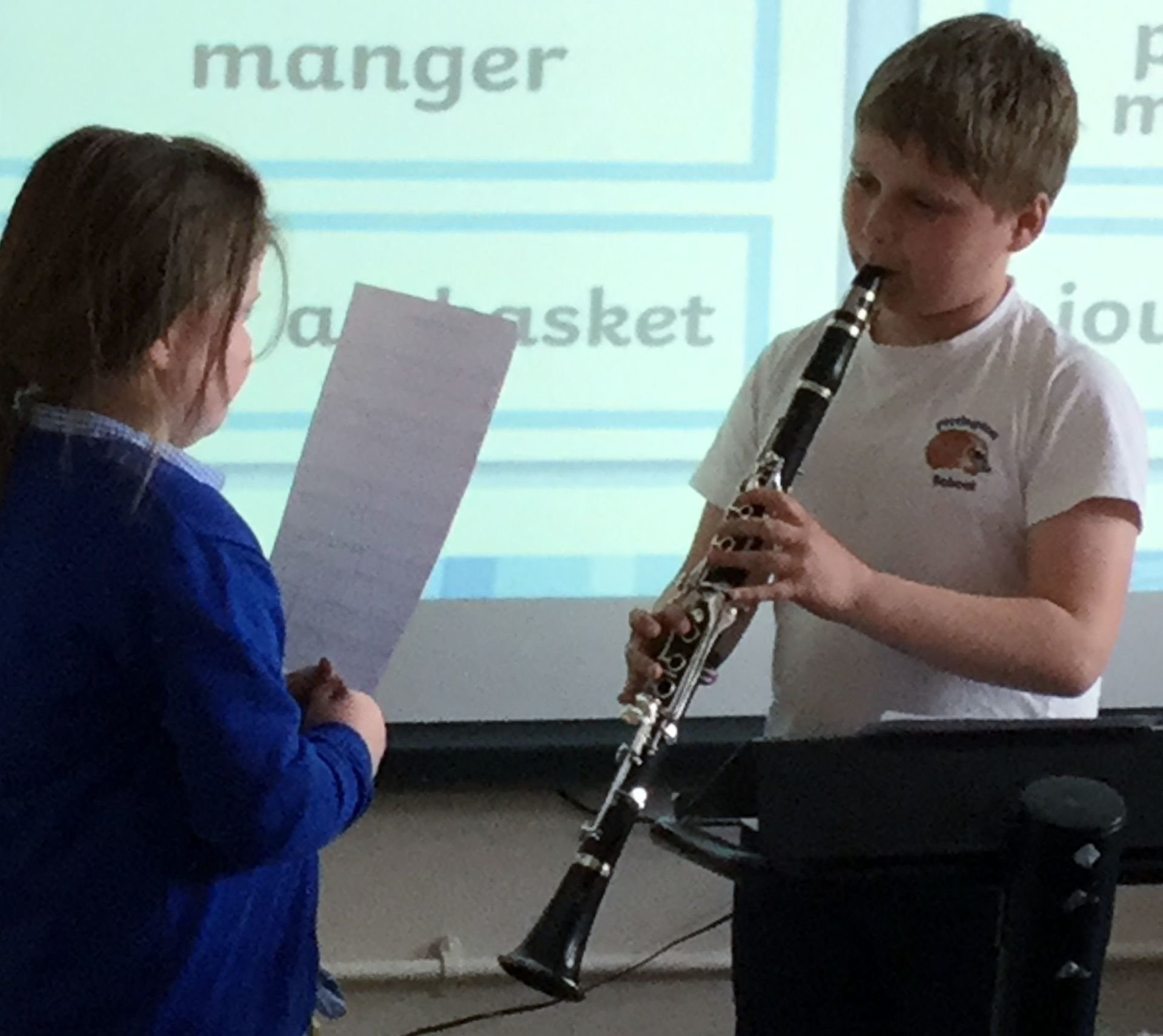 In year 3 we have many talented musicians. Here are some of our MAT children learning how to play the keyboard.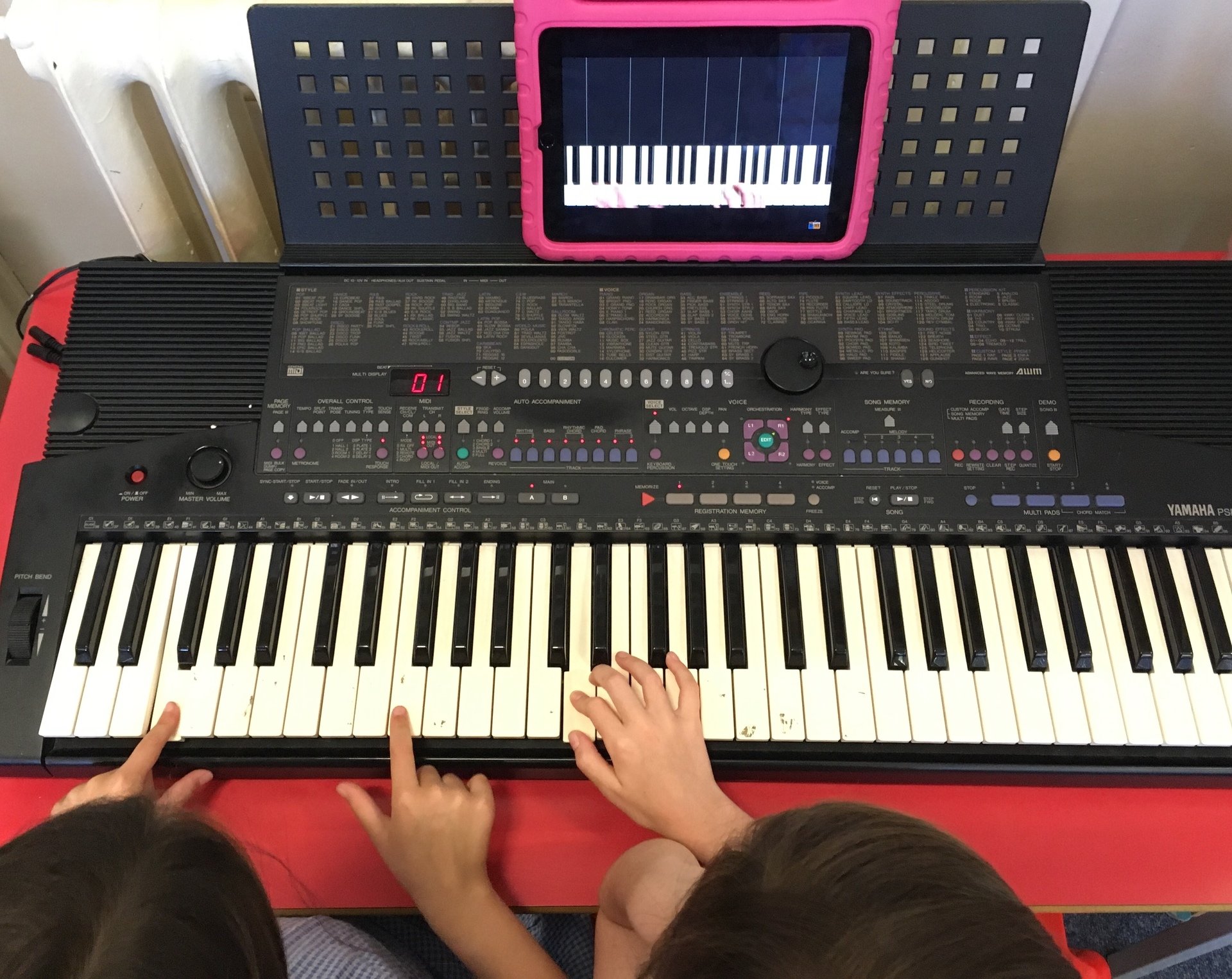 Here are some of our established Brass children demonstrating how to play a brass instrument to the year 3 children. Next year year 3 children can opt to learn an instrument through Durham Music Service.
Year 4
The children in year 4 continue to work on their Charanga unit. They were focussing on the music from Abba. The children had a showcase day where they dressed up in 80s clothes and sang their hearts out. They could be heard throughout school.
Year 5
The children in year 5 are beginning to use and understand musical notation. They are recording parts of music they have heard and representing their own compositions using the stave. Our talented musicians support their peers and collaboration allows all children to succeed in writing and playing their own music.
Here is another one of our talented musicians showcasing their talent of playing the piano to the whole school.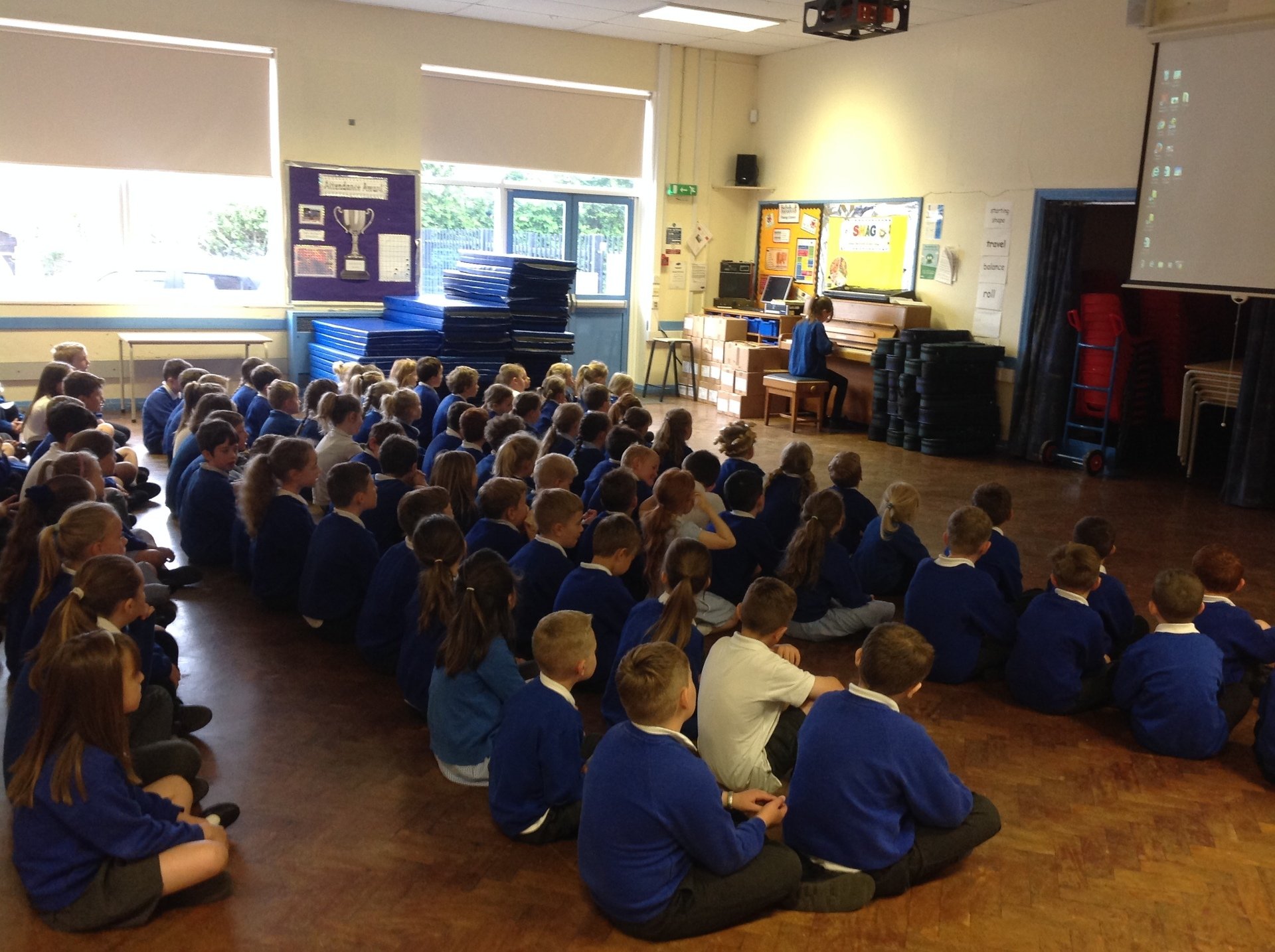 Spring Term
EYFS
Nursery
In Nursery the children every morning sing a welcome morning song to start of the day. Here are three of the children giving you a little flavour although they were a little camera shy...
Each week the children develop their gross motor skills by singing along to the Beat Bop Baby raps. The children love this music time and sing along with confidence.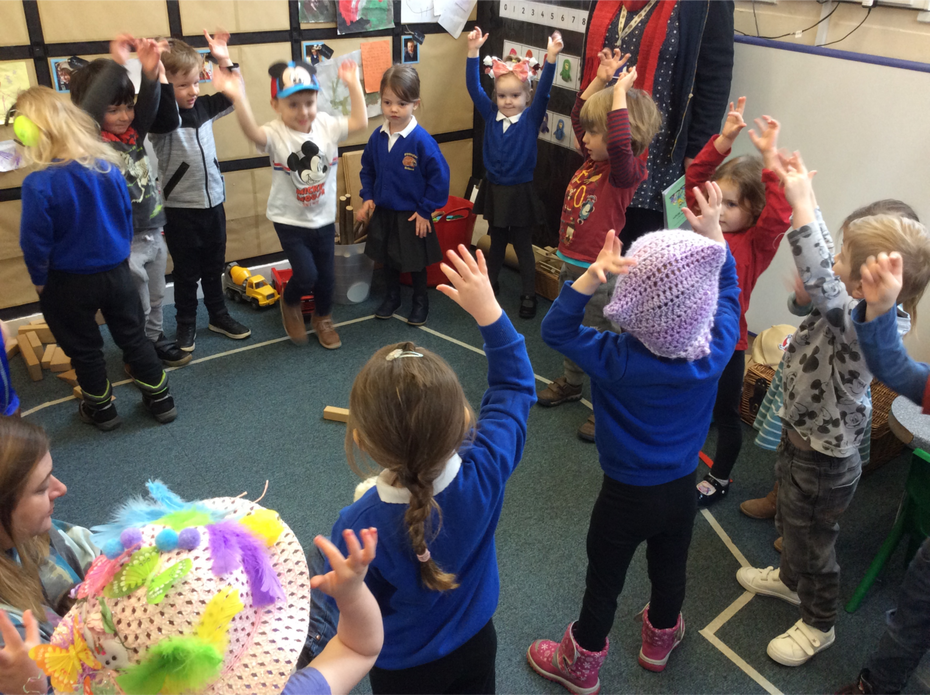 Reception
In Reception the children have been using a special music box to explore a new rhyme every day. The class favourites so far are- 'Okki Tokki Unga!' and 'My Aunite Monica!' We have also incorporated some Nursery Rhymes into this terms learning.
We have been looking at following a beat to different types of music which has stemmed from The Greatest Showman soundtrack. This was as a result of child's interest from their Focus Week.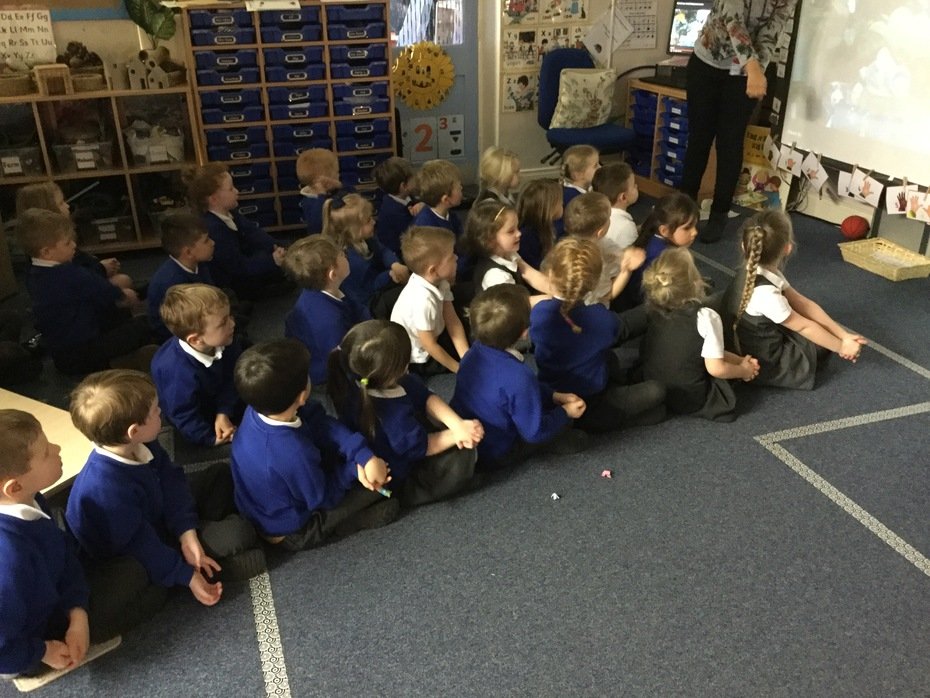 Keystage 1
Year 1 and 2
Music students from Durham University have been working with the year 1 and 2 children on their singing skills. They have taught us various warm up activities and lots of different songs.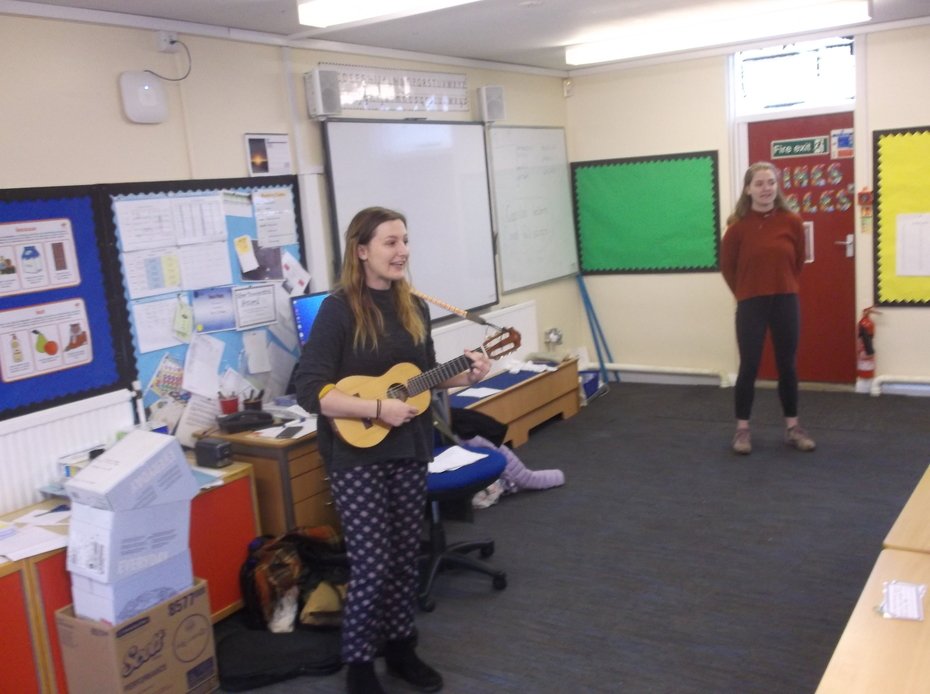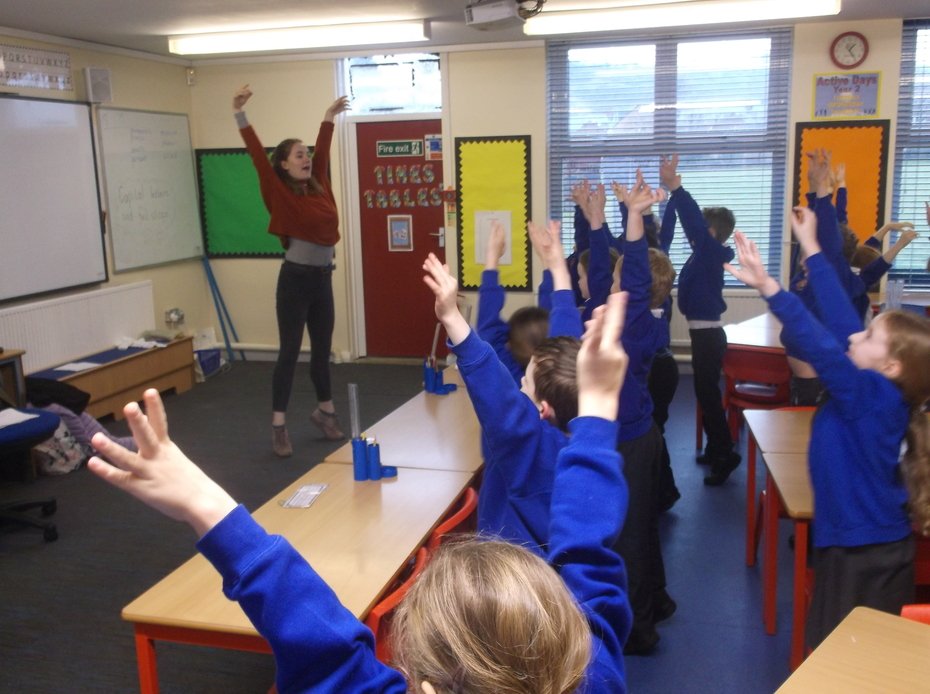 In year 1 we have been exploring composing our own rhythms that we then played on a chime bar. The children really enjoyed making their own music and were amazed when they could play it to their friends on the chime bar.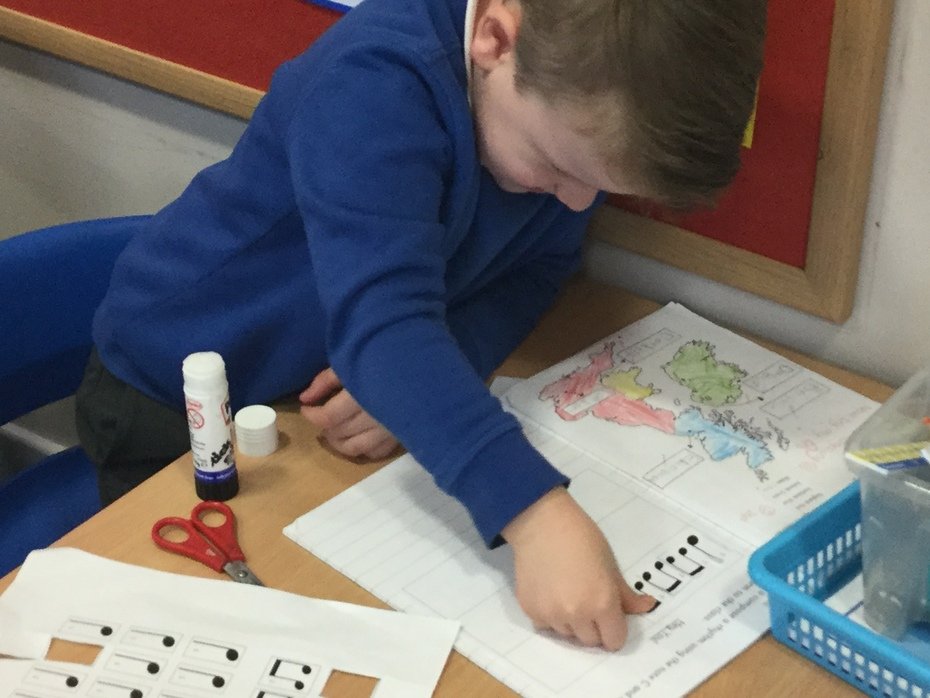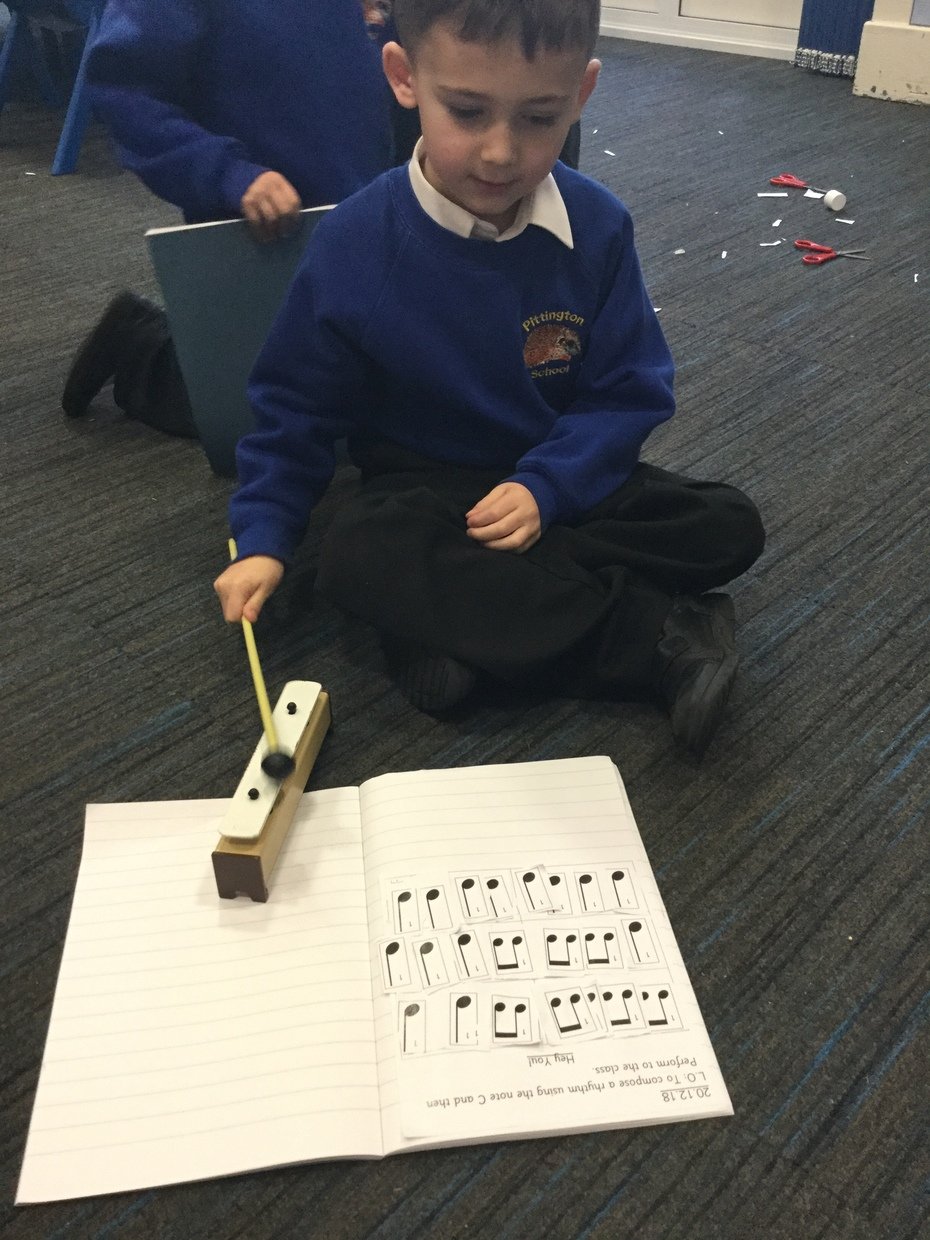 Keystage 2
Year 3
The children in year three have been using Charanga to learn a new song as part of their music.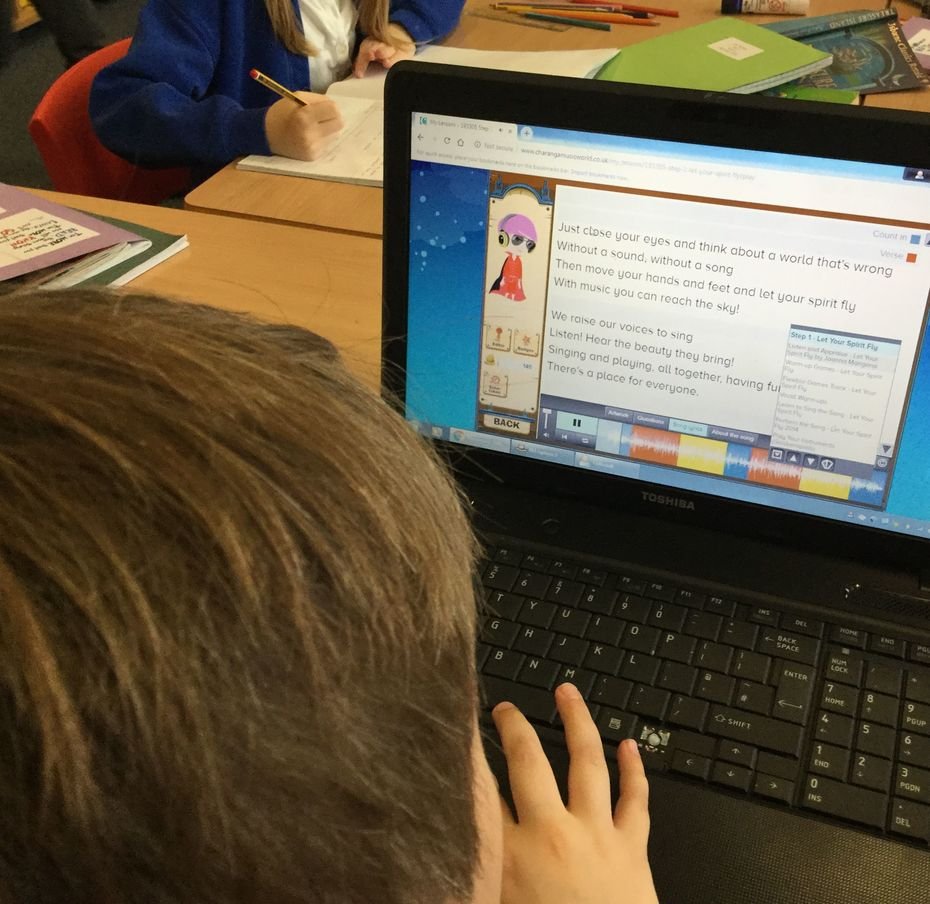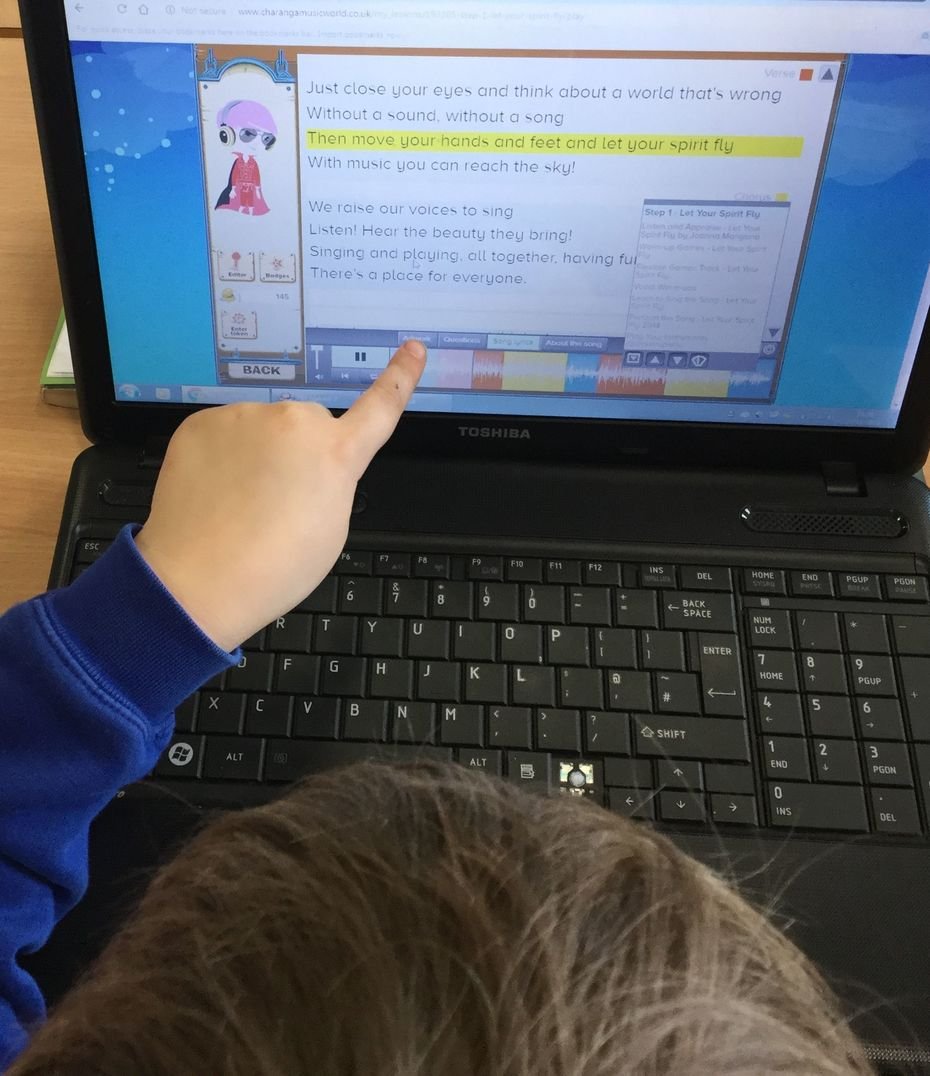 They have been looking at learning the keyboard and adding chords to simple tunes.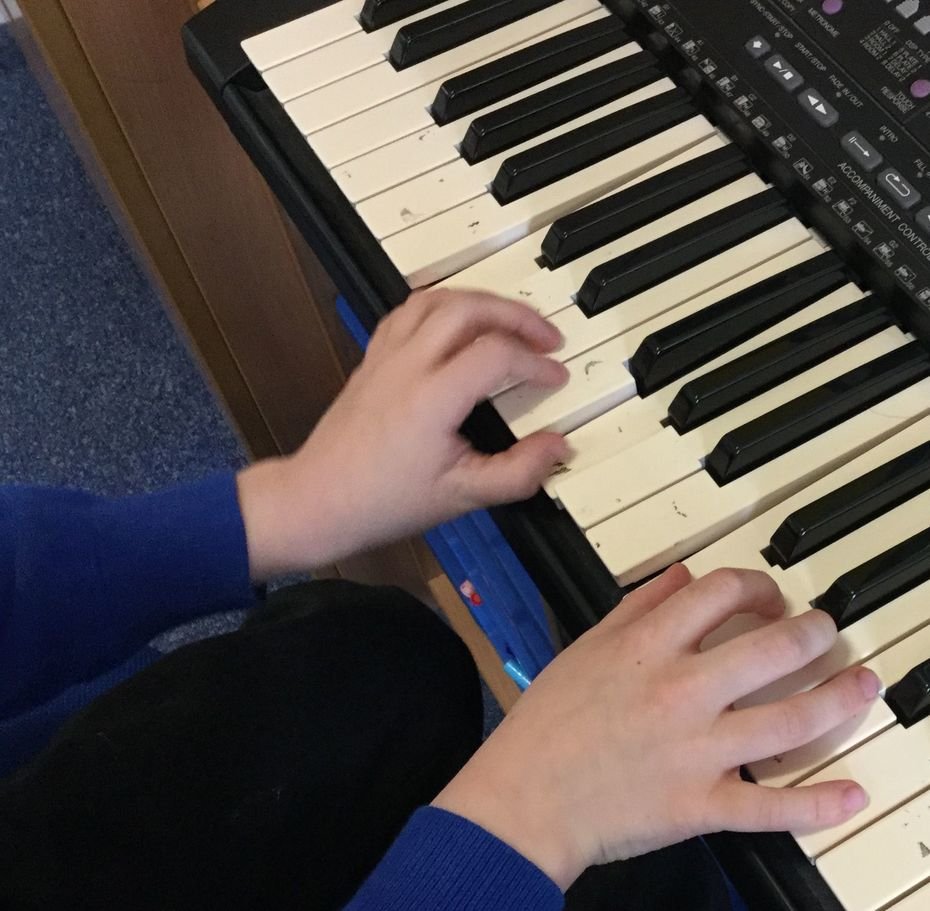 As part of the performance part of the Charanga unit the children have been learning to play tuned percussion.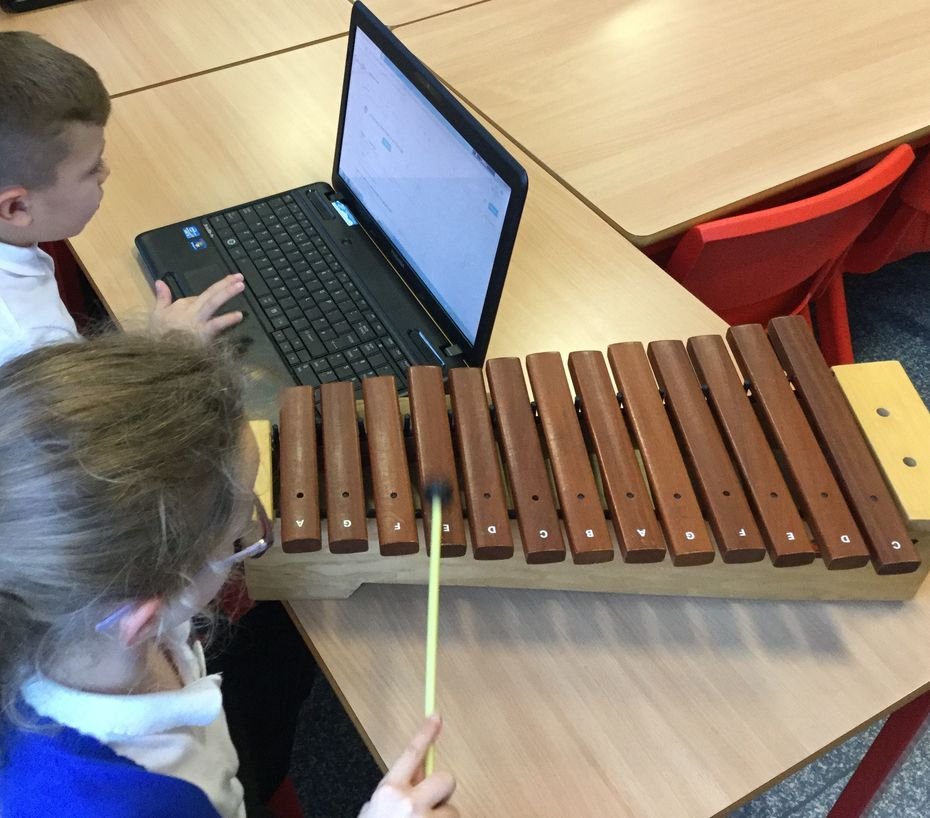 Year 4
In year 4 the children were following a Charanga composition unit where the children explored using glockenspiel to compose their own music.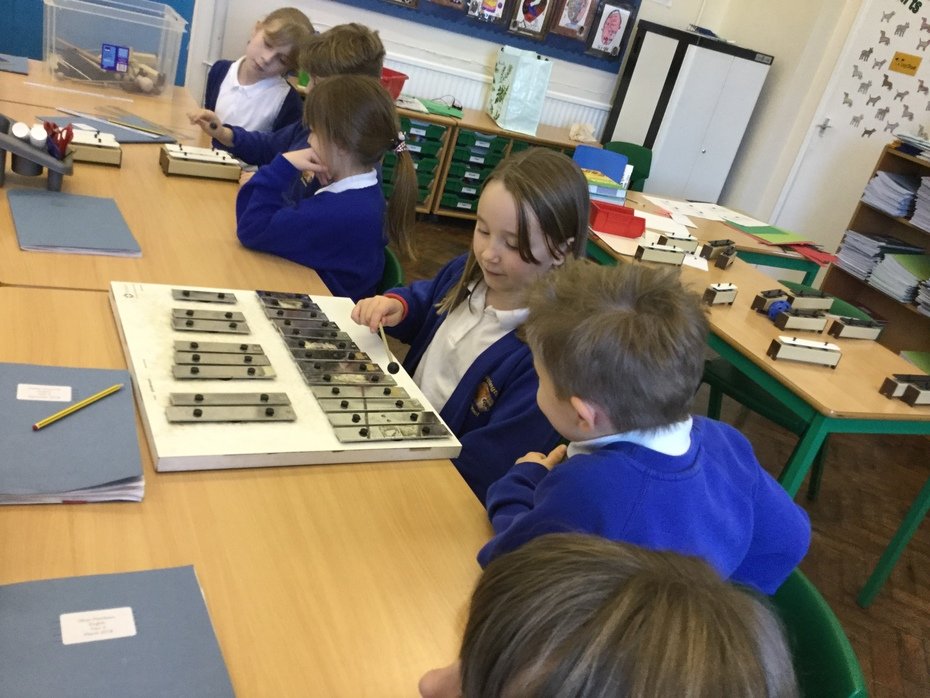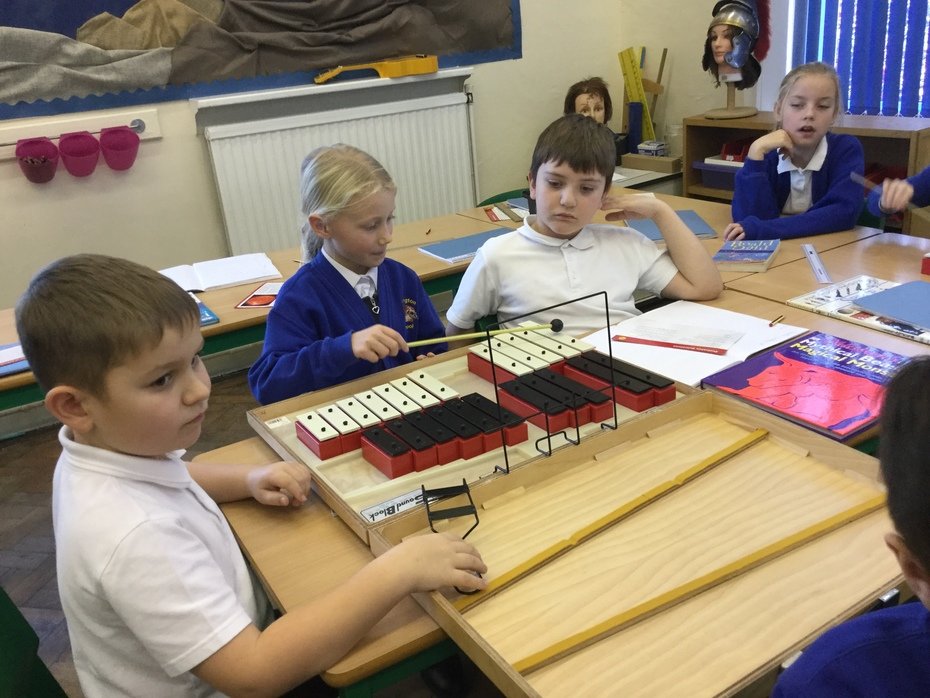 At Pittington we always encourage the children to showcase their interests and talents. Here is a year 4 child performing one of his latest hits. He is currently learning the guitar at home.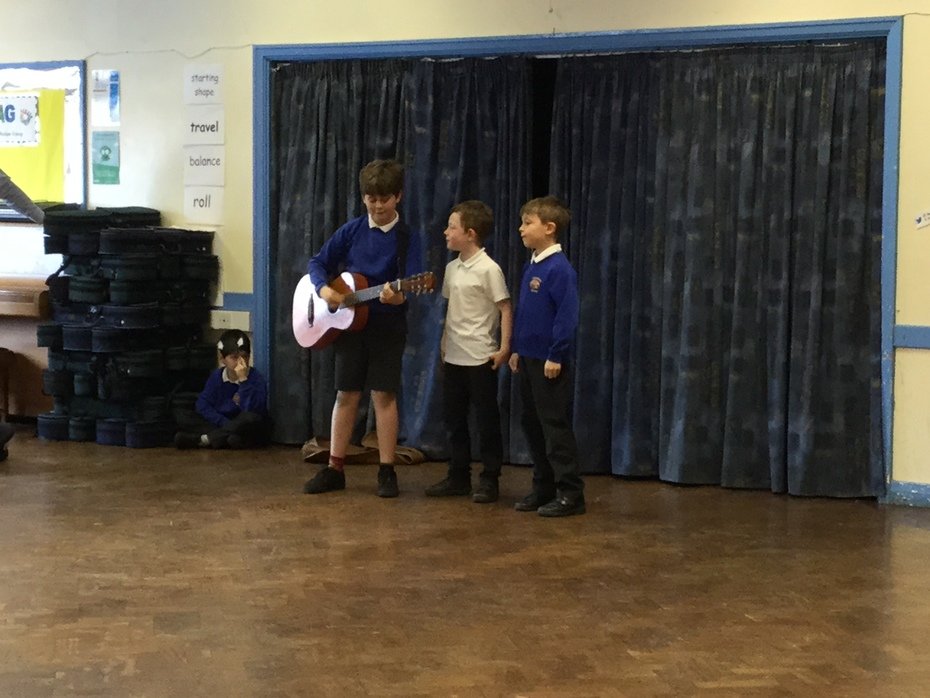 Year 5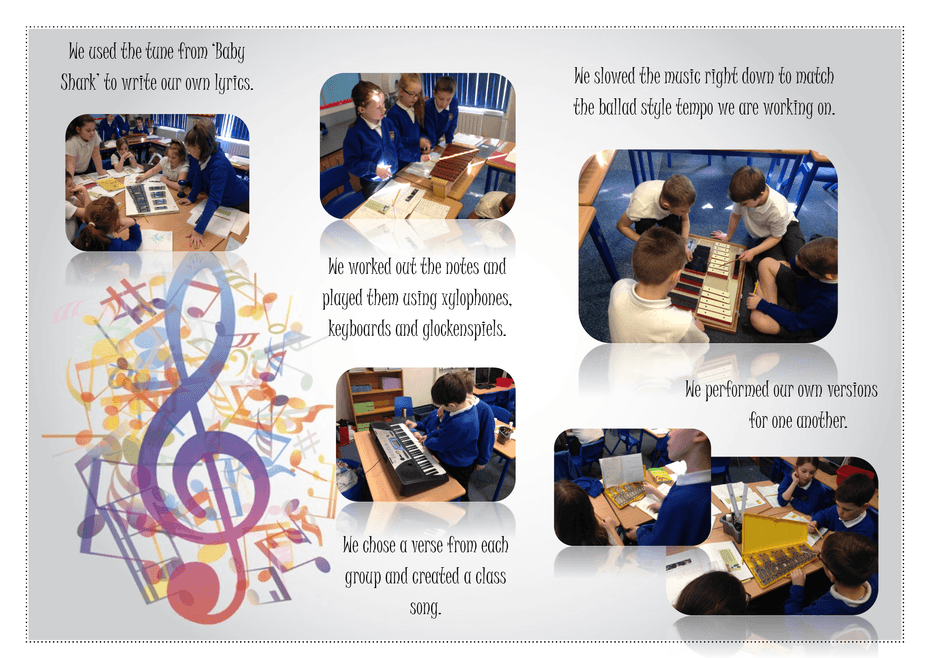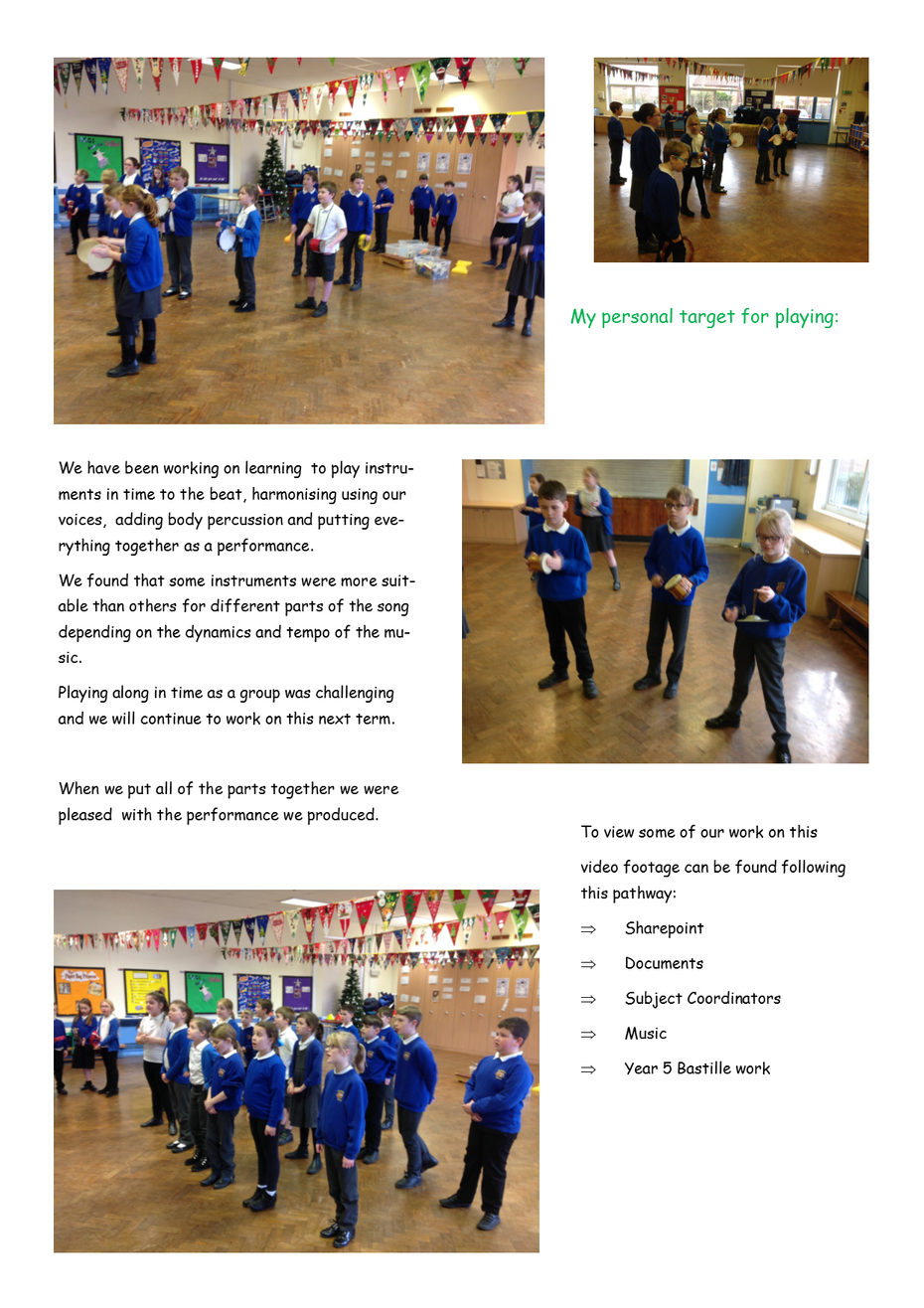 Enrichment
On the last day of the Autumn term Mrs Rowell organised for a rock band to come into school and perform for everyone. As you can see from the photographs below we all had a lot of fun dancing, singing along and showing off our air guitar skills.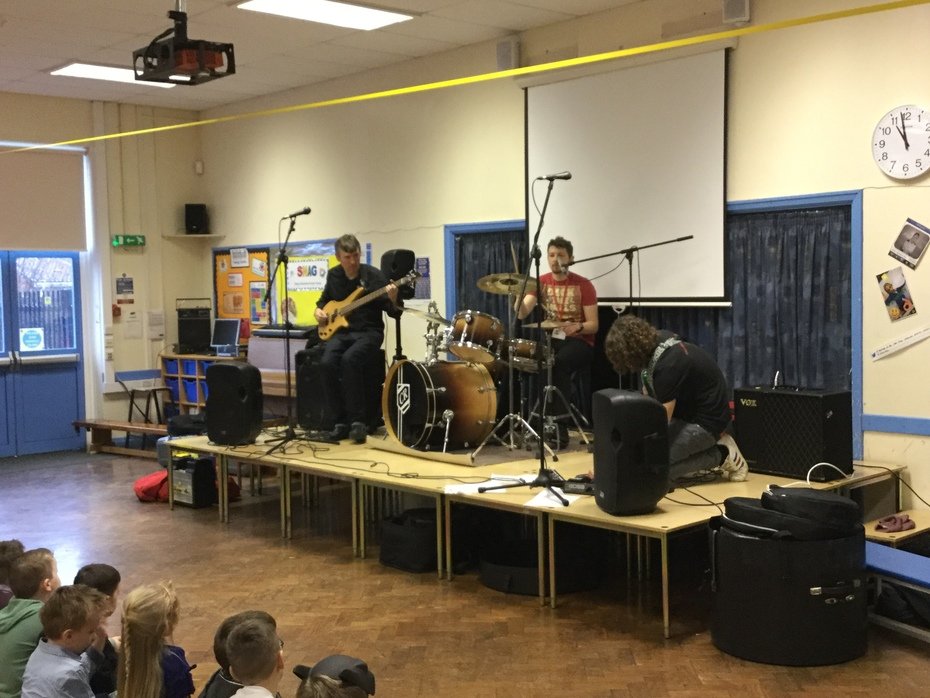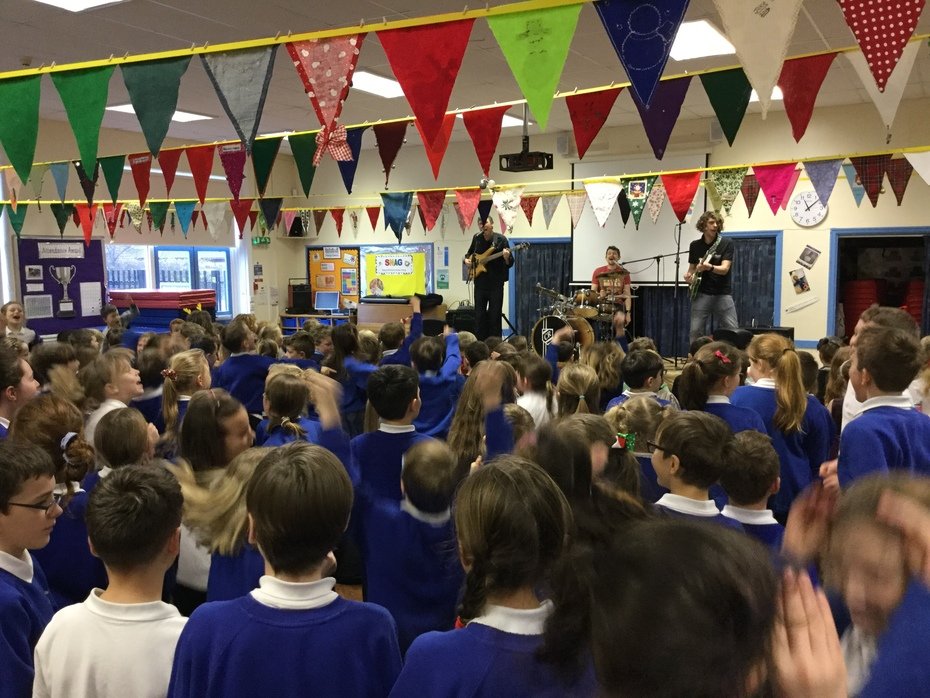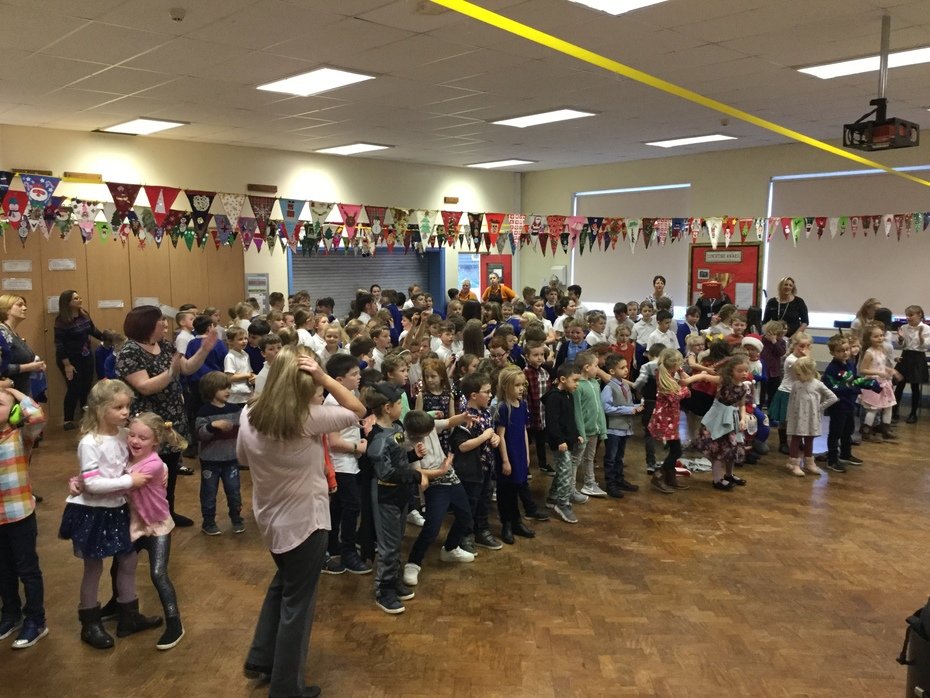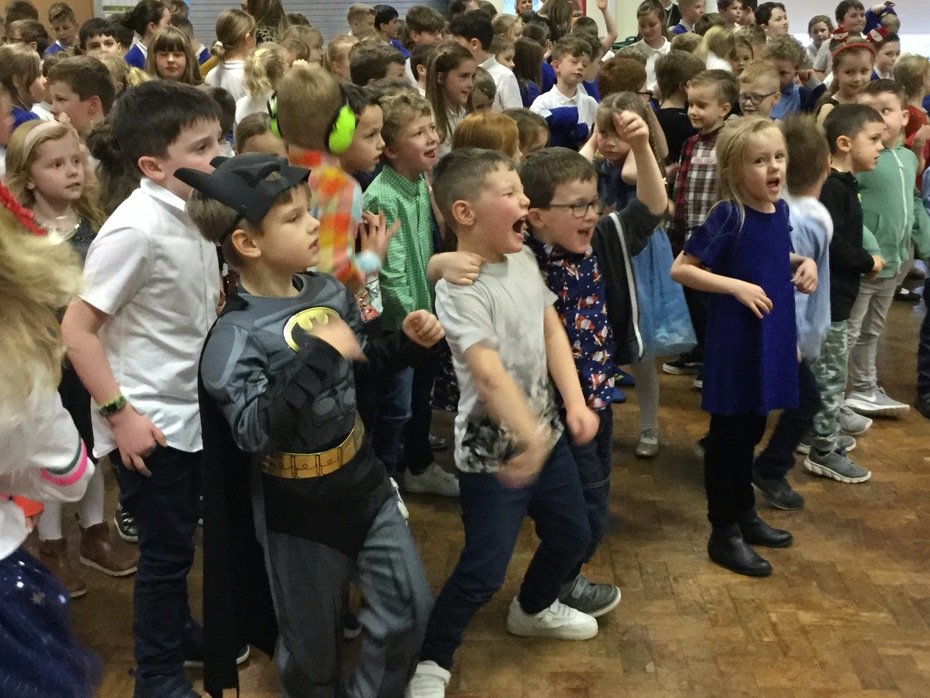 Autumn Term

At Pittington Primary School we provide many opportunities for our children to learn a musical instrument through the Durham Music Service.
Wider Opportunities
When the children are in year 3 the music service offers a programme known as Wider Opportunities. This is a whole class programme where the children learn a musical instrument. A tutor from the service comes into school once a week from September through to February half term teaching a 45 minute lesson. This year the children are learning violin and Mr Chris Hartley is their tutor. Once the children have finished the programme they showcase their newly found skills in a concert to parents and the rest of the school.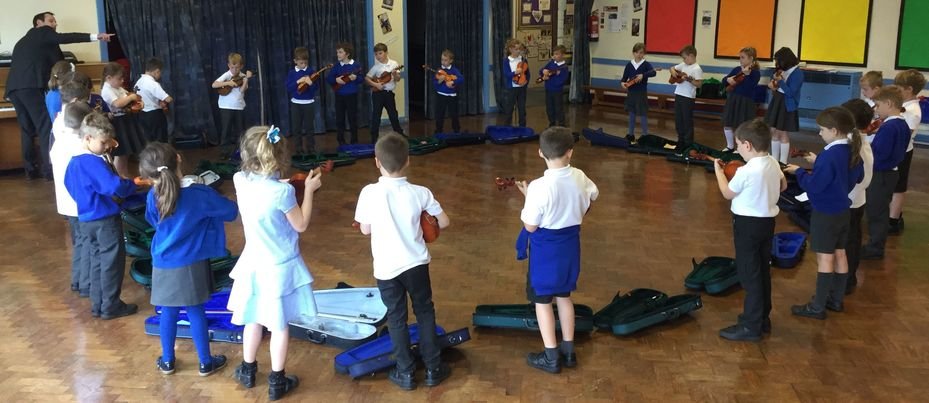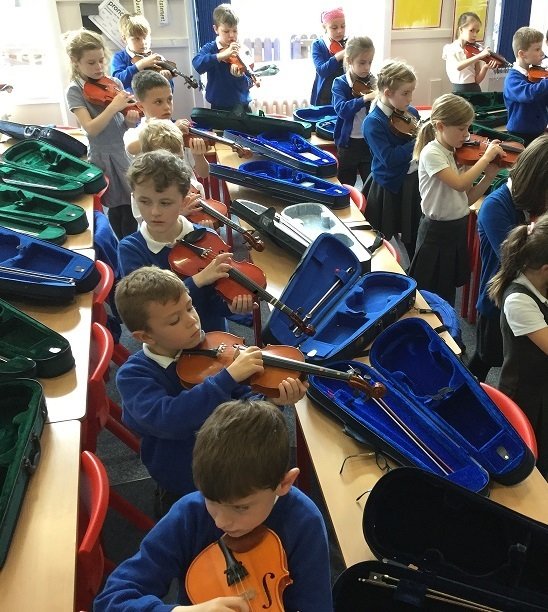 From year 4 the children have the opportunity to learn an instrument through paid lessons provided by Durham Music Service. At Pittington we offer both brass and violin. If you are interested in your child playing an instrument please contact school or click here.
Brass
We have many children who currently learn different brass instruments in school. Mr Chris Senior is our tutor from the service and he is a fantastic French Horn player. He teaches the children in groups of 'like' ability. Many children progress well and have the opportunity to take their grades.
Here are the children enjoying one of their lessons.
Violin
We also have many children who currently learn violin in school and is often after completing the wider opportunities programme. Mr Chris Hartley is our tutor from the service and he is a fantastic violin and piano player. He teaches the children in groups of 'like' ability. Many children progress well and have the opportunity to take their grades.
Here are the children enjoying one of their lessons.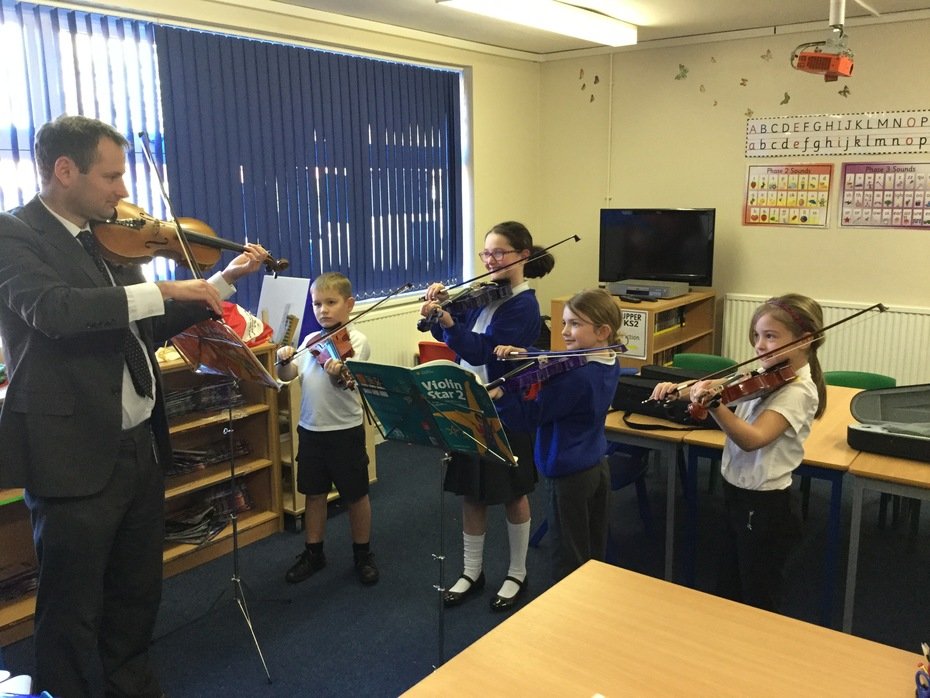 Enrichment in school
Keystage 1 Music
As part of the National Curriculum we have three strands of music Listening and Appraising, Performing and Composing.
Warm ups

In our music lessons we have lots of fun playing warm up games to help us feel the pulse of the music.
Listening and Appraising

For our Autumn term music we having been learning a rap called Hey You. As part of our Listening and Appraising we listened to the rap the Fresh Prince of Bell Air. We were able to talk about the different instruments we could here and think about the structure of the rap.
Performing
After we have learnt our song we then add some musical instruments. We have learnt all about the different percussion instruments, what they are called and how to play them. Here we are concentrating hard on our performance and playing our instruments on the first beat of each bar.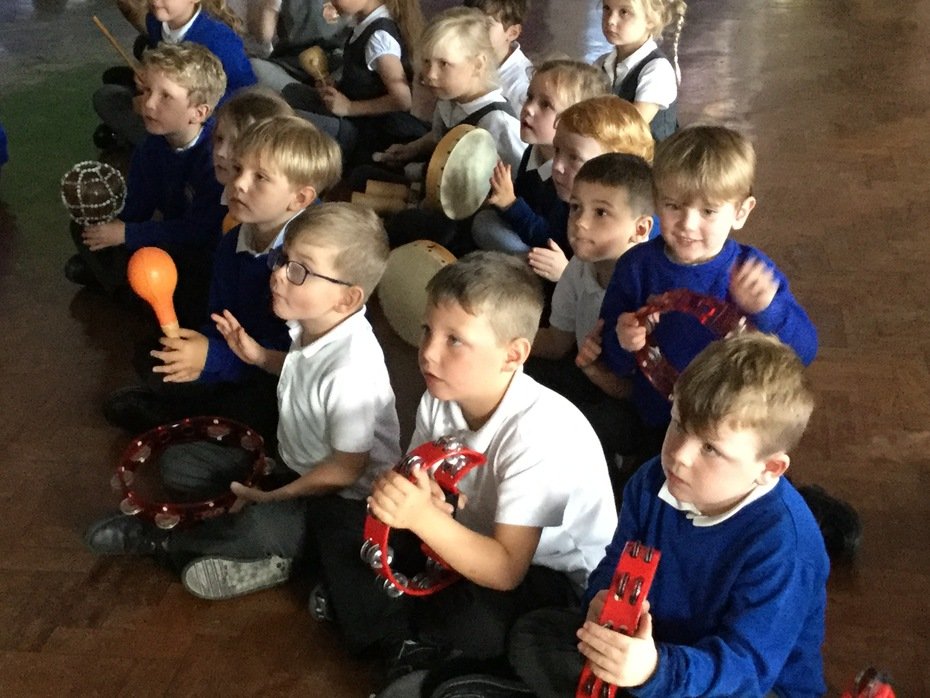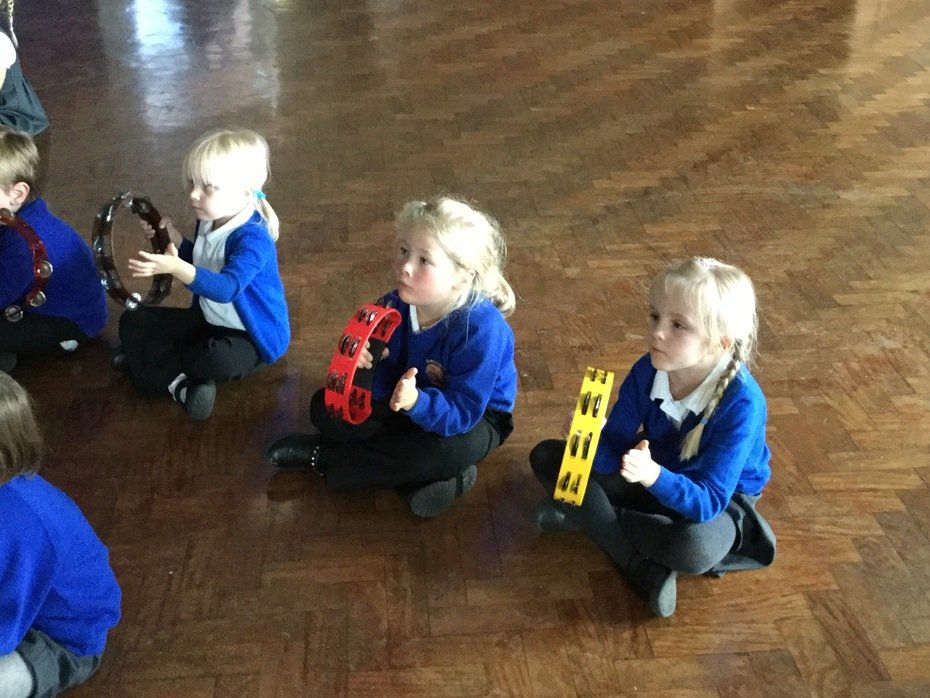 Carnival of the Animals

Musicians and actors from Durham University came into school to perform Carnival of the Animals to the whole school. They talked about which animals each instruments and compared the different sounds each made. We joined in with the different parts of the story and they asked lots of musical questions.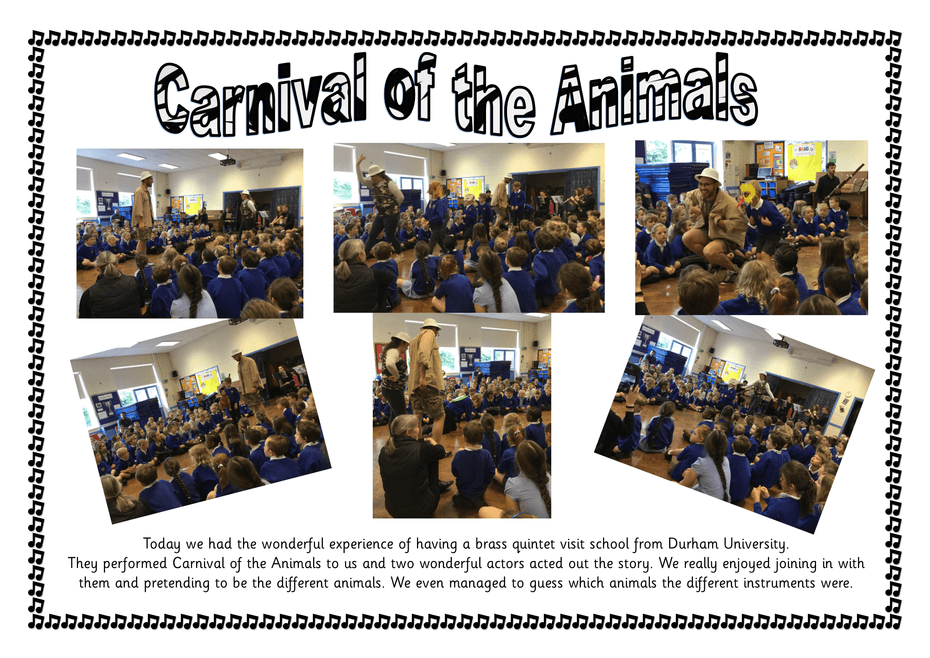 Durham Cathedral
Children in upper keystage two were given the opportunity to complete a project with The Orchestra of the Age of Enlightenment. This involved our brass and violin children performing with the orchestra and the rest of the children were included in a massed choir. Members of the orchestra came to school to work with the children and this concluded with a concert in the wonderful Durham Cathedral. The Cathedral was full of parent and carers from all the schools involved. The children had an experience they will never forget.