Autumn Term
Another exciting term in school as we all work hard to improve reading and writing. From our nursery new starters to the familiar faces of our year 6 class, everyone has been busy making progress and having fun.
Early Years
Nursery have started the year learning some traditional nursery rhymes, though our favourite poem by a long way, is Roald Dahl's Crocky Wock the Crocodile. The crocodile has been chasing us around the garden threatening to spread mustard and caramel on us!! For our early steps into phonics children have been listening to sounds, identifying them, copying them and discussing how they sound.
Children are now recognising their names more and more on their pegs and to label their work and many are starting to try to write their names on their work too. Children have been watching the adults scribe their stories though staff are concerned this may need to stop…..the last story involved the children taking over Nursery and locking the staff in the climbing frame!
Reception have started to experiment with mark making in different ways and are learning the best way to hold writing tools. They have now begun their phonics journey and already know what phonemes, graphemes and digraphs are. They are currently working on forming letters correctly, recognising letters within books and are now even beginning to read simple words. Our reading and writing journey has truly begun!
KS1
Our year 1 children have made a fabulous start following the National Curriculum and are working exceptionally hard to use capital letters, finger spaces and full stops appropriately. Progression in reading is fantastic due to Year 1's super engagement in daily phonics and reading both at home and in class.
Great Fire
We have been learning all about the Great Fire of London. We have read books and watched videos that have given us lots of important facts about this event. The children worked together to discuss and come up with fantastic adjectives that describe the Great Fire and have taken turns on a hot seat answering questions as if they lived it. Lots of interesting questions were asked and there were some lovely detailed answers throughout. The children have also written their own diary entry from the perspectives of Samuel Pepys and King Charles II about what happened while the fire was raging.
George's dragon at the fire station
We have loved reading and exploring the story George's Dragon at the Fire Station. The children were very engaged throughout this and really enjoyed any work to do with George and Sparky. They knew this book so well that they were able to sequence it, re-tell parts of the story, act out some parts in small groups and write their very own endings.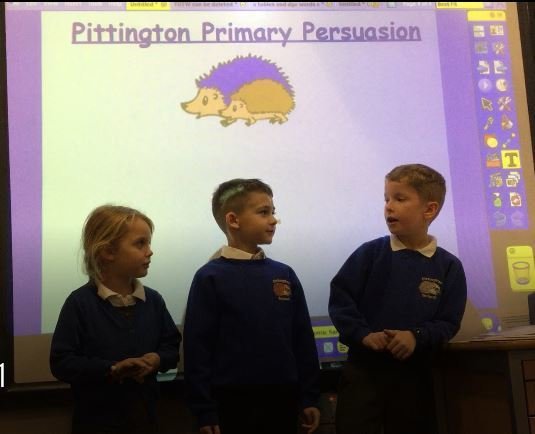 Year 2 have been honing their persuasion skills this term. The class wrote letters to Persuade Mr Bainbridge that we should have more PE in school and then collaborated to compel him further by making video presentations on the same subject. A great way to develop our teamwork and speaking skills!
We have also been learning about poetry and recently worked in groups reciting a poem 'The King of All the Dinosaurs' back to the class. Each group chose how to share the lines of poetry, how to deliver them and even added some actions.
After identifying tricky high frequency words and common exception words for every individual in class, we took on the challenge of forming the spelling in play dough! This helped us to make a mental photo of the word to help us spell it in future.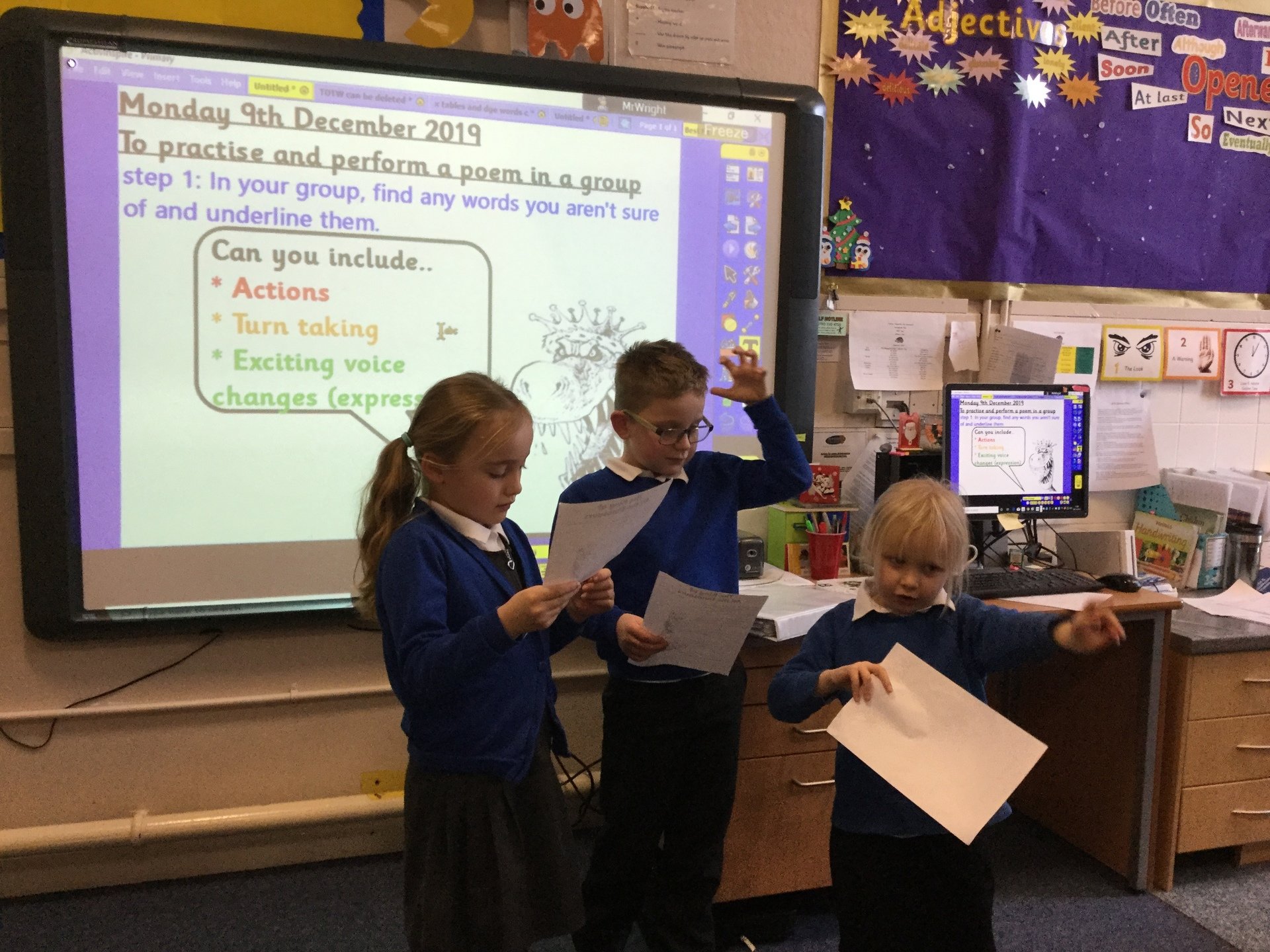 KS2
Literacy planning throughout school follows the teaching sequence from reading to writing, ensuring a balance of reading and writing within each unit. Our curriculum is based on high quality literature, poetry and non- fiction texts, which provide inspiration for a final written outcome. We want our children to love literature and be keen, confident writers. We want each individual child to have high aspirations and strive to reach their potential – whilst having as much fun as possible with friends and staff in school.
Texts being enjoyed across Key Stage 2 include The Lion The Witch and The Wardrobe, Macbeth, Beast Quest, The Firework Maker's Daughter and Harry Potter and the Chamber of Secrets.
Year 3 have been reading a book from the Beast Quest series and using the text to help with structuring their writing. We have practised forming lower case letters with flicks when needed and spelling high frequency sight words correctly. This term we have improved our speaking and listening skills by talking about what interests us and reviewing what we read. This term we have written news reports, letters and narrative texts linked to our class reader.
Year 4 have very much enjoyed our class text focus which has been 'The Firework Maker's Daughter' by Philip Pullman. We have engaged in Lila's journey and have been on the edges of our seats during the moments of tension. The silence and sudden rush of questions after one particular chapter was fantastic to see. From the text we have based our writing tasks such as a description of the Fire-Fiend's lair and a newspaper report about the great firework's finale. Some of the writing produced has been very impressive.
During this focus we have also applied the reading team questions to respond and enquire further about the characters and key events. Recently, we have also worked on poetry and really tested ourselves to recite some poems by heart.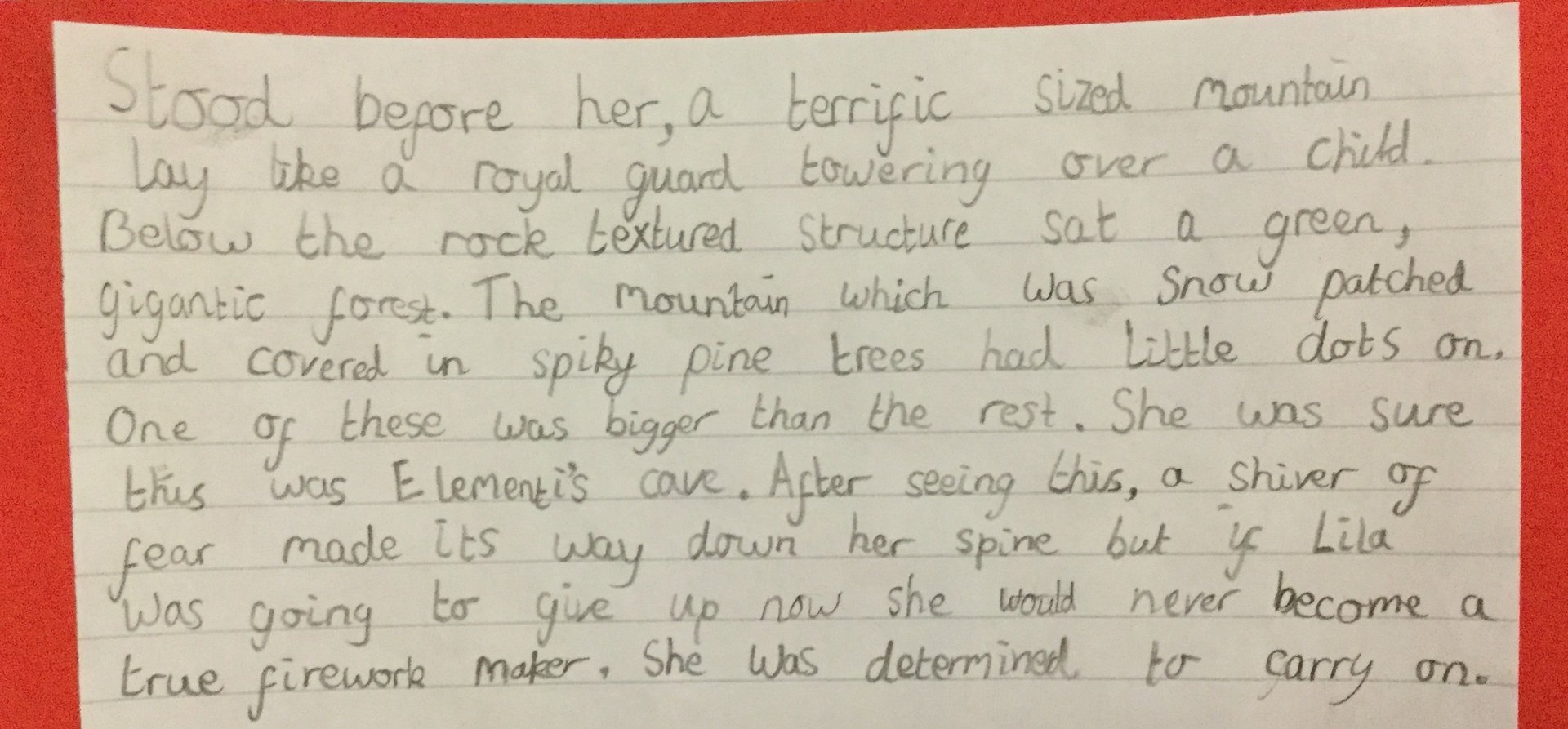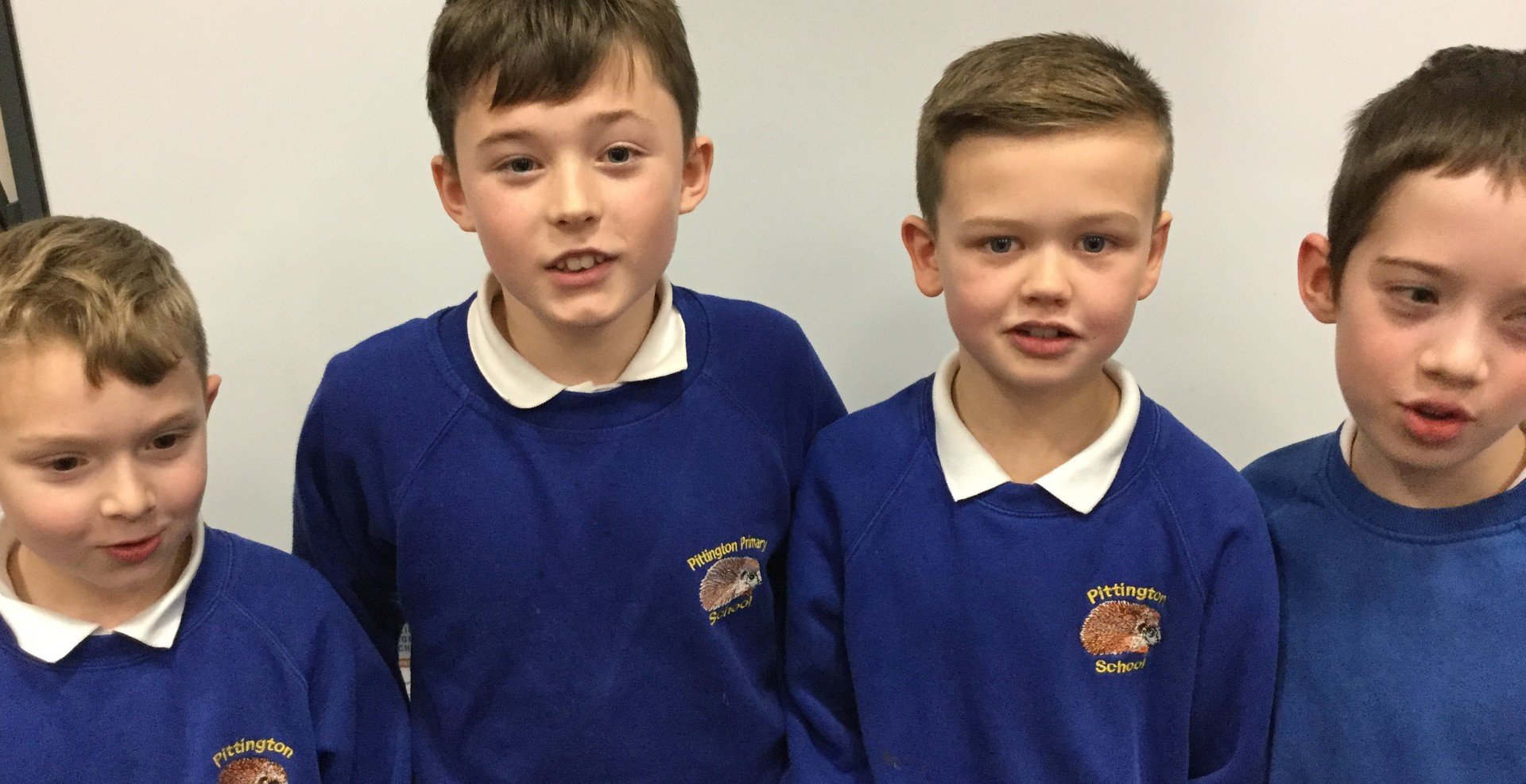 Year 5 have completed lots of cross-curricular work linked to the class text The Lion The Witch and The Wardrobe as you will see in other curriculum areas for the term. We are really beginning to put our literacy skills into practise now, writing in all subject areas and for different purposes.
Halloween is a fabulous time of year to inspire us to write. Year 5 had a full day of fun playing team games, writing spooky stories and enjoying afternoon tea at Hallgarth Manor Hotel.
We decided that instead of buying presents for each other and Mrs Emmerson, this year we would all donate to a local food bank. We wrote letters to go with each bag of food we put together to reach out to the people in our community needing help. Giving us great satisfaction and a real purpose to write.
Y6 have adored studying two contrasting texts – Shakespeare's Macbeth and The Chamber of Secrets by JK Rowling. We have written a non-chronological text about House Elves and composed wonderful narratives about a journey down Diagon Alley As well as participating in drama, we have written newspaper reports about a body being found for Macbeth We have even rewritten Macbeth to change the events following the three witches' prophecy!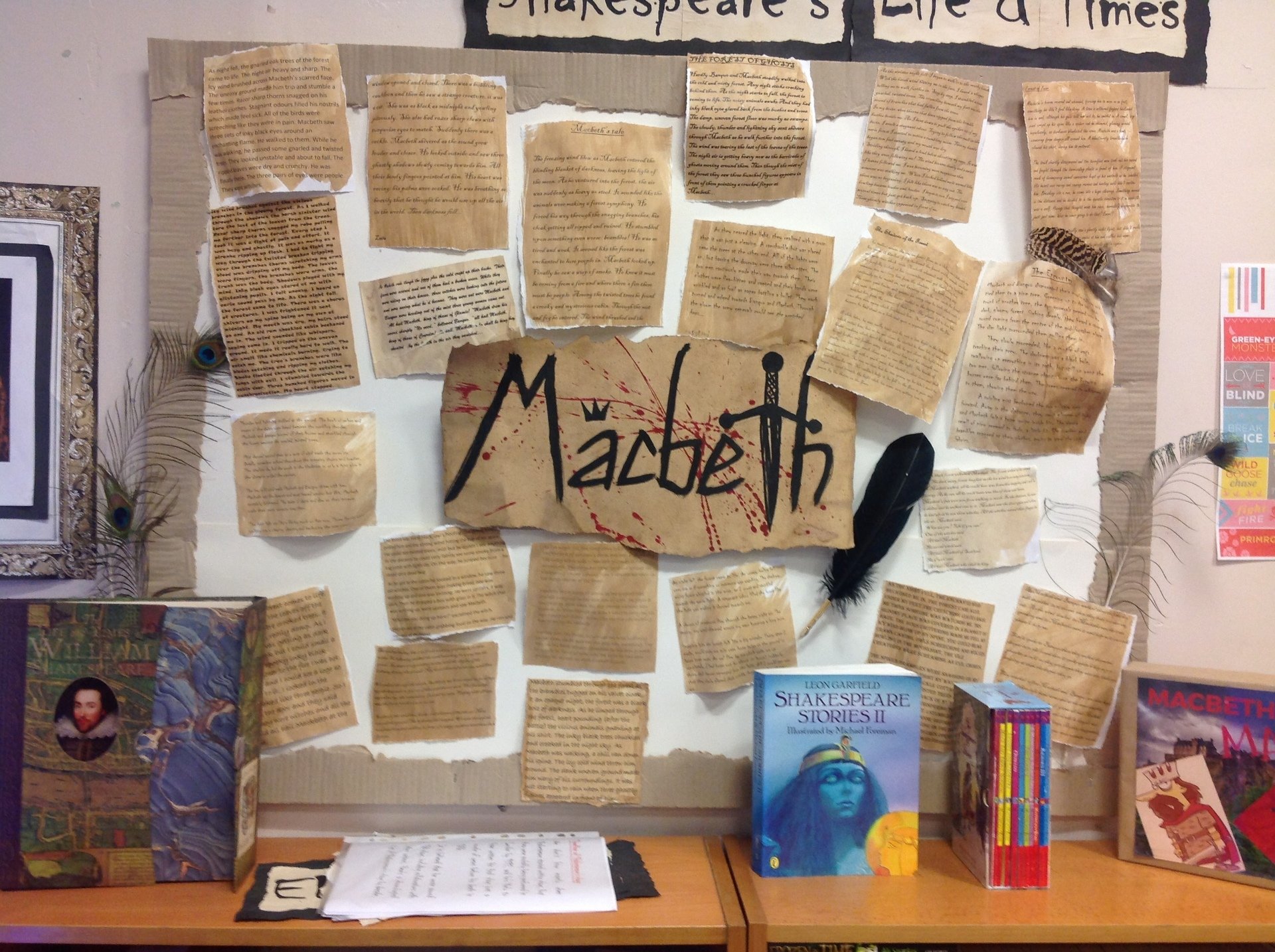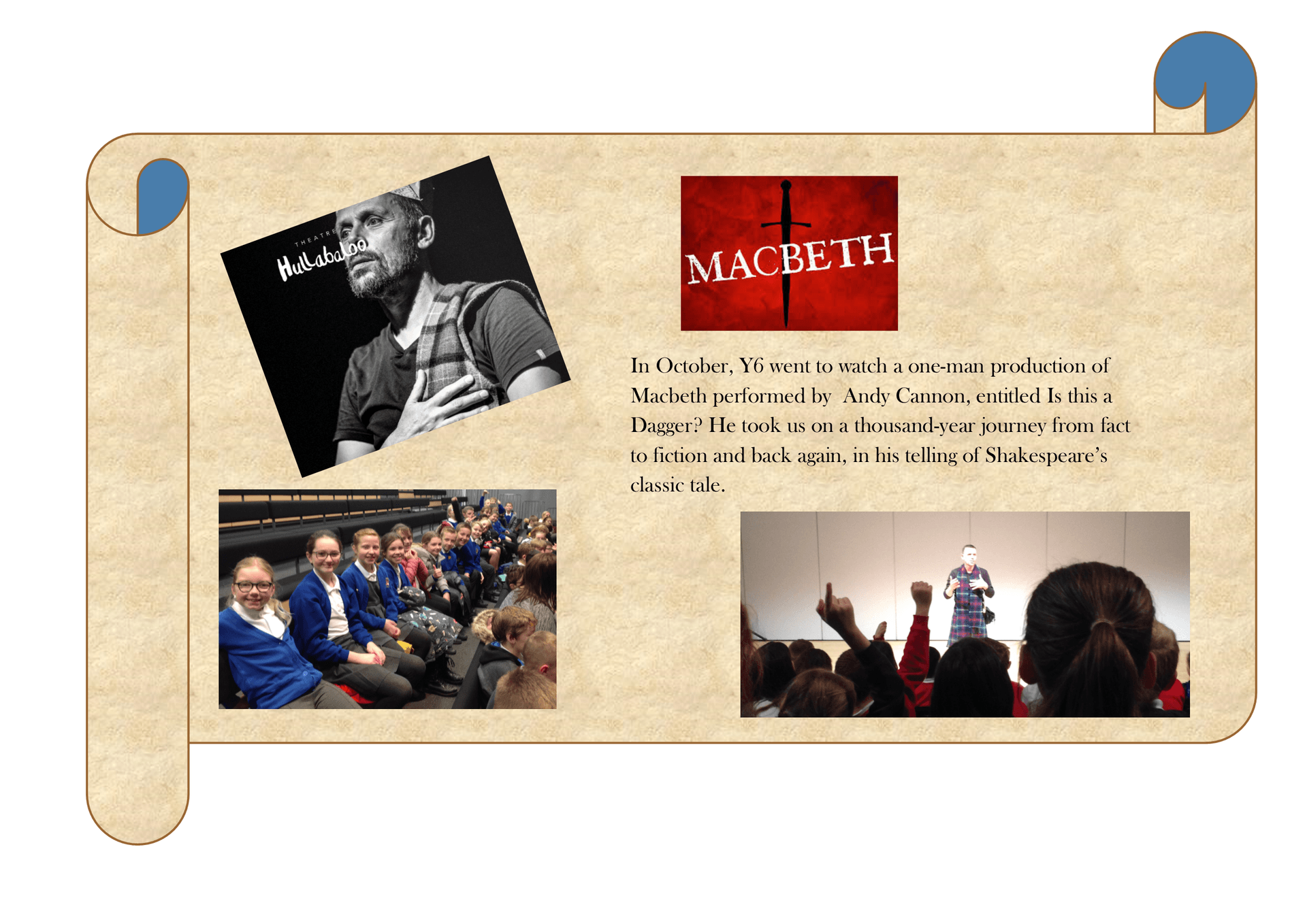 All of the staff are very proud of the children and their efforts this term. We have already started planning our new adventures for 2020…keep watching this space for our next update!
Summer Term
Speaking, listening, reading and writing skills are vital in all areas of the curriculum. Take a look at some of the exciting things we've been up to and see how we develop and apply those skills through all of the subjects in school. We tailor our curriculum to meet the needs of our children and use their strengths and interests to drive learning and spark enthusiasm.
In the early years the children have been using the outdoors as a stimulus for writing. The children re-designed the outdoor area after talking about recycling and reusing.
The children collaborate and share ideas. They are encouraged to listen to each other's ideas and respect the thoughts of their peers.
In Key Stage 1 the children have been working on writing recounts and what better way than to tell everyone about their trip to the beach and aquarium this term. First-hand experience, emotions and memories give the children a wonderful starting point for their writing.
Our children have been working hard with phonics since they started with us in nursery. They have been enjoying the sunshine and taking part in 'phonics boot camp' and lots of activities in the classroom to give them the best grounding for reading and writing that we can provide.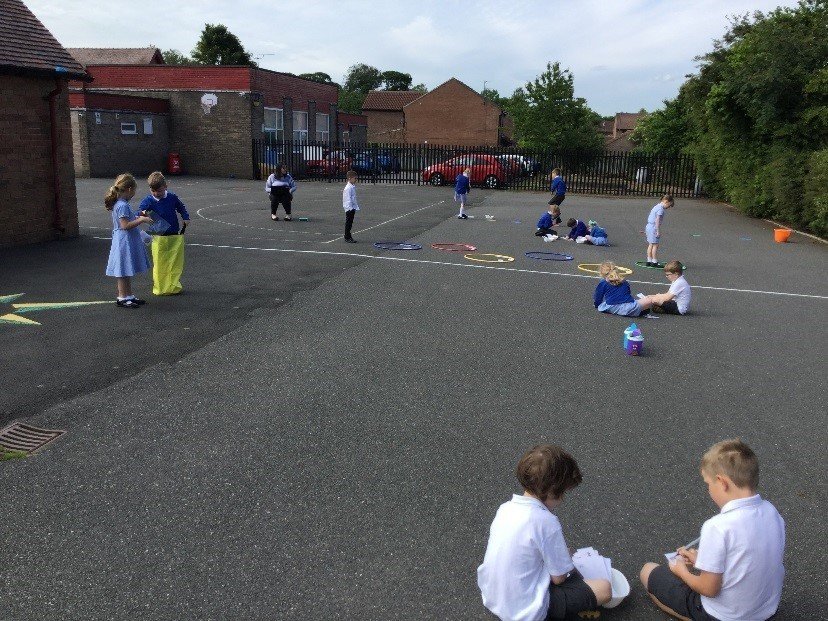 Finger strength and fine motor skills are key to becoming writers. Our nursery children happily choose to demonstrate their skills both in and out of the classroom.
Our reception children are ready for anything year 1 has to throw at them! Confident, happy readers, writers and communicators leave our early years well equipped to tackle an exciting new curriculum.
The fun and first-hand experience does not stop at key stage 1. Throughout key stage 2 the children are given countless opportunities to develop and showcase their literacy skills through all subject areas.
The children in year 5 have been looking at Anglo Saxon village life in history. They created model houses in DT and then used ICT skills to read and search 'rightmove' properties to look at the language of advertising. They then set about writing scripts for their own T.V. shows and created adverts for their own estate agencies. So much fun with so much learning packed in.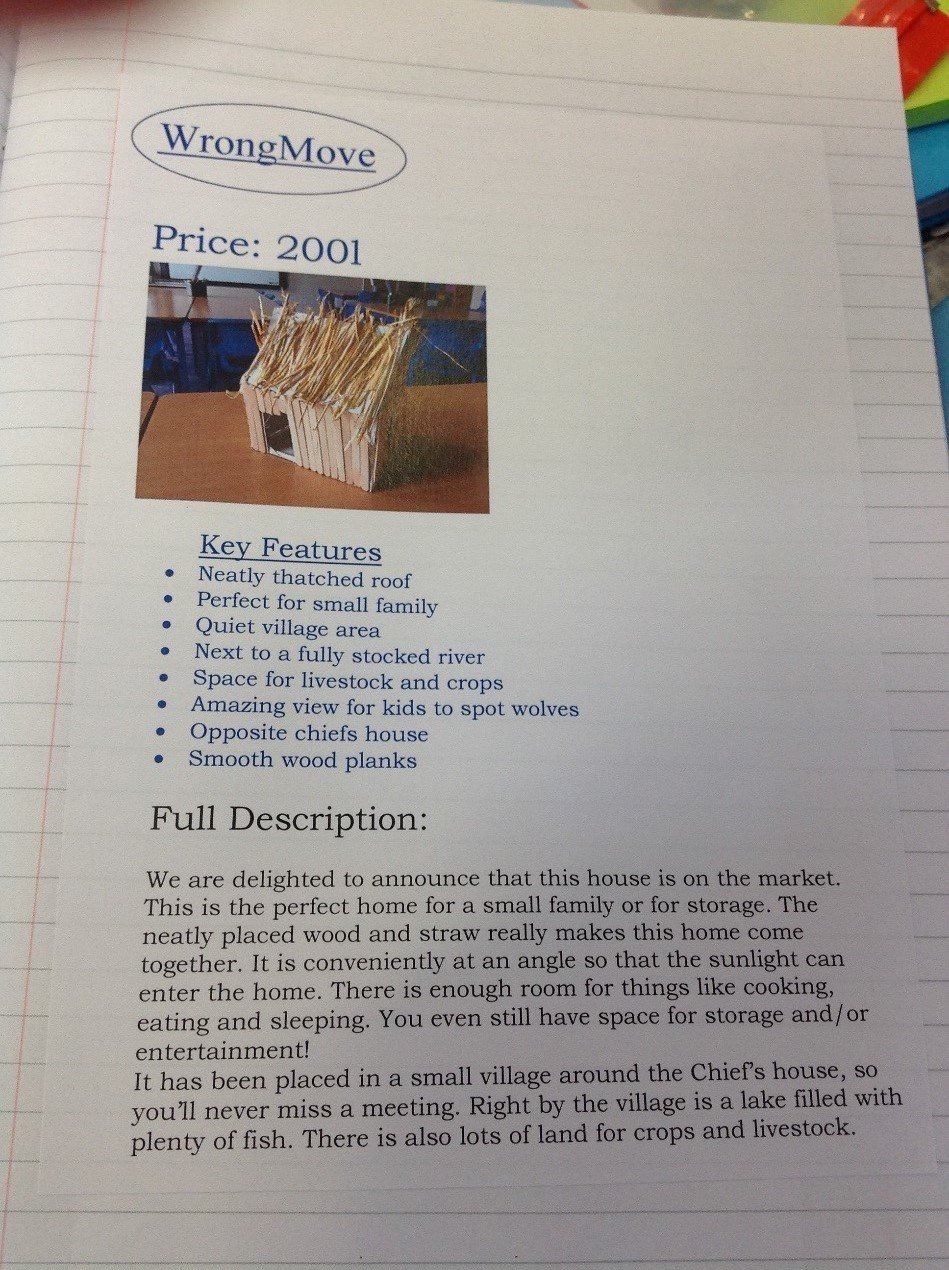 Year 6 have been exploring the Hobbit as a class text and used poetry to explore the mountain and the long journey faced by the adventurers. They also used the text to explore the thoughts and feelings of Thorin and were challenged to re-write the opening from his point of view. The children combined this with their work on collage and Picasso in art.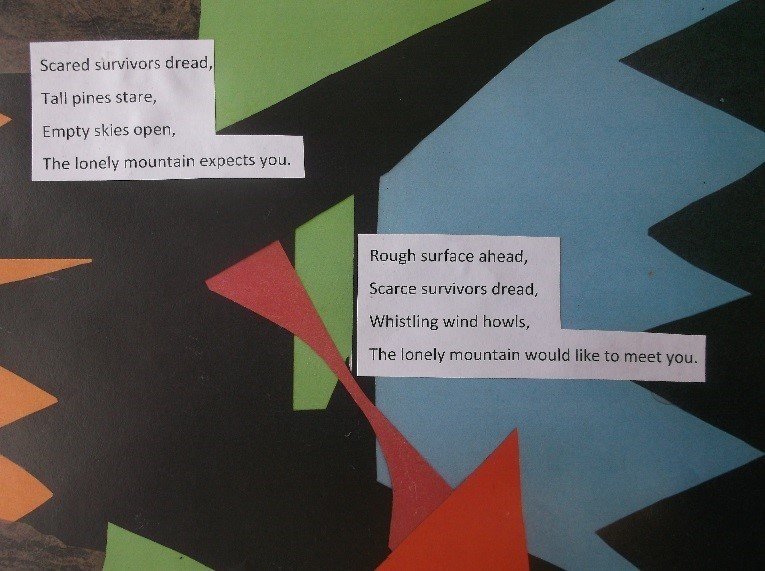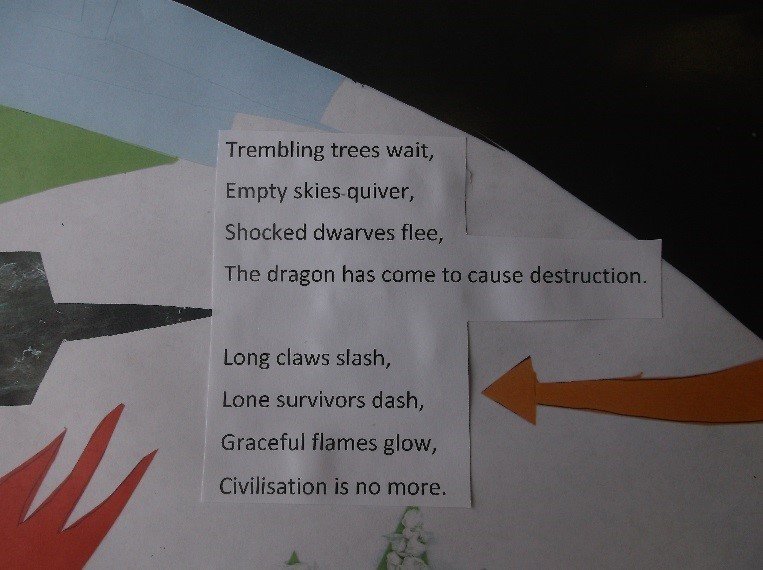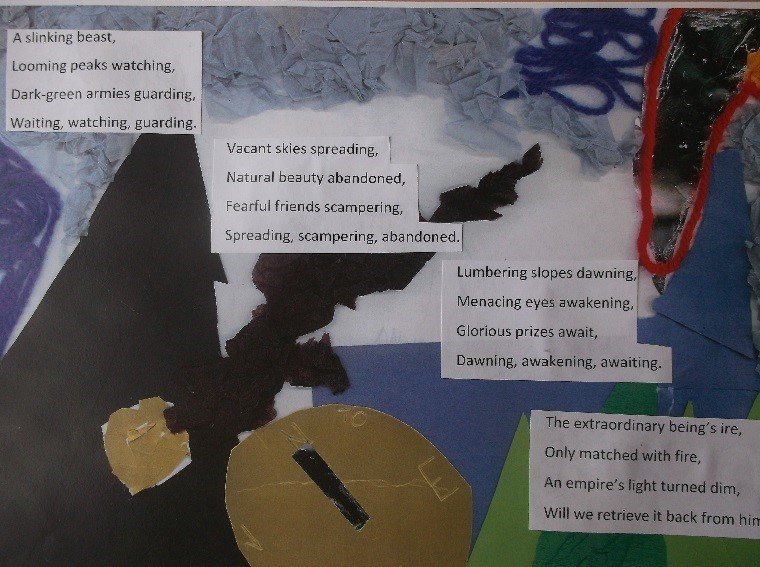 Another busy term bringing to an end another busy year in our fabulous school. Time for a rest and for our staff to start planning for new classes next academic year.
Spring Term
Spring Term Update – What's been going on?
World Book Day
We celebrated World Book Day in style as only our children and staff can again this year. The costumes were outstanding and celebrated everyone's favourite stories, characters and authors. We held a special assembly and each class took part in fun reading and drama activities linked the children's own books and our class readers in school. A fabulous day to recognise how important reading is and how much pleasure it can bring.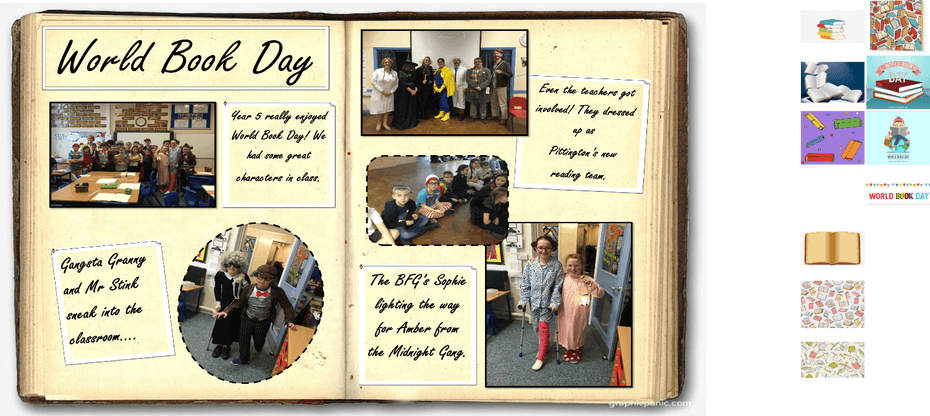 In the Classroom…
Nursery have been sharing and enjoying books by the author Julia Donaldson. They have started work on rhyming and are regularly taking books home from our library to share at home. Phase 1 phonics has started with the children going on sound walks around school beginning their very important journey of hearing and deciphering environmental sounds.
Reception are working hard during daily handwriting activities to improve finger strength for letter formation and writing. They are using story mapping skills to begin structuring their work and guided reading sessions are now taking place weekly in class.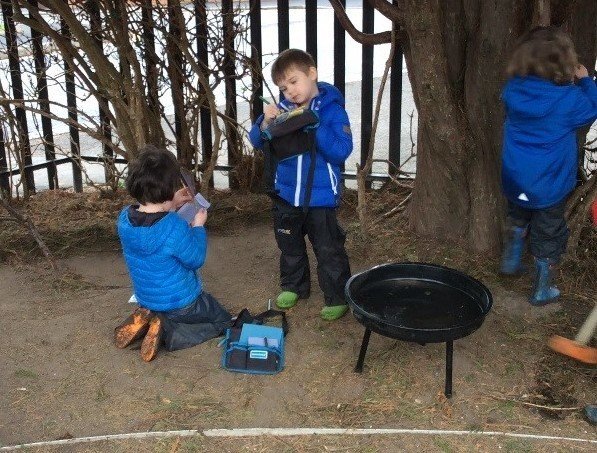 Our Year 1 children are being inspired to write through the 'Supertato' series of books. They have written their own stories using the characters they have met and written 'How to' guided for growing peas. The children continue to refine and improve finger strength through fine motor activities and there is a big focus on letter formation in handwriting. The majority of the class are working to be secure in phase 5 phonics in preparation for the up-coming phonics screening check – but more importantly preparing them to be confident, independent readers and writers.
Year 2 have found the immersive world of Enid Blyton's 'The Enchanted Wood' maintains its charm for children and adults alike. Parents have been enthused to see them revisiting an often cited favourite childhood book. The children have been inspired by this book to write letters to persuade a company not to cut down forests, their very own fairy tales and a newspaper article about the shock discovery of a tree that acts as a portal to different worlds! The class recently sat their first practise SATS test and this has helped them begin with familiarisation of the assessment process and has assisted Mr Wright in his planning, interventions and challenges.
In year 3, following on from reading a literary classic in the autumn term, the storytelling skills of Michael Morpurgo are being enjoyed with The Butterfly Lion class text. Links have been made to both history and geography topics through literacy this term. The children have been using speaking and listening skills in debate work and using drama and reading to support story writing.
Year 4 are desperately trying to train their dragons in literacy and have written instructions and their own stories using themes from the book. They have drawn and painted dragons and produced a beautiful display in their classroom.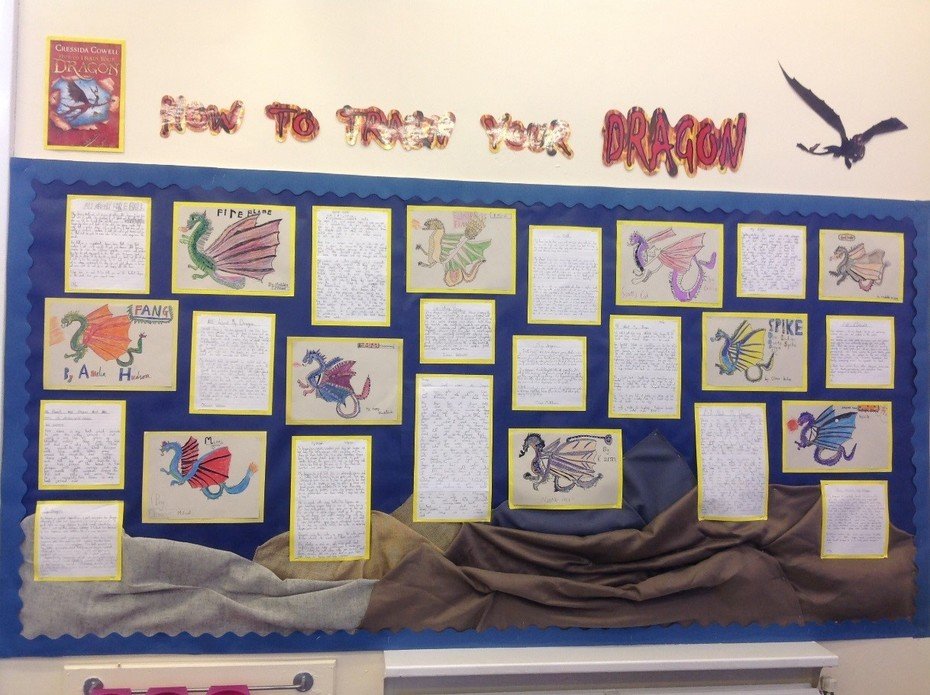 Year 5 are busy reading Journey to the River Sea, writing their own tales of being lost in the Amazon and campaign speeches ready for class debates about deforestation. We have been learning about our rights and have held a peaceful protest sharing our thoughts on how to care for the environment and our future. Our reader links perfectly to our geography work on South America and we have used it to inspire our carnival dance in P.E. To finish off the term we are having an Amazon art day where team work and communication is key to recreate a section of the River in our classroom.
Year 6 are preparing for end of year assessments and are working exceptionally hard to showcase their talents in reading and writing. Their class text is The Jungle book which has inspired them to write reports, travel articles and narrative encounters. They have been debating and presenting arguments for and against Mowgli returning to civilisation, showing how well they can think and form opinions for themselves – secondary schools watch out!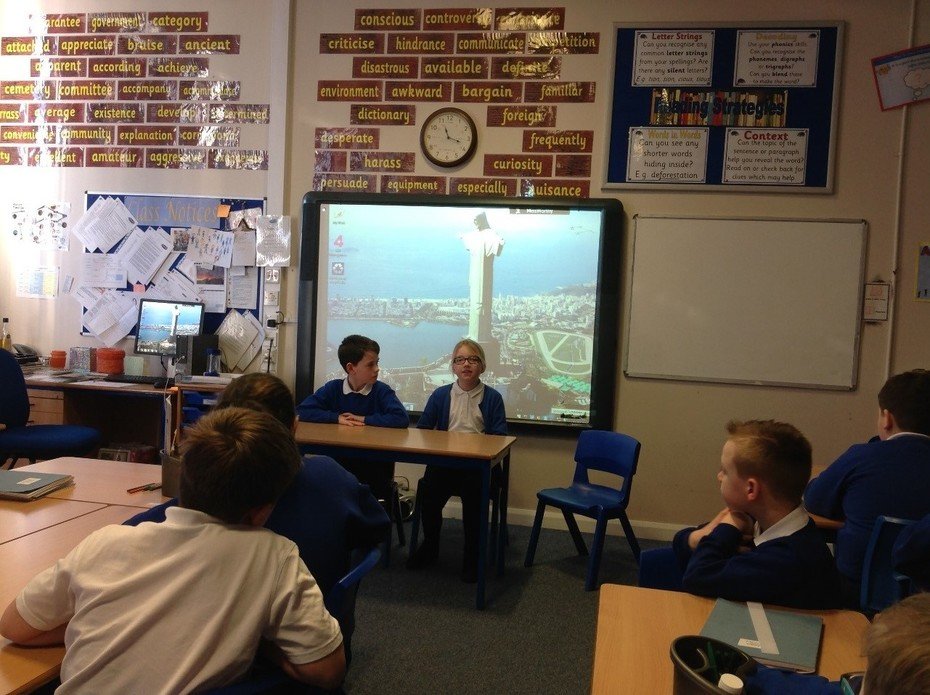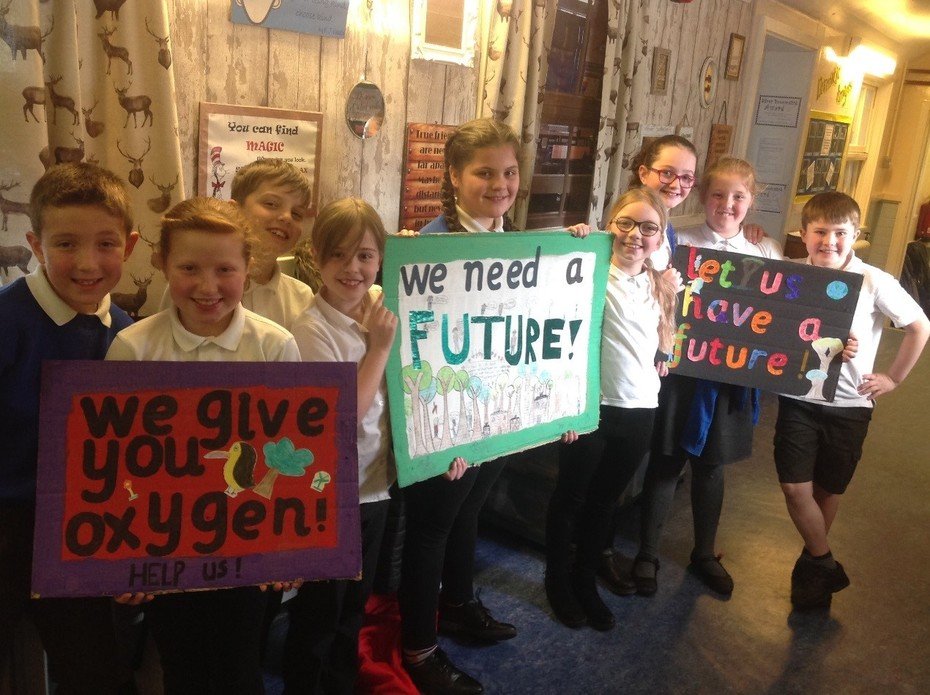 Reading Team Launch
As promised last term – The Pittington Primary School Reading Team...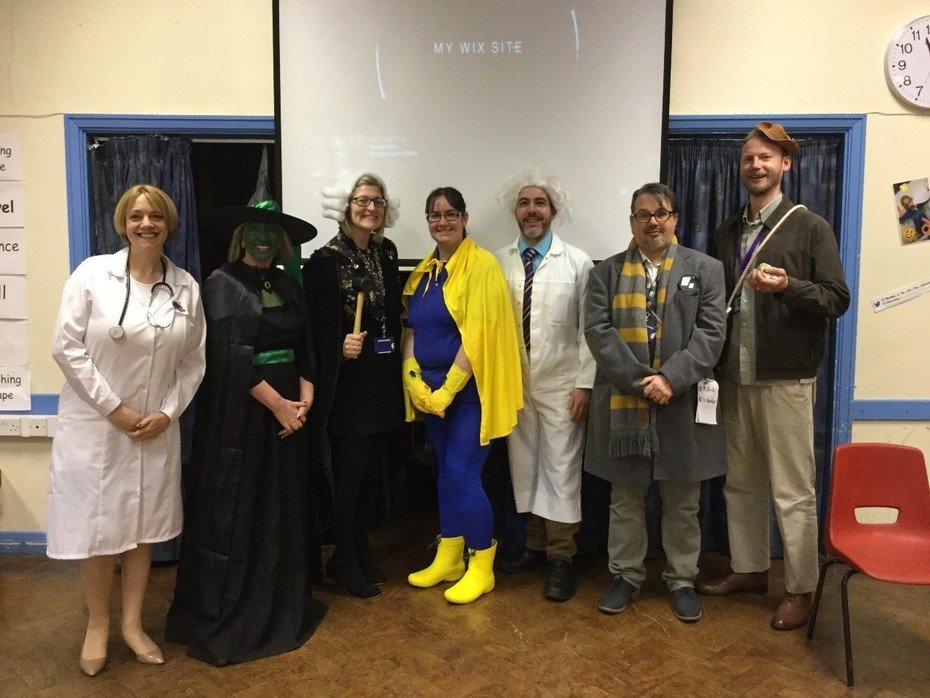 The staff embraced their characters and talked to the children about their role in reading and how to identify different types of questions in a fun assembly this term. All children are now becoming familiar with the characters in class and using them to help improve responses to questions in all subject areas. A huge thank you to our staff who do everything they can to make learning meaningful and fun – I wonder who decided Mrs Lee should be Word Witch…
Autumn Term
Literacy is at the heart of our curriculum at Pittington Primary School and we teach all aspects of the English curriculum in almost everything we do. We teach the children the importance of being able to communicate with one another through, writing, roleplay, speaking, listening and reading. The children learn in a literacy-rich environment and have lots and lots of fun in the process – which is exactly what learning should be!
Reading
At the moment we are busy launching our new 'reading team' – a set of characters we use to help the children to understand different types of questions and what is required in answering them. Each member of staff has become a character of the team and will be in role for special assemblies and for whole school events like World Book Day.
Meet the Team…
Writing
Writing is a life skill and we promote it in every single subject we teach. The children are taught the skills they need to write for different purposes. They learn the grammar, punctuation and spelling rules they need to be fluent and accurate writers. As a staff we work hard to give the children first-hand experiences and create a positive climate for writing. We encourage our children to be creative, imaginative and to take risks with their work. The writing they produce speaks for itself.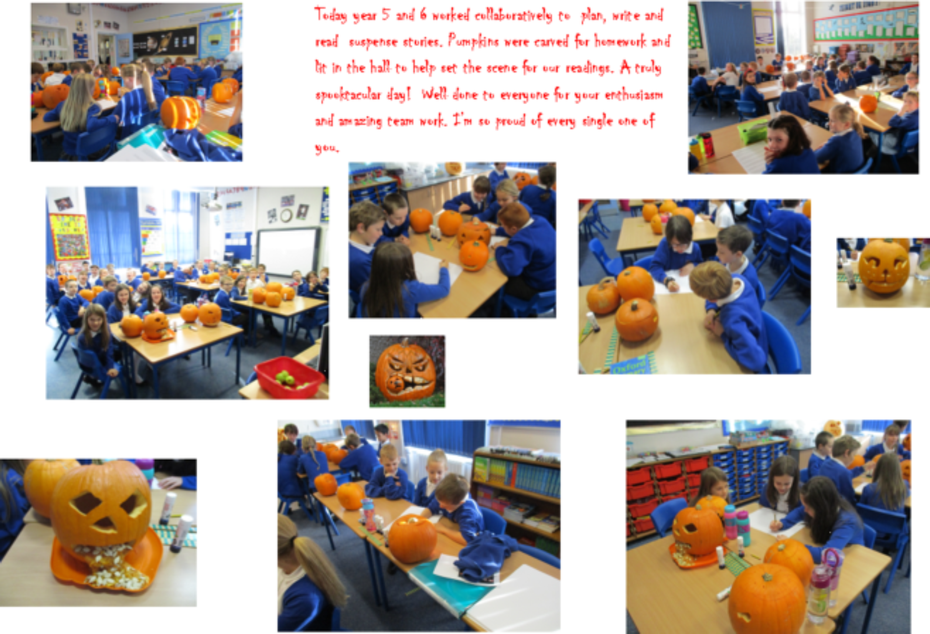 Spooky story writing with carved pumpkins to add to the atmosphere.
| | |
| --- | --- |
| | Budding news reporters using role play to support writing. |
Extra-Curricular Activity
At the moment in school we have a drama group working hard in their own time outside of lessons to produce a Christmas performance of The Grinch. Spaces were filled immediately in the group and as interest is so high throughout the school, we will be looking at giving opportunities to even more children in the new year.
The Cast…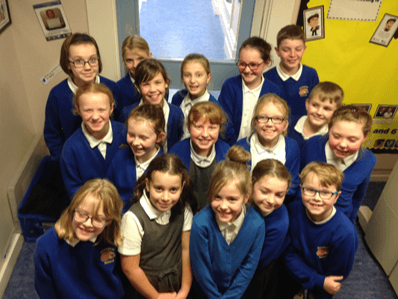 Watch this space to see pictures of the children in costume - currently being created by some of our talented staff in school….